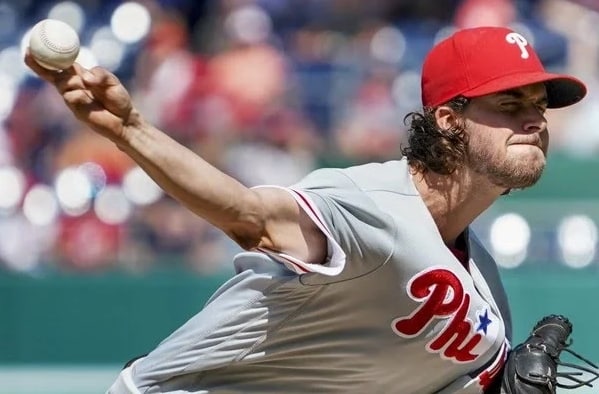 Risers
Aaron Nola, SP, PHI
Nola has been a disappointment this year, off to a slow start that has extended all the way into June.
However, I'm confident he's still a top 10 starting pitcher because of his ability to ring up batters.
Nola has twirled 81 innings with an ERA of 4.91, a WHIP of 1.51 (yikes!), and 90 strikeouts. Walks have been the main culprit for Nola as his walk rate has ballooned up to 10% from his career BB% of 7%. Overall, the ratio numbers are terrible across the board but don't worry because now the good news.
Nola's K% in the last month is up to an impressive 27.5% (his season long number is 25%). He's logging a lot of innings and ringing up a high percentage of batters.
Nola's Ground Ball% of 47.1% is in line with his career number and shows his approach is sound (ground balls and Ks are the most effective route to being an elite starting pitcher.) His BABIP (Batting average on balls in play) of .338 is still quite high, indicating a regression is upcoming.
While the owner in your league frets over Nola's ERA approaching 5.00 and his atrocious WHIP of 1.50, you can take advantage by giving them a low-ball offer. The time is perfect to swoop in to grab him before it's too late.
Garrett Cooper, OF/1B, MIA
The Marlins have shown a surprising ability to produce stud outfielders over the years, despite not actually trying to field a competitive team.
Cooper is getting extended action recently and is taking advantage of the opportunity. The 28-year-old is batting .306 with 6 home runs in only 36 games. His excellent approach at the plate (9.4% BB% versus 21% K%) has enabled him to post an OBP of .384.
Hid Hard% of 43.5% and Line Drive% of 29.3 show that he is locked in at the plate, making solid contact whenever he swings the bat.
Cooper is not the sexiest add right now, but in deeper leagues he's worth an add. He is currently owned in 27% of Yahoo leagues, 10% of ESPN leagues, and 44% of CBS leagues.
Fallers
Ian Desmond, 1B/OF, COL
Desmond is riding a ridiculous hot streak right now that has dragged his season-long numbers up to a respectable level (.274 AVG, 9 HR, and 37 RBIs).
Desmond is batting .357 over the last month, fueled by an insane BABIP of .474.
With a K% up 3 points from last year (26.4% vs. 23.5%) and a relatively high Ground Ball% of 45%, Desmond is on a downward trajectory. He should be trying to hit the ball in the thin air of Colorado but instead is piling up the Ks and ground balls.
Desmond is a notoriously streaky player so if you have him rostered now, you should be thinking about selling. It's not getting any better for the 33-year-old slugger who no longer has any speed (1 SB this season).
Sell now and see if you can grab a mid-level starting pitcher in return.
Go here for more MLB picks.