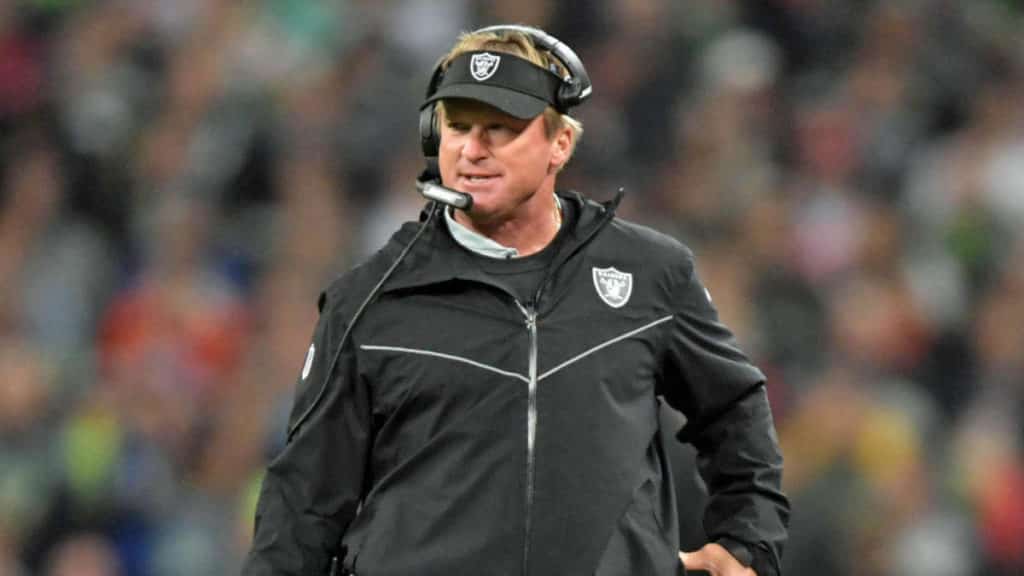 Hard Knocks has become a right of passage for NFL fans since 2001. When I was playing college ball, even after a brutal day of two-a-day practices in the scorching Florida sun, my teammates and I would stay up and watch an episode of Hard Knocks.
It's a true masterpiece by NFL Films and HBO that gives fans the thrill of being inside the action, something only a select few actually get to experience. When news broke this week that Jon Gruden and his band of misfits were chosen, my interest in the show peaked to an all-time high.
This is the last season in the bay area for the Raiders, and with the personalities assembled by Mike Mayock and Jon Gruden it will undoubtedly be a memorable 14th season of Hard Knocks.
1. Jon 'Intensity' Gruden
I personally have never been able to forgive Gruden for the 2002 season when his Bucs beat the Eagles and closed down the Vet. It's a game that scarred me as a young Philly sports fan and a part of me still has not recovered.
The Bucs went on to destroy the Raiders in the Super Bowl and I know the Eagles would have done the same. Last season Oakland was terrible, but they did show improvement late in the season winning two out of their last four games. The Raiders will have a more complete roster this season and should be much more competitive.
Jon Gruden is as intense as they come and has an unbelievable work ethic. That intensity will be fun to watch up close.
2. Antonio Brown vs Vontaze Burfict
AB has Hall-of-Fame talent and the numbers to back it up. He forced his way out from Pittsburgh after his relationship fell apart with Ben Roethlisberger and finagled a massive new contract in the process.
Oakland also picked up another one of Browns' nemeses linebacker Vontaze Burfict, who knocked Brown out of a Playoff game as a member of the Bengals. I can't wait to see how NFL Films shows their interactions.
3. Derek Carr: Do Or Die Season
I think Carr is a talented quarterback, but he didn't play that way in Gruden's offense last season. The coach and QB didn't seem to be on the same page.
This is a big year for Carr with the addition of Antonio Brown and with first round pick Josh Jacobs in the backfield. Carr signed a massive deal in 2017, and with most of the guaranteed money already paid out the Raiders could move on after this season if he doesn't perform up to his ability.
Carr also needs to contend with Nathan Peterman who is gunning for his job and is getting second team reps in mini camp. Jokes aside, it's a credit to Peterman that he's still in the league after how poorly he has played when given opportunities. Interesting fact – Peterman and his Pitt Panthers beat Clemson in 2016 and they are the last team to beat the Tigers in Death Valley. Peterman threw five touchdowns and out dueled Deshaun Watson and the future National Champions 43-42.
4. Three First-Round Picks
Oakland selected Clelin Ferrell, Josh Jacobs and Jonathan Abram in the first round of April's NFL draft. I think these three players will all contribute this season and move the organization forward.
Ferrell is a very good player that experts graded as a first round pick on a ton of mock drafts, but no one had him in their top five. The Raiders selected him fourth overall, which adds more pressure on him, Gruden, and General Manager Mike Mayock. Oakland stuck to their draft board and picked the best player they felt was available which I can respect.
Hard Knocks always does a great job following the rookies as they transition to the NFL and I'm sure this year will be more of the same.
5. Las Vegas Raiders
It's hard to believe that the Silver and Black are moving to Vegas for the 2020 season.
Las Vegas is also getting the 2020 NFL draft which is going to an epic bash on The Strip. They will be playing in the brand new Vegas Stadium that is going to be so incredible I'm guessing it will host the Super Bowl, Final Four, and the College Football National Championship game over the next decade.
It will be interesting to see how much the show discusses the upcoming move and how much they lock in on the Raiders historic tradition in the city of Oakland and with Raider Nation.
Looking to take the under on the Raiders now? Go here for information on the best betting sites.