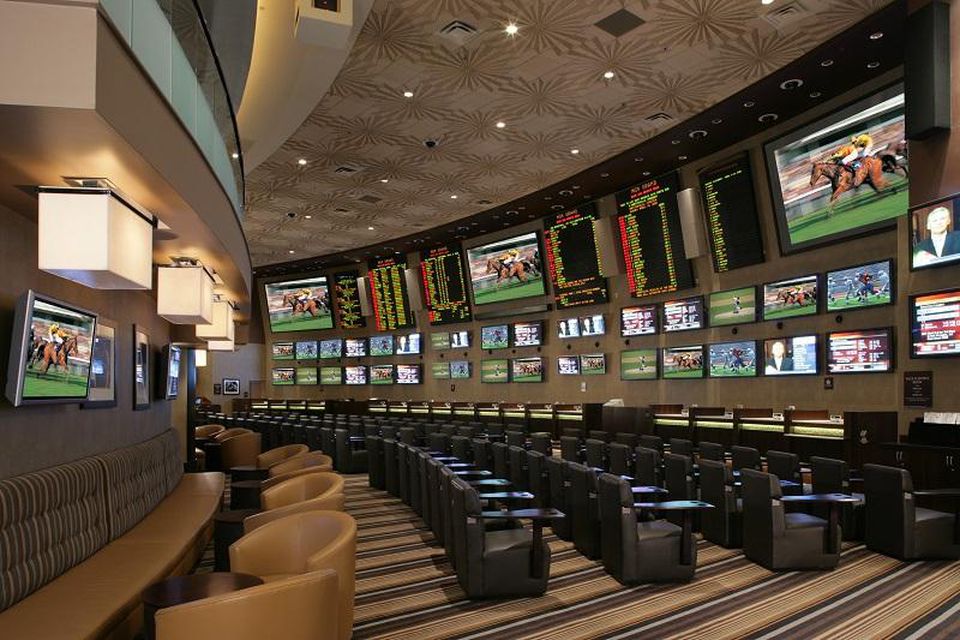 Navigating the Las Vegas strip when it comes to finding a sports book that doesn't have a packed house with long lines at the betting window.
I've always said, prior to legalization and moving to Las Vegas of course, your relationship with your bookie is the second most important relationship you'll have in life. That is certainly applied here, as the relationship with your oddsmaker or risk manager can determine your limits, bets available, drink ticket comps, and much much more.
Let's take a look at the sports books that Vegas locals flock to and you should too if you're looking for a much more laid back place to catch a few games.
1. The South Point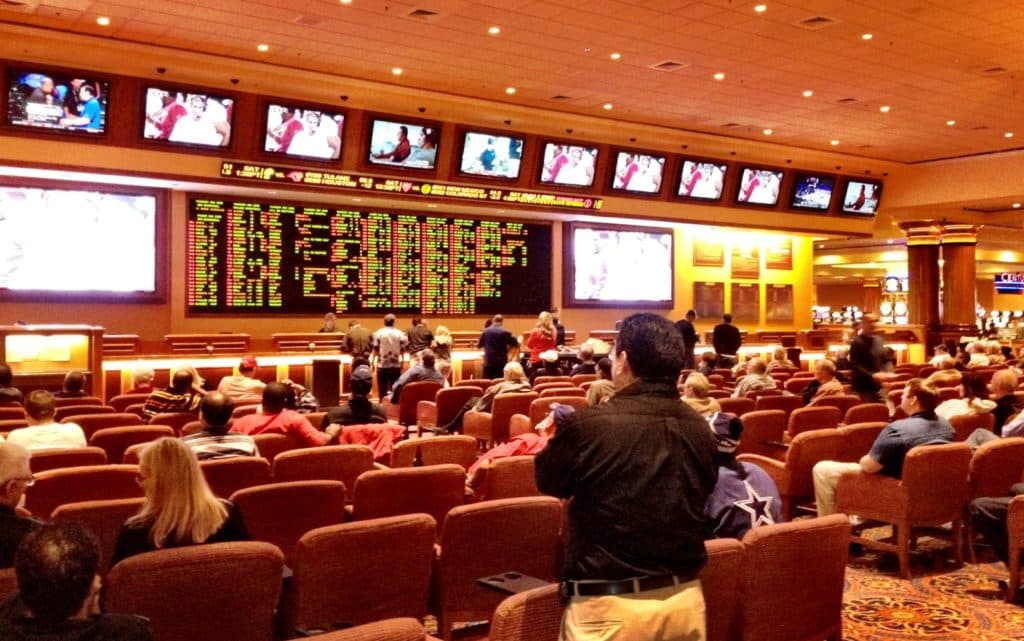 In my opinion, The South Point, or "The Boys Club as I call it, is the last real sports book left in town. Locals are treated right, whether you're a professional or not. Drink tickets are generous, and it's the last book in town making their own lines.
Owner Michael Gaughan has empowered veteran book maker Chris Andrews the freedom to do many things, aside from one: all lines on spread bets and totals remain at -110 no matter what. That's right, The South Point moves lines, not juice.
I called it "The Boys Club" for a reason, and no, you're not likely to find the most beautiful women in Las Vegas dancing on tables or even hanging around there, but if you have a favorite dive bar that holds a special place in your heart, The South Point will be your casino.
If you're lucky, you can meet one of the godfathers of gambling, Brent Musburger after his VSIN set. There's no telling which local celebrities or professional bettors will be in the house. Oh, and guess what, it's the only 24 hour sports book in town.
Take the time to say hi: Chris Andrews – head oddsmaker; Brent Musburger – VSIN host & former ESPN commentator; Gil Alexander – host of a numbers game; Mitch Moss & Pauly Howard; and Brady Kannon – host of Long Shots.
Hidden gems: The spa, $4 late night breakfast at Coronado Cafe, Don Vito's, and Silverado Steakhouse.
2. The Palms
https://www.youtube.com/watch?v=lBjw_ZYaG7A
You probably weren't expecting this one to be on the list, but let me say this: The Palms is now my favorite casino in Las Vegas. CGT sports books have sometimes had issues bringing people in because of their "cubicle" style of seating, but with The Palms' $620 million makeover almost complete, this is what I would call a bettor-yet smaller-version of The Cosmopolitan and Aria.
We'll get to the sports book in a minute, but no casino offers more than The Palms. The new restaurant, Greene St Kitchen, is amazing. Mr. CoCo is my favorite bar in Las Vegas. Scotch 80 is a top 5 steakhouse in town. And Apex Social Club has one of the top views of Las Vegas.
With all that being said, let's get down to business, the book. The Palms renovation spared no expense. The old book was a smokey, dark, and cramped place no one wanted to go. I'm fine with some people still having that notion, as I enjoyed MLB opening day and March Madness' opening day tipoff at this sports book with minimal lines and plenty of seating.
The book has the quality of any top notch betting shop without the long lines and tourists.
Take the time to say hi: Matt Perrault – host of Pushing The Odds, M-F on SB National Radio and 920 AM The Game.
Hidden gems: Greene St Kitchen, Mr. Coco, Scotch 80, and Palms Place pool.
3. Red Rock Casino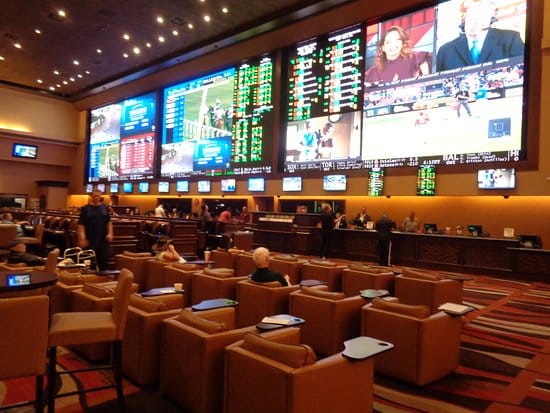 Long known as the best locals' casino in Las Vegas, it's a little bit north of the strip, but well worth the drive. If you're looking to get away from the amateur hour tactics of drunk tourists, this is your spot.
There's been notorious photos taken of the sports book with plenty of seating during the prime of March Madness and Super Bowls, which I look at as a positive if you're looking to relax, have a cocktail, and sweat out some bets.
The casino is beautiful as a whole, and was actually the first sports book I ever visited in Las Vegas, which will always give it a special place in my heart. Drink ticket comps are generous, lines are great, and you're treated like a local-wether you are or not.
Hidden gems: Blue Ribbon Sushi, T-Bones, Hearthstone, Lucky Bar, and the pool.
4. Silverton Casino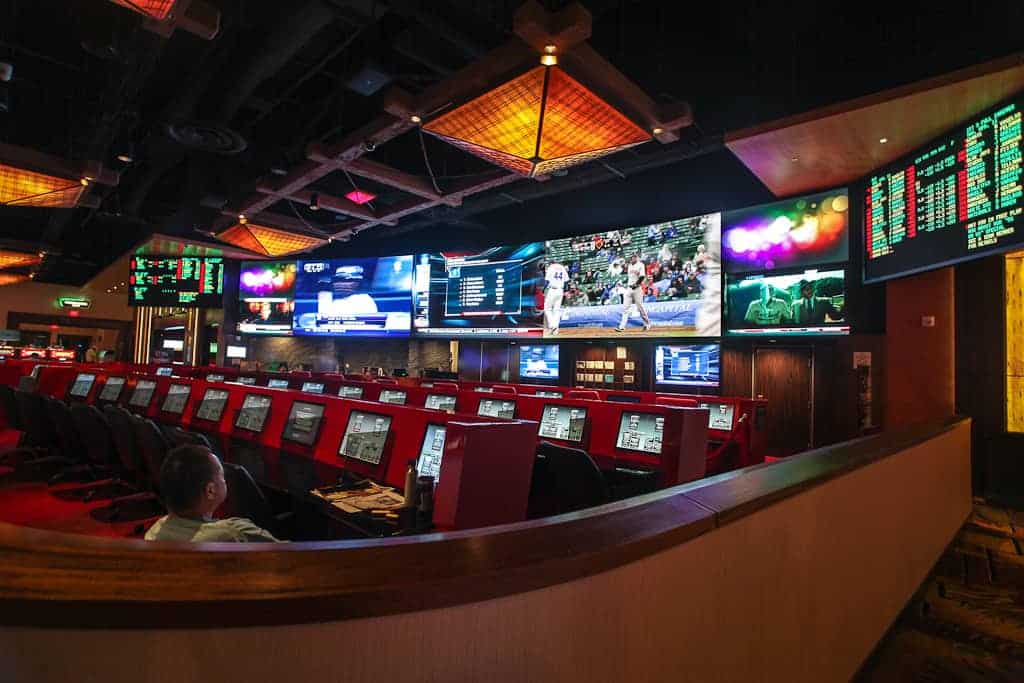 Admittedly, The Silverton is more of a necessity to me as a baseball bettor as they're the only book in town who offers F5-.5 MLB wagers.
That isn't the extent of their offerings though. They cater to the sports bettor, give out great drink ticket comps, and is in a great location about five minutes north of The South Point.
It is a CGT book much like The Palms, so it does have the same style of seating, but there is plenty of regular seating as well directly behind.
Hidden gems: Mermaid Bar and Bass Pro Shop is directly behind.
5. Green Valley Ranch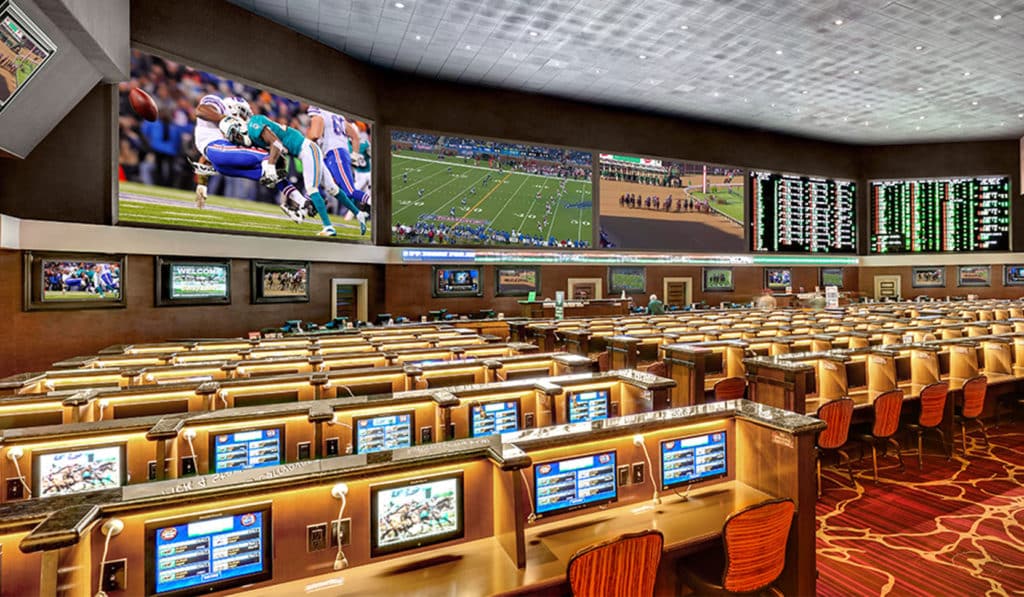 Location, location, location. If you're into more than just sports betting, Green Valley casino is for you.
Set amongst The District, a huge shopping center and housing complex, this is one of the best kept secrets when it comes to where to stay outside of The Strip. It's a luxury resort, housing everything from movie theaters, pools, great eating and drinking, and of course a sports book.
Hidden gems: The District