Though placing bets on players to win the tournament has high rewards, it's tournament props and matchups that give someone the best chance of raking in a profit. By isolating particular matchups and situations, one stands a better chance of taking advantage of mismatches or taking a side on a prop more favorable to their view of how a tournament will be conducted. It takes a great deal of homework and preparation to successfully bet on props, but if one puts in the work it can be quite a successful way of adding to their bankrolls.
READ ALSO:
2019 PGA Championship Preview and Betting Strategies
The Winner of the 2019 PGA Championship Is…
Here are some props for the PGA Championship that have caught my eye (with odds courtesy of mybookie.ag):
Will There Be A Hole In One? Yes/No -110
Unlike the Masters, there is very limited information available other than the layout of the Par 3's on if the tournament will yield an ace. A lot is dependent on the pin positions and the weather, which are generally unknown factors with how the hole will be impacted.
Before making any decisions, the weather forecast must be taken into consideration to see if they will make certain holes play easier or more difficult throughout the week:
Thursday – Temperatures climbing from mid 50's to mid 60's, chance of rain early AM, WNW winds 6-9 MPH (gusts to 12 MPH) subsiding through afternoon
Friday – Temperatures climbing from mid 50's to mid 60's, chance of rain from AM to PM, S winds 6-8 MPH (gusts to 16 MPH)
Saturday – Temperatures climbing from low to upper 60's, W winds at 6-8 MPH (gusts to 10 MPH)
Sunday – Temperatures climbing from low to upper 60's, S winds at 6-8 MPH (gusts to 14 MPH)
Besides the cooler temperatures, the weather doesn't seem to be all that adverse to sticking it close on the Par 3's. While the winds look relatively docile, however, some holes will play easier day to day depending on where the wind is coming from.
Here are the Par 3's on the golf course:
Hole #3 – 232 Yards
This hole features a long approach into wide, flat, shallow green. The green is only 20 yards wide from front to back, giving very little room for the approach shot in. This hole will play into the wind on Friday and Sunday, though the back trees should help lessen their effects. The wind may play tricks on the players on Thursday and Saturday, as the west winds will funnel through a small cross sectional gap in the trees and push tee shots left.
In 2002, Andy Miller hit a hole in one on the 3rd in the 4th round of the U.S. Open, although at that time the hole only played 205 yards.
Hole #8 – 210 Yards
This hole plays downhill towards one of the larger greens front to back on the golf course. There is trouble lurking all around this hole, from a pair of greenside bunkers, a large tree partially obstructing the right part of the green, and the only water hazard on the golf course. This hole plays downwind on Friday and Sunday, which may not be a good thing considering the player already has to be careful hitting downhill.
There has never been a hole in one during a professional event on this hole.
Hole 14 – 158 Yards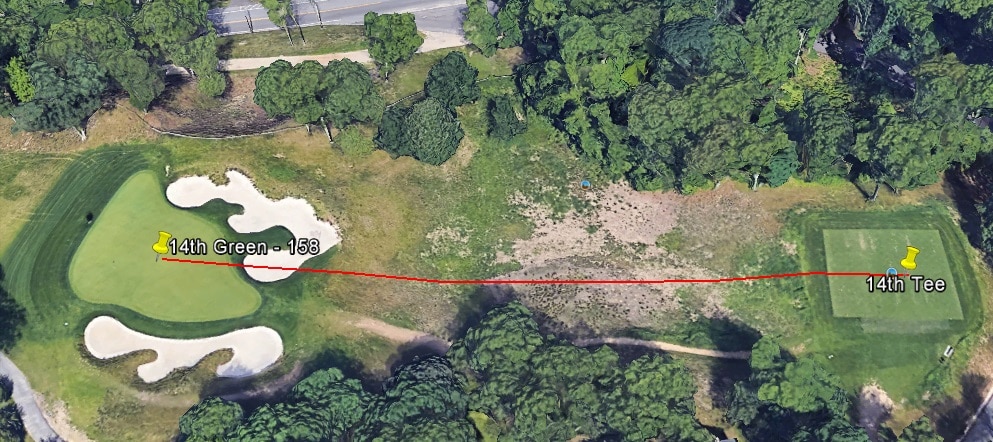 This is one of the only times the players can take a breather, as this hole is a relatively straightforward and short Par 3. The green is 45 yards wide front to back, and also slopes from front to back. It's also guarded by two greenside bunkers, and going long is an absolute no-no. The hole will play into the wind on Friday and Sunday, but the trees that guard the hole from all sides should lessen its effects.
In 2002, Shigeki Maruyama aced it from 158 yards out during the 2nd round of the U.S. Open. The hole was aced again in 2012 by Roberto Castro in the 2nd round of The Barclays from 161 yards out, and the hole will play similar all four days for this year's event.
Hole 17 – 207 Yards

This hole is heavily guarded by deep greenside bunkers and features a very narrow left to right sloping green. This hole will play into the wind on Thursday and Saturday and have a crosswind on Friday and Sunday. This hole is also one of the most unprotected on the golf course, meaning that any amount of wind will have a material effect on the shot into the green.
In 2002, Scott Hoch aced the hole during the final round of the U.S. Open from 207 yards.
Of all the Par 3's, Hole No. 14 seems like the most likely place for someone to have an ace. It's a relatively easy shot for everyone on the golf course and it'll be into a relatively soft and receptive green with a high lofted iron. All the other holes are shots where the golfers will hit a longer iron off the tee, and on certain pin positions they'll opt to just hit the middle of the green and take their par. Despite the soft greens, the cooler temperatures will change what clubs each player will hit into them, and that may make them feel uncomfortable and doubting their decisions.
At this point, it simply becomes a question of the price, and the side of No has a better price and more likely of an outcome. With only one hole reasonably possible to have an ace, the odds of it happening are not truly 50/50 like the prop suggests.
Rory McIlroy Top 10 – +110
If you're like me and the idea of betting anything less than 12/1 to win a major is a little too rich, betting Rory to finish in the Top 10 is certainly a viable alternative. Rory has all the keys to play very well at Bethpage Black. He carries the ball 307 yards off the tee, he ranks highly in all the proximity to the hole stats on approach shots 175+ yards away, he's scrambling well around the greens and his putting has been very solid all year. He'll be at such an advantage over the rest of the field with how well he hits it from far distances, and a Top 10 finish is certainly in line for him this weekend.
Missed Cut Prop
There are several golfers I see in the field that might be woefully overmatched by Bethpage Black. In essence, they're about to bring a knife to a nuclear war.
Here are some golfers who I'm confident won't make the weekend:
Kevin Na – +125: The combination of a lack of pop off the tee and only a mediocre success rate at finding the fairway should be Na's undoing at Bethpage Black. Kevin Na only carries it 268 yards in the air, and with colder temperatures and soft fairways killing any rollout he may struggle to consistently top 270 yards total on his drives. He also only hits the fairway 64% of the time, which is fairly pedestrian for PGA Tour standards. If he finds the short grass, he faces several long approach shots into the green, and he ranks 157th on tour in proximity to the hole from 200+ yards away. It should be a short stay at Bethpage Black for Kevin Na.
Branden Grace – +150: Grace only carries it 276 yards in the air off the tee and is very inaccurate, hitting only 59% of his fairways. He also struggles on long approach shots, ranking 104th in proximity on approach shots 200+ yards away. Grace is also a very sub-par scrambler, struggling to get up and down from both bunkers and the rough. The cards are not adding up for Grace this weekend at Bethpage Black.
Brandt Snedeker – +150: Snedeker's game has really fallen off and Bethpage Black is not the golf course for him. Snedeker only carries it 269 yards off the tee and only hits 62% of his fairways – a horrible combination for this year's PGA Championship. Even when he does find the fairway, however, he ranks 132nd on the PGA Tour in proximity from approach shots 200+ yards away. Though he is capable of getting up and down for par with good scrambling and putting, it's not a recipe for success to make the cut this weekend.
Ryan Moore – +175: While he's considered one of the most accurate hitters on the PGA Tour, Moore is also one of the shortest and only carries the ball 256 yards in the air off the tee. Even if he finds himself in the fairway, he'll have numerous shots over 200 yards into several holes, and he ranks a dismal 152nd in proximity to the hole on approaches 200+ yards away. He won't find many greens with that recipe, and as someone who has struggled to get up and down from off the green it should be a short tournament for Moore.
Matchup Props
Here's a few matchup props I have my eye on for this weekend:
Matt Wallace -120 over Brandt Snedeker: My reasons for fading Snedeker are listed above in the missed cut prop. As for Wallace, he's a long hitter off the tee that shouldn't be intimidated by the big ballpark of Bethpage Black. On the European Tour he ranks 42nd in Driving Distance, 37th in Strokes Gained Tee-to-Green and 41st in Sand Saves. While his numbers aren't quite as strong in American events, he's more suited for success than Snedeker is at Bethpage Black. Even if both miss the cut, I expect Wallace to best Snedeker one on one.
Rickie Fowler -145 over Francesco Molinari: For the reasons why I like Rickie Fowler so much this week, click here. As for Molinari, while he impressed at The Masters I don't feel his game is that well suited for Bethpage Black. He's longer off the tee than he used to be, but much of his distance is attributable to rollouts on the fairway and not carry distance in the air. He also only ranks 111th on the PGA Tour in proximity to the hole from 200+ yards away, and he has struggled to get up and down from the rough this year. Plus, he just got owned by Tiger Woods at Augusta, and now he has to play in front of the large, raucus Tiger Army one month later? I don't think he'll have his A game in that environment, and Fowler might have this matchup wrapped up by Friday.
Hideki Matsuyama (-120) over Jordan Spieth (EVEN) and Draw (+1600): The goal here is to find an acceptable matchup to fade Jordan Spieth at a good price. Unfortunately, his matchup pairings this week are against Patrick Cantlay and Matt Kuchar, who are a -170 and -140 favorite over him, respectively. While I'm bullish on Cantlay at the PGA Championship, the -170 head to head price is a little steep for me given he's still largely unproven in big time tournaments. And I'm afraid that Kuchar's shortcomings in length off the tee (no pun intended) might give him trouble this weekend.
However, MyBookie also offers an alternative matchup prop where you can bet against a draw. Here Jordan Spieth draws Hideki Matsuyama, who is a pretty safe commodity as I explain in the DFS column this week.
Why am I so amped to fade Jordan Spieth this weekend despite evident improvements in his game? He still is struggling with his ballstriking and Bethpage Black is not a good setup for him.
Last week at Trinity Forest, the field hit 83.5% of the fairways and almost 77% of their greens in regulation, so it's safe to assume that from tee-to-green it was a rather forgiving setup. Yet against a woefully weak field overall, Spieth lost on average 0.48 strokes/round tee-to-green, 0.31 strokes/round off the tee and 0.06 strokes/round on his approach shots to the field. In a twist of irony, it's now his putting that's carrying him, as he gained over 1.5 strokes/round on the field putting for the week.
That is not an indication that Spieth is "back" in any way shape or form, and he will be in a world of hurt if he shows up to the first tee with ballstriking like that. It could be a very short tournament for Spieth this week, and I expect Matsuyama to best him head to head.
READ ALSO:
2019 PGA Championship Preview and Betting Strategies
The Winner of the 2019 PGA Championship Is…
DFS Golf Picks for the 2019 PGA Championship