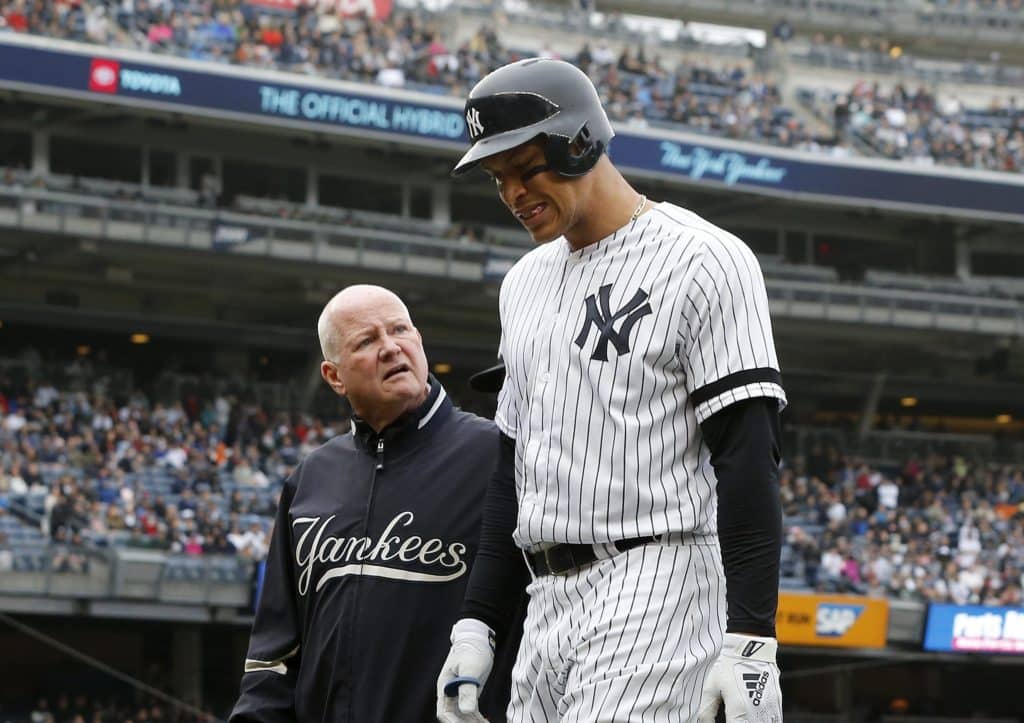 First: New York's Expensive MASH Unit
The Yankees were supposed to win the AL East this year by just about everybody's calculations, including oddsmakers. Fast forward to present day and they are 2.5 games back in the early division race.
Their disabled list could be a starting team somewhere else, as it reads: Giancarlo Stanton: 10-day DL, Aaron Hicks: 10-day DL , Troy Tulowitzki: 10-day DL, Didi Gregorius: 60-day DL, Greg Bird: 10-day DL, Miguel Andujar: 10-day DL, Gary Sanchez: 10-day DL, Luis Severino: 10-day DL,Dellin Betances: 10-day DL, and Chad Green: 10-day DL.
If you ever wanted a buy low opportunity on The Yankees for American League (+400) and World Series (+800), now is the time.
To: Here We Go, Again
MLB's bash brothers, Christian Yellich and Joey Gallo, took home MLB players of the week on Monday. Yellich hit .417 during the week and now leads MLB in home runs (13) and RBI's (31).
Just about everyone I spoke with prior to the MLB season wanted to short Yellich in some form – banking that he could not repeat his performance from last season – and it appears just about everyone was wrong. He looks to be on another planet again, and is going to make himself the odds on favorite to win back-to-back NL MVP awards (+150 at time of writing)
Joey Gallo, on the other hand, is always someone who will have a very special place in my heart, thanks in large part to his 36th home run last season. Gallo hit .478 (!!) with four home runs.
He now leads the AL in batting average, slugging, RBIs and OPS. This is the type of player everyone hoped he could become and showed signs of being more than just a rich mans version of Chris Davis.
During the second half of last season, Gallo hit 18 home runs, scored 34 runs, and drove in 41 RBI. He was on a 150 game pace of 49 long balls and 112 RBI, so what changed? His line drive rate soared to 25.7% and he looks to be keeping it up.
Third: The Tyler Glasnow Business
Your AL ERA leader is on the bump today in St. Pete. pic.twitter.com/PYEgwlKRXC

— MLB Stats (@MLBStats) April 21, 2019
The Tyler Glasnow business is a great one to be in, as he was 100/1 for AL Cy Young prior to the season and now sits co-leading at 5/1. The once top prospect has been downright filthy this year and if he stays healthy along with Snell and Morton, Tampa has one of the best 1-2-3's in baseball. What changed?
Tyler Glasnow, 83mph Curveball Steals Longoria's Soul. 👻 pic.twitter.com/wE1SA99u3o

— Rob Friedman (@PitchingNinja) April 5, 2019
Back in March I wrote why I was betting on Glasnow:
If you want to get in on the Tyler Glasnow business, it'll cost ya, but it's a great one to be in.
Tyler Glasnow business is now open people. Moved into second favorite today. Available on @PropSwap pic.twitter.com/vfJzjzVcOD

— Christian Pina (@ChristianPina) April 21, 2019