Alright, maybe you haven't dipped your toes into WWE betting for fear of being laughed at. I'll push aside you are probably also the same person wagering on who win the Iron Throne in the final season of Game Of Thrones, but that's neither here nor there. It's a pre-determined outcome, sure, but live a little!
The information is out there, and if you want to learn more about the actual money being made in WWE betting, you can listen to The WWE betting podcast I hosted with Billi Bihatti here.
WrestleMania takes place Sunday, April 7th, at 4PM PST / 7PM EST but also has a four hour pre-show.
The Event
No, there's no UnderTaker matchup for the first time in over a decade, and the card doesn't include fixtures like John Cena, The Rock, or any other household names from the past on paper. However, I'd make a separate bet you'll see Hulk Hogan again, and any one of the above mentioned stars are very likely to be there in some capacity. This WrestleMania is headlined by women for the first time in WWE's history, with Becky Lynch taking on Ronda Rousey and Charlotte Flair (Yes, Ric Flair's daughter) in a triple threat match for the WWE women's title which will go on last. Brock Lesnar takes on Seth Rollins for the WWE Universal Title, Triple H battles Batista in a career-on-the-line match, and Kurt Angle is wrestling his retirement match amongst other notable matches.
The Odds
I understand that odds for such an event like WWE are somewhat hard to find usually, but that's not the case for WrestleMania. Look no further than official online sports book of The Sports Gambling Podcast, MyBookie.ag: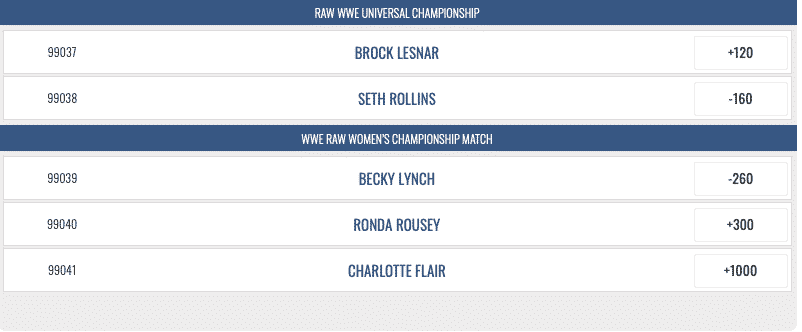 Becky Lynch (-260) Vs. Ronda Rousey (+300) Vs. Charlotte Flair (+1000)
WWE has created the female Stone Cole Steve Austin in Becky Lynch, and it's been amazing to see. Ronda Rousey has gone complete "bad guy" with her vicious attacks on anyone who believes wrestling is real and states that she is going to break the script and break someones face in the ring this Wrestlemania. If you want the value play, it's Rousey at +300. She's never lost, but she's had the title since the moment she came over to WWE and her storyline likely needs a new arc of her chasing something. Lynch is this big of a favorite for the reason that this is her pinnacle, and she's beloved amongst the wrestling world as the hottest act in the business right now.
Brock Lesnar (+120) Vs. Seth Rollins (-160)
Brock Lesnar doesn't lose in the WWE. He's come through time and time again as an underdog when storylines and rumors point to him losing and leaving The WWE, as he's now held this title for over three years with one month break amongst rumors he was heading back to fight Daniel Cormier in The UFC. The WWE wants to go in a new direction here, and Rollins is their guy to breathe air into a title that hasn't seen a meaningful storyline in years due to Lesnar's schedule of working less than once a month. I personally can't ever bet against Brock Lesnar, as one bettor found out years ago, when his opponent The UnderTaker was a -6600 favorite. Lesnar won.
Some guy lost £35,000 betting The Undertaker to beat Brock Lesnar at Wrestlemania. Surely not 😂 pic.twitter.com/qAgGqH6EA8

— James McDonald 🍕 (@jamesm) April 7, 2014
Triple H (-300) Vs. Batista (+200)
Per the WWE's storyline, if Triple H loses this match he has to retire. This is off the heals of Batista "beating up a 70 year old Ric Flair" during his birthday celebration in a quest to get his last match.
There is zero percent chance Triple H loses this match in my opinion, as WWE still has too much money to make off him during upcoming Saudi Arabia events, and their going to keep their money making draw in the ring 1-4 times a year until he dies in the middle of it one night. It would in fact be the biggest swerve since The Undertaker lost to Brock Lesnar (below) but the fact that something like that happened, you always have to think this could be the one thing people talk about forever. If WWE is going for shock value, this would be the spot to do it, but it's incredibly unlikely. Parlay away.
Daniel Bryan (+240) Vs. Kofi Kingston (-320) WWE Title Match
This is WWE's version of the underdog rising to the top after an overlooked and under appreciated eleven year career. Kofi Kingston is the feel good story of a guy who never got an opportunity and is finally doing so, but this number is crazy to me in that I think he'll get the opportunity, but I'd be absolutely shocked to see him walk out with the gold. Take the very live underdog here with Daniel Bryan at a great price. That being said, The New Day is hilarious and awesome.
Roman Reigns (-400) Vs. Drew McIntyre (+250)
The chalk will reign supreme here as this will be a feel good moment. Roman Reigns was diagnosed with leukemia at the end of 2018, and this will be his first singles match since returning from treatment. They've hyped up McIntyre as a cold blooded killer, but this is simple. Get Reigns in your parlays.
Watch out for placement on the card for some of these as well, WWE doesn't like to give wins to hated wrestlers in a row, the whole point is for you to be entertained, happy, and mad at different times. If Reigns is on early and loses, Kofi may have a chance, and vice versa. I really don't see a scenario WWE can let Reigns walk out of his first WrestleMania with anything less than his held high while basking in cheers of fans.
Kurt Angle (-260) Vs. Baron Corbin (+200)
This is Kurt Angles retirement match which would make you think he should go out on top. That's not how the wrestling world works, as the practiced profession is "going out on your back" or giving your opponent the win in your last match. This price obviously doesn't reflect that, partially because a lot of people believe this match won't happen and John Cena will attack Corbin and go into this slot. It's a risky bet because it will likely push, but if it goes off as planned, take the underdog Baron Corbin.
Finn Balor (-500) Vs. Bobby Lashley (+350)
This one is the safest bet I've seen since Floyd Mayweather. Finn Balor has a cash cow alter ego known as The Demon, who has never lost in WWE before. WWE also needs to keep Finn Balor happy because they don't want him leaving for a rival promotion, AEW, that's being started by his best friends in the world. It checks every box, will likely open the show and get everyone off on a happy note, and be over quickly. Just listen to how hype crowds get when they get to see him:
There's a few other matches on the card, but truthfully I don't have a clue or an angle on who wins them. Best of luck this weekend degenerates!