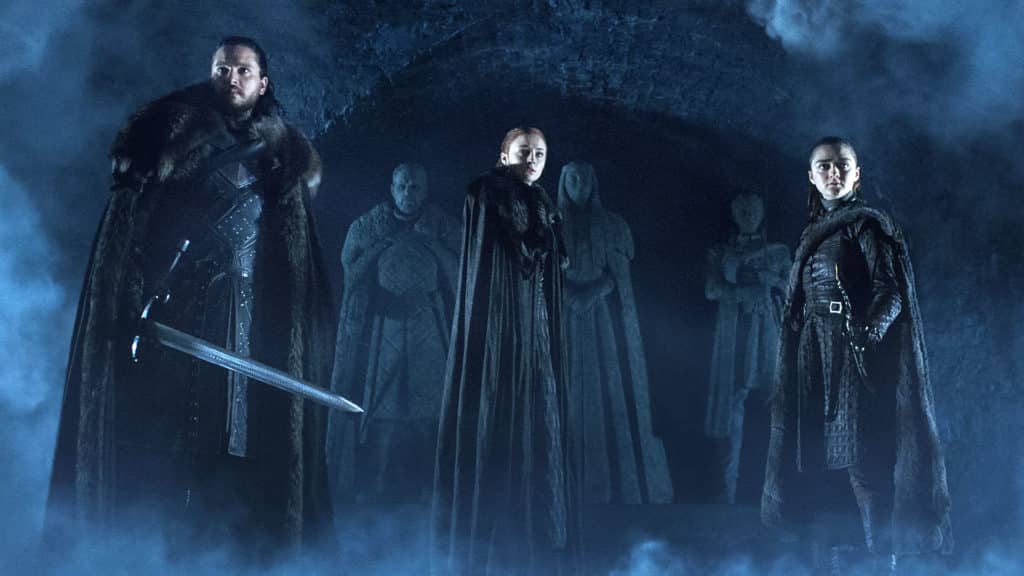 Fresh off the heals of the Oscars fiasco, we're back to bring you some more pre-determined novelty prop news. Specifically, every gambler's favorite show, Game Of Thrones. Earlier today, the final season posters were revealed, along with emojis, and while we still don't have a trailer longer than 20 seconds, at least it's something.
It's time to play favorites. Choose who you want to see sit on the iron throne. #ForTheThrone https://t.co/4VpN25DxBD

— HBO (@HBO) February 28, 2019
It's all been #ForTheThrone HBO drops a huge batch of new #GameOfThrones posters. Including:#Daenerys #JonSnow#Cersei #NightKing pic.twitter.com/6qETx9vnka

— Rotten Tomatoes (@RottenTomatoes) February 28, 2019
GOT is been famous for dropping clues and easter eggs, but right now, there's not much to go on. While it's never safe to assume anything wit this series, maybe these posters are a small peek into the finalists to sit on the Iron Throne. Pictured in the posters are: Arya Stark, Tyrion Lannister, The Hound, Brienne of Tarth, Daenerys, Euron Greyjoy, The Night King, Theon Greyjoy, Jorah Mormont, Samwell Tarly, Greyworm, Davos Seaworth, Jon Snow, Missandei, Sansa Stark, Jaime Lannister, Bran Stark, Varys, Cersei Lannister, and Melisandre.
Not pictured: Gendry (+900)
He is only one who has odds available to bet on, pictured below.
Now, maybe Game Of Thrones producers want you to forget about him, because you know, there's a crazy theory that he has king's blood and has been long thought to be the long shot to be the ruler of Westeros. At one point 80% of bets were on Gendry. If you want to read why and how people think he's the right ruler, you can do that here.
The show is famous for throwing curve balls, and while I've placed by bet on Bran, I just placed a second one on Gendry to rule at +900.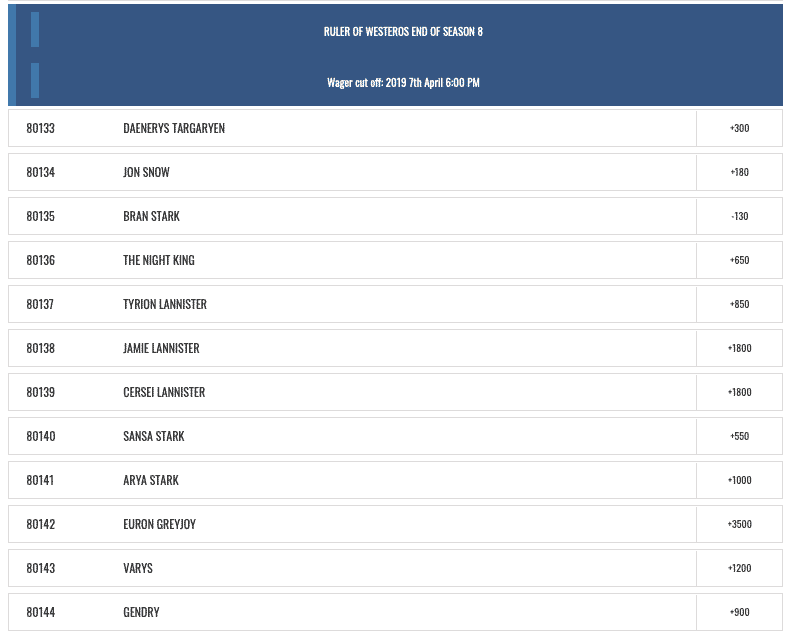 Maybe the characters who aren't pictured were picked because they don't even make the final 12?
If that's true, those characters are very likely to be killed and we just have to figure out who is most likely to be first.
So, going back to the posters, when we cross that with who's the first to perish in season 8, those not pictured include: Yara Greyjoy (+200), The Mountain (+700), Bronn (+1400), Gendry (+1400), and Tormund Giantsbane (+200).
Now, Tormund is largely irrelevant in the long haul and certainly makes some sense to kill off first. However, it's the final season, which is dubbed to be six movies not episodes, so the producers are going to strive for something shocking with their first kill.
Gendry, although it sounds weird, makes some sense to dispel all the wild rumors right off the bat as well. You see, the longer Gendry sticks around the whispers of the dark horse to take the throne will grow.
Yara Greyjoy has long been the co-betting favorite to die off first and maybe I'm giving the show too much credit for their unpredictability, but I just don't ever see this show going the "favorite" route.
Bronn is an intriguing payout at 14/1. He's not pictured in the posters and not listed to rule at the end, so for those reasons, I'll take a stab on Bronn (+1400) and Gendry (+1400) to hedge my bet. The rest of the odds are below.