How's your NCAA Tournament bracket looking? Did you heed the advice of Jeff from logistics too closely when he said he really liked Marquette? Did you auto-generate an ESPN "smart bracket" only to have it auto-populate with Nevada, Wisconsin and Kansas in the Final Four? Is Erica from Human Resources rubbing it in your face how badly she's beating your supposed "expert" insight on college basketball?
Well, fear not. If your bracket is in shambles you have the opportunity to gamble on golf's version of March Madness when the world's best tee it up at Austin Country Club for the WGC Dell Technologies Match Play Championship.
The WGC Match Play is a welcome change of pace to the regular stroke play events, and with the format change made back in 2016 it's provided some much needed excitement to the proceedings. After seeing several WGC Match Play events end with low rated finals like David Toms and Chris DiMarco, the event changed to resemble that of the World Cup where golfers would be selected into groups and play a round robin. From there, the winner of each group would go on to play in the elimination round until a champion was crowned. While this change inadvertently created scenarios where matches with absolutely nothing at stake would commence on Friday, the benefits of increasing the likelihood of top stars advancing to the weekend outweighed the negatives.
Here's all to know before placing wagers on the event.
READ ALSO:
WGC Dell Technology Match Play – Group A-H Picks
WGC Dell Technology Match Play – Group I-P Picks
The Field
Since it's a WGC, anyone within the Top 64 in the world is eligible to compete. As usual, it's a stacked field and the only field intrigue is who isn't playing. The only players who choose to pass on this event are Rickie Fowler and Adam Scott. Adam Scott's deferral is no surprise, as he has openly stated his desire to cut down on his schedule and focus more on big time events. Rickie's omission, however, is a little more surprising. However given the Masters is right around the corner, chances are he's focused on mentally preparing for that instead of cashing in on a guaranteed payday in Austin.
The Golf Course
The event has historically struggled to find both a permanent home and sponsor since it's inception. Seeking to capitalize on the popularity of match play formats like the Presidents Cup or Ryder Cup, the WGC added a match play only event to it's rotation in 1999 and held it's first tournament in California. The event bounced around from Carlsbad, CA, to Australia, to back to Carlsbad, to Arizona, and lastly to San Francisco in 2015. In 2016, the event moved back east to the Austin Country Club as both a means to place it near other southeastern United States events and to bring along Dell Computers as the primary sponsor, whose headquarters are in Austin.
The Austin Country Club was first established in 1899, however the site of the current club was established in 1984. The golf course itself was designed by Pete Dye, who true to his reputation created a championship caliber golf course designed as a thorough test of all a player's abilities.
To me, what stands out about the golf course is the different style and feel between the Front Nine and the Back Nine:
Front Nine
The front nine has the look and feel of a more traditional Texas or Southwestern golf course. It's a little more rugged than the Back Nine. While the directional layout of the Front Nine isn't all that mindblowing, Pete Dye did a very nice job using the surrounding terrain to create obstacles and challenges to the golfers. There is a lot of sloping and sidehill lies of the fairways of the Front Nine, and the holes use the surrounding canyons as natural hazards quite well, particularly from holes 2-4.
Back Nine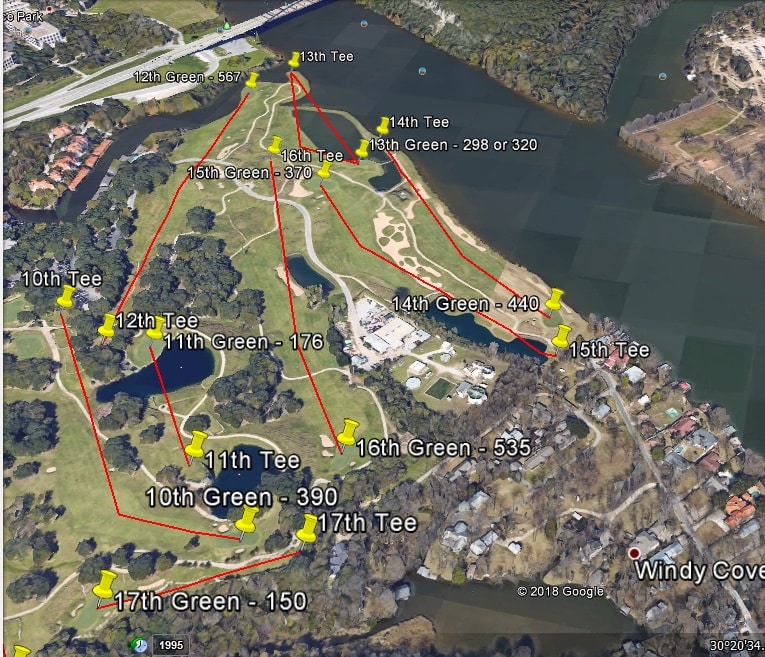 The Back Nine has more of the look and feel of a traditional Pete Dye design that you might expect from him. There are more water hazards on this side of the golf course as well as Pete's trademark expansive, elongated fairway bunkers. The Back Nine is also much more interesting visually on television, particularly from holes 12 through 14 which work their way towards the Pennybacker Bridge and Lake Austin. This side of the golf course is much more wide open than the front, and makes this side much more exposed to the trademarked Texas winds.
While the golf course itself is solid, the most important question is if it's a good golf course for match play. The qualifiers to this are if it's a golf course that punishes poor shots but rewards bold, daring shots when properly executed, as well as perfectly balances risk/reward. Overall, Austin Country Club meets this criteria, particularly on two holes:
Hole No. 13
Players may only have the only option to lay up if the wind is in their face. With a helping wind, however, the player can opt to change the momentum of the match by going for the green or play it safe and navigate around the pond for a 100 yard wedge in. The right decision on this hole is key to ensuring a golfer can crawl back into a match or hold onto a lead.
Hole No. 18
The short closing hole doesn't look like much from the overhead satellite imagery, but what makes this hole great for match play is the area around the green and how it's designed: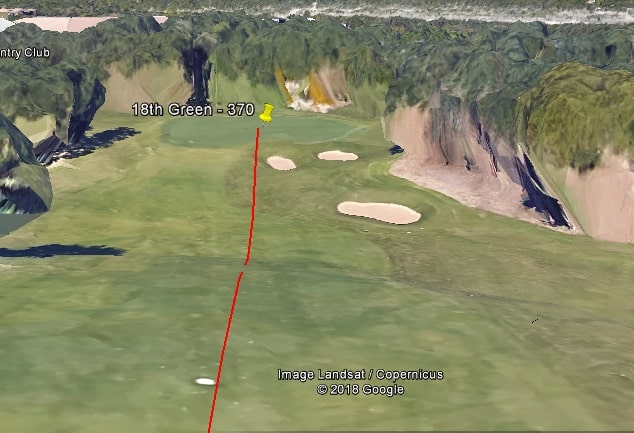 Players who opt to hit driver will have to make sure they hit a draw down the fairway, as the fairway slopes down and to the right to a collection area in the rough. Any balls that end up there sets up a tough 50 yard pitch over three greenside bunkers into a green that severely slopes from back to front. Anything long of the pin sets up a brutal downhill chip or putt back towards the hole, while anything short may run back off the green into the collection area down the fairway. This is a great closing hole for match play, as this hole provides ample opportunity for a player to squander or heroically capture a match.
READ ALSO:
WGC Dell Technology Match Play – Group A-H Picks
WGC Dell Technology Match Play – Group I-P Picks
Betting Strategies
Let me put out a disclaimer first – this event is the toughest to bet on the entire PGA Tour schedule.
For one, it's match play. Crazy results are going to happen that make absolutely no sense whatsoever. It's entirely possible for a golfer to card a score higher than their opponent yet still best them 4&3 to take the match. It's also apples to oranges on how well a golfer plays and advances in the tournament. A golfer who shoots 64 and wins their match gets just as much credit as someone who shoots 75 and wins theirs.
There's also no shotlink data to work with because the vast majority of golfers won't complete all 18 holes of the match. That makes in-tournament betting a very tall order without a good road map to make good decisions. If anything, keep a close eye on how certain golfers are winning (or losing) their matches. If one player lighting up the golf course is going up against someone who's ham and egging points, that's a tell-tale sign of a favorable matchup.
Lastly, this event is two weeks before the biggest tournament of the year – the Masters. Most of these guys are only showing up for the paycheck and as a final tuneup before they head down Magnolia Lane. Their minds are certainly not all that invested in winning this tournament, especially if they lose their first match on Wednesday. This overall lackadaisical attitude could also be a nice angle to fade any golfer already eliminated by Friday, particularly if they're matched up against someone with something to play for.
As far as pre-tournament betting goes, avoid betting the traditional futures odds on the golfer to win the entire event. There is so much variance in match play that it just isn't worth it to bet that early on a golfer. Once group play has concluded, then feel free to place the wagers on the winner (though the odds won't quite be as lucrative). Instead, initially narrow the focus more on group play and place a particular emphasis on recent ball-striking performance with a blend of how well they've putted of late. When in doubt, fade those who are struggling with the flatstick – if you can't make putts in match play, you aren't going to win the match.