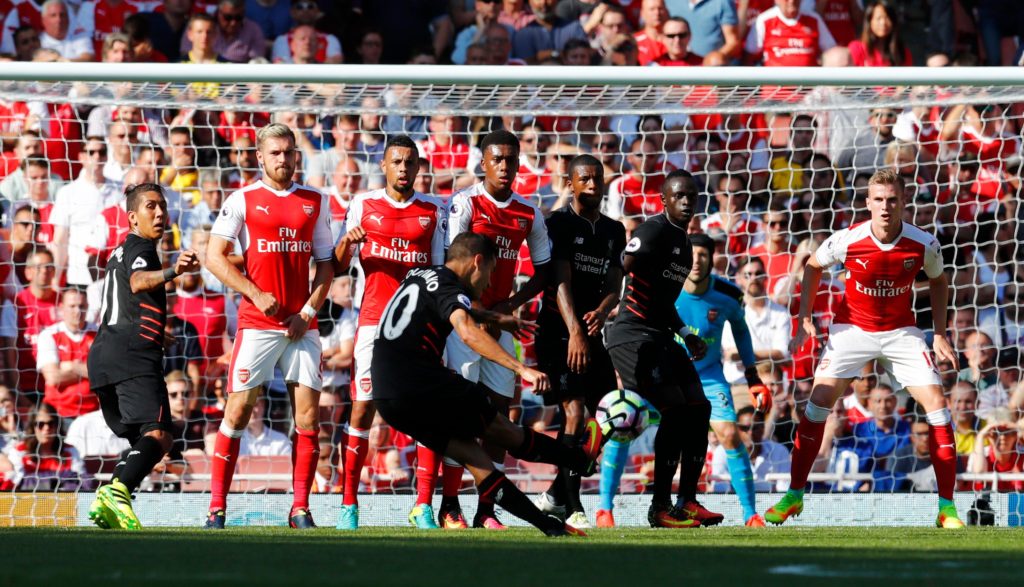 Hi everybody! I'm Donnie Sengstack, a soccer writer for Sports Gambling Podcast. I put out DFS Premier League picks every Friday. Those articles are full of information for the games on a particular weekend. Please be sure to check those out too! This article is different. It has more general DFS Soccer information and strategies you can apply on a wee- to-week basis. So without further ado, here are my three cardinal sins of DFS Soccer.
Use promo code SGP to sign up for DraftKings' $64,000 March Madness Bracket Challenge  
Double Check Your DFS Lineup After Managers Announce Their Starting 11
Yes, before you ask I do realize that I have something along the lines of "check your DFS lineup after managers announce their starting 11" at the top of both lists. That is only because doing this is THE MOST IMPORTANT THING YOU CAN DO IN DAILY FANTASY SOCCER! In the "Cardinal Sins of DFS Soccer" article I focused on all the ways that not doing this can hurt your chances of winning, but here I will focus on all the ways checking pre-match lineups can help your team's chances of winning. About an hour before each match managers will announce the 11 players who will be starting for the team that day. Now is a great time to make sure that all the players in your lineup are starting and that there isn't more value to be found elsewhere. Players are priced days before each contest and because of that they are priced based on the anticipated starting lineups for each team. Sometimes in the hour before a match you can find great value in players that were not supposed to start who wind up in a manager's starting 11 anyway. These players are priced as nonstarters, so they could wind up being thousands of dollars cheaper than the players they are replacing. With the money you save you can upgrade to higher priced players at other positions who you might not have been able to get before. Doing this can give you a major advantage over the other teams in your contest.
Do Your Research Beforehand
Sure, whichever Daily Fantasy site you use will do some of the research for you. They all will give you each player's average fantasy points per game and how many points the players have scored in their last few games. DraftKings will even let you know how each player's opposition ranks. And of course, I will be writing articles every week to suggest players that you should build your lineup around. But even with all these resources, doing a little bit of research on your own can help put your team over the top. Taking a dive into all of the statistics by yourself can be daunting but here are a few things to keep an eye out for when you are trying to build a team. Find out who takes the corner kicks and the set pieces for each team. Find out if any of your players have injury concerns and how recently their last game was. It is important that all your players are anticipated to play a full 90 minutes. The location of the games also matters. The weather on game days can play a role and some players perform better at home than others, especially goalkeepers. There's so much more that factors into this, but research can difference between a good day and a bad day of DFS Soccer.
Goals Are Always Golden
Goals. Goals are everything in Daily Fantasy Soccer. You can do all the research you want beforehand but none of it will make any difference if nobody in your lineup scores a goal. Even if all of your players have decent stats in other areas, it is nearly impossible to cash out in a standard contest if none of your players score goals. If many of your players score goals, you are likely to climb into the big money positions in a standard contest. On DraftKings a goal is worth 10 points and the next closest statistic is worth 5 points. Predicting who is going to find the back of the net is not easy to do but there are some things to keep an eye out for. Find out who takes the penalty kicks and free kicks for a team. These players are worth paying extra for. Also, look at each player's recent games to see if they are in good goalscoring form going into the game. Finally check out each player's opponent and see how likely or unlikely the opponent is to concede goals. If you do all this, there's a good chance you'll find at least one goal scorer and gain a major advantage in your contest.
Use promo code SGP to sign up for DraftKings' $64,000 March Madness Bracket Challenge