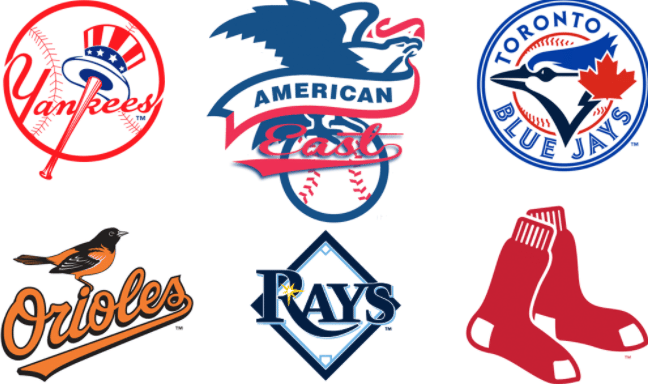 To be honest with you, this division drives me crazy. It's more of an outlier than Robbie Ray's sabermetrics and Joey Gallo's home run rate compared to his batting average. If you look at this division from a philosophical perspective, you're going to lose money more times than you win. Traditionally, you want to take more under's than overs on win totals because if you added them all up, theres's more wins than possible from a math standpoint. You also want to usually take under the highest of win totals and go over the lowest ones.
SEE ALSO:
AL Central Win Totals & Division Odds
AL West Win Totals & Division Odds
With this division, throw math out the window, because all these teams do is win games, although it's via very different styles from free agent spending to analytics and innovation for the smallest of markets. They also get to play the Orioles 20 times each.
Odds To Win Division
New York Yankees (-140)
Boston Red Sox (+160)
Tampa Bay Rays (+800)
Toronto Blue Jays (+3000)
Baltimore Orioles (+30000)
This is a two horse race between Boston and New York as Tampa in my opinion is likely to regress while Toronto gets a little bit better, cancelling each other out. This division is simple if you can put your live trader hat on, just go back and forth every time Boston and New York are underdogs as they'll be neck and neck all season. I'd start with some Boston at (+160) and hope The Yankees come down to plus money at some point, rinse and repeat.
New York Yankees: 96.5 Wins
The Yankees win total will always hinge on the health of their superstars and the starting pitching, but that's been the story for years. Aaron Judge and Gary Sanchez look to rebound off injured years while Luis Severino, DiDi Gregorius are already beginning the year hurt. The baby bombers are growing up as they hit home runs over 9% over the league average per at bat for best in the league, setting every home run record along the way. With Severino now a question mark, Tanaka will start opening day, followed by James Paxton, J.A Happ, and C.C Sabathia. They have the best bullpen in baseball and I don't think it's close. Long term, you always want to short the higher win totals on the board, but the move from Justus Sheffield to James Paxton helps them now and while the starting pitching is a house of cards after him for one more year, they can add at the deadline. No one beats bad teams better than The Yankees, and that will be the case this year again. They have improved their wins every year since 2016 during their mini rebuild and will do the same again. After all, they won 100 games despite going 10-13 against The Red Sox.
Arrivals: LHP James Paxton, SS Troy Tulowitski, RHP Adam Ottavino
Departures: OF Andrew McCutchen, RHP David Robertson
Lineup:
1) Aaron Hicks, CF
2) Aaron Judge, RF
3) Giancarlo Stanton, DH
4) Gary Sanchez, C
5) Miguel Andujar, 3B
6) Luke Voit, 1B
7) Troy Tulowitzki, SS
8) Gleyber Torres, 2B
9) Brett Gardner, LF
Rotation and closer:
Luis Severino, James Paxton, Masahiro Tanaka, J.A. Happ, CC Sabathia, Closer: Aroldis Chapman, LHP
Prediction: Over 96.5 Wins
Toronto Blue Jays:  74 Wins
People, including myself, forget just how good Toronto was just back in 2015. We may look back on those teams and wonder how it possibly went wrong, but that was then and this is now. Let's start with the obvious, they have the best hitting prospect in baseball since Alex Rodriguez in Vladimir Guerrero Jr who they are using kid gloves with for a variety of reasons, but most importantly service time. At only 19, they want to maximize their time with Vlad Jr, and just two weeks in the minors to start the year gets them another season prior to free agency. He also suffered a leg injury in spring and now without question will start the year in the minor leagues and by itself offers value to go under his season long props. Toronto doesn't stop there though as they also have Bo Bichette and Cavan Biggio (last names look familiar?) coming up with him. The Jays farm system invested in pedigree, and it seems to be working. The pitching should positively regress, Stroman had a league best 62% ground ball rate for over half his innings and Aaron Sanchez has been injured. I wish I could take a second half over instead of a full season because I feel like this team could have the best record in September and no one sees it coming. Everything went wrong for them last season and they won 73 games, Guerrero Jr, Bichette, and Jansen are coming up, and the pitching on the front end should positively regress to win one more game than last year.
Arrivals: RHP Clay Buchholz, LHP Clayton Richard, RHP Matt Shoemaker
Departures: RHP Marco Estrada, SS Troy Tulowitzki
Lineup:
1) Lourdes Gurriel Jr., 2B
2) Brandon Drury, 3B
3) Justin Smoak, 1B
4) Kendrys Morales, DH
5) Randal Grichuk, RF
6) Teoscar Hernandez, LF
7) Kevin Pillar, CF
8) Danny Jansen, C
9) Freddy Galvis, SS
Rotation and closer:
Marcus Stroman, Aaron Sanchez, Matt Shoemaker, Clay Buchholz, Ryan Borucki
Closer: Ken Giles, RHP
Prediction: Over 74 wins
Baltimore Orioles: 59 Wins
You'll hear analysts talk about "windows" for teams a lot, and this is a case of a window being boarded up. From 2012-2016 Baltimore made the playoffs, which in the AL East is no easy accomplishment. Last year, The Orioles finished almost a full half season of games behind division leader Boston (61) and frankly things don't look much better. If The Marlins are the MLB's version of "The Process" 76'ers, Baltimore is The Knicks. They are trending down as a franchise as a whole, having less wins each of the last three years and they didn't even try to get better. Usually in a situation like this you can point to the up and coming farm system but they rank close to dead last in that department too, so the draft looks to be their only hope for upcoming seasons. Dan Duquette was likely still on Boston's payroll as he took over Baltimore; They still carry Chris Davis' ridiculous contract, traded away Manny Machado, Jonathan Schoop, and Zach Britton. They carry two former top prospects in their rotation in Bundy and Cobb, but they will probably trade them too. They only have to lose 103 games to go under, they lost 115 last year and got worse.
Arrivals: None. Seriously.
Departures: SS Tim Beckham, OF Adam Jones
Lineup:
1) Cedric Mullins, CF
2) Jonathan Villar, 2B
3) Trey Mancini, LF
4) Mark Trumbo, DH
5) Chris Davis, 1B
6) Renato Nunez, 3B
7) Chance Sisco, C
8) Joey Rickard, RF
9) Richie Martin, SS
Rotation and closer:
Dylan Bundy, Andrew Cashner, Alex Cobb, David Hess, Nate Karns
Closer: Mychal Givens, RHP
Prediction: Under 59 Wins
Tampa Bay Rays: 84 Wins
The Rays are revolutionizing small market baseball to a point we've never seen before. New innovation, creativity, and player analytics are taking over this franchise, and I love it. After winning 90 games last season, thanks in part to two things, power and innovation-specifically the opener, they offloaded a ton of the first category. They let C.J Cron walk, traded Jake Baurs, and proved they won't pay for power. Health is key here for Tampa's rotation or lack there of, as to have any success they need everything they can out of 2018 Cy Young winner Blake Snell again, Charlie Morton to not look 35, and Tyler Glasnow to prove he was once a top prospect for a reason. They got better just about everywhere via the Chris Archer deal, landing the above mentioned Glasnow and fellow top prospect Austin Meadows, and Willy Adames is also in for a huge year. They always have top prospects and this year is no different with the top short stop prospect in baseball, Wander Franco, pitcher/1B Brendan McKay, and Brent Honeywell-another elite prospect off Tommy John. This number, while I would love to blindly take the over because they just get it done somehow, they have only gone over 84 wins once (last year) in the last five years.
Arrivals: RHP Charlie Morton
Departures: DH C.J Cron, 1B Jake Baurs, OF Mallex Smith
Lineup:
1) Austin Meadows, RF
2) Tommy Pham, LF
3) Ji-Man Choi, 1B
4) Yandy Diaz, 3B
5) Avisail Garcia, DH
6) Daniel Robertson, 2B
7) Willy Adames, SS
8) Kevin Kiermaier, CF
9) Mike Zunino, C
Rotation and closer:
Blake Snell, Charlie Morton, Opener, Tyler Glasnow, Opener
Closer: Jose Alvarado, LHP
Prediction: Under 84 Wins

Boston Red Sox: 94 Wins
The reigning World Series winners vaulted 16 games over their 2016 and 2017 win total of 93 for a variety of reasons, but none more important than Alex Cora. Cora's style of being one of the boys and letting players play free and loose worked to perfection for Boston, but as Terry Francona proved, it can come to an end very quickly and terribly if you lose the club house. Cora shouldn't have to worry about that with this group here, as they frankly love playing for him, he knows what style to employ for each type of player wether it be support (Devers) or tough love (David Price). This team blends veteran leadership, young talent, and prospects all over the place and will once again contend for a title. Raphael Devers was a teenager last year, Bogaerts is in a contract year, Chris Sale and Rick Porcello find themselves in the same situation from a pitching perspective which if being content was a worry for you on this team, much of them have a personal investment in their own production. Here's my two issues: the lineup is very top heavy and the bullpen could be a disaster while The Yankees bullpen is the best in baseball by a wide margin, but they have the best rotation in the division by far. Did the Red Sox get better? no. They also will obviously lose more games late than last season if they don't bring Kimbrel back, but is this team 14 games worse than last year? No.
Arrivals: OF Gorkys Hernandez
Departures: RP Craig Kimbrel, RP Joe Kelly, 2B Ian Kinsler, LHP Drew Pomeranz
Lineup:
1) Andrew Benintendi, LF
2) Mookie Betts, RF
3) J.D. Martinez, DH
4) Xander Bogaerts, SS
5) Mitch Moreland, 1B
6) Dustin Pedroia, 2B
7) Rafael Devers, 3B
8) Jackie Bradley Jr., CF
9) Christian Vazquez, C
Rotation and closer:
Chris Sale, David Price,Rick Porcello, Nathan Eovaldi, Eduardo Rodriguez
Closer: Matt Barnes, RHP
Prediction: Over 94 Wins
SEE ALSO:
AL Central Win Totals & Division Odds
AL West Win Totals & Division Odds