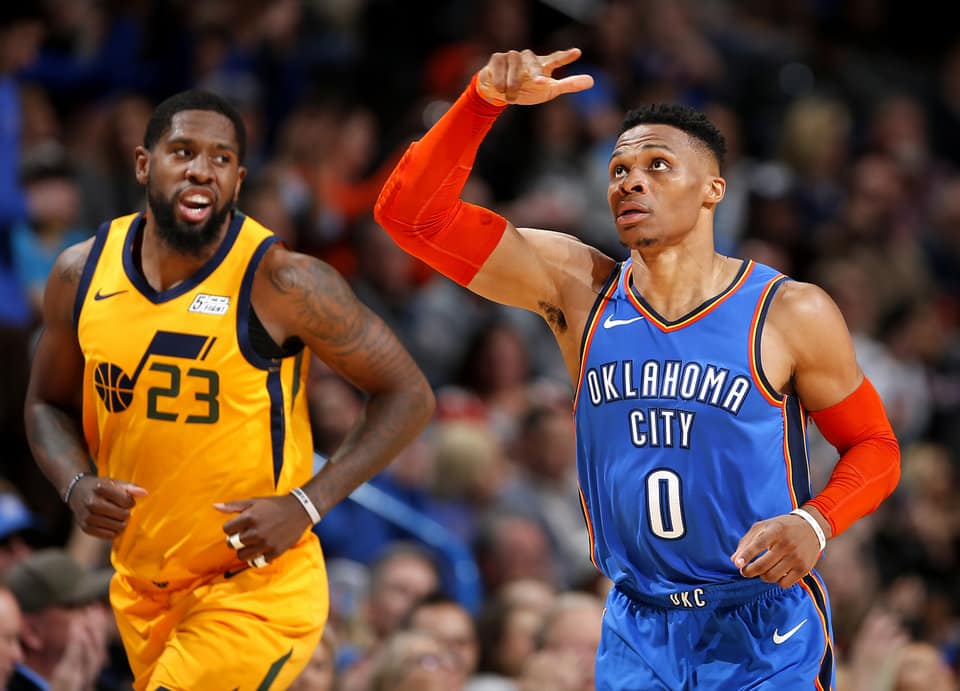 Daily Fantasy Basketball Cores and Pivots will offer to serve as a mutually proportioned grasp for an everyday NBA DFS main slate, touching on core and pivot plays at each position, as well as strategies you may find useful as roster outlines or interesting contrarian plays.
Much of a Groundhog Day-ish feel to it, we roll out the red carpet to yet another start to the work/school week. I don't know about you, but I heavily look forward to the Monday NBA slates after the weird ones typically having just transpired over most weekends (especially in terms of the morning/afternoon splits and depending on the site). So back to normalcy and onto a steady six-game slate for today, loaded with some probable-to-be-chalk value, some heavy-hitting high priced studs, and everything in between. Let's take a glance…
Point Guard
Core:
Russell Westbrook ($10,800 DK/$11,300 FD)
Fantasy Basketball value can be determined in a number of ways, and matchups and opportunity are certainly two of them (as I discussed in a previous DIY article). With news released early over the weekend that Ricky Rubio is already out of today's game, along with Dante Exum doubtful and Raul Neto still out, we're in line to see a lot of Royce O'Neale chalk once again and on the other side of that is our beast next to the bullet point above. Priced just a bit too cheap in my opinion, especially considering the early news of Rubio to be missing as a defender, Russell Westbrook is seeking to own the court this evening in Utah.
Westbrook has played better all season long with Paul George active by his side, and has averaged 35.6 raw points since his return to the Thunder active roster three games ago. Also in that time span Russ hasn't really lost any of his usual 36 minutes aside from a couple in the last game against the Clippers, but his usage in fact hardly ever deviates from being over 33% as well. And in his last recent meeting with the Jazz (02/22), he put up an uproarious 81.75 DraftKings Fantasy Points. I find it hard to get away from him when setting the outlines to my first entries of the day with how high his upside is.
Pivots:  De'Aaron Fox, Kyrie Irving, Chris Paul, Tomas Satoransky, Spencer Dinwiddie, Marcus Smart
Punts:  Ish Smith, Reggie Jackson, Jeremy Lin
Shooting Guard
Core:
Donovan Mitchell ($8,400 DK/$8,900 FD)
On the other side of this narrative standing in line due for as many minutes as humanly possible, Donovan Mitchell will be spearheading an extremely short-handed guard unit for the Utah Jazz in front of their home crowd against the Oklahoma City Thunder. Averaging a 35.85% usage rate in his past six games, Mitchell will be looking to stay out of foul trouble and command the ball often in a paced-up spot against the Thunder's 3rd-highest-in-the-league pace overall and a 17th overall team defensive rating in the past ten games. With only the likes of Joe Ingles, Royce O'Neale, and Kyle Korver bucking up shots besides him as the remaining Jazz guards, Donovan Mitchell should sturdily meet plus-value through usage to pay off his very affordable price tag, especially given the circumstances discussed.
Pivots:  Bradley Beal, James Harden, Buddy Hield, D'Angelo Russell
Punts:  Bogdan Bogdanovic, Marcus Smart, Luke Kennard, Danny Green, Jaylen Brown
Small Forward
Core:
Harrison Barnes ($5,200 DK/$6,100 FD)
I feel like all it takes is the subtlety of a low-key name to get some of these guys under the pricing radar of these DFS host sites. And in the case of Harrison Barnes, I couldn't happen to figure out another reason for why he's quite that cheap today. Squaring off at Capital One Arena with the host Washington Wizards, Barnes is given a very tasty pace-up spot against the league's fifth highest team in pace over the past ten games and insane amount of opportunity considering how cheap he is.
Averaging 33 DKFP in his past five games against a Washington defense ranking 27th in the league in their past ten played, he's got an undeniable safe floor and fairly entertaining ceiling with regards to his uptick in minutes since Bagley's injury, averaging 37 per game as a starter in his absence. Harrison would likely have a harder time hindering you than helping your roster's cause.
Pivots:  Paul George, Joe Ingles, Trevor Ariza, Danillo Gallinar, Nicolas Batum
Punts:  Royce O'Neale (chalk value), Jabari Parker, Jae Crowder, Gordon Hayward, Joe Harris, Miles Bridges
Power Forward
Core:
Bobby Portis ($5,900 DK/$6,500 FD)
Another guy squeaking by priced like he hasn't really done much lately, Bobby Portis is in a fantastic matchup against the Sacramento Kings, who have been a noteworthy degree of awful against the Center position for most of the season (particularly without Bagley). Averaging 37 DKFP in his past four games, Portis is in a smash spot against the Kings so long as nobody is impeding on his minutes. Ranking as the second highest team in the league in pace over the past ten games, Sacramento provides all the pace in the world favorable of the Chicago-castoff, especially considering he's a really talented rebounder and the Kings really aren't, coming in at 25th overall in team rebound percentage in the past ten games. Given the great opportunity, Bobby Portis is another dude on this list who'd have to really try to hurt you with the low-flying price he's touting with massive upside against the likes of Cauley-Stein and Harry Giles.
Pivots:  Pascal Siakam (my other favorite),  Blake Griffin
Punts:  Nemanja Bejelica, Marcus Morris, Rodions Kurucs, Ed Davis, P.J. Tucker, Serge Ibaka
Center
Core:
Andre Drummond ($9,100 DK/$10,600 FD)
It's hard to deny a good ol' smash-mouth matchup opportunity providing major hope for massive upside, and that's precisely what you're get by rostering Andre Drummond today. With only Jarrett Allen and Ed Davis to defend the post, Drummond has an extremely enticing matchup in Brooklyn on Monday night and with nothing but green to show in his argumentative favor. Aside from two blips on a couple of single-game weekend matchups, Andre The Giant has been exceeding his DraftKings price tag value since January 25th. If you take into account that he's always priced in the $8K and above range, that's absolutely ludicrous to accomplish.  And averaging 51.56 DKFP and 35 minutes in his past four games, I find myself trying every which way to fit him into enough of my rosters to hopefully double the field in ownership.
Pivots:  Al Horford, Clint Capela, Rudy Gobert, Willie Cauley-Stein, Marc Gasol
Punts: Jarrett Allen, Bismack Biyombo