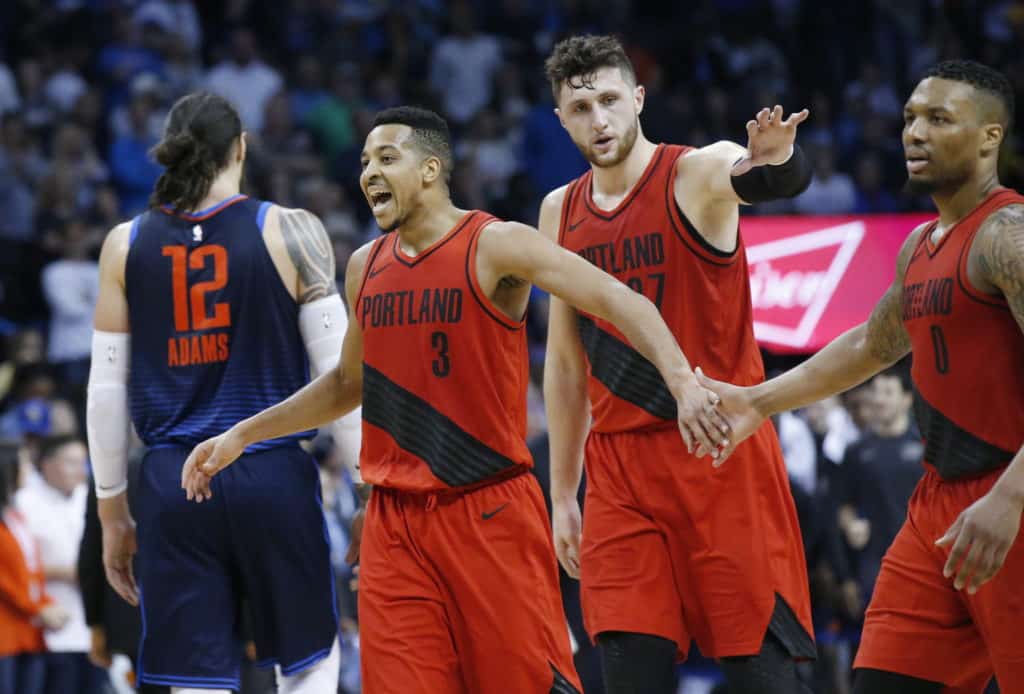 Daily Fantasy Basketball Cores, Pivots, and Strategy will offer to serve as a mutually proportioned grasp for an everyday NBA DFS main slate, touching on core and pivot plays at each position, as well as strategies you may find useful as roster outlines or interesting contrarian plays.
Well, we've finally arrived here. A bare-bones, malnourished two-game slate. We've been given a generous assortment of games on a daily basis since the first release of this article series, and I feel just a bit spoiled in retrospect looking at today's offering. However, on days like today you have to make do with what you're given and find the positives where they may be, and today stands equipped with a stellar amount of value plays despite a very thin allotment to select from.
What you'll find with extremely short slates is that it's very easy to get an edge on the public with simply playing a successful lesser popular pivot. Depending on whether you're playing Cash games (H2H's, 50/50's, Double-Up's) or GPP's (Guaranteed Prize Pools; mid-large field tournaments with set prizes) will make a figurative difference in your approach. But regardless of your wagering stride, great plays are awaiting to be discovered so let's check it out.
Point Guard
Core:
• Darren Collison ($5,800 DK/$7,000 FD)
While I will certainly be getting my fair plays of both studs at the top of the starving Point Guard heap in Westbrook and Lillard, neither would be realistically attainable without egregiously priced players on the slate such as Darren Collison. Although he's averaging an astounding 32.81 DK Fantasy Points over the course of his past eight games, he's still absurdly priced down beneath $6K on DraftKings and only $7K flat on FanDuel. Playing against a paced-up Bucks team who's ranked 24th overall defensively in the past five games, Collison should rightfully be a key anchor of the Indiana Pacers once again today and serving as one to your DFS lineups as well.
Pivots:  Russell Westbrook, Damian Lillard, Eric Bledsoe
Punts:  Cory Joseph
Shooting Guard
Core:
• Malcom Brogdon ($5,600 DK/$6,500 FD)
Priced down much like Collison but with better reasoning due to coming off his recent plantar fasciitis setback, Malcom Brogdon is a reliable core value play who carries plenty of argumentative reason behind rostering on a standard slate basis, let alone a gaunt one like today's. Not ever having touched the likes of $6K or higher since 2018 (12/10 vs. CLE), Brogdon has been averaging a steady 31.81 DKFP over his past eight games as well and makes for an insane amount of roster spend-ups when factoring him into your lineups.
Despite drawing a paced-down opponent in the Indiana Pacers, they're still hovering at the middle of the pack of teams defensively over the past ten games (15th) as well as opponent's points off fast breaks (16th). Brogdon is playing on an average of 30 minutes a night in his past eight played, getting a fair share of run between the first and second units at just under 20% usage in that time span. I'll be getting plenty of him in my lineups to make all that room elsewhere.
Pivots:  Khris Middleton, CJ McCollum
Punts:  Wesley Matthews, Pat Connaughton
Small Forward
Core:
• Paul George ($9,700 DK/$11,000 FD)
Another play I value more so on DraftKings as opposed to over on FanDuel, Paul George is looking to have his first blow-up night since returning from a lingering shoulder injury that sidelined him for a week. At the same time he's facing a Portland Trail Blazers team who's ranked down at 21st in pace in the past ten games, they're ranked in the middle of the pack defensively and have not had an answer for George in the past this season, posting the outstanding performances of 53, 64, and 88.5 DKFP against them. I have no problem figuring Billy Donovan will start to lean heavily again on his MVP candidate, as they've lost three of their last four games and sit in a three-way tie with the Rockets and opponent Blazers.
Pivots:  Giannis Antetokounmpo, Bojan Bogdanovic, Moe Harkless, Nikola Mirotic
Punts:  Jake Layman
Power Forward
Core:
• Thaddeus Young ($5,700 DK/$6,600 FD)
Didn't I just get done saying this same thing about this guy a couple days ago? Far too cheap, in a paced up spot at Milwaukee, and without Domantas Sabonis once again, Thad is looking like the must-have option on FanDuel and a valuable multi-eligible position piece at SF/PF on DraftKings. Verbatim of Collison and Brogdon, this guy couldn't have a better price. Considering he's averaging 37 starting minutes in Sabonis' absence and doing everything from scoring to rebounding, averaging 33.67 DKFP in his past seven games is something simply ignorant to fade on a depleted Thursday selection at Power Forward.
Pivots:  Al-Farouq Aminu
Punts:  Ersan Ilyasova
Center
Core:
• Jusuf Nurkic ($6,700 DK/$8,600 FD)
While his ceiling has not been averaged often in the past month, Jusuf Nurkic has a chance for finding some solid production given his price tag. Considering he hasn't been this cheap since the end of December ($6,400 @ Golden State, 12/27), Nurkic stands opportune to hit value for his salary cost while squaring off against Steven Adams and the Thunder, who've been surprisingly weaker against the Center position despite the notorious grit of Adams. They just got smashed on by Karl-Anthony Towns to the tune of 67 DKFP and Nurkic tends to play really well at home.
Even if he gets just around his usual 29-31 minutes, I doubt Enes Kanter will be chomping much into the playing time of Nurkic unless he somehow gets into foul trouble with Adams giving him a problem down low, but I'll be betting against that eccentric game flow. His moderate floor and very achievable ceiling in this matchup factors to meet value ala $6,700 with ease. I will be getting beyond the public share of the much-too-affordable Nurkic.
Pivots:  Myles Turner
Punts:  Brook Lopez, Enes Kanter  (a revenge narrative is worth noting)
Strategy
The easily-pivoted edge over the public I spoke of earlier is going to involve two particularly different plays in consideration to Cash games versus GPP lineups. It's something I plan to touch on in more of the upcoming Do-It-Yourself releases, but from a condensed synopsis you're basically trying to get weird with your roster in a GPP, whereas Cash games are going to rely heavily on "stability" (I use the term extremely loosely). This is typically always considered to be the case scenario when comparing and contrasting the two different approaches (Cash vs GPP), but I'd definitely say it's magnified on shorter slates because it's so much harder to successfully pivot away from good plays given limited options per price tier.
This extremely limited player pool also makes for the conversation of importance behind tournament selection strategy (another discussion I will conduct in a DIY release) and knowing where to pick your pond to optimize the chance your lineup has to pay off for you. Chalk is chalk; nobody will be without Westbrook, George, Lillard, or Giannis in multi-entry tournaments today. So if you're playing Cash or even Single-Entry, don't be afraid of chalk. Multi-Entry tournaments are where you're going to want to stand-out differently and take advantage of how many lineups you can affordably get in somewhere.