Yesterday, we took a look at some NBA teams that are ripe to get hot down the homestretch of the regular season. Today, we'll be taking a look at three teams that I feel are set to regress over the next couple of months, sliding down the standings on account of tough schedules, unsustainable play, and select warning signs. Here are three teams that I think have a chance to get awful cold:
Oklahoma City Thunder
The Thunder have played the league's easiest schedule to date, vaunting them up to the 3rd seed in the Western Conference. Naturally, they play the league's hardest schedule from here on out (according to tankathon.com). They really don't have any easy games left; they get the Grizzlies twice who are a bad team in record only and every other game is against a competitive, postseason-driven team.
There's more to a potential OKC demise than just a tough schedule, however. The Thunder have done some insane things thus far this season that I'd argue are almost objectively unsustainable. Surprise MVP candidate Paul George is playing so well it's scary. But, if you take a closer look behind his scoring output, this dude is doing some of the most ridiculous tough shot-making and taking in recent NBA history. Perhaps this is sustainable, but most likely not. According to NBA Stats (and I encourage you dive into that link for yourself), PG-13 is shooting 48% on tightly-contested 3's, and 33% on very tightly-contested 3's. He's connecting on 46% of his 3's and 52% of his 2's when his touch lasts longer than six seconds, an uncanny level of bucket-getting in a situation that implies their offense lost continuity and turned into the Paul George show. I can keep going, too. This man has a 66% effective field-goal percentage on 1-dribble pull-ups, a number that would be best in the league overall. PG has been amazing, and deserves a ton of credit; I'm just not willing to go so far as to say that he can sustain a level of being the best scorer in the NBA.
I expect PG's offense to regress down the stretch, which puts more of an onus on the rest of their roster to pick up some slack. And I just don't think more Russell Westbrook is the answer. According to NBA Stats, he's averaging almost 5 turnovers per game, shooting 25% from deep on 5 attempts per game, and shooting just 66% from the line. Russ has been great in his new secondary role, but any individual regression from Paul George elevates the role of Russ. In 2019, I don't think that's a good thing.
The Thunder's team defense has also declined significantly over the course of the season. According to NBA Stats, the Thunder opened the season with three straight months of allowing below 105 points per 100 possessions, and were at 100 and 101 in November and December, respectively. The last two months have not been nearly as strong defensively, however, allowing 112 points per 100 possessions in January and 109 thus far in February. Their defense is slipping as the stakes get higher — I'm not a fan of that trend. And with an extraordinarily tough schedule coming up, the costs of poor defense will be amplified.
With the toughest schedule in the league, unsustainable production from their stars, and a deteriorating defense, I will be fading the Thunder aggressively down the stretch.
New Orleans Pelicans
This is less of an on-court analysis, but I will be fading the Pelicans hard down the stretch and particularly until the Anthony Davis situation is resolved. After he bailed on a game during the 3rd-quarter last week, he played in the all-star game and appeared in pictures with Lebron over the weekend. This situation is flat-out about to get ugly. Davis wants to play, but it clearly makes no sense for the Pelicans to risk an injury knowing they are essentially forced to trade him during the offseason.
Their GM Dell Demps has already been fired for the way he handled the Davis situation, and Head Coach Alvin Gentry is as pissed off as a dude on the back of the line at the DMV.
Alvin Gentry has had enough on questions about Anthony Davis. pic.twitter.com/o1QfoJjyQv

— NBA on ESPN (@ESPNNBA) February 15, 2019
Does this look like a coach who you want to be betting on as his situation collapses around him? I think not. The Pelicans are in the darkest of days for an NBA franchise, divorcing from a superstar and heading into the abyss of rebuilding in a small market. The Pelicans not only have no choice to be as bad as possible the rest of the year, but will simultaneously be in shambles from an organizational perspective. Good luck.
Charlotte Hornets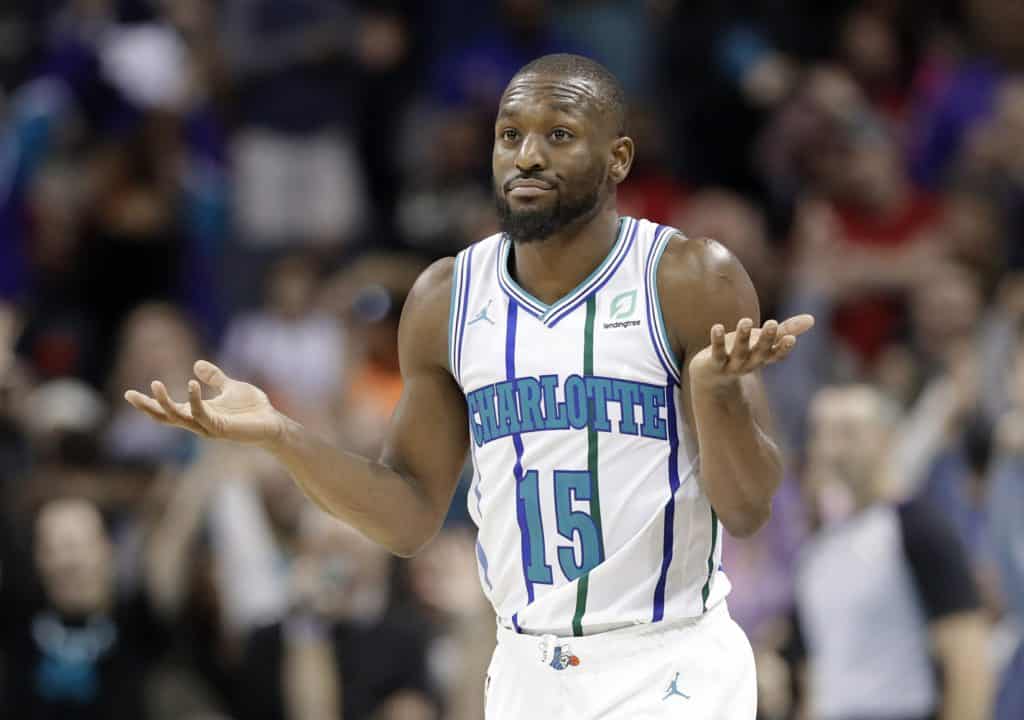 The Hornets were a fun story for a while at the beginning of the year. Kemba Walker was playing the best basketball of his career, and they looked like a team that was headed to the playoffs in a weak Eastern Conference. Since then, however, they've already begun the retread back to mediocrity. They might even be just a bad team. According to NBA Stats, they allowed 114 points per 100 possessions in the month of January, and are already allowing 116 points per 100 possessions in the month of February. Sadly for Charlotte, their defense has just fallen off a cliff. They're allowing opponents to shoot a swiss-cheese-level 48.3% from the field over their last 10 games.
The worst part is for Hornets fans is that there is no end in sight. They face the 2nd-toughest schedule over the remainder of the season, and will have to scrap and claw their way to hold onto a playoff spot. Not making a big move at the deadline will almost certainly haunt them as they try to break out of late-lottery mediocrity, and I am sure management will regret haggling Memphis over pick protections to such an extent that they blew the Marc Gasol trade. Charlotte was the team in the league that was probably most interested in making a major move. Instead, they did nothing, and now will have to deal with what remains: Kemba Walker, a really shitty defense, and a really tough schedule.