It's the first big boy full field tournament of the season, as the PGA Tour moves back oceanside for the Farmers Insurance Open at Torrey Pines in La Jolla, California.
With football on a one week sabbatical before the big game in Atlanta, the Farmers Insurance Open already was going to be a primary focus in the sports world thanks to a star-studded field and a golf course almost everyone is familiar with.
Oh, by the way, Tiger Woods will play the event as well. And in addition to the normal betting slate, the books will offer up their traditional Tiger props for bettors to gamble on.
Here's a primer of everything to know before you place your bets:
The Field
All eyes will be on Tiger Woods as he tees it up in his first start on the PGA Tour in 2019. Now that Firestone CC has been taken to the glue factory, Torrey Pines stands as the golf course Tiger has enjoyed the most success on in his career. He has eight career wins at Torrey Pines, including the iconic 2008 U.S. Open when he took down Rocco Mediate in an 18 hole playoff on a broken tibia and a torn ACL. It's been quite some time since he's tasted success there due to injuries and course rust, but with a win at the Tour Championship four months ago the impossibly high expectations that always befall him will be even higher.
Joining him will be eleven other golfers currently ranked inside the Top 20 in the world. Jon Rahm and Jason Day won this event in 2017 and 2018, respectively, and will look to add another Torrey Pines trophy to the mantle. Rory McIlroy looks to shake off a lackluster final round at Kapalua after he let the hardware slip through his fingers. The winner at Kapalua Xander Schauffele, looks to continue his hot start and go for his third win of the year. And Jordan Spieth is hoping to gaze out into the Pacific Ocean, achieve nirvana and emerge from the slump he unfortunately finds himself in.
Other notables playing this weekend include World #1 Justin Rose, defending Masters champion Patrick Reed, and Rickie Fowler, who hasn't defended anything besides his Social Media Championship Belt in quite some time.
The Course
Unlike the golf resorts, country clubs and semi-private courses the PGA Tour normally stops at, Torrey Pines is a municipally owned golf course built in 1957 on the site of an old U.S. Army Base just north of San Diego. The golf course was designed by William Bell and featured two 18-hole tracks on both the north and south sides of the property. The PGA Tour has made Torrey Pines a regular stop on the tour since 1968.
Starting in 2000, the U.S. Open began to have an appetite for municipal public golf courses in their effort to #growthegame. Along with fellow municipal golf course Bethpage Black, Torrey Pines was picked by the U.S. Open to host the 2008 event and hired Rees Jones to redesign the golf course so that it was suitable for championship play.
The revisions to the South course included a significant lengthening of the golf course to counter advancements in golf technology, repositioning of greens closer to the canyons to bring them into play, and adding numerous fairway bunkers to challenge the professionals off the tee. The course was lengthened over 500 yards and runs almost 7,700 yards from the tips.
While the USGA loved the new-look of the golf course, it had more than a few detractors. The South course is often regarded by the nerdy golf architecture community as a "good view spoiled" due to its lack of imagination. Tom Pernice called it a "typical piece-of-junk Rees Jones design". And because it was altered with the professionals in mind it became an absolute behemoth for amateurs to play, even from the regular tees. If you were to walk the golf course from the back tees, you'd log almost 5.5 miles on your Fitbit.
I've never had the pleasure of setting foot on the property, but when looking at the layout of the South Course I have to agree that it has Rees Jones' lackluster fingerprints all over it:
Front Nine
Back Nine
The only difference between the South Course and fellow panned Rees Jones design Bellerive, which hosted the 2018 PGA Championship, is the Pacific Ocean. Both courses feature a never ending parade of long, slightly doglegged Par 4's with narrow fairways, deep rough and fairway bunkers in the landing zones of the professional's drives. And though the goal of the redesign was to bring the canyons into play, there really aren't many places on the golf course where they actually do. Sure there are a few greens that sit on the cliffs of the canyons, but thanks to deep rough surrounding both greens and fairways it takes a spectacularly poor mishit from a professional to say goodbye to their golf ball. There's very little threat that an average or slightly below average shot will wind up into the hazard. The canyons are nothing more than decoration.
Meanwhile, the North Course was redesigned in 2016 by Tom Weiskopf, who's other notable work includes the Olympic Club in San Francisco. Unlike it's big brother to the south, Weiskopf sought to redesign the North course with the amateur, not the professional, in mind. As such, Weiskopf enlarged greens, removed 18 bunkers (mostly of the fairway variety), and cut down dozens of trees due to a beetle infestation. While the removal of the trees disappointed some, it opened up the golf course significantly and gave way to spectacular views of the coastline.
But the most significant improvement of the North course was just a simple cosmetic change. Weiskopf flipped the nines so that the Back Nine plays along the coast and canyons, and showcases the property's most picturesque hole – the downhill Par 3 15th.
Front/Back Nine
Back Nine
Hole #15
Though the North course was played with the amateur in mind, the scores by the professionals are actually worse than they were before the redesign. Scores on the North course post-redesign are about a stroke higher on average than they were pre-redesign.
Despite my mild disdain for the layout of the property, it looks fantastic on television (even though CBS gives the hang-gliders flying along the edges of the golf course far too much airtime). Considering it follows up a tournament at PGA West that makes my eyes bleed, the scene of Torrey Pines is a very enjoyable one for the viewer.
Betting Strategies:
This tournament can be Jekyll and Hyde depending on the weather conditions. If the tournament enjoys the usual pristine and flawless weather that San Diego is known for, then that'll favor longer hitters both off the tee and from the fairway. Those were the conditions that allowed driver-specialists like Jon Rahm and Jason Day to win in 2017 and 2018.
But if the wind blows like it did over the weekend of the 2016 Farmers Insurance Open, then the South course really shows its fangs. That year, rain and wind absolutely decimated a final round that started on Sunday and finished on Monday. Despite 50 MPH gusts, Brandt Snedeker somehow managed to card a 69 and sat in the clubhouse all day Monday as the rest of the field averaged 78 to backdoor into a title. In bad weather conditions, shorter tacticians with low ball flights and shave strokes off their score on and around the greens are the ones to gravitate to.
Luckily for the coddled, delicate professionals of the PGA Tour, the weather looks absolutely spectacular for all four rounds: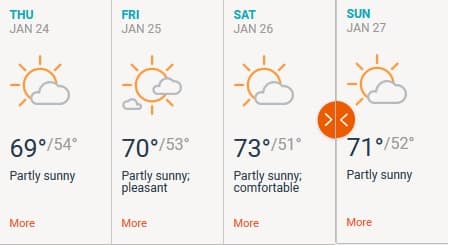 Winds aren't in the forecast to get higher than 10 MPH all weekend, and though the morning fog might roll in off the coast and cause a delay in play, there shouldn't be too much adversity that mother nature will throw at the golfers. Therefore, the guys who I will target this week include longer hitters off the tee who have a history of excelling on Poa-Annua greens and perform well on longer approach shots.
Here's who I have my eye on this weekend (with DraftKings values and odds courtesy of mybookie.ag).
The Favorites:
Jon Rahm – 10/1, $11,400
Rory McIlroy – 12/1, $11,100
Justin Rose – 12/1, $10,800
Tiger Woods – 16/1, $10,500
Jason Day – 16/1, $10,100
As mentioned earlier, the weather conditions are setting up quite nice for the last two Torrey Pines champs in Jon Rahm and Jason Day. Both these players thrive on golf courses that allow them to showcase the best weapon in their bags – the driver, and when each are firing on all cylinders with that club they have a significant advantage over the field. I like both to be hanging around the Top 10 all weekend.
This will be Rory McIlroy's first trip to Torrey Pines and while he also could feast on the long track with his driver, this course doesn't seem like the template golf course he excels at. Rory traditionally plays better in hot, muggy, soft conditions where wayward drives won't punish him as much off the tee. Torrey Pines is basically the opposite of the conditions he normally thrives in. I don't have a lot of high hopes for him this weekend and expect him to hang around the Top 30 at best.
We got our first look at how Justin Rose would fare with his new Honma clubs and the results were…meh. ShotLink data was only kept at the Stadium Course last weekend, and on two rounds of play Rose was basically flat in relation to the field in Strokes Gained Tee-to-Green and lost half a shot to the field on his approach shots. It's only two rounds and while I'm not jumping to sweeping conclusions about the state of his game, I'm generally avoiding him in DraftKings or on matchup props until I either see concrete signs of improvement or deterioration of his game.
And what about Tiger? The only form bettors can draw to is his exhibition against Phil Mickelson that he practically slept walked through, followed by finishing next to last at the Hero World Challenge in the Bahamas. It's tempting to look at his win at the Tour Championship as well as his fantastic history at Torrey Pines and back him, but I'm avoiding him at the Farmers. This seems like a weekend where he's in cruise control, finding his feels on the golf course, shaking off course rust, and gradually build himself up so he can peak at Augusta in April.
If your book offers up a "Will Tiger Hit the Fairway on his Opening Tee-Shot" prop, here's a look at what Tiger will be looking at Thursday morning at Hole #1 on the South course: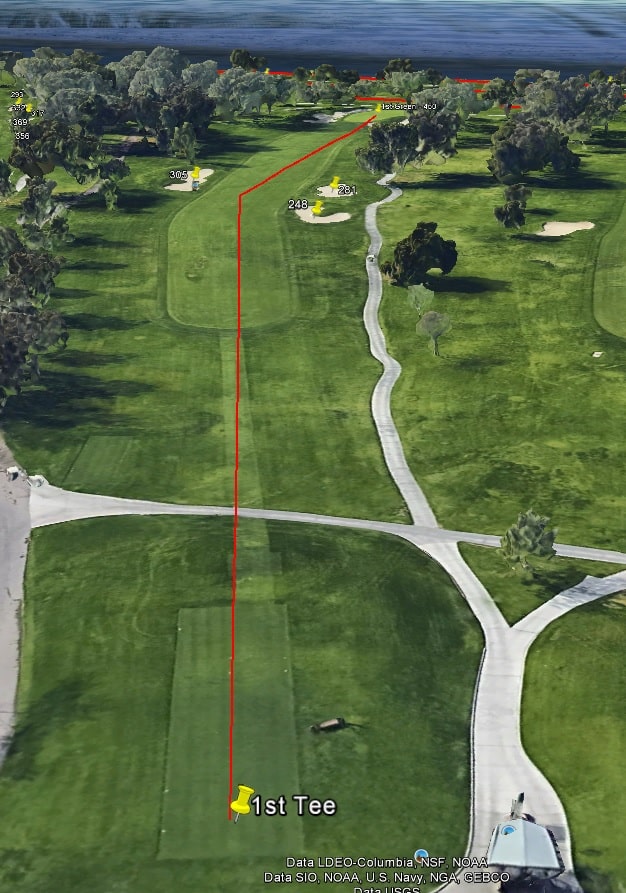 This is a tough tee shot for Tiger. He's looking at a landing zone of only 25 yards wide between two sets of bunkers flanking each side of the fairway. For him, his ideal shot shape would be to start his drive towards the left bunker and cut back towards the middle of the fairway to set up his approach. This tee shot sometimes is an issue for Tiger as when he misses he either wildly blocks it to the right or hits a vicious snap hook into the left rough like he did on his opening tee-shot last year. If your book offers this prop, lean on the Missed Fairway side.
Starting his round off on the South Course might provide an opportunity for Tiger to shake off the rust and give bettors a reason to back him in his 2nd round. While not offered on mybookie.ag, the over/under on Tiger's low round on the North course is around 70.5 on several other books. As long as he comes through his opening round relatively unscathed, he should go at least -2 on the easier side of Torrey Pines to make the weekend.
Other Contenders:
Tony Finau – 20/1, $9,900: I'm calling my shot that Tony Finau finally wins a big-boy golf tournament on the PGA Tour this weekend at Torrey Pines. He should have won in Shanghai back in October for his long overdue breakout win, but his coronation was stolen by Xander Schauffele in the playoff. With ideal ball-striking conditions expected, Tony Finau should be able to fare well on the strength of his driving and long approach shots.
Sungjae Im – 55/1, $7,800: Ride him while he's hot. Im has been fantastic off the tee in his rookie year and there's little reason why he can't have another solid Top 20 finish at Torrey Pines this weekend. Sungjae had another great tournament tee-to-green at the Desert Classic last week and now is averaging over a stroke gained tee to green in the 2018-2019 season. While he's not quite ready for a bust out win, his daily fantasy price still remains undervalued. DraftKings is still pricing fellow hyped rookie Cameron Champ well above his price point, yet I like Sungjae as a superior option at $700 cheaper.
Emiliano Grillo – 66/1, $8,100: Grillo has decent course history at Torrey Pines, racking up a T12 finish in 2018 and a T33 finish there in 2017. He's also off to a great start to his season and there's little reason to think he'll go off the reservation at Torrey Pines. He only has two ShotLink measured events under his belt in 2019 but in those two he averaged 1.45 Strokes Gained Tee-to-Green – and those were some of  his more mediocre finishes of the year. He's not getting any credit for his work at the WGC-HSBC Champions, the CIMB Classic or the Mayakoba Golf Classic, where he recorded Top 15 finishes in all three events. He's paired up with Aaron Wise on matchup props this weekend, who's really struggling with his game at the moment. Grillo is a solid middle of the road option on DraftKings, as well as at –135 over Aaron Wise at the Farmers Insurance Open.
Luke List – 66/1, $7,7700: Last week I gave Cameron Davis a stay of execution after I spotlighted him in my Sony Open preview and he bombed out of the tournament, and he rewarded my faith in him with a Top 30 finish at a cheap $6,800 cost on DraftKings. This week I'm granting that same stay of execution to Luke List, who I featured last week in my Desert Classic preview and really disappointed in the event. It's hard to tell what exactly went wrong for him, as he only recorded one measurable round in the tournament. Nevertheless, I'll back him again on a driver-heavy golf course that should suit his game.
Other Options: Marc Leishman – 20/1, $9,700, Cameron Smith – 40/1, $8,800, Hideki Matsuyama – 50/1, $8,000
Sleepers:
Ryan Palmer – 80/1, $7,600: I'm not really a fan of Ryan Palmer's futures odds. Nor his DraftKings price, as it's likely overinflated because of his strong course history at Torrey Pines. He'll also be a fairly popular play on DraftKings (boy, I'm doing a really good job selling him to the reader). But I'm including him here because he's paired up in a matchup prop with Charl Schwartzel, who has been awful on the PGA Tour since his T2 finish at the Players Championship last year. His struggles have been with his performance off the tee, and it could be a very short weekend for him at a place like Torrey Pines that'll punish someone not driving the ball well. I'm siding with Ryan Palmer at -135 over Schwartzel, which is more of a hard fade against Schwartzel than an endorsement of Palmer.
Kevin Tway – 100/1, $7,200: The missed cut at the Sony Open might be a blessing in disguise for bettors, as it seems to have depressed both his futures odds and DraftKings price this weekend. I expect a nice bounce back from Tway at Torrey Pines, as his strong performance off the tee and with long approaches so far in 2019 should keep him relevant on the leaderboard. He's also matched up against Hudson Swafford at -130, who crashed back down to earth at the Desert Classic following his T3 finish at the Sony Open. I like Tway on that side of the prop.
Other Options: Jason Kokrak – 125/1, $7,100, Keith Mitchell – 125/1, $7,000, Sam Ryder – 200/1, $6,700
Farmers Insurance Open DraftKings Lineup #1
Jason Day – $10,100
Tony Finau – $9,900
Emiliano Grillo – $8,100
Kyle Stanley – $7,500
Kevin Tway – $7,200
Keith Mitchell – $7,000
Farmers Insurance Open DraftKings Lineup #2
Marc Leishman – $9,700
Xander Schauffele – $9,400
Rickie Fowler – $9,300
Luke List – $7,700
Harold Varner III – $7,200
Sam Ryder – $6,700
Farmers Insurance Open DraftKings Lineup #3
Jon Rahm – $8,800
Cameron Smith – $8,800
Hideki Matsuyama – $8,000
Sungjae Im – $7,800
Jason Kokrak – $7,100
Nick Watney – $6,900