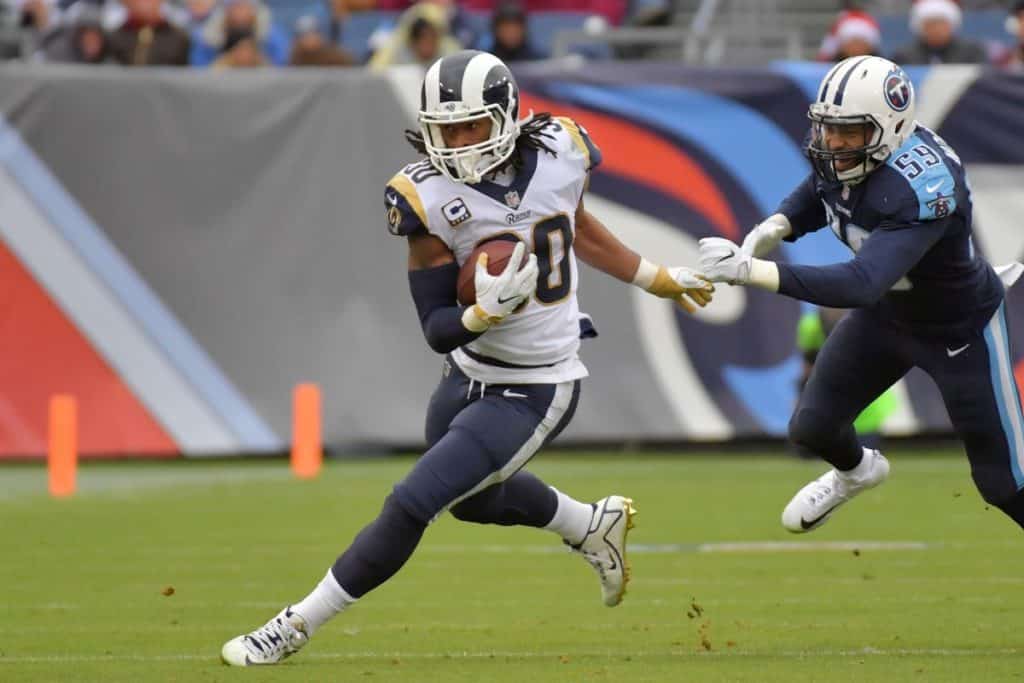 Who did you bet on for MVP to begin the season? Rodgers at +600? Wentz at +700? Brady at +800? How about Jimmy G (suckers!) at +1500? I think there was more value in The Rock getting elected at +20,000 (line hasn't moved if you're trying to pound that) than Jimmy G at +1500, but I digress.
How those bets look today? Aaron Rodgers has been having a quietly solid year, but no where near the likes of some other QBs. Tom Brady ranks outside the top 10 in passing yards per game and passer rating.  As for Wentz and the Eagles, well, they have been more hungover than a freshman sorority chick after bid day. This leaves Rodgers and Brady at +2000 and Wentz at +2000. As for Jimmy G, well, ugh…
How about the favorites, did anyone take any of these guys?
Patrick "Showtime" Mahomes -140 (originally at +3,300)
Todd Gurley: +500 (originally at +3,000):
Drew Brees +300 (originally at +1,600):
If you placed on any of these three during the pre-season, congrats! You've won nothing! But what if we could trade these bets? Our system Prophet allows you to sell your sports bets.
Hedging Strategies For NFL MVP Futures
Let's walk through a quick example using the original $50 to net $1,650 (+3,300) on Mahomes. At -140, it is worth $2,310. If you tried selling it at -140, no one is going to buy your bet since they can just get it at a sportsbook for the same price. But what if you were selling your bet at even? Surely a buyer would rather have that.
If you wanted to profit (get it?) off of your bet, yet keep some skin in the game on Mahomes, Prophet would suggest you sell 30% of your Mahomes bet at even odds, or $495 to net $495. Thus, if Mahomes won MVP, you'd net $1,155 ($1,650 – $495). If he lost MVP, you'd net $445 ($495 – $50).
If you're a complete sucker, which I know most of us are, don't use Prophet and continue to ALMOST make a lot of money from your bets. I love when that happens. Nothing like the thrill of losing money.
Anyway, let's take a look at who our pick is to take it home, as well as where some MVP value lies in the second half of the season. 
Our Pick: Todd Gurley +500
Mahomes' immediate surge is more shocking than Donald Trump continuing to spray paint his face light orange. His flashy play and unprecedented talent are tough to pick against; however, we are taking the Rams RB to lift the trophy. We expect Mahomes to regress; it is his first season starting after all.  Keeping up this pace of play and level of execution in his first full season would be unimaginable.
Another reason is that the last running back to lift the trophy, Adrian Peterson in 2012, had stats that Gurley is simply blowing out of the water.  Let's take a comparative look:
AP 2012: 2,314 Yards from scrimmage, 13 Total TDs, Record 10-6

TG II 2018: 1,230 Yards from scrimmage, 16 Total TDs, Record 8-1
If Gurley makes a run at LT's TD record, his team is the 1 seed in the NFC, AND the Super Bowl favorite, how do you vote against that guy?
Other Value Picks:
Tom Brady +2000 – +2,000 for Tom, c'mon! We all know the Patriots are going to go 13-3. It's what they do. Believe me, I'm a Dolphins fan, I've read this script before.
Philip Rivers +2000 – 19 TDs, 3 picks. The Chargers are for real.  These odds will lower as the season wears on. If the Chargers overtake the Chiefs for the division, who knows.
Jared Goff +2000 – If Gurley goes down, Goff is the next star up and already has the numbers to back it up.