After two low scoring events in Malaysia and South Korea, the final leg of the Asian swing on the PGA Tour kicks off at Sheshan International Golf Club for the WGC-HSBC Champions in Shanghai, China.
WGC events are big money cash grabs that attract almost all of the Top 60 golfers in the world, but because this one is held on the other side of the world several big names are passing in favor of extending their fall season break. Notable golfers skipping the WGC-HSBC Champions includes Justin Thomas, Rickie Fowler, Jordan Spieth, Tiger Woods and 2015 WGC-HSBC Champions winner Bubba Watson.
Even with not as much star power as the other WGC's, this particular one is badly in need for a rebrand. On its outset, this event was supposed to enable both the PGA Tour and the European Tour to tap into the potentially lucrative Chinese market in order to expand their brands. However, this endeavor has proved futile as the ruling Communist Party has barred its members from playing golf and shut down dozens of golf courses in the country. Yet this event is still played because, well, when has the Chinese government really played by the rules if there's millions and millions of dollars at play, right?
As far as the golf course itself, there really isn't that much to write home about. Shehan International plays about 7,200 yards with bentgrass greens, bermuda fairways, an overabundance of fairway bunkers and just an overall lack of creativity or strategy hole to hole:
Yawn.
In terms of navigating the track, it's fairly simple – hit a long drive either away or over the water or bunker hazards, then hit solid iron shots onto soft, receptive, soggy greens. Lather, rinse, repeat. The event is routinely a birdie fest and it's no wonder the more elite ball-strikers in the world like Justin Rose, Dustin Johnson and Hideki Matsuyama all call themselves former winners. Other past champions like Ian Poulter, Martin Kaymer and Phil Mickelson were well in their prime of elite ball-striking ability at the time they won.
There is one redeeming bring spot to this event, though – the ridiculous staged promotional photos that are taken of the golfers before the tournament.
Here's a few beauties through the years:
The silliness started in 2009 when Phil Mickelson and Tiger Woods were photographed wielding Chinese swords. While Tiger is clearly laughing off this chirade, I'm about 84% sure Phil actually practices the ancient art of swordsmanship in his spare time.
2009 also gave us this likely conversation: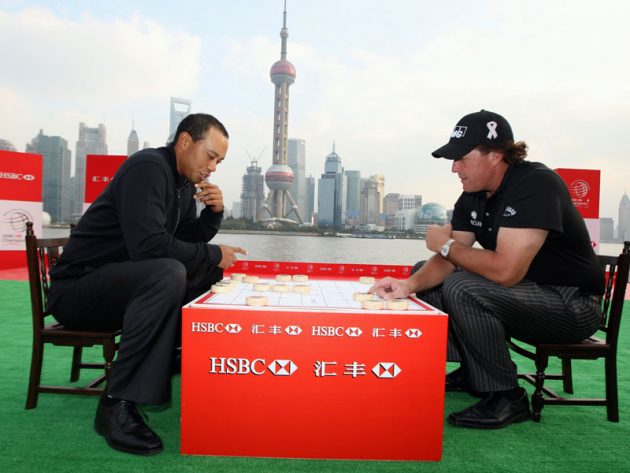 Phil: "So this piece right here, the Shiang, it's one of the most powerful pieces of the game, and I'm going to let you take it out. I'll lay you 3/1 I'll still wipe the floor with you"
Tiger: "It's your turn Phil just go".
In 2015 the world was introduced to newest boy band in pop-music, led by Jordan Spieth (the serious artist who strives for perfection), Rickie Fowler (the babyfaced heart throb), Henrik Stenson (the clown of the group who's most likely to take over as host of America's Got Talent), and Bubba Watson (the token deadbeat that winds up making cameos as "Washed-Up Celebrity X on Hell's Kitchen).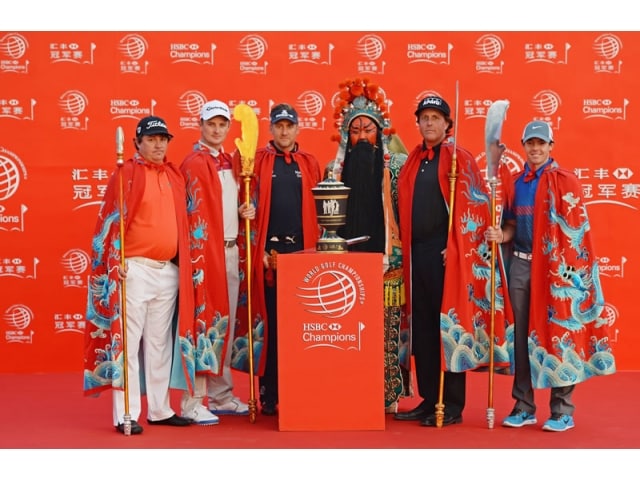 This is the #GOAT of the WGC-HSBC promotional photos. This one ranks right up there on anything you might see on awkwardfamilyphotos.com. Let's ignore the fact they're all dressed in ridiculous capes, holding spears and surrounding a male Chinese Opera Singer (I looked it up and that's actually who he is). You have Rory with a $hiteating grin and clearly knows this shoot is a farce. You have Phil, Justin Rose and Ian Poulter all doing their best to look as serious as possible but end up looking completely ridiculous. And as for Jason Dufner, well, Duff Daddy is staying on brand with his patented #Dufnering face.
********
As far as what types of golfers to target for your DraftKings lineups or betting cards, you'll face similar challenges that you had the last few weeks. You're mainly relying on old data to pick golfers who haven't played a lot of golf of late. The benefit over last week, however, is that there is much more course data at your disposal to try and identify trends of the type of golfers that fare well at Sheshan International.
My approach this week will be to rely on a combination of season long strokes gained data stemming from the end of the 2018 season, as well as looking at recent form history since the beginning of September. While not perfect, that gives the best look at who's ball-striking is on point heading into this week.
Here's who I like this week (with DraftKings values and odds courtesy of mybookie.ag):
The Favorites:
Dustin Johnson – 8/1, $11,500
Justin Rose – 8/1, $11,200
Brooks Koepka – 9/1, $11,000
Rory McIlroy – 10/1, $10,700
Jason Day – 16/1, $10,300
Hideki Matsuyama – 18/1, $10,100
Tony Finau – 18/1, $9,900
Tommy Fleetwood – 18/1, $9,500
Francesco Molinari – 20/1, $9,800
Jon Rahm – 20/1, $9,300
From a futures or matchup perspective, I won't be touching any of these guys. At a golf course that tends to bring out the best in the more elite ball-strikers in the world, any one of these golfers is capable of winning the event. All of them have played great golf tee-to-green since the beginning of the FedEx Cup. Save your money for props on golfers farther down the odds list.
As far as DraftKings, I'll expect Dustin Johnson, Justin Rose and Brooks Koepka all to be popular favorites despite their big price tag because of their course history. Dustin Johnson won the event in 2013 and should have won last year too if it weren't for a Back Nine blowup. The man who beat him was Justin Rose, who is playing the best golf of his life at the moment and suits quite well at this track. And the hottest golfer on the planet is new World #1 Brooks Koepka, who won the C.J. Cup last week and is looking to add another trophy at a big money event, tournaments he has excelled at in his career.
However, the group of golfers valued lower than them are also talented in their own right and playing great golf tee-to-green at the moment. Because of that, I tend to find myself gravitating towards those in order to field a more deep lineup. Guys like Rory McIlroy, Hideki Matsuyama and Jon Rahm are all flying under the radar despite posting strong strokes gained statistics tee-to-green, off the tee and on approach shots since the beginning of September.
Other Contenders:
Patrick Cantlay – 30/1, $8,800: Cantlay tees it up at the WGC-HSBC Champions for the first time since the Safeway Open. Cantlay finished a respectable T15 at this event in 2017 to help set up his first career win one week later at the Shriners Hospitals for Children Open. Cantlay is a consistent ball-striker who's averaged 0.95 Strokes Gained Tee-to-Green since the beginning of the FedEx Cup and can pile on birdies when he gets hot. You can also grab him at -140 over Alex Noren, who has been fairly pedestrian over the last six weeks.
Byeong-Hun An –  66/1, $8,300: Byeong Hun-An had one bad round ruin his C.J. Cup when he shot a 77 in his second round. He was fine in his other three and while he let me down last weekend, I'm going to jump back on board with him. Unfortunately, he's paired up against another guy I like in Kyle Stanley on head to head props, but I like rolling him out again in DraftKings as a nice mid-tier option for a lineup.
Lucas Bjerregaard – 80/1, $7,800: While Brooks Koepka and Justin Rose are the hottest players on the PGA Tour, Lucas Bjerregaard is the hottest player on the European Tour. Bjerregaard has five Top 10 finishes in his last six starts, including a win at the Alfred Dunhill Links Championship. Bjerregaard ranks 12th in Strokes Gained Tee-To-Green on the European Tour and against a strong field I expect him to surprise and run within the Top 20.
C.T. Pan – 110/1, $7,000: I was amazed myself at how well Pan ranked in several key statistical categories I used this weekend, but he's been very solid ever since the beginning of the summer. Pan hasn't missed a cut since the Travelers in June and has six Top 30 finishes during that time. He's slowly risen up the ranks in terms of ball-striking, and against a struggling golfer like Charley Hoffman he's someone I favor in a head to head matchup at -110.
WGC-HSBC Champions DraftKings Lineup #1
Rory McIlroy – $10,700
Rafa Cabrera Bello – $8,900
Patrick Cantlay – $8,800
Lucas Bjerregaard – $7,800
C.T. Pan – $7,000
Andy Sullivan – $6,800
WGC-HSBC Champions DraftKings Lineup #2
Tommy Fleetwood – $9,500
Jon Rahm – $9,300
Byeong Hun-An – $8,300
Billy Horschel – $8,000
Kyle Stanley – $7,600
Thomas Pieters – $7,100