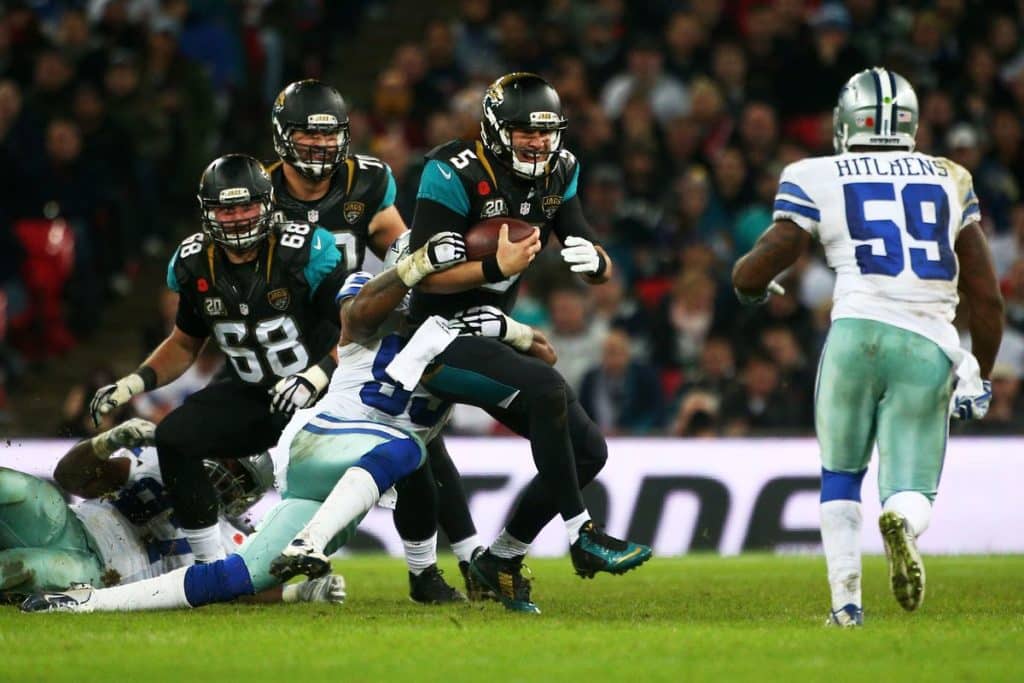 1. Updating The Dying NFL Spread
Again, over the last four years, the NFL spread has mattered two-three times a week within the NFL
Last week: Buffalo covered +10, Denver covered +7, Kansas City covered +3.5 and San Francisco covered +9.
YTD: 15 times out of 90 games.
Moneyline it. Don't take the points and reduce your break-even point. Conversely, parlays-not teasers are more profitable, despite the stigma.
Remember-When a favorite wins the game straight up, they cover the spread 85.1% of the time over the last three-plus years and when an underdog covers, they win the game 82% of the time.
Dogs were barking this week and two more than normal came through to cover instead of winning outright.
2. What Is Going On With Jacksonville's Defense?
I largely gave Jacksonville's defense a pass when it came to allowing 30 points to the NFL's version of the air-raid offense of Andy Reid and Patrick Mahomes, but there isn't much of an excuse for allowing forty points to the worst offense in football-at least from a passing perspective-in The Dallas Cowboys. Yes, Dak Prescott still managed to go under 200 yards passing and cash yet another under passing yards prop even after being spotted forty yards on his first drive, yet Dak and Elliot ran at will and as we've seen time and time again Jacksonville is not built to come from behind.
Yes, they miss Leonard Fournette and Blake Bortles has more weapons than ever, but you're not going to win many football games allowing 40 points to anyone. The defense has a chance for a get right game against Houston coming up, but if they no-show again, this team may be in serious trouble.
3. After Hearing The Comments By Jon Gruden, I'm Furious I Didn't Bet Against Them
Hindsight is always 20/20, I get that. But when you look back at the Seattle Vs. Oakland game and listen to Jon Gruden's comments about seemingly self-admitting that he had zero ideas what to do when it came to getting his team ready for the travel across the country and pond, It makes me quite upset I didn't bet against them.
K, got it. The game has clearly passed Gruden by, and it's quite possible he has set this franchise back a number of years by getting rid of Khalil Mack, and at this rate may not even make it to Vegas.
4. Tennessee's Smoke And Mirrors Are Clearing
Mike Vrabel was supposed to bring The Tennessee Titans out of the dark ages of Mike Mularkey and to be fair, he won with smoke and mirrors for more weeks than I thought possible. This Titans offense has now not scored a touchdown in three out of the last four games and hasn't got into the end zone in two straight. Marcus Mariota has clearly regressed and frankly isn't the guy The Titans thought he could be when they selected him.
He's been plagued by injuries but at the end of the day when a player suffers that many setbacks, you have to take a look at the player himself and if his body can handle the grind of an NFL season, which up until this point he hasn't proven he can at all. This Titans team's stock is falling miserably and I don't think the market will catch up for a bit. They randomly show up just in time to ruin a parlay or a nice day when you bet against them, but I don't know how anyone can get behind this team.
5. Buying Low And Selling High
My whole philosophy when it comes to futures or "long" positions in the NFL is only buying them pre-season when you think the market will get longer. Teams like Alabama, The Patriots, Golden State, Cleveland (in the past with Lebron) are the shining examples. Year after year people think that there isn't enough value in a +225 future pre-season with Alabama yet look perplexed when the market flips to a -250 favorite by week six.
When it comes to division odds, outside of New England, I think the best possible way is to let the market play itself out a bit and look for a buy-low opportunity during the NFL season. There are two that come to mind at the moment.
Philadelphia Eagles To Win The NFC East (-110)
Jacksonville Jaguars To Win The AFC South (+110)
I've written at length about how Philadelphia just doesn't look right. Do I think they have another Super Bowl run in them? No, I don't think anyone in the NFC can touch The Rams right now. That being said, the rest of their division is simply so bad, just because Wentz is showing some rust and Philadelphia is showing a bit of a Super Bowl hangover, it doesn't warrant the price reduction.
Washington provides the most value at +300, but despite The Cowboys randomly showing up, until you can throw for over 200 yards in an NFL game you're not going to be able to hang. The Giants were effectively eliminated last week and things look like they could take a disastrous turn while they let Odell Beckham and Saquon Barkley be wasted. Philadelphia will figure it out eventually even if they aren't the same team as last year, I'll take a shot at -110.
Much like Philadelphia, Jacksonville obviously doesn't look right either. The thing about this situation is, if you thought The NFC East was weak, let me show you the AFC South. Indianapolis was in a perfect situation to get a win this week against The Jets and couldn't do it falling to 1-6. Yes, Houston barely squeaked by The Bills but against any other team, they would have lost that game. I talked about Tennessee above as well. Jacksonville will win this division by default and just because they haven't ended the race by October you're actually getting a pretty nice discount to buy low.