The Fall Season of the PGA Tour continues as the second leg of the Asian Swing heads to the Club at Nine Bridges for the second annual C.J. Cup on Jeju Island, South Korea.
It's been beaten to death the last few weeks of all the faults that the Fall Season of the PGA Tour has, and it's totally warranted. No other sport in the world has an off-season as short as the PGA Tour, a period that stretches for a whopping 11 days between the Tour Championship and the Safeway Open to allow fans, players, and media to barely catch their breath. There's no time to build up intrigue or suspense like other sports do in the weeks leading up to opening night. It also feels like a letdown when it comes on the heels of a dramatic event like the Ryder Cup where fans become emotionally invested in the outcome.
If you want to find the same tired piece about how and why the Fall Season needs to be fixed or scrapped, just go to your favorite mainstream sports outlet and they'll have a hot take. But enough with the negativity – here are the silver linings to the Fall Schedule as currently constructed:
1. Emergence of New Stars: The primary purpose of the Fall Season (other than a late season cash grab so tour pros can take their families on luxurious holiday vacations) is to give recent graduates of the Web.com Tour an opportunity to grab a secure foothold on precious exemptions into tournaments for the next calendar year. With FedEx Cup points available against weaker fields, the graduates can make an early name for themselves and boost themselves up the priority list to get exemptions into fields with bigger purses.
Last year saw Web.com graduates Austin Cook, Andrew Landry, Ryan Armour, and Aaron Wise all get off to good starts during the Fall that helped them land exemptions into higher profile events in 2018 (which also led to Landry and Wise securing victories against good fields in 2018). And this year we've been introduced to the next young crop of stars on the PGA Tour like Cameron Champ, Sungjae Im and Cameron Davis who flashed potential for success with good performances at the Safeway Open.
Particularly for gambling purposes, the Fall Season can give bettors an early glimpse on high upside golfers to try and target down the line in DraftKings or matchup props before the market wises up. Those who do their homework this time of year can reap the rewards with favorable lines once the PGA Tour heats up in January.
2. The Charm of Nighttime Golf: I'm the psychopath who set his alarm for 2 AM to watch every minute of the 2018 Ryder Cup (so not worth ruining my REM Cycle for two weeks to suffer through the dumpster fire known as Team U.S.A.), so maybe this isn't for everyone. But I love watching live golf at night, whether if it's an event on the west coast that wraps up around 9 PM EST or one across the Pacific that tees off around 10:30 and ends around 4 AM.
Here's a helpful tip – if you're a golf fan who recently had a kid, now would be a decent time to take one for the team and pull the night shift on daddy or mommy duty. Not only will you score points with the significant other, but you can actually have something decent to watch other than the same Get Rich Quick Infomercial or the fifth repeat of SportsCenter that you normally would have while your child howls in the darkness of night.
3. The Fall Season Knows What It Is And Ponies Up For It: Like all sports, money is the ultimate driver for both player and management decisions. That's why you see fall events like the Safeway Open back up the Brinks truck to attract players like Rory McIlroy, Phil Mickelson, and Tiger Woods to play (though two attempts to land the Big Cat have crashed and burned).
Outside the specialty events like majors, the Players, the WGC's and  FedEx Cup, the C.J. Cup offers the highest purse of regular tour stops on the season. That means this week's event is fairly stocked with big names – Justin Thomas, Brooke Koepka, Hideki Matsuyama, Jason Day, Paul Casey and Adam Scott to name a few. Sure there are clunker events thrown in there like the Sanderson Farms or the OHL Classic at Mayakoba, but between this week and next week's WGC-HSBC Champions, most of the elite golfers in the world will vie to add another trophy to their collection.
************
In terms of handicapping this week's event, it won't be easy. There are three very unappealing forces working against gamblers this week – #1: A lack of season-long data (the CIMB Classic did not have ShotLink, so the only data available is from the Safeway Open). #2: Old data (most golfers in the field either only played at the ShotLink-less CIMB Classic or are teeing it up for the first time in a month). And #3: A lack of golf course data (this is only the second C.J. Cup held).
My approach this week is going to be a lot more feel based than data based. Sure I'll still look back last year at what types of golfers played well at Nine Bridges, as well as reference my Strokes Gained Data stemming back to the middle of summer to try and find good form. But primarily it'll be based on how the golf course plays and what types of golfers should theoretically play well there.
The island of Jeju is basically the Hawaii of South Korea – it's a volcanic island that sits about 50 miles south of the mainland and is a tourist haven. Given the golf craze that is currently sweeping the country, golf is a very popular activity for its tourists.
Nine Bridges is situated on the western base of Mt. Halla and sits approximately 2,000 feet above sea level:
Front Nine: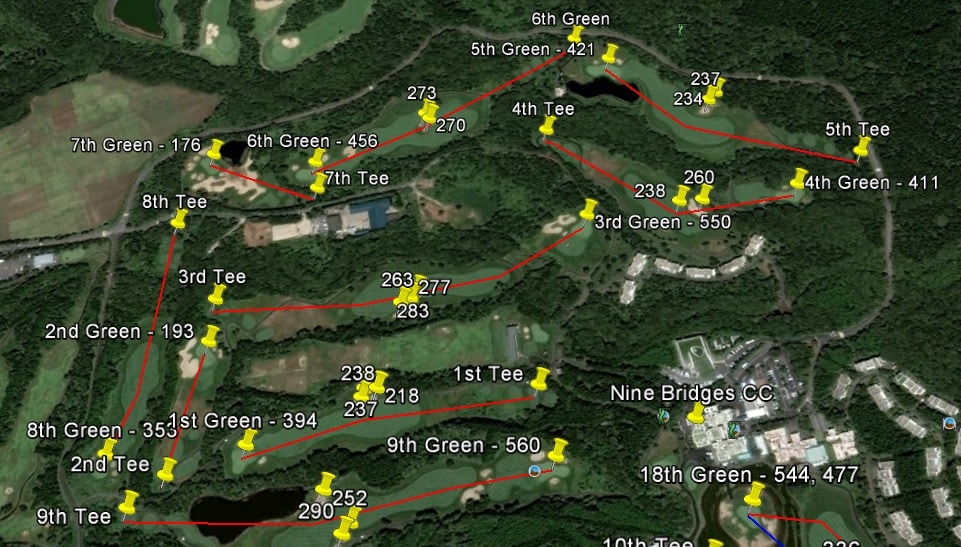 Back Nine:
Besides the club selection adjustments that golfers will have to make with the altitude, they'll also need to account for elevation changes tee-to-green as the course slopes downhill from the clubhouse to the far western edge of the site. The total elevation change between these two points is about 150 feet. Add to it that the fairways at Nine Bridges are fairly generous, the comparison that immediately comes to mind for me is another golf course played on the base of a mountain – Kapalua.
But unlike the birdie bonanza that is the Sentry Tournament of the Champions, Justin Thomas only had to get to -9 to notch the winning score in the 2017 event at Nine Bridges. In looking at the golf course, there really isn't too much to it – none of the hazards off the fairways present much of a problem off the tee, the Par 5's are reachable in two (particularly the poorly designed 18th where golfers can cut the corner with ease and set up a mid-iron for their approach) and the wide fairways invite golfers to be aggressive. What likely kept scores down was a combination of both cold and windy conditions last year, which reduced the carry distance and added one more variable to a golfers decision on top of their elevation and altitude conundrum.
This year, the weather looks a bit more manageable with temperatures in the mid-60's, moderate winds and sunshine throughout the weekend. That should let scoring creep up into the double digits and resemble more like a Kapalua tournament. If that happens, then the types of golfers you'll want to target are good ball-strikers tee-to-green with a slight emphasis on good scramblers around the green (given that elevation changes and the moderate breeze will cause even the best iron players to miss greens).
Here's who I like this week (with DraftKings values and odds courtesy of mybookie.ag):
The Favorites:
Justin Thomas – 5.5/1, $11,600
Brooks Koepka – 8/1, $11,200
Jason Day – 12/1, $10,600
Marc Leishman – 14/1, $10,200
Hideki Matsuyama – 14/1, $10,200
Justin Thomas is the massive favorite over the strong field and while I really hate his futures odds, I'm bullish on him for matchup props and in DraftKings. Obviously you can point to his win here last year as a positive attribute, but his good track record at Kapalua and the consistent ball-striking he's shown since the Open Championship makes me think he'll have another great performance at Nine Bridges. He'll be a popular option on DraftKings but as long as he's surrounded by a few contrarian plays you can differentiate yourself enough in larger pools.
One of the biggest disappointments of the 2018 season was how poor Jason Day's ball-striking was, particularly on his approach shots. Jason Day was 129th in Strokes Gained – Approach and 117th in Greens In Regulation %, two areas where he dominated during his historic run as the #1 golfer in the world from 2015-2016. But at a place where everyone will struggle with their approach shots and miss more greens than normal, Day can have an advantage on the field with how well he scrambles and putts. Even though his strokes gained statistics have been fairly mediocre since the beginning of September, he's someone I like to have a very good performance this week.
My bets this week will primarily be in the matchup market, but if I were placing futures wagers on the event one would be on Hideki Matsuyama at 14/1. He struggled for most of 2018, but beginning with the Wyndham Championship he started to regain his form. Over that stretch, he's averaged 1.56 Strokes Gained Tee-To-Green and 1.58 Strokes Gained – Approach and recorded Top 5 finishes at both the Dell Technologies Championship and the Tour Championship. I like Matsuyama's chances to complete the comeback by scoring his first win since the 2017 WGC Bridgestone. In addition, you can grab him at -140 over Paul Casey head to head, as Casey just hasn't been very sharp over his last half dozen tournaments.
Other Contenders:
Tyrrell Hatton – 30/1, $9,500: Hatton has more recently been in the spotlight on the European Tour with his T2 finish at the Alfred Dunhill Links Championship and his solid play at the Ryder Cup. He's been pretty good on the PGA Tour of late as well. Hatton has five straight Top 30 finishes on the PGA Tour, which includes averaging 1.99 Strokes Gained Tee-To-Green since the WGC Bridgestone. Hatton is also one of the more solid scramblers on both the European and PGA Tour. Besides the 30/1 price for the win, I like his +240 odds at a Top 10 finish as well.
Byeong Hun-An – 40/1, $8,700: There haven't been many players who've been as consistent tee-to-green as Byeong Hun-An since the middle of the summer. Since the Open Championship, he's averaged 1.38 Strokes Gained Tee-To-Green, including a solid 38th in Strokes Gained Around-the-Green on the PGA Tour in 2018. Given his good ball-striking and touch with his wedges, he's a nice option this week as he plays a home game in South Korea.
Abraham Ancer – 66/1, $7,700: Ancer showed glimpses in the second half of the PGA Tour season that he was poised for a breakout, and he's shown no signs of letting up early on in the 2018-2019 season. Ancer finished T5 at the CIMB Classic last week to continue his run of great golf since the summer. In his last five ShotLink events he's averaged over a stroke gained tee-to-green. Though we don't have a calculation from last week on that metric it's safe to assume he was right around that mark based on his finish. He'll have to scramble better than he did last year, but he's a great value at +105 over Charles Howell III in a head to head prop. Howell is also coming off a T5 finish at the CIMB Classic but that's an outlier to his recent performances over the last two months. I much prefer a more consistent Ancer at plus odds in this prop.
Others To Consider: Cameron Smith (30/1, $9,000), Ian Poulter (50/1, $7,600), Rafa Cabrera Bello (60/1, $7,900)
Sleepers:
Jamie Lovemark – 110/1, $6,800: It's been a bit of a struggle for Lovemark over the last few months as he hasn't scored a Top 20 finish on tour since the Travelers Championship. But while most fans know him primarily for his length off the tee, Lovemark is also one of the best scramblers on tour. In 2018 he ranked 3rd in Strokes Gained Around-the-Green and 11th in Scrambling from the Rough. That helped him finish T5 at this event last year and should help him post another solid finish again in 2018.
Andrew Putnam – 200/1, $6,700: Andrew Putnam played better than his T50 performance last week at the CIMB Classic showed. An opening round 76 sunk his chances right out of the gate, but because of the no-cut format, he posted three consecutive 68's to finish his tournament. If Putnam had instead shot the median round score for the tournament (69.5) in his opening round, he would have finished a more respectable 25th. I'm going to wildly and recklessly speculate that either he was still jet-lagged from his trip over to Malaysia or he had a bad meal from some questionable Southeast Asian cuisine. Regardless, given the good ball-striking and scrambling, he exhibited in the second half of the PGA Tour season, a Top 20 finish at +475 is certainly in reach for him.
Others To Consider: Stewart Cink (100/1, $7,000), Ryan Armour (150/1, $6,400)
C.J. Cup DraftKings Lineup #1:
Justin Thomas – $11,600
Byeong Hun-An – $8,700
Sungjae Im – $8,000
Ian Poulter – $7,600
Austin Cook – $7,400
Andrew Putnam – $6,700
C.J. Cup DraftKings Lineup #2:
Jason Day – $10,600
Cameron Smith – $9,000
Ryan Moore – $8,300
Kyle Stanley – $8,200
Stewart Cink – $7,000
Jamie Lovemark – $6,800
C.J. Cup DraftKings Lineup #3:
Hideki Matsuyama – $10,400
Tyrrell Hatton – $9,500
Kevin Na – $8,100
Rafa Cabrera Bello – $7,900
Abraham Ancer – $7,700
Ryan Armour – $6,400