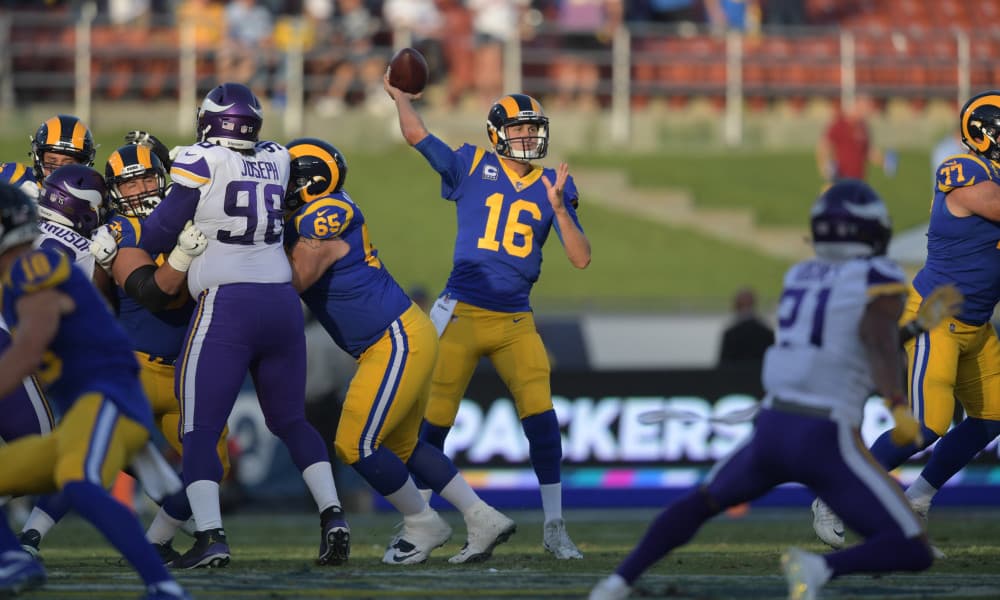 1.The Rams Are The Class Of The NFL
I don't know if there's really a ton more to say than what the title of this bullet point suggests, but when you break down what this team is doing this year they are giving the 2007 Patriots a run for their money not to mention they may be the new and improved Greatest Show (Not) On Turf. I realize the hype is rightfully on Pat Mahomes right now, but Jared Goff is somehow under the radar having an MVP caliber season after most (including me) wrote him off for dead as a bust after his rookie season.
Goff is coming off a 465-5 touchdown performance against the vaunted Minnesota defense and a 38-31 victory vaulting them to 4-0, first in the NFC West. The Rams have gone over their team total over 65% of games played under Sean McVay and have now scored at least 33 points in every game this season. The buy sign is flashing on both Goff to win the MVP, and as much futures stock as you can handle on LA.
2. I Tried To Tell You New England Wasn't Dead
I tried to tell you The Patriots do this every single year, and that they hadn't actually had to get up for a regular season game in a decade, they had to for this one as they couldn't risk falling three games out of The AFC East lead. Get up they did, as they ran over Miami to the tune of 38-7 in a game which Tom Brady could have sat out the second half. As I wrote last week, this was going to be the lowest possibly point you could have ever bought New England at -300, which was actually a ton of value.
As written last week:
New England has gone from a -1200 favorite to win the AFC East to a -300 favorite. The good news? They have Miami on deck as a seven point home favorite. If you haven't learned to buy low on this team on the rare chances they provide it, I don't know what to tell you at this point. If you're just starting out gambling, it can be a bit more tricky, as you don't have that "equity" built into the asset from the past several years of making money on them, so you don't feel comfortable giving some of it back, I get that. With Edelman and Josh Gordon returning, the buy sign is flashing here at a very nice reduced price to get ahead of the market before their showdown with Miami.
Hopefully you bought them, or at least backed them in some way against Miami this past week. The schedule is the easiest in the NFL, and they just ended their hardest stretch. Buy-Buy-Buy.
3. Fading The Public Still Works
I don't know how The Tennessee Titans are winning games in 2018, but they continue to do so. I don't buy this team long term at all and actually think there is a buy-low situation created on Jacksonville due to The Titans remarkable start as Jacksonville can be had for -140 to win The AFC South due to The Titans red hot start. Vegas doesn't believe this will last either, as they are still as +200 underdog to win the division with The Colts (10-1) and Houston (8/1) already eliminated. With 80% of the tickets on Philadelphia, The Titans came back to win outright and crash the public's dreams for yet another week.
Public underdogs continued to have fleas this season, if the public didn't learn their lesson two weeks ago with The Giants, they fell right back into the trap backing The Giants as a home underdog against New Orleans, and The Saints defense picked this spot to show up. Green Bay did come in for public bettors as did New England and Kansas City.
4. Desperate Teams Came Through
Houston was staring down the barrel of 0-4 going up against The Andrew Luck-led Indianapolis Colts and delivered. Houston actually tried to choke this game away multiple times, as they had a 21-10 lead at halftime, yet needed the closing seconds of overtime to secure a 37-34 victory to move to 1-3 despite being outscored 21-10 in the second half. As I touched on above, this actually helps Jacksonville more than any team as Houston didn't allow Indianapolis to gain its second victory on the season. Watson brought it in this one, with 375 yards and two touchdowns but he was actually outplayed by Andrew Luck who had 464 and four touchdowns, many of which going to TY Hilton who chipped in 115 yards finally breaking out in this spot.
New England was actually in the rare desperate situation here this week as I talked about above as they simply could not fall three games behind Miami after four weeks.
As if the public hasn't learned their lesson yet after two straight covers by Cleveland, Jon Gruden finally got on the winning side of an NFL game outlasting Cleveland (who has now played three overtime games in four weeks to win 45-42. Oakland is still heading for a no-sweat under on their season win total, but at least they didn't lose to The Cleveland Browns to fall to 0-4 and while they are not in any position to catch KC or even Denver, at least a wild card birth isn't dead after a quarter of the season. The Chargers, Bears, and Dallas also all pulled out much needed wins to keep pace.
5. Updating The Dying NFL Spread
I had to sneak it up here as we will be tracking this all season.
Again, over the last four years, the NFL spread has mattered one-two times a week within the NFL, but the tie situation is somewhat throwing a wrench into the data.
Last week: Arizona Covered 3.5 and  San Francisco covered 10.5. Remember, this always goes by the closing number and pushes and ties, do not apply:
Remember-When a favorite wins the game straight up, they cover the spread 85.1% of the time over the last three-plus years and when an underdog covers, they win the game 82% of the time. 
YTD: 9 times out of 62 games.
Moneyline it. Don't take the points and reduce your break-even point. Conversely, parlays-not teasers are more profitable, despite the stigma. For more info on sports betting sites check out https://www.canadasportsbetting.ca/