1. Historic Rookie Race
Truthfully, it's hard for even me, someone who writes and handicaps the MLB for a living to put into words just how historic this year's rookie of the year race between Ronald Acuna and Juan Soto. The only thing that can somewhat capture this is the race between Sammy Sosa and Mark McGwire during the 1998 home run chase. It was totally different in that one was counting home runs, but its somewhat similar that if not for each other, it would have been the single-handed greatest season in home run history. Let's start by putting their historic rookie seasons up against each other to this point:
Juan Soto (19 Years Old)
Ronald Acuna Jr (20 Years Old)

In virtually the exact same amount of at-bats, the seasons are almost exactly similar in runs, hits, and RBI, while Acuna has 4 more home runs and 7 more steals. Much like Sosa and McGwire, it's a true shame that both can't win NL Rookie Of The Year-or can they? It may make a lot of gamblers upset, but I'd advocate Co-Rookie of the years for both players, as they both deserve it. It's never been done before, and it will make a lot of baseball purists upset, but I don't know how you can give the edge to one player over the other. Matthew Leach of MLB.com wrote up a terrific article on this historic run by both rookies and can be read Here.
2. Wild Week In Video
This probably doesn't have much to do with MLB handicapping, but if you haven't seen the week that was in Major League Baseball videos, have a laugh:
3. The Real Clay Buchholz Is Here…I think
It's always been truly amazing to me how a player can benefit or be so adversly effected by a change in scenery, teams, or market. When we think back in history, the two glaring examples that always come to mind are Boston and New York. Carl Crawford was one of the best all around five tool players in baseball with Tampa, but the bright lights of Boston crippled him. Marc Melancon is another one, and let's not forget about the present day version in Drew "Dwew" Pomeranz, where the combination of The National league (where pitchers hit) and the small market of San Diego made him an all-star, but again, Boston and the media proved to be too much.
Sonny Gray was a top ten pitcher with Oakland, but the bright lights of New York proved to literally kill him is a player, and the list goes on and on. Clay Buchholz was something in the middle for Boston, where he was at one time the odds-on favorite for the Cy-Young and was in the running to start the all star game. Towards the end of Buchholz' tenure in Boston, he was run out of town with a pitch fork: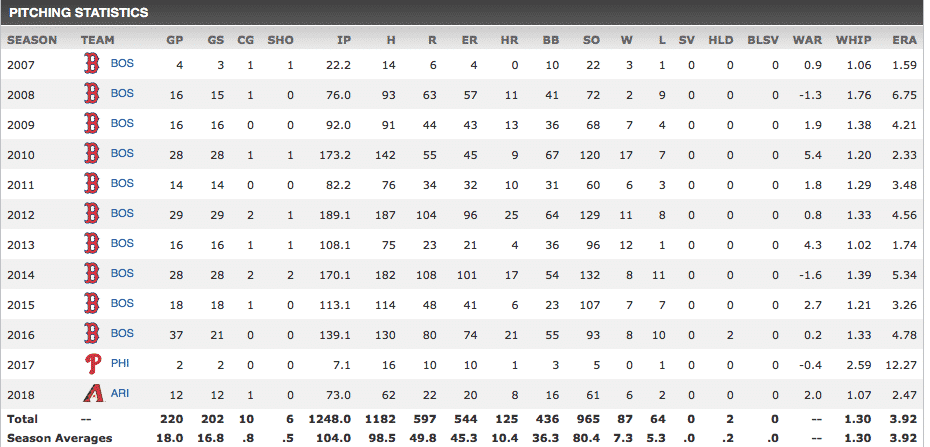 Buchholz' career numbers are still very good over ten plus year career, but he was always hampered with injury. When he was on his game, there wasn't a pitcher in baseball who had a better combination of changeup / curveball, but he never could truly put it together for a whole season. Well, maybe, until this year. Buchholz has taken the National League by storm with Arizona, posting a 2.47 ERA through twelve starts, which may have been the best possible outcome for him as Arizona will have a healthy (mentally and physically) Clay Buchholz for their stretch run.
Odds-makers still don't truly know what to make of Buchholz, as he is routinely in the range of +120 to -140, but Arizona is 7-3 since June 1st when Bucholz takes the mound, and is coming off a complete game shutout. He hasn't allowed more than three earned runs since June 12th. Arizona has a potent offense, so take advantage while you can, if you can trust him.