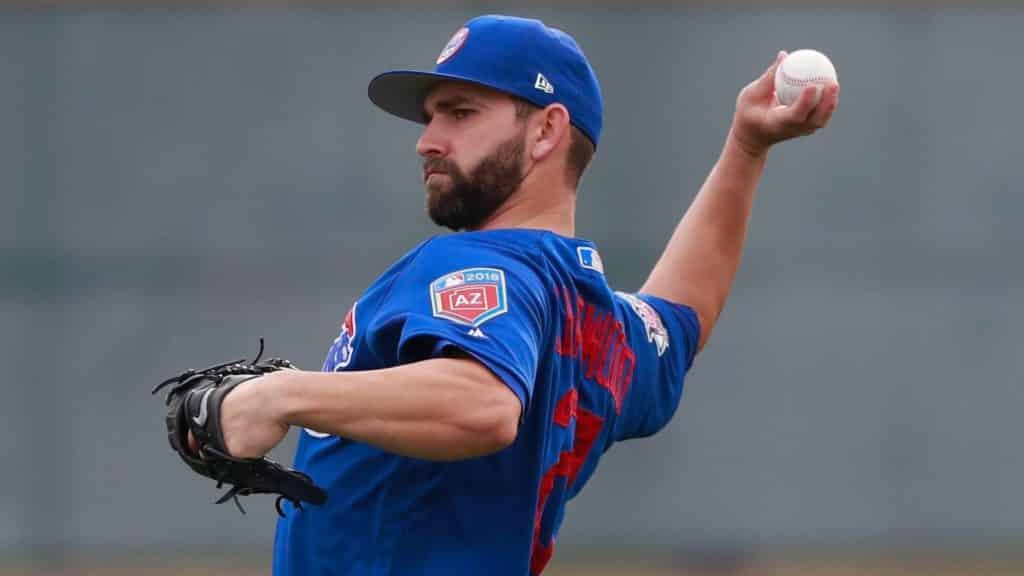 Well, I'll be the first to admit I was wrong about last weeks pitchers. Pina was right. He usually is. I overvalued the lineups and undervalued the pitchers. It happens over the course of 162 games. Instead of pouting, I decided to sit down and crunch some numbers and try to figure out a little formula. It's very crude right now but it should help us navigate these game props a little better.
Tonight's matchup of Giants-Cubs features two starting pitchers that aren't exactly world beaters. Chicago has Tyler Chatwood (3.74 ERA, 1.62 WHIP) going on the mound and he is doing much better with the Cubs than he did last year with Colorado. I loved him as a solid value free agent capable of missing bats ( 41 K in 45.2 IP) but that 1.62 WHIP concerns me. For these first few weeks, I felt the season sample size was too small but I think we have enough games played now to take the kid gloves off and begin digging deeper. The reason that WHIP concerns me is last year (playing home games at Coors Field) it was only 1.442. The strikeout level is about the same but the walk rate is going up. With the Cubs superior fielding, I felt it would really help and it has. The ERA is down almost a full run. But in last years action Chatwood had 77 walks in 147.2 this year he leads the league with 40 in only 45.2 innings. Definitely, a cause for concern here among the Wrigley faithful and this is the more consistent pitcher in tonight's matchup.
Ty Blach (4.37 ERA, 1.491 WHIP) seems to be relatively similar at first glance but his strikeout rate (27 K in 57.2) tells me unless he has a dominant sinker (he doesn't) he is really going to struggle against good lineups like the Cubs. What really is going to kill him here is the Giants aging defense behind him not taking away enough hits long term. A strikeout rate that low needs to have elite glovework behind it and that isn't the case here.
So basically this new formula I'm tinkering with is going to give us better insight into the over/under on Runs/Hits/Errors. I'm taking the combined WHIP of the starting pitchers and multiplying by five. Five innings is a lot to ask for from lower-tier starters these days but it gives us a starting off point. That gives us a starting pitcher WHIP score (SPWS) Of 15.555. This isn't including runs or errors just their number of base runners. Sure walks don't count for the R/H/E total but more walks means more runs plain and simple and it causes teams to go to the bullpen sooner getting the weaker relievers out there longer than usual. Tonight's game total is at 29.5. Despite what should be a high number of base runners 29.5 should be a tough number to hit here. Factor in the Cubs glovework and I like the under here at 29.5.
For Daily Fantasy preview I wanted to use this as an opportunity to highlight what Brandon Belt is doing here. He's leading the Giants in most offensive categories and is genuinely looking like an early MVP candidate. In DraftKings showdown mode he's the third highest valued player tonight after Kris Bryant and Tyler Chatwood (Blach is that low for a reason. No strikeouts.) and shouldn't have a problem with this matchup. I like him as the guy to build around tonight. Surround him with value plays such as Addison Russell and Evan Longoria and you should be solid in any double up matchup. It's funny to think the Giants were so hellbent on adding more offense this offseason that their biggest contribution has come from someone the already had. Keep that in mind going forward as sometimes it's not about getting the flashy name. It's about knowing what you already have and supplementing that properly.
Well, that's all I have this week. I'll be tinkering with that formula more and finding other metrics to use to really dial it in. Please follow me on Twitter @scott_bowser and be on the lookout for my new podcast launching soon The Wide World Of Sports Scandals. My cohost Tamra Brown and I will be going down the rabbit hole on all kinds of legal cases and scandals. Follow us @scandalspodcast and get ready for our debut episode (two-parter) on the 1986 Mets. Thank you and have a great week!