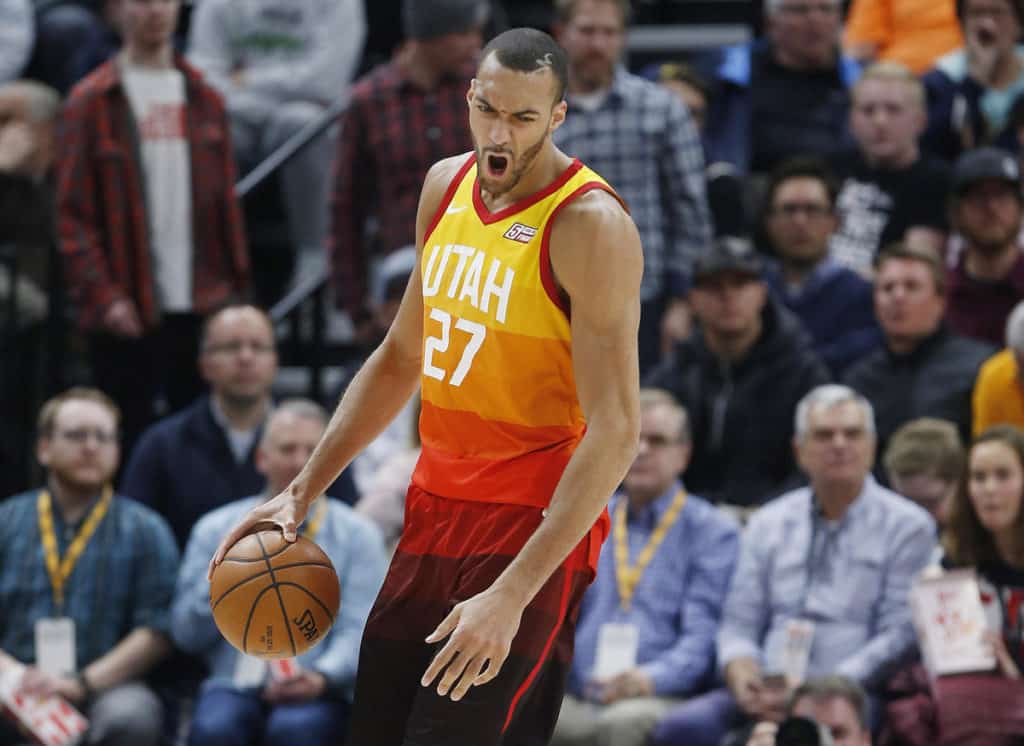 Throughout the playoffs, we'll be doing series previews for each and every matchup. For more in-depth analysis, check out our Eastern and Western Conference Preview Articles, which covered the conferences at-large. Find all of our NBA playoff content here and on Twitter (@GamblingPodcast and @NBAZachB).
Series Price and Game 1 Line
Utah Jazz +875 vs. Houston Rockets -1500.
G1: UTA @ HOU (-11.5), O/U 207, +655/-910.
Regular Season H2H (HOU 4-0)
11/5/17: Utah 110, Houston (-6.5) 137. Over 204.5.
12/7/17: Houston (-6) 112, Utah 101. Over 211.
12/18/17: Utah 99, Houston (-12) 120. Over 216.5
2/26/17: Houston (-1) 96, Utah 85. Under 212.
Facts and Figures
Utah Jazz (#5)
48-34 Overall. 42-40 ATS. 38-43-1 O/U.
Leading Scorer: Donovan Mitchell, 20.5 PPG.
Best Stats: 99.8 Opp. Pts/Gm (#1), 41.8 Opp. Pts in the Paint/Gm (#2), 9.5 Opp. Fastbreak Pts/Gm (#1).
Worst Stats: 1.52 AST/TOV (#23), 25.3 Pts in 1Q/Gm (#25).
Notable Injuries: Thabo Sefolosha, Knee – Out for season. Ricky Rubio, Hamstring – Out for Game 1.
Houston Rockets (#1)
65-17 Overall. 41-40-1 ATS. 33-47-2 O/U.
Leading Scorer: James Harden, 30.4 PPG.
Best Stats: +8.5 Net Rating (#1), +8.5 Scoring Margin/Gm (#1), 15.3 3-PT/Gm (#1).
Worst Stats: 48 Opp. Pts in the Paint/Gm (#28), 51.9% Opp. 2-PT FG (#21.)
Notable Injuries: Luc Mbah a Moute, Shoulder – Questionable for Game 1.
What We Learned in Round 1
Utah
Two things became overwhelmingly apparent in Utah's Round 1 matchup against the Thunder: Rudy Gobert is the best defender in the NBA and Donovan Mitchell is the fucking truth. Let's start with the former.
Gobert's defense against OKC was a clinic in how to protect the rim and anchor an elite team defense. He took out a 6-game lease in Russell Westbrook's head, contesting and denying everything at the rim while staying in a stance off of the initial high screen to force Russ into tough mid-range jump shots. With Gobert on the floor, Utah was, as they were in the regular season, the best defense in the league. From a metrics perspective, they posted a 99 Defensive Rating with him on the floor and that number jumped to 106 with him off the floor. From the eye-test, if you watched Game 5, the Jazz are stifling with him on the floor and defensively collapse without a rim protector.
We also learned, with regards to Gobert, that he can be officiated pretty much any way the NBA wants. Bill Simmons had mentioned this on his podcast last week, where he thought Utah-OKC Game 5 was a stay-away bet because he expected the league to find a way to foul out Gobert — that happened, and Utah would have won handily had it not. Gobert is involved in so much ticky-tack stuff just by nature of contesting drives at the rim, so he will have to keep himself out of harms way against Houston and take officiating motivations out of the question entirely.
Elsewhere, Donovan Mitchell has arrived. The rookie need no longer worry about the rookie debate because he's flat-out a superstar at this point. I wrote in my Jazz-Thunder series that Utah would need Mitchell to have "special moments" in order to beat the Thunder, and boy did he ever. He was impressive in so many ways, but one thing that stuck out to me was his ridiculous finishing package at the rim, using a variety of scoops, spins, and up-and-unders to skirt rim protection and put numbers on the board. Without a legit #1 scorer elsewhere on the roster, Mitchell has stepped into that role beautifully and has the trust of all of his teammates around him. It's been fun to watch, yet he will have to be even better for his team to have any chance against Houston.
https://www.youtube.com/watch?v=vfvJ3yWnez4
Houston
There wasn't much to take away from Houston's 5-game gentleman's sweep over Minnesota. The Rockets did what they do, dominating the Wolves overall while also revealing a tad of the variance that makes them so great but likewise vulnerable to anomaly performances (on both ends of the spectrum). Harden had a couple insane magician-like performances in this series, but also a couple nights to forget. I'm not sure Houston can survive a "night to forget" from Harden in this series against a Jazz team that will slow the game down and try to keep these totals as low as possible. An off-night from Harden can be survived when the game is up in the 120s anyways, where the Rockets math is almost impossible to beat. In a bruising 90-90 game in the fourth quarter, however, the Rockets rely on their superstar just as much as anyone else in the league.
The Rockets were good, not great defensively. Their numbers receded a bit from the regular season and they seemed to have some trouble getting stops against a Timberwolves team that was frustratingly bad offensively in the first place. The Wolves managed to shoot 46% from the floor and 41% from deep. If the Jazz shoot 41% from deep, this is going to be an incredibly tight series.
Key Overall Matchup
Harden and his screener vs. Gobert and his guard.
Just as the OKC series did, this matchup will be largely determined by the extent to which the Rockets succeed in pick and roll against Gobert's rim protection and Utah's aggressive perimeter defense. Now, the Rockets' obsession with the pick and roll should be quite obvious by now, and I expect them to run it over and over again with Gobert involved to both drag him away from the hoop and get him isolated in space trying to defend Harden or Paul.
How Utah chooses to defend this action will be very interesting. They'd prefer not to switch; that's just not what they do, as it mitigates the best aspect of their defensive scheme which is Gobert standing tall and terrifying near the rim. Thus, it will be up to Utah's guards to fight with enthusiasm into the screener's chest and try to dig over the top, cutting off the pull-up three. The Rockets ran pick and roll on 26% of possessions in the first round, by far the most of any team in the playoffs – Utah better get ready to battle through some screens.
Turning Houston into a midrange jump-shooting team is just about the only way to beat them, as they are looking for three things: layups, threes, and free throws. The last thing they want is to be shooting pull-up jumpers from the elbow. Luckily for Utah, if Gobert is able to hang out near the rim, he largely cuts off the layup threat by protecting the rim. The threes are another story, as Utah's guards will have to be incredible on the perimeter to allow Gobert the liberty to fade back towards the rim on high screens. If they end up having to switch Gobert onto Harden, which is exactly what Houston wants, the Jazz might be fucked.
If you're Utah, you've got to have faith in the fact that you just had success with this scheme against Westbrook and Paul George. Westbrook, who shot 58% at the rim during the regular season, shot just 51% at the rim with Gobert as the protector. He likewise played directly into the Gobert/perimeter trap by taking an overwhelming majority of his shot attempts from the midrange. The Jazz will live and die by this system and hope they can force Harden into the same inefficiency that overcame Westbrook.
Without Ricky Rubio, however, this all becomes a lot more difficult. Not only is he Utah's best perimeter defender, but his absence puts minutes into the hands of unproven young guys like Alec Burks and Dante Exum. They will both have to play the hardest that they've ever played in their young careers, as their (in)ability to defend until Rubio returns will determine if Utah sinks or floats.
Key Individual Matchup
Donovan Mitchell vs. James Harden
All playoffs long, I've been touting the genius of the Jazz' "5 guys connected" thesis that leads them to play so unselfishly on offense and so together on defense. While their Spurs-like approach is arguably their best quality as a team, at this point in the season there is no way to mitigate or understate the value of having "the guy." Donovan Mitchell is the guy. He was unbelievable against OKC, but for Utah to have any chance in this series, he will have to go toe-to-toe with Harden and try to make the superstar matchup as even as possible. His usage rate went up to 32% in the first round, and I promise you that number will elevate once again in this series. The Utah Jazz, crazy as it sounds to outsiders, are looking forward to living and dying by a rookie. It's awesome.
Harden went crazy in a few games in the first round, but his playoff struggles are well-documented. He will have to be at his best in this series to not only lead his own team but also compete with Mitchell who will be doing the same on the other side. Is it crazy that I feel more confident about Mitchell showing up in this series than I do about Harden? Perhaps, but the onus is on Harden to prove himself in these playoffs. Utah is a legitimately great team. With all the talk about Golden State, Houston needs to realize that their challenge starts now against this Jazz team. As such, it's eerily similar to a year ago where the Rockets choked away regular season success by losing to San Antonio before they ever got to the hyped-up matchup with Golden State. It's on Harden to make sure that doesn't happen again.
Utah wins if…
Mitchell is special; Gobert stays out of foul trouble; Houston's role players continue to struggle shooting the three against playoff defense; Ingles and Crowder knock down shots; Harden has demons.
Houston wins if…
Mitchell plays like a rookie; Harden has no demons; they figure out Gobert; CP3 takes over in the midrange.
The Pick
Jazz in 7!