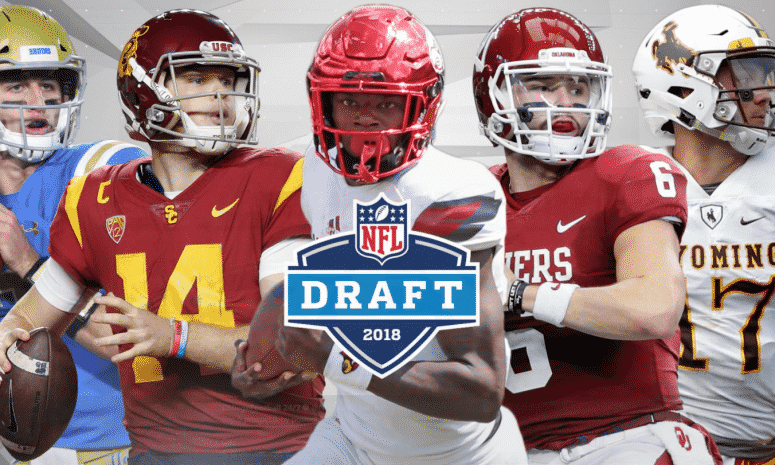 The 2018 NFL, draft brought us the most suspense a draft has drawn in recent memory. An overabundance of questions with the incoming class of quarterbacks molded the first round into a game of musical chairs. A few of the top end rookies drafted in this year's draft will find themselves competing for a starting position while others might have a better outlook down the line in Dynasty fantasy leagues. Let's look at some of the players that can have an immediate impact with the situations they're in, and some that could move up on the depth chart depending on training camp and their preseason performances.
Quarterbacks
The need for a reliable Quarterback is at an all-time premium across the NFL as of late, so teams took their chances early this yearIn hope of landing their guy of the future.
Let's flashback to the 2012 offseason…
The Seahawks made the biggest splash of the off-season when they acquired Matt Flynn in an abstruse 3-year $26 million deal. The move came in an attempt to solidify the position as Tarvaris Jackson was everything but reliable, and Flynn was highly sought out as a potential quarterback after sitting in Green Bay for years. Incoming 3rd round pick Russell Wilson, would come in and outperform the newly signed Flynn, eventually winning the starting job by the end of preseason.
This year's incoming class delivers similar situations, as none of the top prospects are coming into a situation where they are forced to sit behind a veteran that can't be replaced. The situation can be classified as a battle for the starting position, in most of these cases.
Baker Mayfield
The #1 Overall pick surprised many experts as nobody was rating Baker Mayfield as the top quarterback prospect in this years class. Instead, Cleveland GM John Dorsey, takes a chance on what he calls the best available player.
"Everybody's draft board is set up differently, and when I recite to you all 'the best available player in this draft for the Cleveland Browns organization,' this was the best available player," Dorsey said in a press conference.
"What he brings to this organization, I couldn't be more excited to have him. Those other guys are really good quarterbacks, too, but I just felt that this was the best fit for this organization moving forward."
The Brown Head Coach Hue Jackson has made it clear that Mayfield will start as 3rd on the team's depth chart behind Tyrod Taylor and veteran Drew Stanton.
From a fantasy perspective, Baker offers nothing more than a stash for Dynasty league, its a matter of time until he get's his shot, but it won't be enough to warrant a high draft pick in fantasy. If you have roster space, a late stash in Dynasty leagues is his ceiling at the moment.
Sam Darnold
The Jets got extremely lucky to land Darnold in the 3rd spot and now find themselves with a serious competition at the quarterback spot. A true competitor, the former Trojan has found himself in this position before and doesn't fear competition for a job, In college, he had to overtake Ricky Town, a highly rated passer who many thought we lead the Trojans in 2015,
'Best player plays, right? Best player plays?'" Many recall Darnold saying
"Pshhhh! My wife likes living in that house. The only way she can keep living in that house is if we win ballgames. The only way that happens is if my best players are playing."- Offensive Coordinator Clay Helton recalls telling Mayfield. The rest is history and Town ended up transferring.
Darnold is no stranger to competition and he will be battling Josh McCown and Teddy Bridgewater. Last seasons starter, McCown, is coming off career highs in yards, touchdowns and completion percentage. McCown owned an 18-8 TD-INT ratio, and also was able to score five touchdowns on the ground. Before injuring his hand, McCown was quietly a top 12 quarterback in scoring. The knock on the 39-year-old is he has yet to ever play a full 16 game season as a pro, and last year that number ended at 13. He is being named the starter going into training camp, but we will see how the competition plays out with three guys that all will want to be under center come week 1.
His outlook for 2018 is like Mayfield's, maybe slightly better as his competition is weaker and Jets fans will be screaming for him to get his chance. With the history of McCown's injuries, look for Darnold to get a chance at the least expected moment.
Josh Allen
Allen's stock dropped drastically as many believed he would maybe be taken #1 overall by Cleveland. A couple of old tweets later, and a confusing Browns move with the first pick, found Allen falling to 7th overall. Although he didn't go as high as maybe he may have wanted, he might have fallen into the ideal situation if he wants to be a starter quickly. Allen carries the biggest risk out of this class as inconsistency, and some problems with his mechanics lead experts to believe he may never be able to shake the bad habits on the next level. His competition, the unattractive AJ McCarron. The discrepancy in Allen's performances are somewhat alarming as he failed to complete 60% of his passes on any level throughout his career. He also had three games last season where he was unable to surpass 100 yards, yes 100 passing yards!
Allen has the easiest path to a starting position out of the top tier of passers. The only concern is he will command a group that consists of Kelvin Benjamin, Zay Jones and Andre Holmes, who is coming off a season-ending neck injury after only catching 13 balls in 14 games last year. Just to put things into perspective, Holmes actually led the team in touchdown catches with 3, but it was tight end Charles Clay that led the team in yards (558), and that's after only playing 13 games. If Allen gets his chance, he doesn't have much to work with and will be implemented into an offense that ran the ball the second most of any team last season (47.8 percent).
Josh Rosen
Nine mistakes were made ahead of the quarterback, is the message Josh Rosen announced to the world in a salty reaction to being drafted 10th.
He quickly tried to retract his statement, "I would actually say that I'm not as angry that there were nine guys ahead of me, just three quarterbacks," Rosen said at his press conference, via ESPN.com. "That's kind of what gets to me. So there were three big mistakes ahead of me, but honestly, it's a blessing in disguise. This is an incredible team that I think is primed and set to do some incredible things in the future, and I think I just, very simply, lucked out."
Rosen comes into Arizona with a chip on his shoulder, and every bit of that attitude will be needed to revive an offense that only had 21 passing touchdowns last season (20th) and had the 3rd worse passer rating (76.2) as a unit. The Cardinals did add Sam Bradford, but the former Sooner is coming off a season-ending injury as hasn't played a full season since 2012, a feat he's only accomplished twice in his career. His supporting cast is far from intimidating, led by the obsolescent Larry Fitzgerald, the suspect JJ Nelson and 2nd-year receiver Chad Williams who only played six games last season. If Rosen wants to be able to fill the size of the shadow of which he embarks, he will need a historical year from David Johnson and everyone else on the offensive side of the ball to alleviate pressure in situations he will find himself using as learning experiences.
Honorable Mentions
In due time…….
Lamar Jackson
The League wondered when Jackson's name would be called, and what team was able to experiment with the electric talent, in the hope of shaping his skill set into an efficient play caller in the NFL. The Ravens 33-year-old Joe Flacco has regressed steadily through the last few seasons and had his 3rd fewest yards, and 2nd fewest touchdowns and quarterback rating of his career., accompanied with 15 interceptions, his 3rd highest mark. The Ravens did add a plethora of weapons for Flacco in the offseason, so it looks like this year will dictate just how long Jackson will be sitting on the sidelines. With Jackson needing to be polished, sitting behind the experienced Flacco might be the best situation long term for this entire class of passers. The experience he can get in Baltimore behind the clipboard can transform him into something special in the future.
Mason Rudolph
A quarterback that was on many peoples radar fell into the Steelers lap. Some draft experts had Rudolph as a sleeper late 1st round talent; teams viewed him as a high IQ and efficient prospect, that has tons of potential and seemed to be very coachable.
The talk the last few offseasons in Pittsburgh at one point or another brought out the future of Ben Roethlisberger to the forefront. Some fans and analyst question the ambition of the 3-time SuperBowl champion, as problems with former offensive coordinator Todd Haley brought out the worse in the quarterback. A system in which Roethlisberger disagreed with the playcalling and the approaches the coaching staff had in certain situations, the 14-year veteran was sounding like he was headed out sooner than later. He returns to lead one of the NFL's most high octane units, but if things don't improve, how many more years does he have in him? Enter Rudolph, a rookie that people are tagging with a "film rat" persona and one that can easily translate his skills to the NFL level. A true huddle leader that brings out the best in his players, is what the Steelers were fortunate to draft.
https://twitter.com/Rudolph2Mason/status/990057434260656128
Honorable mentions
Luke Falk
Coincidence? I think not, as one of the true believers and fans in Tom Brady and the TB12 movement, was subsequentially drafted with the 'Brady" pick, 199th.
"We have the same similarities regarding the style of play," he said. "We're not the most mobile guys. We can do stuff in the pocket, creating throws in a small space. [We're] accurate, kind of have the same compact throwing motion. He's the best to do it. Somebody to look up to that I've always tried to model my game after. It's a huge coincidence, pick 199. I'm so grateful that Tennessee took a shot on me."
The Titans have a quarterback in Marcus Mariota, but as we saw this year in Philidelphia, having a backup quarterback that's reliable can prove to be your greatest asset.
Kyle Lauletta
The Giants have stated their confidence in 37-year-old Eli Manning, yet last year they drafted Joe Webb in the 3rd round and this year another passer in the 4th. A great value is a term being used around the Giants facilities after the pick.
"He was just too good of a value to pass up there. He's got all the stuff — he's tough, he's not shy in the pocket, he's got pocket presence, patience, and feel, which, again, those are instinctive things that you can't teach. He throws a really nice ball, he's accurate, he's got a sense of anticipation and timing and the other part is he's a runner. He's got legitimate escape dimensions, and we're really pleased about that. He was just too good of a value there for us. We're thrilled to get him there. I really expected him to be long gone." Giants Head Coach Pat Shurmur
The Giants reached out to get someone they are extremely confident in and have high hopes for. Lauletta is said to have an incredible pocket presence and makes plays when things break down by using his athletic abilities and pocket movement to create. His intelligence sometimes makes up for his lack of arm strength and that's what makes him such an intriguing prospect. He can't make certain throws that require power, but a great improviser and playmaker are attributes that can't be taught. The Giants might have found Eli's successor.