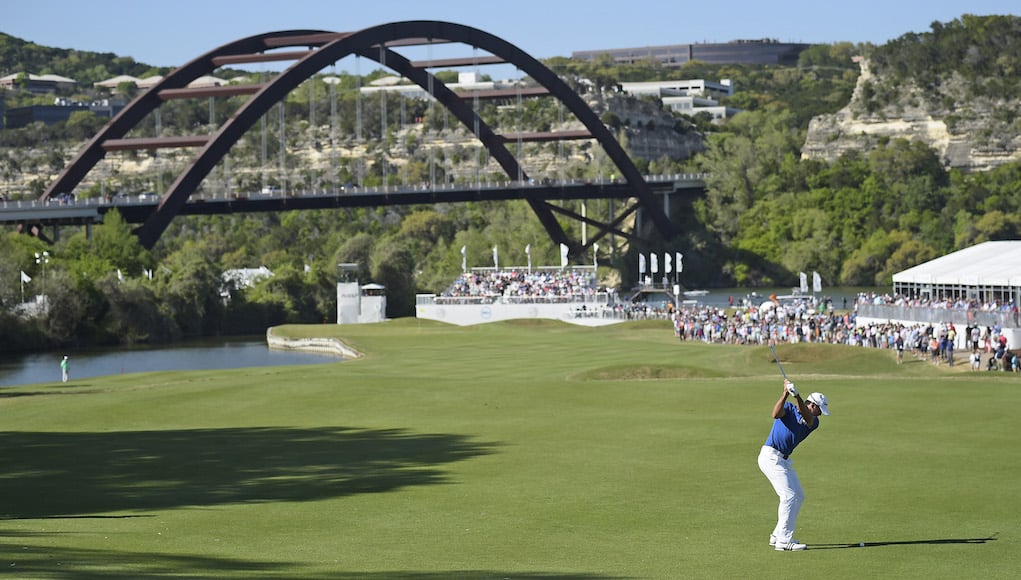 How's your NCAA Tournament bracket looking? Did you ignore Virginia's past failures in the tournament and had them go deep? Were you the victim of epic collapses from both Cincinnati teams? Or did you attend Sean Miller's seminars in Tucson and buy into Arizona Investments, only to be left penniless like you were involved in a Bernie Madoff Ponzie Scheme.
Well, fear not. If your bracket is in shambles you have the opportunity to gamble on golf's version of March Madness when the world's best tee it up at Austin Country Club for the WGC Dell Technologies Match Play Championship.
Given the excitement that the match play format has delivered at events like the Ryder Cup and President's Cup, the WGC added a match play format to its rotation to give golfers and fans a unique tournament to look forward to on the calendar. Originally, the bracket was set strictly by World Golf Rankings in a one and done format. Unfortunately, given the wildly unpredictable nature of match play, it often created pretty shocking and surprising results that led to less than ideal finals. I mean, I'm sure Kevin Sutherland and Scott McCarron are both tremendous guys, but I'm guessing the folks over at CBS didn't appreciate their main event in 2002 featured the 62nd and 64th ranked players in the world.
With top stars knocked out early and an overall fatigue of the straight match play format, the WGC decided to shake things up and introduce a new format that would try and protect their top stars and ensure that they made it to the weekend. The tournament was reorganized into a style similar to the FIFA World Cup. The top 16 players in the field would be the top seeds in their group, and then the remainder of their group would be filled randomly with players from Pool B (16-32 in world rankings), Pool C (33-48) and Pool D (49-64). Then the players would play a round-robin format over three days, where the player with the best record would emerge to the knockout stage. So far, the new format has seemed to give the top players a better chance of making the knockout stage to bolster continued interest throughout the weekend.
The WGC Match Play bounced around from course to course for a few years, but it seems to have found a home at the Austin Country Club. At 7,100 yards and in dry conditions, the course should play fast and firm and if the wind is up it should provide a fairly tough test of golf. But the course is well suited for match play with several risk/reward holes to lure golfers to take chances to try and gain an edge over their opponent. The course also flipped the nines so that the Back 9 plays along Lake Austin, which is the most interesting part of the course. The best hole is No. 12, a reachable Par 5 that plays downhill towards the 360 Bridge to provide the best views on at the golf course. After that, the players will face a choice on the driveable Par 4 13th to either hit a 300 yard carry over water onto the green, or take the cowards way out and navigate around the water to make birdie the hard way. It'll be these holes that get the most air time all weekend.
Anyone who has watched match play events knows how turbulent and unpredictable individual results can be, and it can make it a treacherous event to bet on. And anyone who thinks they have a firm read on what players will make it to the Final Four isn't being sincere. While I wouldn't recommend putting down any pre-tournament win bets on anyone, I'd instead try and first bet on individual group winners, and then move on to playing matchups over the weekend. And unless the group is very weak, betting the top seed in each group usually isn't a profitable strategy.
Unfortunately, as of this posting I can't find the group only odds anywhere. However, they should be posted sometime today, so I'll rank the players in each group in the order of their tournament win odds to give you an idea of where they'll be when those are released. Here's who I like to make it to the knockout rounds (and by like, I mean that in a very, very loose term):
Group 1
Dustin Johnson (6.5/1)
Adam Hadwin (58/1)
Kevin Kisner (65/1)
Bernd Wiesberger (120/1)
Dustin Johnson is the defending champion of the event, blistering the field in 2017 and never trailed at any point during his matches. He's a heavy favorite on both tournament futures and to win his group, but he couldn't have pulled a more favorable group here. He drew the weakest player from Pool B in Kevin Kisner, who is struggling badly in 2018 in most Strokes Gained statistics. Bernd Wiesberger has only one Top 20 finish worldwide in 2018 and holds a mediocre 37% win percentage in match play events in his career. If there was any betting value it's Adam Hadwin as the 2nd favorite to win the group. Hadwin ranks inside the Top 30 in both Strokes Gained Tee to Green, Approach and Around the Green and possibly could catch DJ napping on an off day. But as long as Dustin Johnson doesn't do too much partying out in Austin this week, he should cruise to the knockout round.
Group 2
Justin Thomas (10/1)
Luke List (50/1)
Francesco Molinari (65/1)
Patton Kizzire (75/1)
Like Dustin Johnson, Justin Thomas got a pretty favorable draw and should cruise to the knockout stage. Francesco Molinari's game hasn't been on point so far in 2018 and he holds a mediocre 11-15-2 all-time match play record. Patton Kizzire has cooled off after winning twice on tour in 2018, so I don't expect him to give Justin Thomas a credible challenge. And though Luke List has finally put it all together and is delivering consistent top performances, a hot putter in match play is what gives a golfer an edge and List ranks just 116th in Strokes Gained Putting. Thomas is playing fantastic golf on the eve of the Masters, and I expect he'll roll through this group on to the Knockout Round.
Group 3
Jon Rahm (11/1)
Kiradech Aphibarnrat (65/1)
Chez Reavie (80/1)
Keegan Bradley (80/1)
Last year's runner up Jon Rahm is the heavy favorite to win the group, but I'm not really feeling his game of late. He's struggled a bit with his irons this year, ranking 135th on tour in Strokes Gained on Approach and has made some miscues around the green to cost him valuable strokes. If he's struggling in those areas this week, that'll cost him in a match play format. So I'm going on a limb to pick Kiradech Aphibarnrat to win the group and head to the knockout stage. On US Soil he hasn't fared too well, but he's won twice in his last 5 worldwide starts (including a match play format at the ISPS Handa World Super 6) and he finished T5 at the WGC Mexico Championship. He also played lights out at the Eurasia Cup last fall in the match play event and sports a 10-5-2 all time record in singles match play. I like the 2nd favorite in this group to emerge in a bit of an upset to the Round of 16.
Group 4
Jordan Spieth (11/1)
Patrick Reed (25/1)
Charl Schwartzel (80/1)
Hao Tong Li (100/1)
While Hao Tong Li is a young player with the game to play well and Charl Schwartzel has a respectable 18-13-2 match play record, all the focus on this group will be the anticipated showdown between the Ryder Cup super-duo of Patrick Reed and Jordan Spieth. Both players should have a chip on their shoulder in that matchup to try and prove who's the stronger of the two, so it probably will come down to how Spieth's putter is faring this week. He's still struggling in that area, ranking 169th on tour in Strokes Gained Putting and if that doesn't improve he might get boat raced by Patrick Reed. Reed also comes into the event on a roll with consecutive Top 10's at the Valspar and Bay Hill. I'll put my money on Reed to vanquish Spieth and come out ahead of Li and Schwartzel to head into the knockout stage.
Group 5
Hideki Matsuyama (28/1)
Patrick Cantlay (45/1)
Cameron Smith (75/1)
Yusaku Miyazato (200/1)
Hideki Matsuyama made his return to the PGA Tour last week after suffering a wrist injury at the Waste Management Phoenix Open in February and definitely showed some rust. While he made the weekend, he lost strokes overall off the tee and on his approach shots. With the Masters on the horizon he might be more focused on getting in reps than grinding for a tournament championship. So I'm going to go with 2nd favorite Patrick Cantlay as the winner of this group. While this is his first appearance in the event, he has a very good match play record as an amateur at UCLA, finishing runner-up at prestigious match play amateur events like the Western Open and the U.S. Amateur. Cameron Smith should be a formidable matchup in this group as well, but I'll go with Cantlay to head into the knockout stage.
Group 6
Rory McIlroy (6/1)
Brian Harman (45/1)
Peter Uihlein (120/1)
Jhonattan Vegas (140/1)
I really, really wish Brian Harman was in another group. As I was doing my prep for this event he was someone who caught my eye that could play very well at Austin Country Club. He's been solid in every facet of his game in 2018, ranking highly in almost all the Strokes Gained categories this year. Unfortunately, though, he landed in the same group as Rory McIlroy, who just won at Bay Hill and sports a 28-13-3 all-time match play record. Rory had been scuffling along in 2018 with his approaches and his putting, however last week he was 1st in both Strokes Gained Putting and Proximity to the Hole. When he's excelling in both of those areas, there's not a lot of guys that can top him. Rory also tends to go on blistering hot streaks, so he could easily carry his momentum to win the Match Play Tournament outright. I think Harman can give him a battle, though, and hopefully they'll save a Harman vs. McIlroy showdown for the end when each are 2-0 and looking to advance to the Knockout Stage.
Group 7
Sergio Garcia (20/1)
Xander Schauffele (45/1)
Shubhankar Sharma (75/1)
Dylan Frittelli (80/1)
In off the course news, Sergio Garcia just welcomed his first child (appropriately named Azalea) into the world, and though I am not yet a father I have several friends who are and, well, let's just say the first two weeks after that they're a little bit loopy. So I'll cross him off my list of contenders in this group. As far as my pick to win the group, I'll go with Dylan Frittelli, the big-hitting South African who played well at the Honda Classic and is playing a home game this week. Frittelli was a member of the 2012 National Champion Texas Longhorns, winning the final match to clinch the victory. Shubhankar Sharma would be the best story if he were to win the group after his surprise performance at the WGC Mexico Championship, but I don't think he's quite ready to handle the pressure a match play format delivers. I'll take Frittelli as the longshot of the group to emerge into the Round of 16.
Group 8
Jason Day (11/1)
Louis Oosthuizen (55/1)
Jason Dufner (80/1)
James Hahn (80/1)
Yuck. None of these guys has shown much recent form. Jason Day played for the first time since Pebble Beach in February at Bay Hill and was rather pedestrian on his way to a T22 finish, ranking in the middle of the pack in almost all Strokes Gained categories for the event. Both Louis Oosthuizen and Jason Dufner missed the cut in their last events and haven't played very good golf so far in 2018. And this will be James Hahn's first appearance in a match play event as a pro and hasn't had a Top 10 since the Sony Open. If I had to pick a winner out of this group, I'll go with the favorite Jason Day, who has had great success in this format as he's a two time winner of the WGC Match Play. But would it shock me if he made up an injury and WD from the tournament as an excuse for some extra prep time at the Masters? Hell no. I'll just stay away from this one.
Group 9
Tommy Fleetwood (28/1)
Kevin Chappell (45/1)
Daniel Berger (58/1)
Ian Poulter (90/1)
This is a very, very interesting group. The favorite is Tommy Fleetwood, who's one of the best ball strikers in the world and has a respectable 6-5 record all-time in singles match play. Then you have Daniel Berger and Kevin Chappell, who both played in the Presidents Cup last fall and had success there. And then you have legendary match play golfer Ian Poulter, who boasts an all-time 36-16-5 record in singles and will be called the "Match-Play Ninja" over and over on the telecast until you're sick of hearing it. This is a fairly wide open group, but I'll eliminate Ian Poulter from consideration as his form coming into the tournament isn't on point. After that, I'll break the tie between these three and go with the best putter in the group in Daniel Berger as the winner out of the 2nd underdog spot.
Group 10
Paul Casey (20/1)
Matthew Fitzpatrick (65/1)
Kyle Stanley (75/1)
Russell Henley (75/1)
Paul Casey is the big favorite to emerge from this group, and I don't see any reason not to back him as the front runner. He won for the first time since 2014 and his form couldn't be better heading into the event. He's 1st in Strokes Gained Tee to Green and 7th on approaches in 2018, and he sports a 33-24-3 record in singles matches including back to back runner up finish in this event in 2009 and 2010. Neither Matthew Fitzpatrick, Kyle Stanley or Russell Henley have the match play pedigree as a pro or the recent form to give Casey a challenge, and I expect him to cruise to the knockout stage with ease.
Group 11
Bubba Watson (38/1)
Marc Leishman (40/1)
Branden Grace (45/1)
Julian Suri (200/1)
This group might be the toughest to handicap of them all. Julian Suri is in a bit of a slump of late on the European Tour and shouldn't be a threat to win the group, but Marc Leishman, Branden Grace and Bubba Watson all could easily make it to the Knockout Stage. Leishman snapped out of his funk on his way to a Top 10 at Bay Hill last weekend, as did Branden Grace when he finished T8 at the Valspar for his first Top 10 of the season. Meanwhile, Bubba appears to be back on form following his win at the Genesis Open and sports a 14-7-2 all-time singles record at the WGC Match Play. All three are fairly even matched, so given the unpredictable nature of match play, I'll throw my capital on the longest odds of the three in Branden Grace as the 2nd underdog to get a hard fought win in the group stage to advance to the Knockout Round.
Group 12
Tyrell Hatton (30/1)
Brendan Steele (60/1)
Charley Hoffman (65/1)
Alexander Levy (90/1)
This is probably the weakest group in the field. While Tyrell Hatton did finish T3 at the WGC Mexico Championship a few weeks ago, he struggled tremendously from tee to green at Bay Hill last week and doesn't carry much momentum heading into a match play format. Neither Charley Hoffman or Brendan Steele has a good track record in match play formats and both have struggled on and around the green this year, which will be detrimental in this format if they're not playing well in those areas. And while Alexander Levy has played the best of these four over the last month, it's been against weaker European Tour fields and he has a dismal career match play record of 2-7, including going 0-3 at the 2015 WGC Match Play at Harding Park. Because I don't have a strong feeling on any of these four, I'll close my eyes and pick Levy as the surprise long shot to emerge to the Round of 16, where he'll promptly be slain at the hands of Patrick Cantlay.
Group 13
Alex Noren (28/1)
Thomas Pieters (38/1)
Tony Finau (50/1)
Kevin Na (65/1)
On the surface, it seems like any of Alex Noren, Tony Finau, and Thomas Pieters are serious contenders to advance to the next round. Both Noren and Finau have played tremendous golf from tee to green in 2018, and Thomas Pieters showed the world how good of a match play golfer he was at the 2016 Ryder Cup. But I actually find myself liking Kevin Na as the underdog of this group to advance to the Knockout Stage. Kevin Na is by far the best player on and around the greens in the group, and his ball striking stats have been just good enough to hang with Noren, Finau, and Pieters to keep him competitive. If he can use his edge over his opponents around the greens, he could grind out just enough points over the three matches to advance to the Round of 16.
Group 14
Phil Mickelson (18/1)
Rafael Cabrera Bello (50/1)
Charles Howell III (75/1)
Satoshi Kodaira (200/1)
This one should come down to the winner of the Phil Mickelson and Rafael Cabrera Bello matchup. Phil has played statistically the superior golf of the two, as he has four straight Top 10 performances including the win at the WGC Mexico Championship. And while he has a gaudy match play record under his belt, so too does Cabrera Bello. Cabrera Bello sports a 14-5 all-time match play record, including finishing 3rd in his event in 2017, and his game is on point in 2018. He ranks 1st in Strokes Gained on Approach, 12th in Tee to Green and 44th in Strokes Gained Putting, which is a tremendous improvement from last year. With the Masters just around the corner, maybe Phil will check out a bit and try and "practice" certain shots he'll need to win the Green Jacket at Augusta, something he's freely admitted to doing in events before. I like Cabrera Bello as the 2nd favorite to take down Phil and head to the knockout stage.
Group 15
Gary Woodland (45/1)
Webb Simpson (55/1)
Pat Perez (58/1)
Si Woo Kim (100/1)
Here's another group that's fairly wide open, as all four guys could win and head to the knockout stage. All four of these guys have played solid golf in 2018 and rank highly in most strokes gained stats. Like I did with Group 9, I'll go with the guy who's putting the best so far in 2018, and that's Gary Woodland. Woodland also is the most accomplished match play golfer of this group, finishing runner-up in 2015 to Rory McIlroy and sports a career 7-3 record in match play events. I'm probably avoiding laying any bets on this group, but even as a favorite he'll probably be at plus odds to advance to the next round so it might be worth a bit of capital.
Group 16
Matt Kuchar (55/1)
Zach Johnson (58/1)
Ross Fisher (65/1)
Yuta Ikeda (200/1)
Matt Kuchar is the highest-ranked player in this group, but he's played fairly mediocre golf since his T5 at the Waste Management Open. He hasn't missed any cuts over his last 4 tournaments, but his ball striking stats are pretty pedestrian for his standards and he hasn't been a threat at the top of the leaderboard at any point. As far as my pick to win the group, I'll go with Zach Johnson as the 2nd favorite to advance to the knockout round. He's been the superior player in this group in all the ball striking statistics, and he'll also have the biggest advantage in and around the greens at Austin Country Club with his superb short game and putting.
As far as the rest of the tournament goes, I'll gauge how the group play shakes out and then move on to betting individual matchups based on course form and momentum heading into the weekend. For kicks, though, here's how I see the rest of the bracket shaking out: