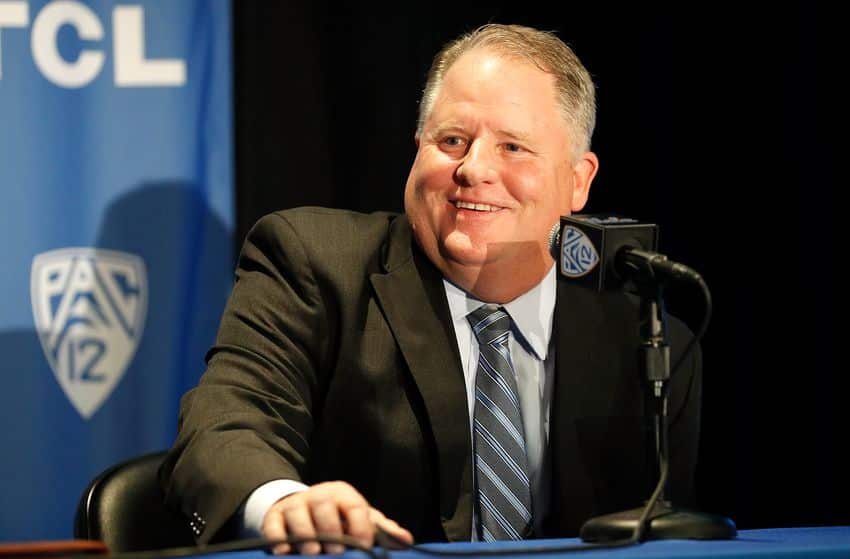 It's never too early to talk College Football. So why we've practically finished the 2017 season and prepare for the 2018 season. Here's my take on what we have planned ahead and what has happened around the college football world.
The best offseason coaching hire is…… Greg Schiano at Tennessee! Wait that happened but didn't happen all which led to the firing of their recently hired athletic director. I really think this would of been a homerun hire for the Vols but instead they landed Alabama DC Jeremy Pruitt a few weeks after every other top name coach turned them down.
The for real best offseason coaching hire is…. Chip Kelly at UCLA! Kelly was for sure a homerun hire. Florida wanted him and they struck out. Now Kelly lands at a school that is in very fertile recruiting ground. UCLA has always been underachievers for what seems like my entire life but finally they went out and hired a big time hire. Kelly should make such a drastic difference in Westwood it has me thinking Clay Helton is already on the hot seat across town at USC.  
Runner Up: Scott Frost at Nebraska. Finally Nebraska landed a coach that can bring their program back to an elite level.
The strangest offseason hire is….. Herman Edwards at Arizona State. I'm still not sure what to think of this one. I was never a big fan of former coach Todd Graham but I thought he salvaged his job with a decent season this year but I guess that wasn't enough. Originally I figured Chip Kelly would be the home run hire for ASU but they had their eyes set on another ESPN analyst. Edwards played his college ball at San Diego State and he grew up in Northern California so perhaps that could help ASU recruiting some. Edwards already has had an embarrassing moment when he forgot the name of the mascot at his hiring press conference.
New hire that will be fired first….. My first thought was Jimbo Fisher at Texas A&M since the SEC West is unbelievably difficult but then I thought about it. LSU isn't the same with Coach O, Saban is pretty old, what if he retires in the next couple years? Could A&M and Auburn be the cream of the crop of the SEC West. Plus I love the defensive coordinator hire of Mike Elko from Notre Dame and Wake Forest. So instead of Texas A&M and their unrealistic fan base I'm going to go with Mario Cristobal at Oregon. Sure, he retained defensive coordinator Jim Leavitt but Leavitt should be a head coach soon. Cristobal already failed at one stop at Florida International and although he recruited somewhat decent for that mid major it will be another test to do so in Eugene.
What's going to happen at Arizona? Rich Rodriguez was a late firing and they haven't turned to anyone yet. I'm crossing my fingers that Les Miles lands in Tucson. Think about it Les Miles, Herm Edwards and Chip Kelly in the same division. Plus, Les Miles deserves a job look at the guys career record! Come on Wildcats. Kevin Sumlin also deserves a job considering he was in the SEC West and always had a winning team.
Bill Snyder is coming back in 2018! The Kansas State stadium is named after him, he's 79 years old and he's battling throat cancer but guess what he's coming back for another year at the helm in what will be his 51st year of coaching college football. What's not to love about the Snyder and the Wildcats.
Shea Patterson to Michigan – Former Ole Miss QB Shea Patterson is transferring to Michigan in what is a true home run hire for Jim Harbaugh who has been a quarterback away from being elite since he's arrived in Ann Arbor. What we don't know yet is if Patterson will have to sit out a year or not. It appears as if he won't since the Ole Miss recruiting scandal and the NCAA sanctions came out. If the Wolverines do in fact have Patterson at QB next season I expect them to be a top five team.
What's going to happen to Jacob Eason? Just last year the SEC and most of the country were all thinking Jacob Eason is the future of the Georgia Bulldogs and the SEC and then boom he enters his sophomore season and gets injured in the first game and a freshman named Jake Fromm comes along and well you know the rest. With Fromm being a freshman and Eason being a sophomore now begs the question what is in store for Jacob Eason? He's going to transfer somewhere but where will it be? Also he'll have to sit out a year which means he'll go almost two years without playing in a game.
Who could be the UCF for next season? Several teams will have a decent shot of going undefeated and could potentially be having their own national championship parade but taking a quick look here's a short list.
Boise State. They return a senior QB and should be primed for a great season which includes a game at Oklahoma State.

Florida Atlantic. Sure they open up at Norman but Lane Kiffin really has this program rolling right now plus they are getting a great number of transfers eligible to play starting this year.

Central Florida. I know they lose a lot including their head coach but their star QB Milton McKenzie is back for his Junior season. Plus new coach Josh Heupel really had the Missouri offense rolling.

Houston. Major Applewhite did a decent job considering all they lost. Now comes year two which is always easier on the players and the coach look at what Scott Frost did in year two.

San Diego State. Sure they lose Penny but this team is going to be pretty experienced come next year and they play Stanford and Arizona State again.
(I wouldn't rule out Appalachian State, Marshall or Toledo either.)
Goodbye Idaho, Hello Liberty! The Idaho Vandals are now officially done with the FBS college football level. They have officially dropped back to the FCS level and accepted an invitation to the Big Sky Conference. I was bummed at this news since just a year ago the Vandals were destroying Colorado State in a bowl game but the Sun Belt was kicking them out. Don't worry though fans with Idaho leaving we'll still be at 130 teams with the addition of the Liberty Flames who beat Baylor last year. Liberty is in southern Virginia and will be an independent next season as former Nebraska QB and former Buffalo & Kansas coach Turner Gil leads them on to the FBS level. New Mexico State is also departing the Sun Belt after a their first bowl birth since 1960 in which they beat Utah State in overtime. New Mexico State will be an independent.
SUN BELT Conference Championship game – Yes the Sun Belt has now been split into two divisions and like the rest of the 9 conferences will have a championship game to decide the champion of its conference.
Week 1 2018 – I mean if you thought last year's lineup was good wait until you get a hold of this years opening day. Here's a preview of what week 1 will look like for next fall.
Auburn vs Washington

LSU vs Miami (FL)

Michigan @ Notre Dame

Virginia Tech @ Florida State

Tennessee vs West Virginia

Alabama vs Louisville

BYU @ Arizona

Texas Tech vs Ole Miss

Northwestern @ Purdue

Texas @ Maryland

North Carolina @ California

Appalachian State @ Penn State