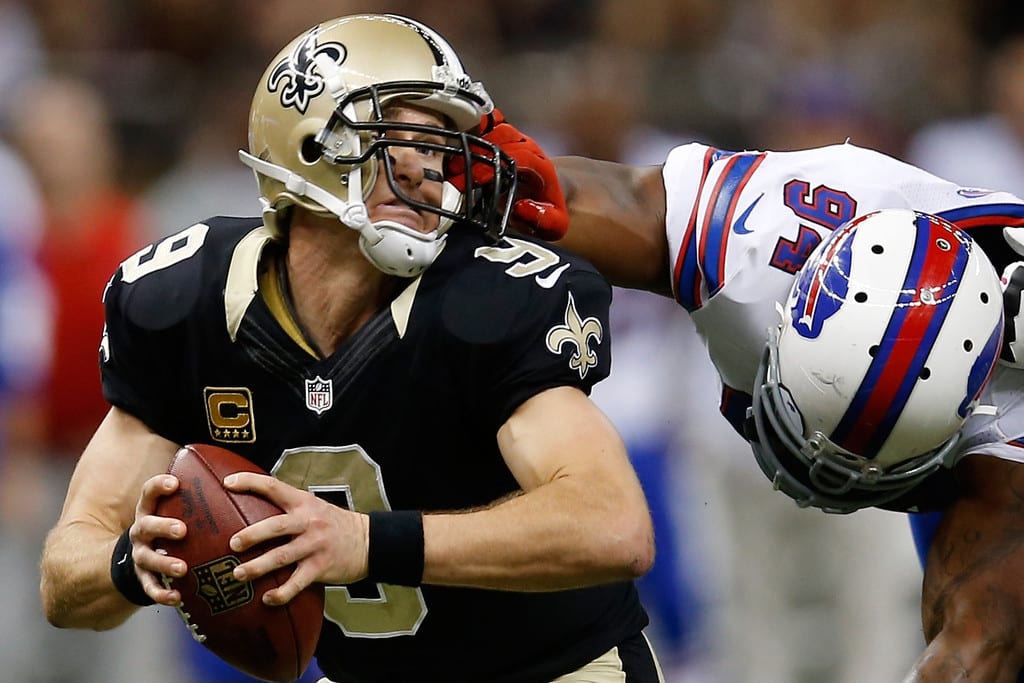 1.The Regression Train Is Here In Buffalo
As I wrote about last week in 5 Things We Learned From week 9, I was selling Buffalo, hard: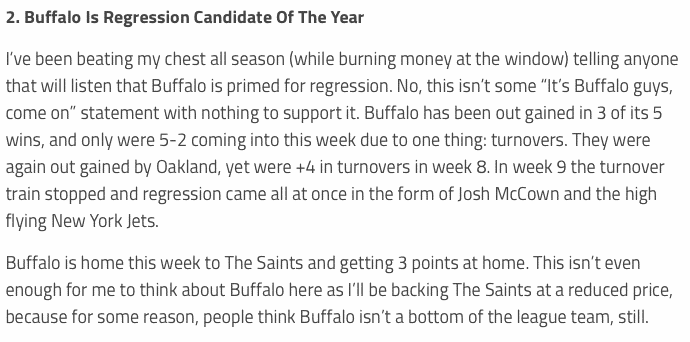 I know all the stats of Brees in cold weather (0-6-1), but Buffalo's regression is not something I want to get in the way of. I'm selling everything about The Bills moving forward, week in, week out.
2.Cleveland, No Matter The Spot, Is Cleveland
In the past two weeks, Cleveland has been spotted a 6-0 lead against Minnesota in London and couldn't even cover the first half, and 10-0 against Detroit this week off a bye and still couldn't cover +6.5 in the first half, let alone the game. There's auto-fade, and then there's The Cleveland Browns. They've covered 5 spreads in 2 years, just fade them and collect your winnings. This money train won't last forever, but it will last for a while. The Jacksonville line of -7 next week is ripe for your teasing pleasure.
3. The Giants Have Quit On Ben McAdoo
There were rumblings all week that McAdoo may not even make it to the San Francisco game:
Well, he did, and now the question is if he'll make it to be an 11 point underdog against Andy Reid…off the bye. Andy Reid is undefeated against the spread but has never had a spread like this, coming in as 11point favorites. As long as Ben McAdoo is the Giants coach, they won't play for him. They even lost to the lowly San Francisco 49'ers who appear to be in full tanking swing. If CJ Beathard beats you, you deserve to get fired. This line actually opened at 13, and for the life of me I can't understand who is betting The Giants.
4. Mitch Trubisky shouldn't be laying points
This one's pretty simple to me. When Tim Tebow 2.o is your quarterback you shouldn't be laying 5 points to anyone in the NFL, especially Green Bay, even without Aaron Rodgers. Chicago is a very frisky home dog, but being a favorite isn't something they are used to or comfortable with yet. Trubisky did throw for a career-high 297 yards while going 21/35, but they should be avoided when they are installed as a favorite and backed when they are catching points on that long grass at home.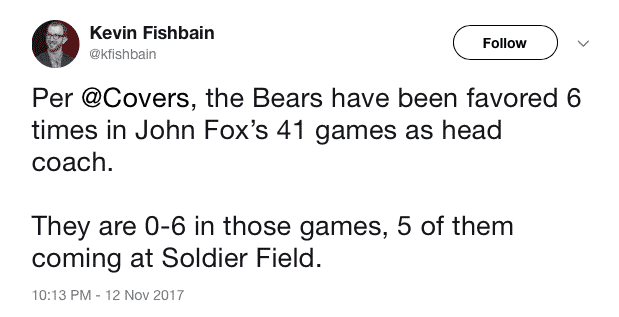 Game, Set, Fade Chicago As A favorite.
5. The Defense Isn't Enough For Denver
The thing that always got bettors to the window with somewhat confidence is that Denver's defense would always be able to keep them in games. In the past two weeks, they allowed 51 points to Denver and 41 to New England. I realize those offenses are nothing to laugh at and they did allow 14 points basically on special teams, but Denver's defense looks as if they have quit on the offense, and it's hard to blame them. They don't have a quarterback, don't have a running game, and until those things improve it's hard to justify an effort on the defensive side of the ball for Denver. Denver is currently installed as 3 point favorites this week against Cincinnati at the time of this writing, and it's hard to justify a ticket on Denver in any way as long as their quarterback play resembles play from those that reside in the MAC conference of college football. At some point putting your body in danger play after play loses its appeal when you know you are playing for nothing when your offense is inept. Cincinatti is bad, but I don't know if I can back Denver and Brock Osweiler laying points-even at home. It may be Trevor Siemian back under center this week, as these past two weeks were something of an audition for Osweiler, and let's face it, he failed- or succeeded, if you faded him.