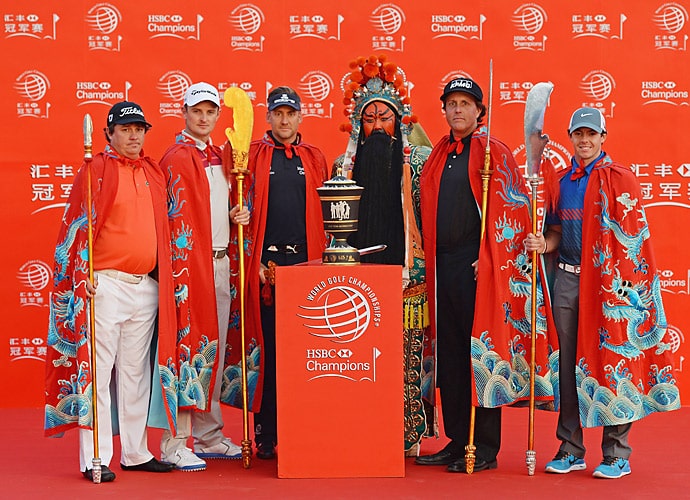 Note – In case you missed yesterday's discussion of the King of Golf's Iron Throne, click here.
This week marks the final stop of the Asian Swing with the WGC – HSBC Champions at Sheshan International Golf Club in Shanghai, China.  Once primarily a co-sanctioned event between the European Tour and the Asian Tour, the WGC slapped it's name on the tournament in 2009 to raise its stature on the golf schedule. Making it a WGC event brought out the stars of the PGA Tour, as these are no-cut events with guaranteed money and free world rankings points available just by showing up.  For most stars of the PGA Tour this will be their final event in 2017. It's not hard for these guys to suck it up, strap in for a 20 hour charter flight, get paid and use the money to bankroll their Polynesian vacation with the family as soon as the final putt drops.
You have to wonder if this will be the final year the WGC – HSBC Champions is played in China. Like every other sport, the PGA Tour looks at China as an untapped market to #GrowTheGame. As such, the PGA Tour China was created in 2014 to foster young Chinese stars and further golf's global expansion. That tour has produced up and comers like Hao-Tong Li, who finished 3rd at the 2017 Open Championship, and Zhang Xin-Jun, who played on the Web.com Tour last year and earned his PGA Tour Card for the 2018 season.
There's just one teensie, weensie little problem – the Chinese Government is openly hostile towards golf, a stance that would be openly lauded by notorious wet blanket and golf hater Malcolm Gladwell. They consider it to be a "millionaires  sport" and has warned members of the Communist Party not to play in a effort to curb corruption.  While developers have found loopholes to continue the construction of new courses, the Chinese Government beefed up its crackdown on the sport by closing hundreds of courses in 2017. If the government continues to remain hostile, the governing golf bodies might serve itself best by pulling the plug on the Chinese Experiment and moving the tournament to, say, Australia or Japan.
Handicapping this event can be a little tricky. For one, as you run down a WGC field you're going to come across at least three dozen of golfers you like. The tough part is weeding down that list to 5-10 guys you'll want to ride on bets and in your DraftKings lineup. Stick with the fundamentals – rely on what types of golfers have fared best at the tournament and pick your spots.
With that said, a look back at what types of golfers have fared well at Sheshan International is be a bit of a mixed bag. On one hand, bomb and gauge guys like Dustin Johnson, Bubba Watson and Rory McIlroy have all had tremendous success at the course. On the other, you'll see past Top 10's littered with short hitters such as Graeme McDowell, Ian Poulter and Tim Clark who make up for their shortcomings off the tee with a solid wedge game. For me personally, I always tend to gravitate towards guys who only care about hitting the ball as far as they can off the tee, no matter where it goes. Better to hit a short iron out of rough than try and stick a long iron or hybrid from the fairway onto a tricky green.
The most troubling part, though, is that the event has several high-profile golfers who predominantly play on the European Tour. When it comes to statistics, the PGA Tour demolishes the European Tour. The stat page on the European Tour website has a whopping nine antiquated stats to choose from, versus the hundreds of high level analytics the PGA Tour has to offer. Basic stats like Driving Distance, One Putt % and Stroke Average only go so far. It's like filling out your Football DraftKings lineup using Yards/Carry. Between my lack of viewing exposure due to early morning start times and the lack of good data, I don't even bother trying to bet or handicap events on the European Tour.
But at majors or WGC events, you just can't ignore these guys. That's where you have to get creative, like looking at stats from the few PGA Tour events they participated in and play a bizarre game of "Buy or Sell". Or you could create your own hybrid stat available from the European Tour to identify whose eye will fit the course.
Here's who I like this week:
The Favorites (with win odds and DraftKing Values):
Dustin Johnson – 8/1 ($11,700)
Hideki Matsuyama – 10/1 ($11,400)
Justin Rose – 18/1 ($10,600)
Jason Day – 18/1 ($10,200)
Jon Rahm – 18/1 ($10,000)
Marc Leishman – 18/1 ($9,900)
Brooks Koepka – 20/1 ($9,700)
Patrick Cantlay – 20/1 ($8,900)
Paul Casey – 20/1 ($9,400)
With a deeper field, there are much more reasonable win odds for the favorites to be had. Most of these guys have more than enough talent to hoist the trophy on Sunday. I normally don't advocate putting down a win bet on anything less than 12/1, but I have this gnawing feeling that either Dustin Johnson or Hideki Matsuyama is going to be take home the bacon. DJ should be well rested after a few weeks off and his bomb and gauge game has worked at Sheshan International in the past. He won the tournament in 2013 and placed T5 in 2015.  It seems like he's rekindled all that early season momentum he had before injuring his back at Augusta. I wouldn't be shocked if we see the odds on favorite emerge victorious for the second tournament in a row.
As for last year's champion Hideki Matsuyama, in my CIMB Classic preview I said that you needed to see proof of life before you could back him. Sure enough, Hideki bounced back by finishing T5 in the event, including a spectacular 63 in the 3rd Round to catapult him up the leaderboard.  Hideki's year is normally full of peaks and valleys, and I have a hunch that his game is about to ascend towards elite status as he tries to defend his 2016 title.
If you can't stomach laying 8/1 or 10/1 on a winner, you can't go wrong sliding down the list and putting a bet on Justin Rose, Jason Day, Jon Rahm or Brooks Koepka. All of these guys are elite from tee to green and can pile up birdies in a hurry. If you put a gun to my head, though, I'm going to go with Brooks Koepka at 20/1 to win the tournament. He's a big game hunter and always seems to be hanging around the top of the leaderboard at the more prestigious events. He has the ability to overpower any course he plays, and at 20/1 he provides the most value of anyone at the top.
I'm scratching my head over why Patrick Cantlay is sitting there at 20/1 to win the tournament. His DraftKings price is a little more reasonable, but holy moly those are some stinky odds. I get that he is a very talented golfer who has had some bad luck with the injury bug. But come on – win something first before you have the same odds as some of golf's elite talent! This might be a good opportunity to fade him in matchup plays against more established pros. If you can get him up against someone like Tommy Fleetwood or Daniel Berger, that could be a nice spot to win a bet from your book.
Other Contenders:
Tommy Fleetwood – 33/1 ($8,600), Patrick Reed – 35/1 ($8,500), Daniel Berger – 45/1 ($8,300)
Tommy Fleetwood is one of the leaders in total driving on the European Tour and has held his own in other WGC events he's played in. He went through a bit of a dry patch after winning the French Open in July, but he finished T6 in the Italian Open two weeks ago by posting 63-67 on the weekend. He's always a popular dark horse pick, but I'm not afraid to back him at a course that demands superb ball striking and excellence tee to green.
This is an unusual spot for me to back Patrick Reed, as I wasn't a big fan of his strokes gained stats or his birdie conversion rates on Par 5's during 2017. But after struggling most of the year, he seemed to find his game at Quail Hollow when he placed T2 at the PGA Championship. Since then, he's had four Top 20 finishes and improved his statistical rankings across the board. A 76 in Round 3 last week torpedoed his chances at winning the CJ Cup, but I like where his game is at and he has positive course history at Sheshan International. He's winless so far in 2017, but that could change this weekend.
At 45/1, Daniel Berger is very undervalued this weekend and should fare well at the event. Berger has finished T11 and T2 in his two appearances at the WGC – HSBC Champions, and he continues to be one of the best tee to green golfers in the world. He was absolutely miserable at the CJ Cup last weekend, but at a course that seems to fit his eye I expect a nice bounce back from him with a pretty good price to boot.
Chez Reavie – 70/1 ($7,500), Kyle Stanley – 90/1 ($7,500)
Chez Reavie has quietly played some of the best golf of his career in 2017. He hasn't missed a cut since the Byron Nelson in May and has amassed seven Top 20 finishes since then, including five of his last six events. He's posted solid strokes gained statistics the last few years and that's starting to translate into good finishes. While I don't love the 70/1 win odds or the 5/1 Top 10 Odds, he could be a nice addition to your DraftKings lineup or in a matchup bet if he's paired up against a weaker ball striker.
I can't quit Kyle Stanley. I don't care if I could beat him at Putt-Putt, the dude simply can mash the golf ball. Stanley was right in the thick of things at both the CIMB Classic and the CJ Cup heading into the weekend, but had to settle for disappointing T21 and T19 finishes. Fool me once – shame on you, fool me twice – shame on me, fool me three times…he'll cash my ticket eventually? I like both his DraftKings price and his 13/2 Top 10 odds this weekend.
Sample DraftKings Lineup
Brooks Koepka – $9,700
Tommy Fleetwood – $8,600
Patrick Reed – $8,500
Francesco Molinari – $8,000
Tony Finau – $7,700
Kyle Stanley – $7,500