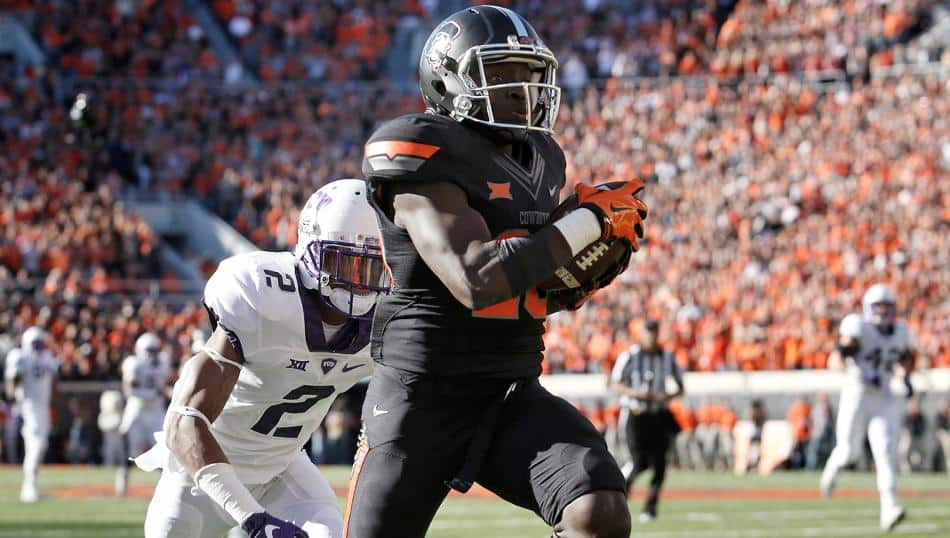 Here is my complete list of Week Four College Football Previews from least important to most important.
Kent State @ Louisville
I called it on Louisville being overrated. The defense isn't nearly as good as last season and the wideouts are not as well. Kent State has one of the worst offenses in the country so Louisville shouldn't have a problem stopping them. Cards will win big in this one.
Umass @ Tennessee
I was somewhat high on Umass in the preseason but the minutemen can't seem to ever put it all together. Tennessee was overrated once again but they should be know match for Umass.
UNLV @ Ohio State
The Runnin' Rebels lost at home to Howard two weeks ago and then went on the road to Moscow, Idaho and knocked off a decent Idaho team. Rebels coach Tony Sanchez is somewhat on the hot seat but come on this game is already over. J.T. Barrett can continue to work on his downfield passing in this one.
Wagner @ Western Michigan
Wagner is from the FCS level and is 1-2 at that. Last week they lost to Ivy League's Columbia. Western Michigan is coming off a nice come from behind victory over Idaho. Look for the Broncos to continue their winning ways.
West Virginia @ Kansas
I know Kansas knocked off Texas in Lawrence last year but this team has looked pretty bad this year. Will Grier will continue to develop the West Virginia offense in what should be a nice size blowout.
Georgia State @ Charlotte
These are two of the worst five teams in the country so it should be a close game despite it being a very poor example of this thing called football. Charlotte is coming off a loss to a FCS team at home and Georgia State just got dominated by Penn State. I should note that both teams have lost to a FCS team already this year.
Nevada @ Washington State
Nevada looked decent the first two weeks in losses to Northwestern and Toledo but what happened last week? The Wolfpack last by 18 to FCS Idaho State in their own backyard. Washington State is coming off a nice conference win and will continue to develop their offense with a nice beating of the Wolfpack.
Georgia Southern @ Indiana
What has happened to once great mid major program in Georgia Southern? They missed out on a bowl last season and this year they opened up with a bad loss to Auburn but that was understandable but to follow that up with a double digit loss to FCS New Hampshire? That's inexcusable. Indiana is pretty good football team with a nice defense. Look for the Hoosiers to continue to build towards another bowl game.
Oklahoma @ Baylor
Baylor looked a little bit better against Duke but this still might be quite the long process. Zach Smith looked decent at times under center but who are we kidding? The Bears lost at home to UTSA & Liberty! Oklahoma is going to come in there and smack them in the mouth.
Auburn @ Missouri
Missouri looks like a mid level MAC team right about now after coming off a blowout home loss to Purdue. Auburn needed a 4th quarter touchdown to put FCS Mercer out of reach. Both teams haven't been too impressive and Auburn being ranked is a big reason why preseason rankings are absolute shit. With that said Auburn should come into Columbia and blow out the Missouri Tigers.
Florida International @ Rice
The Panthers of FIU are coming off their first win of the season and the first win of the Butch Davis era so there's that. Rice just got rolled by Houston but this has the makings of being a close game. Just not a very good one.
Alabama @ Vanderbilt
I don't care that Vanderbilt is undefeated and called out Bama this past week. Last weeks performance against Kansas State was ugly and the Commodores got some very fortunate breaks from the refs. This week maybe just maybe the Vandy defense can keep Hurts in check for a little bit, but the Tide defense could very well shut out the Vandy offense.
Southern Illinois @ Memphis
Southern Illinois is from the FCS level but I should mention that they're undefeated and Memphis is coming off their biggest win in a few years with the home win over the UCLA Bruins. I doubt this happens but perhaps Memphis is looking ahead and sleeps on a pretty decent Southern Illinois team?
UTEP @ New Mexico State
New Mexico State despite being 1-2 has played much better than I can ever remember them playing. UTEP is one of the five worst teams in the country but they recently fired their offensive coordinator earlier this week. Could the new OC give the Minerz a much needed spark? I doubt it.
Western Illinois @ Coastal Carolina
Coastal Carolina is 1-1 in their first season on the FBS level. Western Illinois is 2-0 on the FCS level so we could have a game here. They played a couple years ago with Coastal Carolina getting a late touchdown to win the game. I like Coastal to do something similar in this one.
Bowling Green @ Middle Tennessee
Bowling Green is looking really awful so far this year but perhaps they can wake up against a somewhat shaky defense in Middle Tennessee. Middle Tennessee needs to find its consistency on the offensive side of the ball. Give me the Blue Raiders in somewhat of a shootout.
Rutgers @ Nebraska
Wouldn't it be funny if Nebraska gets upset two weeks in a row? I doubt it happens with Rutgers looking pretty suspect against Eastern Michigan a few weeks ago but hey stranger things have happened. Nebraska must find a way to protect their QB Tanner Lee better and he also needs to be a little more conservative with some of his throws. If they don't fix those problems it's going to be a real long season in Lincoln.
Idaho @ South Alabama
Both teams are 1-2 coming into the game so something has to give. Both teams went bowling last year and if they want to go again this year this game will be quite pivotal. I like South Alabama and the Jags to come away with a close win in this one.
UAB @ North Texas
I mean UAB is 2-1 after not playing football for a few years, that's impressive. North Texas is coming off a bowl season and a decent output against Iowa last week. This should be a good football game with both teams thinking bowl game at the end of the line.
Florida Atlantic @ Buffalo
Lane Kiffin could perhaps get his first victory over a FBS team at FAU but hey don't sleep on this Buffalo team that played Minnesota to the final minutes and should of beat Army. This one could be an interesting watch if you are a maniac like me.
UTSA @ Texas State
UTSA is looking pretty damn good this year with some nice double digit wins. Texas State is looking improved despite their 1-2 record. TSU played Appalachian State tough till the final play of the game last week. UTSA should win this but they need not look past this game.
Boston College @ Clemson
Clemson is looking like a playoff team already but remember the Tigers are known for a let down game against other ACC foes. BC is terrible once again on offense so I doubt this will be the sleeper team to test Clemson but who knows. The Golden Eagles do have a decent defense that could perhaps keep them in the game.
Akron @ Troy
Troy is a pretty good football team led by experienced QB Brandon Silvers. Akron is probably a bit better than their 1-2 record since both their losses have come from the power 5 teams (Penn State & Iowa State). If this game was at Akron I'd like there chances a little more but maybe they can keep it close. Give me Troy in this one and someone tell LSU to watch out for the Trojans.
Utah State @ San Jose State
Utah State got smacked in the mouth by Wake Forest, that was somewhat surprising. San Jose State is still rebuilding. If Utah State wants to talk realistically about a bowl season they're going to need this win.
Louisiana Monroe @ Louisiana Lafayette
You're probably thinking "how the hell is he rating this game this high? What an idiot" I get it. I really do. This is a slept on rivalry game though between two decent sun belt teams. Louisiana Monroe played Memphis and Southern Miss in their house so that's not such a bad 0-2. Louisiana Lafayette's two losses are at Texas A&M and Tulsa so that's not bad either. This should be a fun one to watch.
Hawaii @ Wyoming
Josh Allen has had his struggles against the big boys but to his credit his receiving core really isn't much. Hawaii has a very underrated QB in Dru Brown so watch for this game to potentially be a shoot out. I like Wyoming to get back on track in this one.
East Carolina @ UCONN
I don't know why I have this game so far up. Probably because I'm a homer and despite ECU being maybe the worst team in the country I'm optimistic here. UCONN's lone win was a 4th quarter rally at home against FCS Holy Cross. I mean come on ECU that means this is winnable. Plus this game is played on Sunday this weekend so you get an extra day to prepare for that shitty UCONN offense.
Army @ Tulane
Two option attack offenses squaring off against one another is always fun. Army looks to be slightly better than Tulane but I think Tulane is getting better each week in year two of Willie Fritz's tenure. This one should come down to the fourth quarter and perhaps the final drive.
31. Temple @ South Florida
This Thursday night's lone college football game against two recently successful American Conference teams could be compelling. Temple has a stout defense that could potentially limit the South Florida explosive offense. The real question will be if Temple can get anything out of their offense and keep the ball out of Quintin Flowers hands. If I had to I'd take Temple and the points but they must limit the clock and not turn the ball over.
Ball State @ Western Kentucky
Western Kentucky is coming off a tough home loss to rival Louisiana Tech but the real question is if this Hilltoppers team is like the Hilltoppers teams of the past? They still have their star QB in Mike White but one can't help but think that they finally lost to much coaching wise for them not to make a big drop off. Meanwhile Ball State is a team that appears to be up and coming in the MAC. Ball State is 2-1 and missed a field goal as time expired that would of beat Illinois. I like Ball State and the points in this one but for the outright win? Who knows. Should be a good one.
39. Cincinnati @ Navy
Cincinnati really pulled off an amazing victory last week against Miami (OH). The Bearcats were down by 11 with just under three minutes left and yet won by 4 thanks to a pick 6 with just about a minute left. Navy on the other hand is being classic Navy by being a damn good football team by controlling the clock, playing decent defense and not turning the ball over. I like Navy in this one but it could be a close one.
28. Miami (OH) @ Central Michigan
The MAC is already showing it's a very underrated conference with Northern Illinois, Ohio, Central Michigan & Eastern Michigan earning nice wins against the power 5. So to open up conference play we have a legit matchup in these two. Miami (OH) somehow blew last weeks game against Cincinnati and will look to rebound. Central Michigan is in somewhat of the same position after Syracuse put it on them.
Arkansas State @ SMU
SMU was on the verge of potentially pulling off the upset at TCU. Then TCU completed a hail mary touchdown on the final play of the first half and it all went downhill from there. SMU is a solid football team though and should be a bowl team this year. Arkansas State is one of the top teams in the Sun Belt and already played Nebraska tough so this should lineup to be a nice out of conference matchup.
Syracuse @ LSU
This game could be a blowout but after watching the LSU offense this year I think the Cuse may be able to hang around in this one. The Orangeman will need to get physical though, so there's a bit of concern for me on that chances of that happening but LSU is not the LSU of the past.
Ohio @ Eastern Michigan
This is a big time MAC conference game. Both teams think they are contenders to win the conference and both teams should be bowl teams when it's all said and done so something has to give. I like Ohio and Frank Solich but EMU is building something special so watch out for this one.
New Mexico @ Tulsa
Tulsa is coming off a crazy loss to Toledo and will look to rebound meanwhile New Mexico got beat up on the blue turf in Boise. This game is kind of a contrast in styles. Tulsa loves to put points on the board and New Mexico likes the option attack grind it out style.
Old Dominion @ Virginia Tech
This one has the potential to be a blowout that should of been one of the worst rated games of the week, but it also has the potential to be a real close game considering most these players know each other and some of the ODU players weren't recruited by Virginia Tech so they'll have a chip on their shoulders. I like VT to win it but it could end up being a game to watch.
Pittsburgh @ Georgia Tech
Pittsburgh has really gotten destroyed the past two weeks and now they have to prepare for Paul Johnson's option attack. Tough times for Panther fans but maybe Narduzzi can dial up a defense that can keep this game close. I still like the Yellow Jackets in this one but this could end up being a good game.
Central Florida @ Maryland
This should be a game where we find out if UCF is a real threat to South Florida in the American and if Maryland will be a real player in the Big 10 this year. Maryland has already had a big time win this year but they also had a big time loss in that same very game when they lost their starting quarterback for the year. Central Florida has looked great this season, but they've only played one game against a struggling Florida International team.
20.Oregon @ Arizona State
Willie Taggart has already made Oregon a much better team and this one should be another notch on his belt but the real question is if this ASU team has any heart? Their coach's job is on the line and they can't afford to lose game after game or perhaps next week Todd Graham will be jobless. Sometimes desperation can make a team play up, could this be one of those times?
Louisiana Tech @ South Carolina
South Carolina was real impressive the first two weeks but laid and egg at home against Kentucky last week. Aside from that they lost arguably their best football player for the year in Deebo Samuel. Louisiana Tech is coming off a big time rivalry win over Western Kentucky.
Virginia @ Boise State
Bronco Mendenhall is in year two and still searching for that marquee win for the Cavaliers. Well here is an opportunity to get a big one. Boise State is almost unbeatable on the blue turf if you look at their record the past 15 years at home. It may be the most underrated stat you can find. They are simply dominate at home. Let's see if Mendenhall can get the Cavs rolling in the right direction.
17. Toledo @ Miami (FL)
This game could very well be a blowout but let's give Toledo a little credit here for the last time they played a power 5 team on the road they upset Arkansas. We don't know much about this Miami team except they sure are getting a lot of hype despite their only performance thus far was a win against a FCS foe that wasn't really all that impressive. If they struggle early Toledo will make this a game.
Texas Tech @ Houston
Houston is 2-0 and already taken down a power 5 team in Arizona so here comes the 2nd test. Texas Tech is looking much better than I thought they'd be but they almost let Arizona State back into the game last week despite being up big early on. It will be interesting to watch Houston stud defensive lineman Ed Oliver and how well he disrupts the Texas Tech passing attack.
Utah @ Arizona
A friday night conference game that perhaps should be a good one. Utah has had Arizona's number of late but Arizona is a little bit better than I thought they would be at this point. Utah is still somewhat struggling on the offensive side of the ball so that could easily play into Arizona's way. I like Zona and the points in this one but this should be a good one.
San Diego State @ Air Force
This game screams trap game! San Diego State is looking like a team that could really make a run for the new years six bowl and stir up a ton of controversy if they run the table. They've scored two big back to back victories against PAC 12 teams. Air Force is much like Navy in being a fundamentally sound team that is always tough to prepare for.
UCLA @ Stanford
Suddenly this game is a must win game for both teams, even more so for Stanford who already has a conference loss. I knew Stanford was overrated coming into the year but I didn't think they would be potentially 1-3 after the first four games. Jim Mora and Josh Rosen really dropped the ball last week at Memphis. They had their chances and could of won the game. I like Stanford in this one but this game was wild last year.
USC @ California
Whoa who would of thought? I originally had this game mapped back in the 50's but Cal went to UNC a came out with a win and then took care of business at home against Ole Miss! Suddenly this is a game. USC could still blow them out but I really like what head coach Justin Wilcox is doing in Berkeley.
Wake Forest @ Appalachian State
Talk about biggest surprise teams in the country and you can't leave out Wake Forest. Dave Clawson has this team rolling. Appalachian State will need this game if they want to make a play for the new years six bowl but I like Wake to come into Boone and get things done.
Michigan @ Purdue
Much like the past two games suddenly this is a game. Purdue looked great last week and with the exception of a late pick 6 vs Louisville they've looked really good all year. Michigan got things done vs Florida but the offense has struggled against Cincinnati and Air Force which has me thinking the Boilermakers will make this a game.
9. Duke @ North Carolina
I know it's football and not basketball but this rivalry is great in everything. It could be ping pong and I'd subscribe. Duke and Daniel Jones have been a pleasant surprise in the ACC. Meanwhile UNC finally got back on track with a nice win at Old Dominion last week. Duke has been so impressive that I think they could actually be a real player in the coastal. Providing they get past UNC.
Notre Dame @ Michigan State
The Spartans have really had Notre Dame's number of late, so that means this game is even bigger for Brian Kelly. MSU has actually been quietly looking good while under the radar. Notre Dame struggled in the first half vs Boston College before opening up the game in the 4th. I like the Irish to come away with this one.
Florida @ Kentucky
This is a huge game for the SEC East and while Florida still hasn't found its offense Kentucky hasn't beaten Florida in quite some time. Lexington should be rocking for this one with all the offseason hype Kentucky got. I think it will be a close game but I like the Gators to continue to own the Wildcats.
6. Texas A&M vs Arkansas
This game is being played in Arlington, Texas in Jerry's world but the real story line is two coaches on the hot seat battling each other. The Aggies are without their starting QB so I'd think the Razorbacks would be my favorite to win the game.
Penn State @ Iowa
The first real challenge on the road for the Nittany Lions comes in Iowa City. The Iowa defense will have their work cut out for them but remember the Hawkeyes knocked off Michigan in Iowa City last year.
NC State @ Florida State
Florida State sure got hit hard by the hurricane. They were going to break in their new quarterback against Louisiana Monroe but now they are forced to break him in against NC State and their talented defensive front seven.
Washington @ Colorado
Folsom Field should be rocking for this one as the Buffs try to get some revenge from last years PAC 12 championship game. Washington struggled against Rutgers but has looked up to the part the past two weeks against Montana and Fresno State. Colorado's offense hasn't played the way most predicted in the first three games. They'll need them to wake up if they want any chance at the upset. I'll be there in person to watch this so message me on twitter if you are in the area and want to grab a beer. 
Mississippi State @ Georgia
Mississippi State has looked great early on but this is the real test, on the road in a hostile environment. Georgia has looked great on the defensive side of the ball but they'll need to be more consistent on offense if they really want to contend for the title.  
TCU @ Oklahoma State
The Horned Frogs have finally got back to playing defense, for the first three weeks at least. This one could be one heck of a challenge since Oklahoma State is just loaded on the offensive side of the ball.  Mix that with the home crowd and I'd be really surprised TCU wins this game.