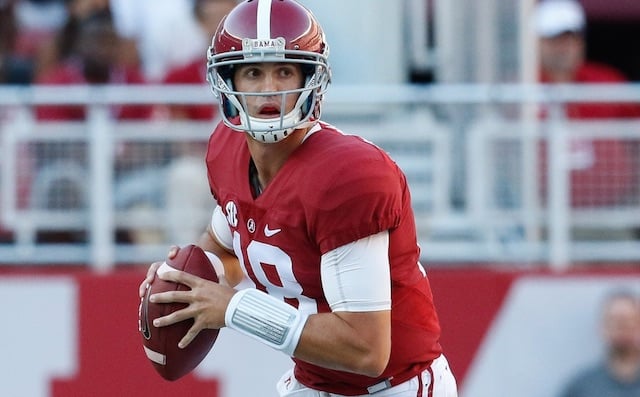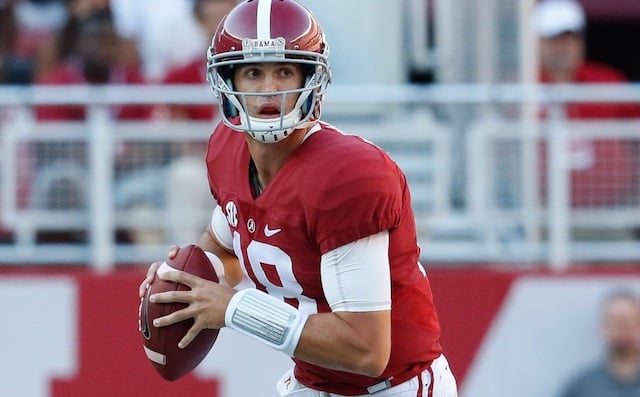 Written By: Colby Dant (@TheColbyD) also check out:

The SEC has been the most dominant conference in college football since the mid 2000s and this year they still might have the best team in the country. On the other hand the conference has taken quite a hit with players graduation and coaches moving on, in fact right now I think the SEC is the weakest it's been since the early 2000s.
SEC West Preview
1. Alabama
Look I think Nick Saban is the biggest asshole in the coaching ranks but at the same time he's done an amazing job at Bama and they're loaded again. Can they win the title with a new QB in Cooper Bateman? Time will only tell. The Crimson Tide out of conference schedule games are vs USC (in Dallas), vs Western Kentucky, vs Kent State & vs 1AA Chattanooga. The Tide should be 4-0 but obviously you need to take the USC game seriously. In conference wise the Tide have away games at Ole Miss, @Arkansas, @Tennessee, & @LSU. I think the Tide go 3-1 in those games but 2-2 is certainly possible. At home in Tuscaloosa the Tide get Kentucky, Texas A&M, Mississippi State, & Auburn. I think they go 4-0 in those games and finish in 1st in the SEC west.
2. Arkansas
Yeah I'm taking the Razorbacks over LSU and Ole Miss here and the main reason why is that Brett Bielema and hogs have a much easier schedule than LSU & Ole Miss. Sure they have a new starting QB in Austin Allen and that always presents itself with challenges but let's take a look at the schedule. The Hogs out of conference schedule games are vs Louisiana Tech, @TCU, vs Texas State, vs Alcorn State I think they'll be 4-0 in those games but I could also see 2-1. The conference road games are @Texas A&M (in Dallas), @Auburn, @Mississippi State & @Missouri, That's a pretty favorable road schedule. If they can go 3-1 or 4-0 there then they'll be looking good. The home games in fayetteville are tough but its the SEC west be thankful their at home. The home games are Alabama, Ole Miss, Florida & LSU. If they go 3-1 they'll lock up 2nd place or maybe even 1st in the west.
3. LSU
Third place? Does this mean they fire Les Miles? Who knows. LSU has one of the most talented teams in the country but they always seem to lose to somebody in conference that they shouldn't and this year will be another one of those years. Out of conference the Tigers get games vs Wisconsin (in Green Bay), vs 1AA Jacksonville State, vs Southern Miss, vs South Alabama. I think 4-0 is very likely but Wisconsin is a big boy so let's not write that one in yet. Conference games on the road are @Auburn, @Florida, @Arkansas, & @Texas A&M. I think they will go 2-2 in those games. At home in Baton Rouge the Tigers get home games against Mississippi State, Missouri, Ole Miss & Alabama. I think they lose one of those and lose three games on the year.
4. Ole Miss
I really am not sure who will be better Ole Miss or Texas A&M. Both teams have had some off the field problems throughout the offseason but I'm gonna go Ole Miss here. Hugh Freeze is back for another year even though he probably paid for every player on the roster. Schedule wise the Ole Miss out of conference schedule looks like this vs Florida State (in Orlando), vs Wofford, vs Memphis, & vs Georgia Southern. I think 4-0 is what the fans want me to say but 3-1 is more likely. In conference they have away games @Arkansas, @LSU (back to back weeks), @Texas A&M, & @Vanderbilt. I'm thinking they should be happy going 2-2 in those games. At home in Oxford they get Alabama, Georgia, Auburn & Mississippi State. If they go 3-1 in those game they should be happy. I'm thinking 2-2 will be more likely.
5. Texas A&M
The Aggies are my pick for 5th even though they are a really talented football team. I think Sumlin having problems off the field is finally going to add up. Out of conference the Aggies start the season at home vs UCLA, the other non conference games are home games vs 1AA Prarie View A&M, New Mexico State, & Texas – San Antonio. I think the Aggies go 3-1 in that stretch and possibly 4-0. I have UCLA winning in a close one but if the Aggies can get that one things will be going great by the time conference play starts. The conference away games are @Auburn, @South Carolina, @Alabama, & @Mississippi State. If the Aggies can go 3-1 in those games they might be able to make a run at the championship game but they'll have to take care of work at home. The home schedule has games vs Arkansas (in dallas), Tennessee, Ole Miss & LSU. Ouch. i think best case scenario they go 2-2 in those games. I think when its all said and done it's a 7-5 season for the Aggies.
6. Mississippi State
The Bulldogs are replacing their greatest player ever in Dak Prescott so I expect them to struggle some. Out of conference the Bulldogs get games vs South Alabama, @Umass, @BYU (upset watch) and vs 1AA Samford. The Bulldogs should be 4-0 out of conference. Now comes the conference play. The Bulldogs get road games @LSU, @Kentucky, @Alabama & @Ole Miss. I'm thinking 1-3 in those games but maybe even 0-4. The home schedule has games against South Carolina, Auburn, Texas A&M, & Arkansas. I'm thinking 2-2 but maybe they can upset Arkansas or A&M. At the end of the day I'm thinking 6-6 for Bulldogs. Hey you still get to a bowl game. Take it for what its worth.