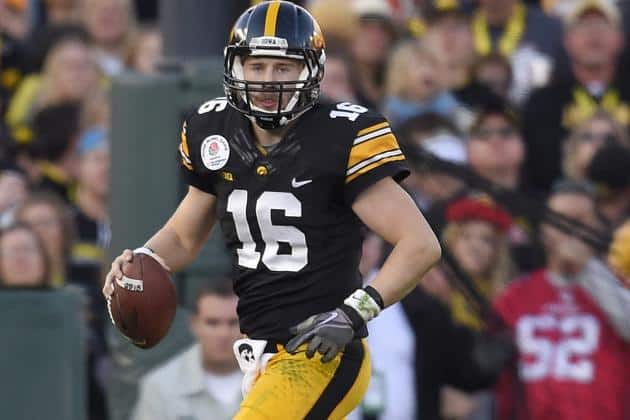 Written By: Colby Dant (@TheColbyD) also check out:

Big 10 West Preview
1. Iowa
Kirk Ferentz has really done an amazing job as head coach of the Hawkeyes and I must admit a few years ago I thought they should of canned him. Glad I'm not in charge over there because Ferentz had a great season last year and this season might be even better. QB CJ Beathard is back at QB and another year of experience is always huge on the college level. The Hawkeyes out of conference schedule has these games vs Miami (OH), vs Iowa State, vs North Dakota State. The Hawkeyes should be 3-0 but watch out North Dakota State has won five straight 1AA championships. The conference road schedule is favorable with road games @Rutgers, @Minnesota, @Purdue, @Penn State, & @Illinois. If they can win @Penn State they might go 5-0 on the road in conference. At home the Hawkeyes get most of their tough opponents with Northwestern, Wisconsin, Michigan & Nebraska all coming to Iowa City. I think they go 3-1 in those games and play for another conference championship.
2. Nebraska
Last year Mike Riley really had some bad luck the Cornhuskers were a much better team than there 6-7 record would imply. Riley has already done a nice job in Lincoln despite that record. This year there's a real reason to be optimistic in Lincoln. The out of conference schedule is vs Fresno State, vs Wyoming & vs Oregon. All home games. I think they could very well be 3-0 at the end of that stretch but Oregon is Oregon so let's not write that one in yet. In conference the away games are @Northwestern, @Indiana, @Wisconsin, @Ohio State, & @Iowa. Ouch. I'm thinking the Cornhuskers go 3-2 in that stretch. Fans should be happy with that. Then comes the conference home games against Illinois, Purdue, Minnesota, & Maryland. I think the Cornhuskers go unbeaten at home in conference. I'm thinking the Cornhuskers go 9-3 or 10-2 this year. Yeah I said it. Mike Riley has always been an underrated coach.
3. Wisconsin
The Badgers will have their chance to come up big in conference but I think they're still a year away to be favored to win the division. The Badgers non conference schedule is vs LSU (in Green Bay), vs Akron, & vs Georgia State. If only the Badgers could upset LSU and be 3-0 coming into conference play. I don't see it happening I'm thinking 2-1. Conference road games start off with a bang bang with @Michigan State & @Michigan to start the Big 10 season. Ouch. The other away games are @Iowa, @Northwestern & @Purdue. I'm thinking the Badgers end up 2-3 on the road. At home in Camp Randle they get Ohio State, Nebraska, Illinois & Minnesota. I think they should be happy if they go 3-1 at home but I'm thinking 2-2 is likely. At the end of the day the Badgers should finish up 6-6 with a chance to end the season with a winning record.
4. Minnesota
The Golden Gophers are some experts pick to be this year's Iowa. They return a great deal of starters and that includes quarterback Mitch Leidner. They should be a pretty good team that should get to a bowl but lets look into the schedule here. The gophers out of conference schedule games are vs Oregon State, vs 1AA Indiana State, & vs Colorado State. I know everyone is thinking 3-0 but i think the Gophers are going to end up 2-1 in that stretch. Then comes the conference road games @Penn State, @Maryland, @Illinois, @Nebraska & @Wisconsin. That's not the toughest schedule there still I think the Gophers end up 2-3 or at best 3-2. The Gophers home games are
against Iowa, Rutgers, Purdue & Northwestern. If the Gophers can knock off Iowa maybe they can be a player in the division because I think they go 3-1 at home.
5. Northwestern
Yeah I know Northwestern was a 10 win team last year but this division is getting better and better and it's hard to win consistently like that at Northwestern. I think this year the Wildcats take a step back even though Fitzgerald is one of the best coaches in the country. The out of conference schedule for Wildcats is 3 home games vs Western Michigan (upset watch), vs 1AA Illinois State & vs Duke. I think they 2-1 in that stretch. Conference road games line up like this @Iowa, @Michigan State, @Ohio State, @Purdue & @Minnesota. I think the Wildcats go 1-4 in those games and possibly 0-5. At home they get Nebraska, Indiana, Wisconsin & Illinois. I think they 2-2 at home there and end the season 5-7 for the season.
6. Illinois
A surprise firing of old Illinini coach Bill Cubit after signing an extension was pretty surprising but I understand the move they made. They needed to bring in someone that could add life to the program and they hit quite a homerun when they landed Lovie Smith from the NFL ranks. Now comes the year one struggles. Out of conference the Illini get games vs 1AA Murray State, vs North Carolina & vs Western Michigan. I think the Illini go 1-2 in those games. Conference away games are @Nebraska, @Rutgers, @Michigan, @Wisconsin, & @Northwestern. I think the Illini go 1-4 in those games. At home in Champaign the games are Purdue, Minnesota, Michigan State & Iowa. I think 1-3 is likely but maybe they upset Minnesota. All in all they miss out on a bowl game but come on its year one and Lovie will get the team on the right track.
7. Purdue
Darrell Hazell needs to have a big year to stick around in West Lafayette. For them to do that the Boilermakers really need to win their out of conference games if they want any hope of bowling. The out of conference games are vs 1AA Eastern Kentucky, vs Cincinnati, & vs Nevada. I think they might be able to go 2-1 in that stretch but if they could somehow upset Cincinnati and go 3-0 things would be looking great for Hazell. Conference road game wise they have games @Maryland, @Illinois, @Nebraska, @Minnesota & @Indiana. If they want the postseason they got to win some of these winnable games. I'm thinking they go 1-4 here but if you want the postseason they have to win two or three of those. At home the Boilermakers get Iowa, Penn State, Northwestern, & Wisconsin. I doubt they get a win here but maybe they can knock off Northwestern and somehow qualify for a bowl game. I don't think it will happen but hey thats why they play the games.
Final Thoughts
BIG TEN CHAMPIONSHIP: OHIO STATE beats Iowa