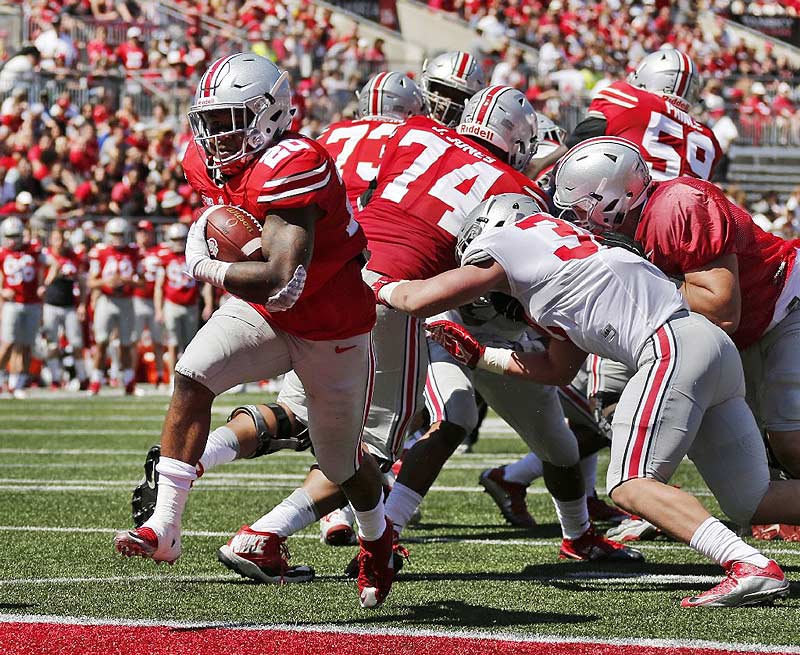 Written By: Colby Dant (@TheColbyD) also check out:

Big 10 Preview
I know people are gonna blast me but I really think the Big 10 is the best conference in football this year and it's only going to get better with Mike Riley & Jim Harbaugh recruiting so well at Nebraska & Michigan. Plus there's the arrival of Lovie Smith at Illinois and that program is soon to be on the rise. Mix that with the constant consistency of Ohio State, Michigan State, Iowa, Wisconsin & Northwestern and wow you have one hell of a conference.
Big 10 East Preview
1. Ohio State
As much as I am a Ohio State hater in real life Urban Meyer is in my opinion the best coach in College Football. I think Alabama was very lucky that Ohio State didn't make the playoffs last year because I think they were the best team in the country last year. This year they are replacing a lot but at Ohio State it's quite easy to reload. Schedule wise the out of conference games are vs Bowling Green, vs Tulsa, @Oklahoma. I think they go undefeated on the road beating the Sooners in Norman. In conference the away games are @Wisconsin, @Penn State (back to back weeks), @Maryland, @Michigan State. I think the Buckeyes go 3-1 on the road, at worst 2-2. The home schedule has them playing Rutgers, Indiana, Northwestern, Nebraska & Michigan. I think they win all their home games but obviously the Michigan game could go either way and I think the Nebraska game could be a very dangerous game.
2. Michigan
The Harbaugh effect was amazing in year one and now comes year two. The out of conference games are all at home? Sure. Home games vs Hawaii, Central Florida & Colorado should have the wolverines undefeated coming into conference play. The away games in conference are really going to tell the tale of the season with away games coming @Rutgers, @Michigan State, @Iowa & @Ohio State. I think they go 3-1 but obviously they could lose any of those games with exception to the Rutgers game. The in conference home games are tough as well with Penn State and Wisconsin coming on back to back weeks. The other three home games are against Illinois, Maryland & Indiana and they should win those. All in all I think the Wolverines lose two games and one of them being to Ohio State.
3. Michigan State
The Spartans are not really a third place division type team they could still easily win the division but I think they are destined for 3rd place this season. Schedule wise the Spartans out of conference games are vs Furman, @Notre Dame, & vs BYU. I think 3-0 is a real possibility but I have Notre Dame winning that one and also don't overlook the match up vs BYU. In conference the away games are @Indiana, @Maryland, @Illinois, & @Penn State. I think they go 3-1 on the road and it's not much of a stretch to see them win all four. At home in East Lancing they get Wisconsin, Northwestern, Michigan, Rutgers & Ohio State. I think the Spartans go 3-2 at home. At the end of the day the Spartans have another great season considering their schedule and go 8-4.
4. Penn State
It's a big year for head coach James Franklin the fans are waiting for Penn State to become a real player in the division and I'm afraid Franklin is a bit behind the eight ball here. Out of conference the schedule is this vs Kent State, @Pittsburgh, vs Temple. Thats two dangerous games in back to back weekends. I hope for Franklin's sake they go 3-0 but I think they lose one of those. In conference they open up conference play on the road @Michigan! Ouch. The other away games are @Purdue, @Indiana, & @Rutgers. They should be favored in all of those except the Michigan game. So i'm thinking 3-1 on the road. Then comes the home game slate which has games against Minnesota, Maryland, Ohio State, Iowa, & Michigan State. I think the Nittany Lions go 3-2 at home and end up going 8-4 or 7-5 on the season.
5. Indiana
The Hoosiers had a great offense last season ending up in the top 15 of the country but gone is their star quarterback and running back. So it's rebuilding time in Bloomington but Kevin Wilson has done a great job so maybe this team can over achieve some. Out of conference the Hoosiers get games @Florida International , vs Ball State & vs Wake Forest. They should be 3-0 out of conference and trust me they need to be if they want to go bowling this year. The in conference away games are @Ohio State, @Northwestern, @Rutgers, & @Michigan. Pretty tough. I think they go 1-3 in those games but maybe Wilson can steal 2 on the road. At home the Hoosiers get Nebraska, Maryland, Penn State and Purdue. I think they Hoosiers go 2-2 in those games which means they'll hit 6 wins and become bowl eligible which is always a great season at Indiana.
6. Maryland
D.J. Durkin is finally a head coach as he should be and now it's time to see if can handle the spot being the head man. Maryland has some talent so it should be interesting to see what Durkin does in year one in College Park. Out of conference the Terrapins get games vs Howard, @Florida International & @Central Florida. They should go 3-0 in those games and be undefeated before conference play begins. Conference wise the away games are @Penn State, @Indiana, @Michigan & @Nebraska. I think they go winless in that stretch but they might be able to win the game @Indiana. So best case scenario they go 1-3. The home schedule has Purdue, Minnesota, Michigan State, Ohio State & Rutgers coming to town. The Terps need to win two or three of those to make sure they go bowling. I think they go 2-3 in that stretch and barely miss out on a bowl game.
7. Rutgers
The new coach is Chris Ash and he's familiar with the big 10 coming from Ohio State. Year one in the Ash experiment should be an interesting one. I honestly have no idea who will be better Rutgers or Maryland but I think Maryland has a little more talent so just know that Scarlett Knights could easily find themselves a spot or two higher than in the basement of the east. Schedule wise Rutgers has out of conference games @Washington, vs Howard & vs New Mexico (upset alert). I think the Knights should be 2-1 after that and hopefully not 1-2. At 2-1 they could still possibly reach a bowl game. The conference away games are @Ohio State, @Minnesota, @Michigan State, & @Maryland. I have them losing all four of them but maybe just maybe they can steal the Maryland or Minnesota game. The home game conference schedule has games vs Iowa, Michigan, Illinois, Indiana & Penn State. That being said I think Rutgers goes 1-4 in that stretch and miss out on a postseason.