NFL Week Three Preview
Sean and Ryan recap the weekend, give you their week 2 take aways, discuss Tony Romo and the pathetically weird NFC East. The guys then get down to business with their week 3 preview and picks for all 16 games including their #LockDogTease of the week.
With $500 in weekly prizes its never to late to sign up for the…
Style: NFL Against The Spread Pickem (Thursday Night Games excluded)
Entry Fee: Free
Weekly Prize: $500 to 1st (Ties split prize pool equally)
Season Prize: $5000 (1st: $3000,2nd $1000,3rd $500,4th-8th: $100)
View Season Standings
Be sure to check out our Week 3 Fantasy Football Preview and sign up for Draft Kings (PROMO CODE: SGP) and compete against Sean, Ryan and Dick in a weekly Fantasy Football contest.
Help determine Matthew Sullivan's new team by donating to charity.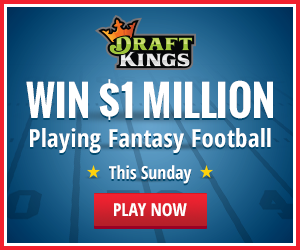 NFL Week 3 Lines & Odds
*All times Pacific. 
Washington Redskins at New York Giants
Kickoff: Thursday, Sept 24th 5:30pm
Spread: NYG -3.5
MoneyLine: WAS +160|NYG -180
Total: 44
Pittsburgh Steelers at St Louis Rams
Kickoff: Sunday, Sept 27th 10:00am
Spread: STL +1.5
MoneyLine: PIT -125|STL +105
Total: 48
San Diego Chargers at Minnesota Vikings
Kickoff: Sunday, Sept 27th 10:00am
Spread: MIN -2.5
MoneyLine: SD +100|MIN -130
Total: 44.5
Tampa Bay Bucs at Houston Texans
Kickoff: Sunday, Sept 27th 10:00am
Spread: HOU -6.5
MoneyLine: TB +230|HOU -280
Total: 40.5
Philadelphia Eagles at New York Jets
Kickoff: Sunday, Sept 27th 10:00am
Spread: NYJ -2.5
MoneyLine: PHI +130|NYJ -150
Total: 45.5
New Orleans Saints at Carolina Panthers
Kickoff: Sunday, Sept 27th 10:00am
Spread: CAR -4.5
MoneyLine: NO +140|CAR -160
Total: 45

Jacksonville Jaguars at New England Patriots
Kickoff: Sunday, Sept 27th 10:00am
Spread: NE -13.5
MoneyLine: JAX +600| NE -900
Total: 47.5
Cincinnati Bengals at Baltimore Ravens
Kickoff: Sunday, Sept 27th 10:00am
Spread: BAL -2.5
MoneyLine: CIN +125|BAL -145
Total: 44.5
Oakland Raiders at Cleveland Browns
Kickoff: Sunday, Sept 27th 10:00am
Spread: CLE -3.5
MoneyLine: OAK +160|CLE -180
Total: 43
Indianapolis Colts at Tennessee Titans
Kickoff: Sunday, Sept 27th 10:00am
Spread: TEN +3
MoneyLine: IND -180|TEN +160
Total: 45.5
Atlanta Falcons at Dallas Cowboys
Kickoff: Sunday, Sept 27th 10:00am
Spread: DAL +2
MoneyLine: ATL -120|DAL +100
Total: 54.5
San Francisco 49ers at Arizona Cardinals
Kickoff: Sunday, Sept 27th 1:05pm
Spread: ARZ -6.5
MoneyLine: SF +210|ARZ -260
Total: 43.5
Chicago Bears at Seattle Seahawks
Kickoff: Sunday, Sept 27th 1:25pm
Spread: SEA -14.5
MoneyLine: CHI +900|SEA -1600
Total: 43.5
Buffalo Bills at Miami Dolphins
Kickoff: Sunday, Sept 27th 1:25pm
Spread: MIA -3
MoneyLine: BUF +130|MIA -150
Total: 43
Denver Broncos at Detroit Lions
Kickoff: Sunday, Sept 27th 5:30pm
Spread: DET +3
MoneyLine: DEN -180|DET +160
Total: 44.5
Kansas City Chiefs at Green Bay Packers
Kickoff: Monday, Sept 28th 5:30pm
Spread: GB -6.5
MoneyLine: KC +230|GB -290
Total: 49
Its never to late to join our FREE contests
Ryan Kramer and Sean Green are writers and co-hosts for the Sports Gambling Podcast. Follow the show on twitter @GamblingPodcast. Rate and Review the Sports Gambling Podcast on iTunes & Stitcher