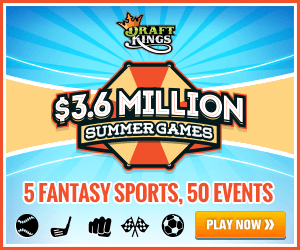 Belmont Odds
Post 1: Mubtaahij (10-1)
Post 2: Tale of Verve (15-1)
Post 3: Madefromlucky (12-1)
Post 4: Frammento (30-1)
Post 5: American Pharoah (3-5)
Post 6: Frosted (5-1)
Post 7: Keen Ice (20-1)
Post 8: Materiality (6-1)
NBA Finals Game 2
Sean and Ryan recap game one from the NBA Finals and convince themselves that the Cavaliers still have a shot to win it all in spite of Kyrie's injury.
Sun 6/7 CLE CAVALIERS +7 -110 +265 Over 202 -110
5:00PM (PST) GS WARRIORS -7 -110 -325 Under 202 -110
NBA Finals Series Odds
Sun 6/7 CAVALIERS SERIES +375
5:00PM (PST) WARRIORS SERIES -475
Stanley Cup Final
The guys recap Game One of the Stanley Cup Final and check in on how their original predictions look now with game one in the books.
Soccer
Ryan insists the podcast talk about soccer. The guys talk about the UEFA Championship, Women's world cup and Sepp Blatter's resignation.