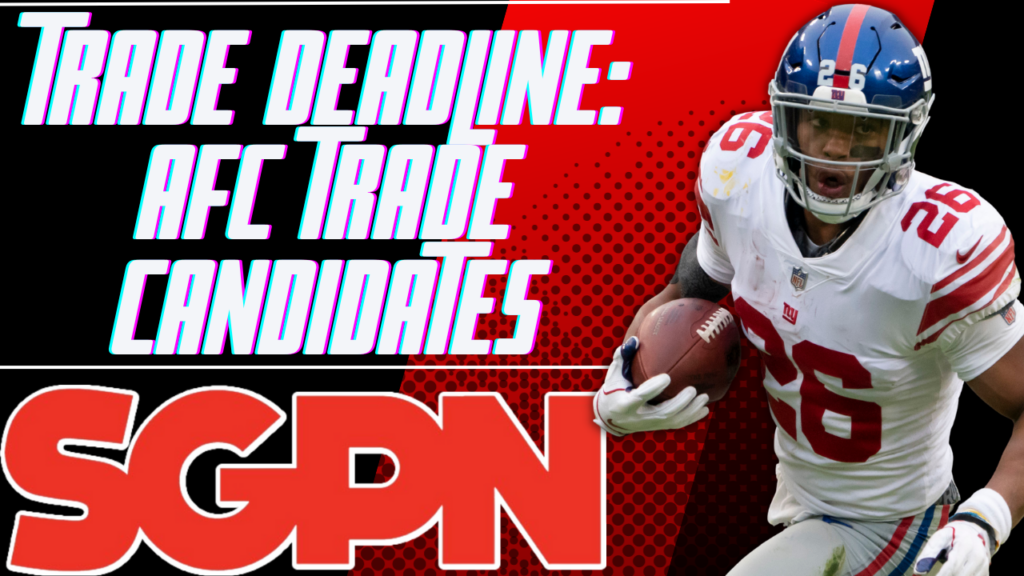 The NFL Trade deadline is October 31st at 4 pm EST. Most years, we see a lot of rumors, and no one ends up being traded. We have already seen several minor deals, but nothing significant at this point. Identifying the buyers and sellers is pretty easy. Good teams will be buying, and bad teams will be selling.  Let's look at NFL trade rumors and make some predictions. This is a two-part series. This is my AFC trade deadline predictions and dynasty league impacts!
MORE SGPN FANTASY FOOTBALL CONTENT
Follow SGPN Fantasy Football on Youtube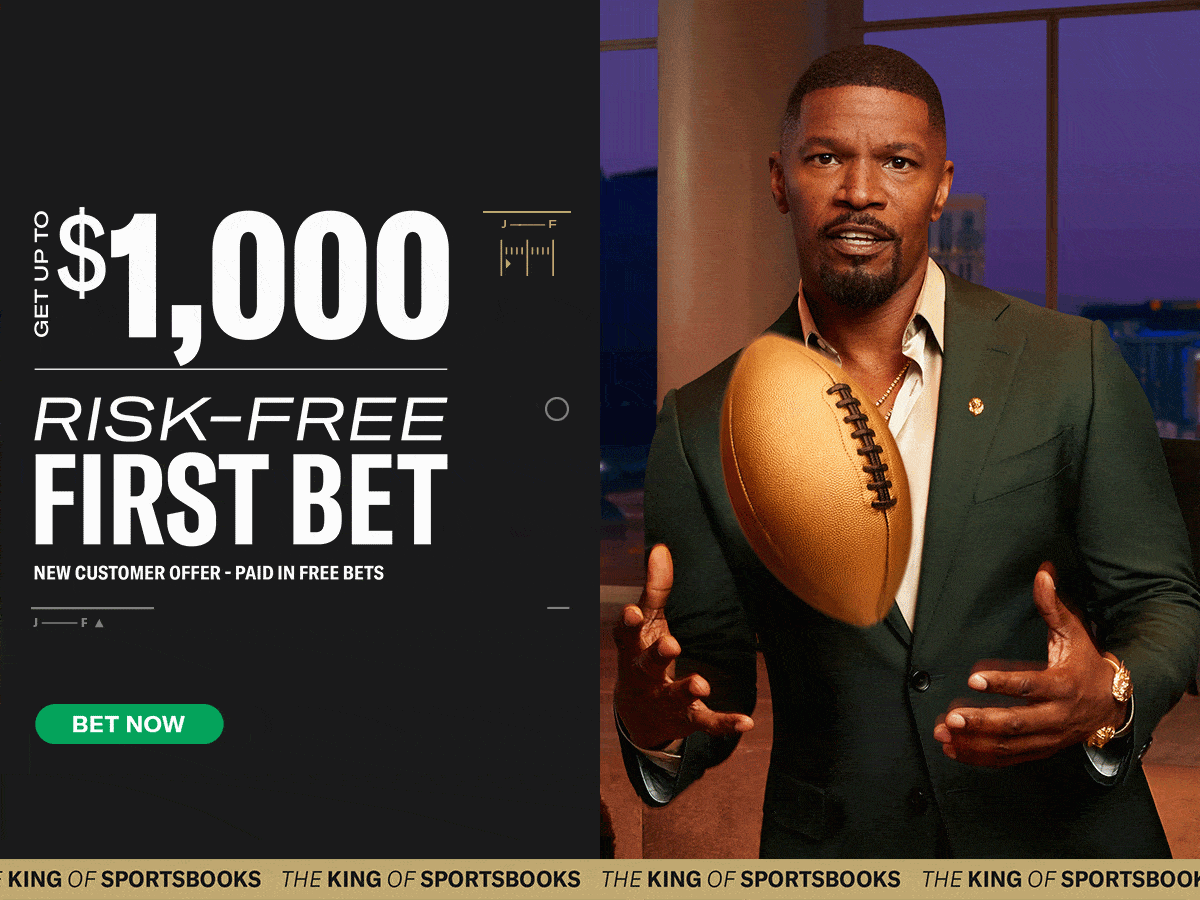 NFL Trade Deadline: 10 AFC Trade Candidates, Predictions, and Dynasty Impact
Trading is not easy because there are many factors that get involved. First, there has to be a need and a player that fits the need that is available. Second, can the teams make it work financially? Some contracts really depreciate the value of a player or just make it impossible for a team to afford them. Good teams also likely have $50 Million quarterbacks and don't have a lot of money to spend. Here is a current look at each team's salary cap space via Over the Cap.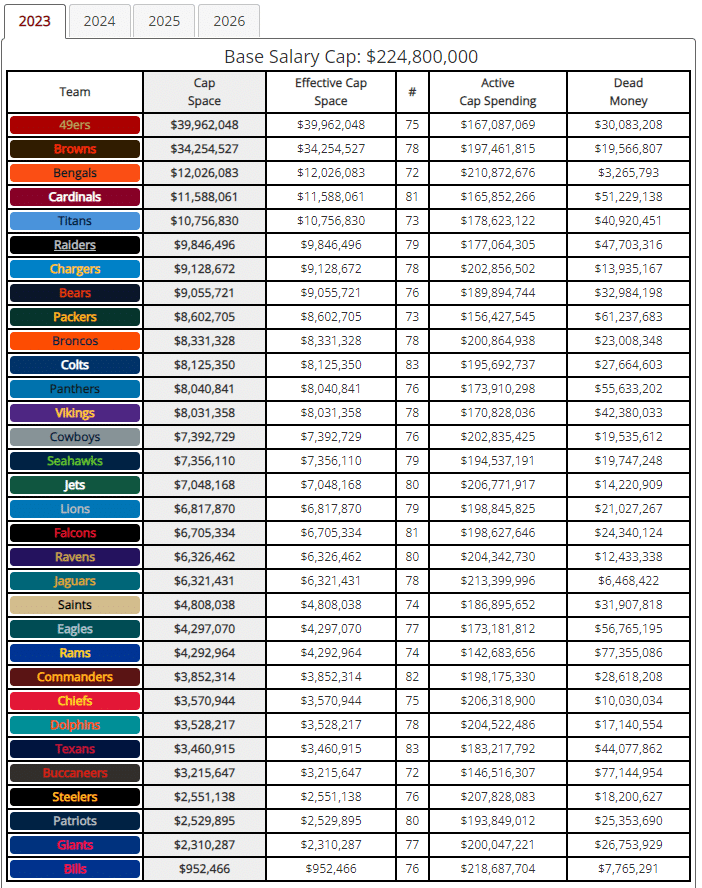 Buyers
Cincinnati Bengals – TE, Hunter Henry
The Bengals are starting the heat up, and they could make a run for the playoffs. A much-needed bye week helps Joe Burrow, Tee Higgins, and the crew can make a run. Cincinnati could look at a few different areas on defense or the offensive line. But I think they add another piece to the offense. They could add another running back with Joe Mixon getting older and a free agent next year. They are missing a pass-catching option at tight end.
Cincinnati has utilized the tight-end position well. They have lost tight ends in back-to-back years in free agency. Irv Smith Jr. has yet to make an impact. Hunter Henry is a veteran option. New England could be sellers. Kendrick Bourne and Hunter Henry are definitely on the block. Henry would be a great fit in this offense.
Dynasty Impact – Hunter Henry would see a small bump for the tie being. Mike Gesicki would also get a bump with Henry gone. Irv Smith Jr. would see his stock go from little to nothing.

Baltimore Ravens – RB, Josh Jacobs
Baltimore could be in line for a defensive option like Brian Burns or even a move for a lineman. They have had a long history of focusing on those positions. Baltimore is also always in the wide receiver conversation, even though they don't usually make that move outside of the draft. Jerry Jeudy, Courtland Sutton, or even a K.J. Osborn could end up in Baltimore when it is all said and done.
The Baltimore Ravens just had a dominant win and are right back in it. They could go big fishing for a running back like Josh Jacobs, Derrick Henry, or Saquan Barkley. They could also shop for a cheaper option like a Zack Moss, D'Onta Foreman, or even a Cordarelle Patterson. I have them making a big splash, landing Josh Jacobs.
Dynasty Impact – Zamir White gets a  clear path, and Gus Edwards goes away. Jacobs is an impending free agent, so we are not seeing any huge movement in his stock.
Miami Dolphins – LB, Josey Jewell
The Miami Dolphins have an aggressive general manager that goes for big fish. He is not afraid to trade future picks, take on big contracts, and pay players. They have recently traded for Tyreek Hill, Bradley Chubb, and Jaylen Ramsey. Last year, they acquired Jeff Wilson at the trade deadline. This year, they likely will be looking at defense. They are by far the best offense in football, and the only "weakness" could possibly be the offensive line.
A splash move for Chase Young or Brian Burns is possible, but I think they go linebacker. Devin White headlines a list that includes Josey Jewell, Patrick Queen, and Jordan Hicks.
Dynasty Impact – The Denver Broncos drafted Drew Sanders, and his stock will go up if they trade Josey Jewell. Alex Singleton could see a positive impact. On the Dolphins side, this could affect David Long Jr.

Buffalo Bills – WR, Adam Thielen
Brandon Beane has not been very aggressive, and I think the Bills fans are getting a little frustrated. Buffalo had one of the best defenses in the league, but injuries have put them in a bad spot. The Bills have fallen behind other contenders in the AFC East. If they are serious about contending, they will need to make some moves. Look at the New York Giants and Carolina Panthers for some familiar connections.
Buffalo could go linebacker or corner to help with the injuries to Tre'Davius White and Matt Milano. We could also see them go for a wide receiver. Adding a slot option like Adam Thielen would help Josh Allen get the ball out quickly. I would love to see Adam Thielen go to a contender, and he would be a perfect fit for Buffalo.
Saquan Barkley would be the big splash move that would really change this offense. The front offices have strong ties, and Barkley could join a contender. Barkley is the type of back that could take pressure off of Josh Allen and the type of impact that Buffalo needs. Unfortunately, they can't afford Barkley. If they address running back, they will need to look for cheaper options like Zack Moss or D'Onta Foreman. Cordarelle Patterson would be an interesting name as a running back and as a returner.
Dynasty Impact – Adding Thielen would be a hit to Dalton Kincaid, who is starting to heat up, and would delete Khalil Shakir. Jonathan Mingo would see a bump in Carolina and would man the slot for them.
Jacksonville Jaguars – EDGE, Danielle Hunter
Vikings could be big sellers, with K.J. Osborn, Jordan Hicks, and Danielle Hunter all rumored to be on the block. They have won 3 games in 19 days and now are firmly on top of the AFC South. Their offense is playing well, and they likely would be in the market for defense. A corner like Jaylon Johnson or a safety like Justin Simmons. If not, let's look at the edge list like Brian Burns, Chase Young, or Danielle Hunter.
Dynasty Impact – Hunter probably gets a little dip in his dynasty stock, but Patrick Jones would be the biggest winner if this happened.
Danielle Hunter ➡️ Jaguars

Would you accept this hypothetical trade? 👀 pic.twitter.com/Lv9j3XDe1A

— PFF JAX Jaguars (@PFF_Jaguars) October 19, 2023
Cleveland Browns – WR, Darnell Mooney
Cleveland's defense is one of the the in the league, and this team really can't waste it. The Browns are in need of some more offense, and they do not have a lot of draft capital or cap space. Look for them to make some smaller moves. They could try to patch together the right side of the offensive line. Trent Brown or James Hurst could be stop-gap options. But I am having Cleveland invest more in the wide receiver position
Dynasty Impact – Elijah Moore takes a small hit, and so does Cedric Tillman. Osborn's replacement in Minnesota would be Jailin Nailor. Nailor has an interesting profile and might be worth a dynasty stash ahead of the deadline.

Los Angeles Chargers – CB, Jaylon Johnson
The Chargers had a big swing-and-miss with J.C. Jackson, and this left a huge hole at their cornerback position. Johnson is playing well and could have a decent market. Chicago will have an opportunity to move him if they do not intend to pay him. Johnson fits the Chargers scheme well, and they need some help in the secondary. He had a big pick-six this weekend, and he will have several suitors.
Dynasty Impact – Michael Davis would see a decrease in his stock while rookie Tyrique Stevenson slides in for the Bears.

Sellers
Denver Broncos – Trade Multiple Players
The Denver Broncos were busy in free agency the last two seasons, and it has netted them a big mess. They will be big sellers as Sean Payton looks to turn over this roster. He will need some cap and some picks. Even Russell Wilson could be on the move. Their list of trade candidates is a long one, and it goes beyond just their impending free agents. Rumors are that anyone and everyone is on the block. Broncos are on top of the NFL trade rumors list.
Trade Block – Russell Wilson, Samaje Perine, Courtland Sutton, Jerry Jeudy, Josey Jewell, Justin Simmons
#NFL trade rumors are heating up with 10-days remaining before the Oct. 31 deadline. Notable players mentioned:#Broncos
WR Jerry Jeudy
WR Courtland Sutton
S Justin Simmons #Commanders
DE Chase Young
DE Montez Sweat#Cardinals
TE Zach Ertz
RB James Connor
S Budda Baker…

— Dominic White (@DomWWhite) October 21, 2023
Tennesee Titans – Trade Derrick Henry
The Titans sold off a lot of pieces, and their rebuild started last year. Adding DeAndre Hopkins was weird, considering. But this team does appear to be in for a fire sale. The list will be long and will include some big fantasy football names. Rumors are that teams have called about Treylon Burks and Kevin Byard. Plenty of NFL trade rumors surrounding Tennessee.
I know Malik Willis is starting over Levis in what appears to be a redshirt year. Levis has higher draft capital, and the team was aggressive in pursuing him. There are several other pieces on this team that could be moved if buyers come calling. Tyjae Spears would be a big winner and is someone you should already be targeting. Treylon Burks would also see a bump in his dynasty stock.
Trade Block – Ryan Tannehill, Derrick Henry, Treylon Burks, DeAndre Hopkins, Denico Autry, Kevin Byrard, Sean Bunting, Kristian Fulton
Las Vegas Raiders – Trade Josh Jacobs
The Raiders have been rumored to be potential sellers, and every loss brings more heat to this rumor. Josh Jacobs had a very public contract dispute this offseason. The Raiders may not want Round 2. Hunter Refnrow has not lived up to his contract, and Davante Adams wants to play for a winning franchise. Not sure why he agreed to go to Las Vegas in the first place. Adams could be a player who gets moved and could really help a contender out.
The Raiders are likely to move on from Josh McDaniels this offseason, and Jimmy G might not be far behind. Adams is not going to want to hang around for a rebuild. The trick is just finding the right situation and someone willing to pay up. Buffalo and Kansas City look great, but can they afford him? Would Baltimore or Cleveland be able to make the move? Adams will be fun. Maybe he will move next year. San Francisco or Philly would be wild!
Trade Block– Jimmy Garoppolo, Josh Jacobs, Davante Adams, Hunter Renfrow, Austin Hooper, Jermaine Eluemor, Marcus Peters, Andre James