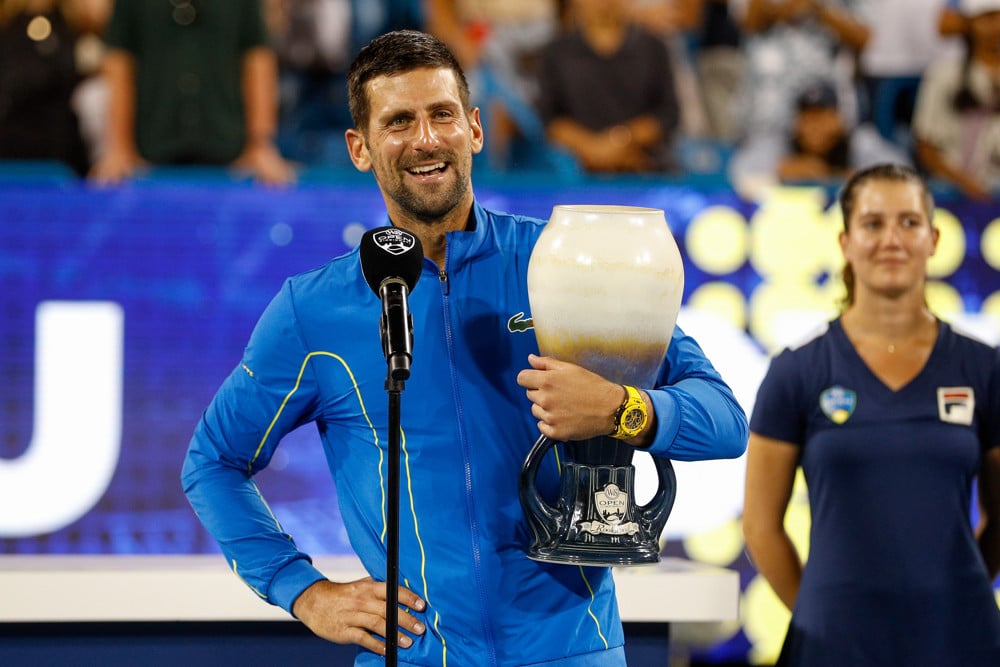 The unprecedented domination of the Big Three, Rafael Nadal, Novak Djokovic, and the recently retired Roger Federer, has made tennis one of the most one-sided professional sports in the world over the last two decades. 
That's not to say this hasn't been the golden era of tennis but for bettors, it's been a struggle to find markets that offer genuine value owing to the sheer brilliance of these once-in-a-lifetime talents. In other words, betting against them is akin to lunacy while betting on them to win a match provides meagre returns. Crucially, the end isn't in sight either with Djokovic the favourite to win the Australian Open in 2024.
Djokovic tipped to dominate in 2024 
The latest odds on tennis price Djokovic at 5/4 to win the first Grand Slam of 2024 and in doing so, defend the title he won in Melbourne in 2023. As touched on, the Serb doesn't look like relinquishing his hold on the men's division just yet.
And while change will inevitably come at the top of the men's game with these superhuman players unable to go on forever, the reality is that tennis, much like Formula One, does have a tendency to be dominated by a few select individuals. 
A 10/10 performance today @redbullracing 🏆

To win 10 races in a row, and 15 consecutive races as a team, is unbelievable! 💪 I'm beyond proud to achieve this milestone together 👏

Today we will enjoy this moment and then we will keep pushing for more ☝

#ItalianGP pic.twitter.com/Cj8DPqmxzN

— Max Verstappen (@Max33Verstappen) September 3, 2023
What this essentially means is that when the curtain falls on the career of the last standing members of the Big Three, there will be other talents ready to rule the division – perhaps not to the same extent but the Grand Slams won't all of a sudden be evenly distributed among the ATP Tour. You only have to go back to the 2023 men's Wimbledon final to get a better understanding of who might take over from Djokovic when he eventually retires.
With this being the case, the question has to be: Is tennis a lost cause when it comes to making a return on the sport?
Surprisingly, the answer is a resounding no with an abundance of value to be found if you know where to look. In particular, the long list of match odds offers a chance to make smart bets.
For example, let's look at Djokovic's quarter-final match against Taylor Fritz at the US Open. Djokovic comes into the contest at 1/7 to win which may immediately make you roll your eyes. However, scroll down through the alternative match odds, and a world of opportunity opens up.
Player A to win the first service game market
Take player A to win the first service game market. In this case, player A is Fritz who is at 2/7 to win his first service game against Djokovic. However, this is where it gets interesting as the all-conquering Serb is at 9/4 to break Fritz in his first service game.
🏆🙏🏼2️⃣3️⃣❤️🇫🇷 #RolandGarros pic.twitter.com/KOxvOq3d18

— Novak Djokovic (@DjokerNole) June 11, 2023
All of a sudden, you have a price that captures your attention and an outcome that is not remotely outside the realms of possibility. 
Player B's score on the first service game market 
The same can be said for Player B's score on the first service game market. In this instance, Djokovic is player B and has been priced at odds of 11/4 to win his first service game to love – meaning that Fritz is unable to score a point in the first game. Again, it doesn't take a lot of imagination to envision a scenario where Djokovic strolls to a comfortable first service game without giving up a point; the Serb has made a career out of doing this. 
Player A to win at least one set market
Similarly, player A to win at least one set market offers up more intriguing dynamics that often happen. With Fritz being player A, the American's odds of not winning one and losing in straight sets to Djokovic are 11/10. 
If you can't beat them, join them 
The broader takeaway here is that these types of bets are not based on outcomes that are exceedingly unlikely. Instead, you're backing the exceptional skills of the world's top tennis players in situations where the odds may underestimate their chances of success, even though they frequently emerge victorious.