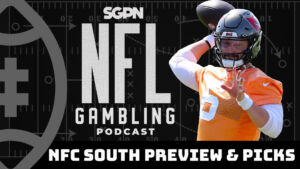 2023 NFC South Division Preview w/MintyBets | NFL Gambling Podcast (Ep. 175)
The NFL Gambling Podcast continues its 2023 NFL Division Betting Preview! Munaf Manji and Rod Villagomez welcome back a friend of the network, betting analyst, and host at Yahoo! Sportsbook and on UFCFightPass MintyBets! The trio discusses the NFC South Division and each team's win total.
Additionally, Munaf, Rod, and Katie discuss if they are buying into the hype of the Atlanta Falcons and if they can make a run for the division. Additionally, the episode discusses if Derek Carr can lead the Saints to a playoff spot. Further, Munaf, Rod, and Minty discuss the pressure that is put on rookie quarterbacks in the NFL. As usual, the episode wraps up with best bets and division winner picks!