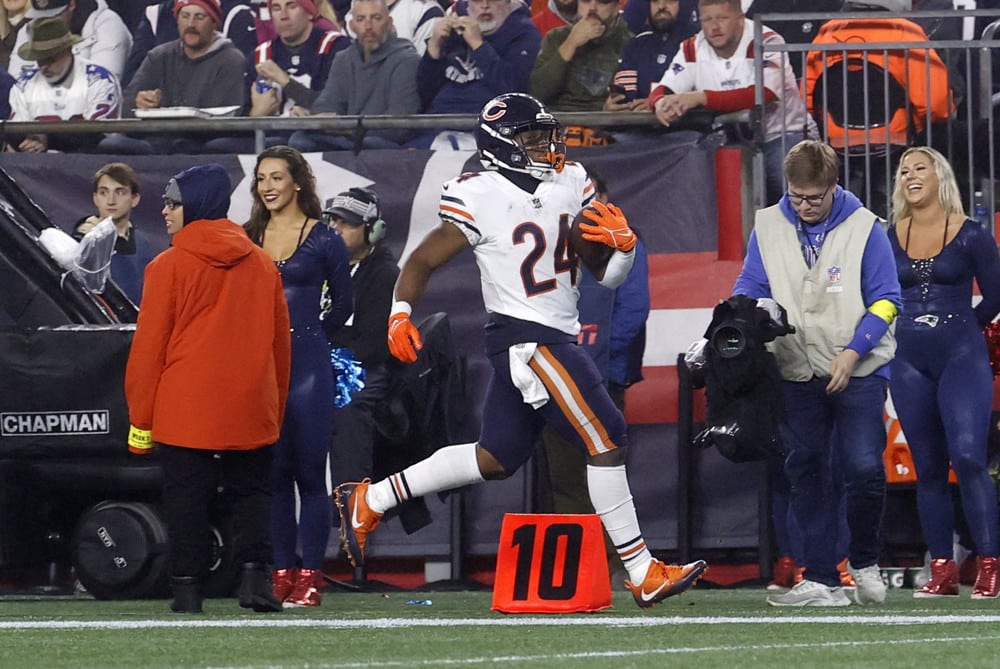 Are you looking for some hidden gems to boost your fantasy football team this season? Well, look no further! We have compiled a list of our favorite running back sleepers that could be the X-factor in your success. These underrated players may not yet be on everyone's radar, but if given the opportunity, they have the potential to shine brightly and deliver those much-needed points. 
What are Sleepers in Fantasy Football?
In the dynamic world of fantasy football, a "sleeper" is a term of art, a label attached to a player who may outshine their pre-season expectations or draft position. Often, these individuals are overlooked during the draft or are anticipated to perform at an average level. They may be rookies waiting for their breakout moment, veterans underestimated due to past performance, or players in new environments that might amplify their productivity.
Fantasy football enthusiasts covet sleepers because they bring an unexpected reward: top-tier performance at a discounted draft cost. Identifying a sleeper correctly can drastically bolster your team and give you an edge over competitors. When these underrated players reach or exceed the performance levels of high-draft picks, they can be the difference between victory and defeat in your fantasy league.
One more aspect gamblers should be aware of is choosing the right venue to participate in fantasy football leagues. Different websites and platforms offer varying benefits, such as user-friendly interfaces, customizable settings, and accurate scoring systems. Selecting the right bonus with no playthrough requirements helps maximize your winnings. So, it's essential to research and compare these platforms and their promotions before deciding. 
Yet, uncovering these hidden gems isn't a straightforward task. It demands a deep understanding of the player's abilities, team dynamics, and the shifting sands of the NFL landscape. Indeed, finding a sleeper is much like unearthing a buried treasure – challenging but potentially game-changing.
Characteristics of an RB Sleeper
Identifying a sleeper, particularly a running back (RB), is a nuanced task. You need to examine a combination of tangible factors and less quantifiable indicators. Let's delve into three key traits to consider when unearthing your next potential RB sleeper.
Opportunity and Role on Team. The core characteristic of a sleeper lies in their opportunity to outperform expectations. For an RB, the main gateway to this opportunity is their role within the team. For instance, if a team's starting RB is out due to an injury, trade, or contract dispute, it paves the way for a backup RB to step up. These backups, though initially overlooked in drafts, can often explode onto the scene, surprising opponents with their performance.

Offensive Scheme and Line Strength. Another factor significantly impacting an RB's performance is the offensive scheme of their team and the strength of their offensive line. A team that heavily relies on its running game or has improved its offensive line during the offseason presents a favorable environment for a potential RB sleeper. The offensive line's ability can directly influence an RB's productivity by creating running lanes and protecting the back from defensive pressure.

Versatility and PPR Potential. In modern football, running backs who can contribute both in the running and passing game hold increased value. A back who can make catches out of the backfield can accumulate more fantasy points, especially in PPR (points per reception) leagues. This dual-threat ability can often go under-appreciated in fantasy drafts, making such players potential sleepers.
Unearthing a potential sleeper RB is as much about understanding their potential as reading the broader context of their team and league dynamics. Focusing on these characteristics can enhance your chances of finding that elusive, game-changing sleeper for your fantasy squad.
And if choosing the best platform to enjoy gambling concerns you, you'll find plenty of reviews and rankings online to help guide your decision. Read here to discover the best gambling site our there, where you can find detailed information about the top platforms and their features. Consider factors such as the legality of online gambling in your region, payment options, customer support availability, and user reviews before choosing.
Top Sleepers in 2023: An In-depth Look
Fantasy Football 2023 could be the year of the underrated running back. Heading the list of sleepers is Rachaad White of the Tampa Bay Buccaneers. With Leonard Fournette no longer in the mix, White is poised for a larger role within the Buccaneers' high-powered offence. The coaching staff's confidence in him becoming a "complete, three-down back" signals his potential to outperform his draft position.
Meanwhile, James Cook from the Buffalo Bills is another name to watch. Although his rookie season didn't yield astronomical numbers, his average of five yards per carry hints at his potential. With the exit of Devin Singletary, Cook is set for increased opportunities and a potentially significant bump in his fantasy output.
Khalil Herbert from the Chicago Bears is another running back expected to exceed his draft position. With the departure of David Montgomery, the door is wide open for Herbert to claim the top spot. His past performances, including an impressive 30.9-point outing against the Texans, underscore his capabilities.
Potential RB Sleepers to Watch
A few other players who might not be on everyone's radar but could potentially yield substantial returns include Samaje Perine from the Denver Broncos. Perine enjoyed a promising stint as the Bengals lead back last season. If Javonte Williams isn't fully recovered from his ACL and LCL injuries, Perine could again see increased playtime, giving him a chance to post impressive numbers.
Similarly, Jerick McKinnon of the Kansas City Chiefs could be a name to look out for. While Isaiah Pacheco is set to lead the Chiefs' running game, there's ample opportunity for McKinnon. His performance last season, where he ranked fourth among running backs in points in PPR formats during the final seven weeks, underscores his potential as a valuable fantasy asset.
Finally, there's Elijah Mitchell from the San Francisco 49ers. He shares the backfield with Christian McCaffrey, who has unfortunately had a rough patch with injuries. This situation allows Mitchell to shine, especially considering they shared the workload when both were healthy last season.
Dark Horse Sleepers
Unearthing the dark horse sleepers – those overlooked gems who can outperform their expected roles – adds an extra layer of thrill to fantasy football. For the 2023 season, here are a few such hidden jewels you might want to consider:
Devon Achane, Miami Dolphins. Despite the crowded Dolphins' backfield, this rookie pass-catcher has the agility, speed, and versatility to carve out his role. Given his potential to become a strong asset in PPR leagues, Achane is a dark horse who could surprise.

Kendre Miller, New Orleans Saints. Miller's college record is impressive, with 1,399 rushing yards and 17 touchdowns in his final season at TCU. However, his potential might be overlooked due to the presence of Alvin Kamara. Nevertheless, given Kamara's potential suspension, Miller could see a bigger role, making him a noteworthy sleeper.

Elijah Moore, WR, Cleveland Browns. A disappointing 2022 season saw Moore's stock plummet, but a fresh start with the Browns could rekindle his fantasy value. All eyes will be on Moore and his chemistry with Deshaun Watson. If Watson can shake off the rust, Moore could outperform his ADP and become a viable fantasy weapon.

Michael Carter, RB, New York Jets. Although Breece Hall was the standout rookie of his class, reports from the Jets camp suggest Carter will be the lead back in the committee to start the season. Based on his performances when playing at least 50% of the snaps during the 2021 season, Carter has a solid shot at providing RB2 value early in the season.

Darrell Henderson Jr., RB, Los Angeles Rams. Henderson's path has been a tumultuous mix of injuries, rivalry and interruptions. Nonetheless, he still managed to make substantial contributions in the fantasy league when he held the primary running back position for the Rams. Now that Sony Michel is indisposed and Cam Akers is wrestling with injuries, Henderson has an opportunity to take over as main runner once again, which would be highly profitable for his owners.
These hidden gems, the dark horse sleepers of fantasy football, add an exciting element to the game. They are often overlooked but have the potential to surpass expectations and deliver outstanding performances.
Conclusion
In conclusion, finding sleepers can make a world of difference in the world of fantasy football. A keen eye for talent and an understanding of team dynamics can help you unearth hidden gems that will pay dividends throughout the season. Players like Elijah Moore, Michael Carter, and Darrell Henderson Jr. are among those who could exceed expectations in 2023. Taking calculated risks and making informed decisions can create a balanced team poised for success. Happy drafting!