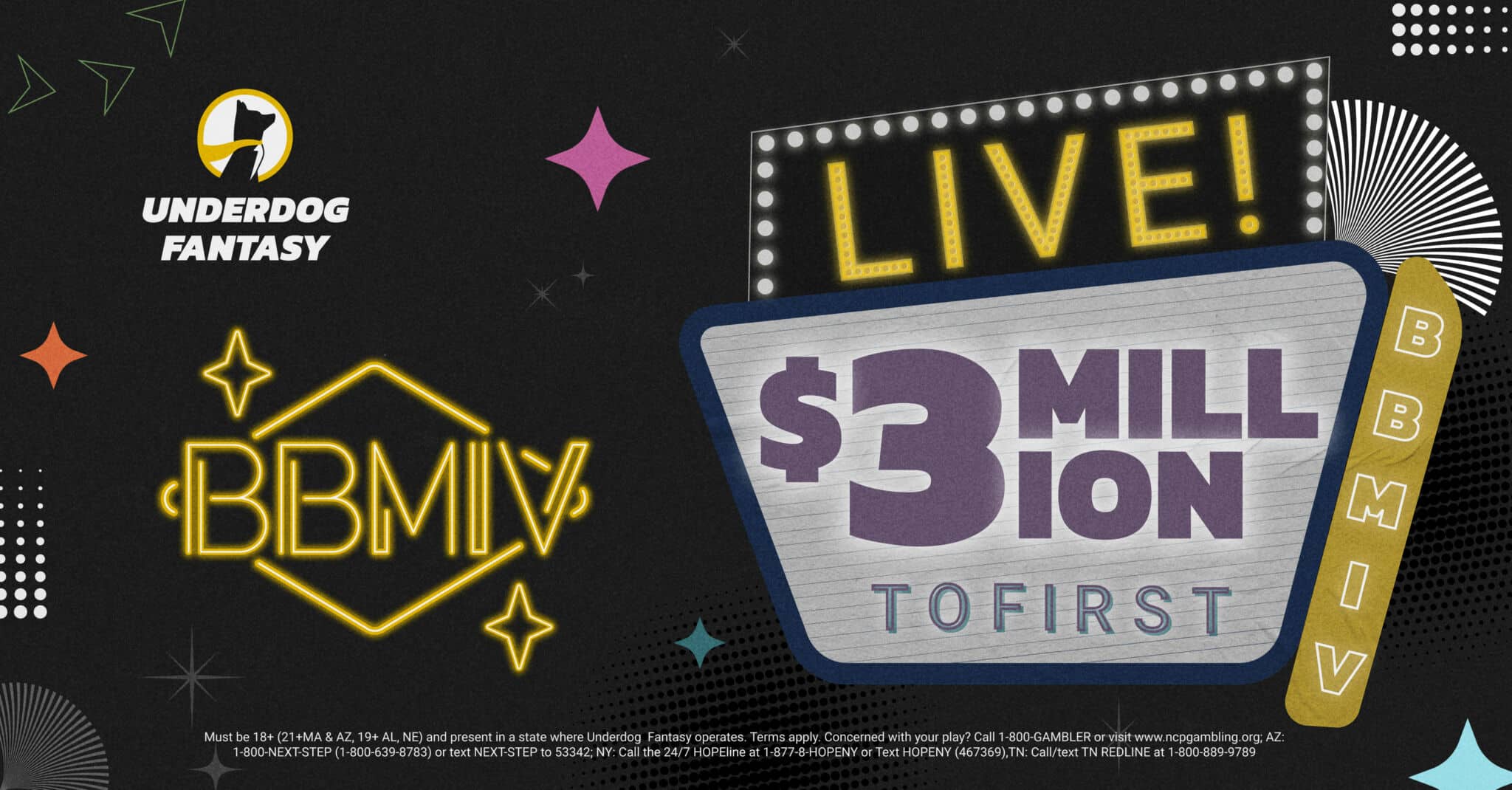 Heisman Trophy Predictions
The guys (@GamblingPodcast) give out their Heisman Trophy picks on this Heisman Trophy predictions podcast. Plus they nominate this week's edition of 'Real Men Of Degens', react to the Pat Fitzgerald firing story and Bob Huggins claiming he never resigned.
Kansas QB Jalon Daniels @JalonDaniels6 is first-team All Big 12. He's got got the necklace accoutrement in the history of media days. He explains here. pic.twitter.com/lTgRd5ymDg

— Pete Thamel (@PeteThamel) July 12, 2023
0:00 Intro
Vacations are over and the shows are back live. Saquon Barkley is yet to sign with Giants and it has strung on a little longer than people expected.
9:51 Northwestern Toxic Culture
Northwestern fired long time Head Coach Pat Fitzgerald after a report that there was a hazing system within his program. This report came from an individual player despite hundreds of players denouncing this. Fitzgerald will be suing and he will probably be successful as he stated he had no knowledge of the hazing.
21:54 Heisman High Tiers and History
The award was once a running back award, but it has now turned into a quarterback award by far, even though Devonta Smith won it in 2020. Don't even consider a defensive player.
There is some interesting takes in the high tiers such as Drew Pine and Shadeur Sanders, however in the reality of it all, no one with high odds is going to win simply because they need so much help from their team to be relevant.
One name in the higher area could be Jack Plummer. He plays for Louisville which can have a surprise year in the ACC due to the questionable nature of most of the teams. If he is elite and they string together some wins, you never know.
30:00 Heisman Odds of 150-1, 120-1, and 100-1
Carson Steele, friend of the program, could turn up this year in his new offense despite being a running back. To win it though, he will need to have an absurd amount of touchdowns in the 40 area, so its definitely not something to hang your hat on.
Getting an Alabama QB at 100-1 should be mouthwatering, but there is a large belief they won't be dominant at all unfortunately. Milroe had some good moments when he stepped in last year though.
42:16 Somewhat Realistic Heisman Odds
Whoever wins the job at Tulane has the team to boost their odds throughout the season, which can get you paid in the secondary market. Cam Rising is at 80-1 and is coming off an injury but if he can figure it out and can overcome the tough Utah schedule he can make something shake.
Brock Bowers was the best tight end in the country last season and should have an insane year this year, but as a tight end he might actually need 25 touchdowns.
51:09 Marvin Harrison Jr.
Marvin Harrison has the lowest odds for a non-quarterback. He is a true talent and is currently considered a generational talent that is in WRU (Ohio State). A couple big games on big stages and he can repeat Devonta Smith's 2020 Heisman Year.
56:33 Heisman Odds under 18-1
Bo Nix is an attractive name out of Oregon but 18-1 doesn't seem to make much sense. Drake Maye is already considered a top pick and can easily put up a Heisman campaign if he dominates the ACC, but anything less won't be enough.
Cade Klubnik at 16-1 seems to be the best value as he has a legit shot behind a big year. The chalk this year such as Caleb Williams at 5-1 is just not enticing at all.
1:02:40 Heisman Trophy Picks
Kramer Picks: Ole Miss starter, Brock Bowers,
Sean Picks: Marvin Harrison Jr, Jaylen Daniels, Carson Steele, Shedeur Sanders
2023 Heisman Trophy Odds
| | | | |
| --- | --- | --- | --- |
| TEAM | SCHOOL | POS | ODDS |
| Caleb Williams | USC | QB | 500 |
| Jayden Daniels | LSU | QB | 1000 |
| Michael Penix Jr. | Wash | QB | 1200 |
| Quinn Ewers | Texas | QB | 1200 |
| Jordan Travis | FSU | QB | 1600 |
| Cade Klubnik | Clemson | QB | 1600 |
| J.J. McCarthy | Mich | QB | 1800 |
| Bo Nix | Oregon | QB | 1800 |
| Drake Maye | UNC | QB | 1800 |
| Carson Beck | Georgia | QB | 1800 |
| Sam Hartman | Notre Dame | QB | 1800 |
| Kyle McCord | Ohio State | QB | 1800 |
| Drew Allar | Penn State | QB | 2500 |
| Joe Milton | Tennessee | QB | 2500 |
| Marvin Harrison Jr. | Ohio State | WR | 3000 |
| Conner Weigman | Texas A&M | QB | 4000 |
| Dillon Gabriel | Oklahoma | QB | 4000 |
| Spencer Rattler | South Carolina | QB | 5000 |
| Jalen Milroe | Alabama | QB | 5000 |
| KJ Jefferson | Arkansas | QB | 5000 |
| Blake Corum | Michigan | RB | 5000 |
| Brock Bowers | Georgia | TE | 6000 |
| Will Shipley | Clemson | RB | 8000 |
| Nicholas Singleton | Penn State | RB | 8000 |
| Devin Brown | Ohio State | QB | 8000 |
| Braelon Allen | Wisconsin | RB | 8000 |
| Cameron Rising | Utah | QB | 8000 |
| Dante Moore | UCLA | QB | 8000 |
| Quinshon Judkins | Ole Miss | RB | 8000 |
| Ty Simpson | Alabama | QB | 8000 |
| Jeff Sims | Nebraska | QB | 8000 |
| TreVeyon Henderson | Ohio State | RB | 8000 |
| Jaxson Dart | Ole Miss | QB | 10000 |
| Hudson Card | Purdue | QB | 10000 |
| Devin Leary | Kentucky | QB | 10000 |
| Will Howard | Kansas State | QB | 10000 |
| Jalon Daniels | Kansas | QB | 10000 |
| Brock Vandagriff | Georgia | QB | 10000 |
| Donovan Edwards | Michigan | RB | 10000 |
| DJ Uiagalelei | Oregon State | QB | 10000 |
| Tyler Buchner | Alabama | QB | 10000 |
| John Rhys Plumlee | UCF | QB | 10000 |
| Tyler Van Dyke | Miami FL | QB | 10000 |
| Riley Leonard | Duke | QB | 12000 |
| Tanner Mordecai | Wisconsin | QB | 12000 |
| Jackson Arnold | Oklahoma | QB | 12000 |
| Taulia Tagovailoa | Maryland | QB | 12000 |
| Emeka Egbuka | Ohio State | WR | 12000 |
| Will Rogers | Miss State | QB | 12000 |
| Brennan Armstrong | NC State | QB | 15000 |
| Harold Perkins Jr. | LSU | LB | 15000 |
| Kedon Slovis | BYU | QB | 15000 |
| Raheim Sanders | Arkansas | RB | 15000 |
| Trey Sanders | TCU | RB | 15000 |
| Trey Benson | FSU | RB | 15000 |
| Phil Jurkovec | Pitt | QB | 15000 |
| Graham Mertz | Florida | QB | 15000 |
| Carson Steele | UCLA | RB | 15000 |
| Alan Bowman | OK State | QB | 15000 |
| Tyler Shough | Texas Tech | QB | 15000 |
| Audric Estime | Notre Dame | RB | 15000 |
| Jaydon Blue | Texas | RB | 20000 |
| Dorian Singer | USC | WR | 20000 |
| Dominic Lovett | Georgia | WR | 20000 |
| Jack Plummer | Louisville | QB | 20000 |
| Spencer Sanders | Ole Miss | QB | 20000 |
| Tayven Jackson | Indiana | QB | 20000 |
| Cade McNamara | Iowa | QB | 20000 |
| Shedeur Sanders | Colorado | QB | 20000 |
| Emory Jones | Cincinnati | QB | 20000 |
| Collin Schlee | UCLA | QB | 20000 |
| Jayden de Laura | Arizona | QB | 20000 |
| Payton Thorne | Auburn | QB | 20000 |
| Chandler Morris | TCU | QB | 20000 |
| Ladd McConkey | Georgia | WR | 20000 |
| Kyron Drones | Virginia Tech | QB | 25000 |
| Armoni Goodwin | LSU | RB | 25000 |
| Grayson McCall | Coastal Car | QB | 25000 |
| Drew Pyne | Arizona St | QB | 25000 |
| Jovantae Barnes | Oklahoma | RB | 25000 |
| MarShawn Lloyd | USC | RB | 25000 |
| Devin Neal | Kansas | RB | 25000 |
| Blake Shapen | Baylor | QB | 25000 |
| Hunter Dekkers | Iowa State | QB | 30000 |
| Traeshon Holden | Alabama | WR | 30000 |
| Evan Stewart | Texas A&M | WR | 30000 |
| Travis Hunter | Colorado | DB | 30000 |
| JT Daniels | Rice | QB | 30000 |
| Aaron Anderson | LSU | WR | 40000 |
| Seth Henigan | Memphis | QB | 40000 |
| JoJo Earle | TCU | WR | 40000 |
| Frank Harris | UTSA | QB | 40000 |
| Michael Pratt | Tulane | QB | 40000 |
| Sean Tyler | Minnesota | RB | 40000 |
| Athan Kaliakmanis | Minnesota | QB | 40000 |
| Luther Burden | Missouri | WR | 40000 |
| Denver Harris | LSU | DB | 50000 |
| Mikey Keene | Fresno St | QB | 50000 |
| Donovan Smith | Houston | QB | 50000 |
| Justin Flowe | Arizona | LB | 50000 |
| Ray Davis | Kentucky | RB | 50000 |
| Jaheim Bell | FSU | TE | 50000 |
Podcast Transcription