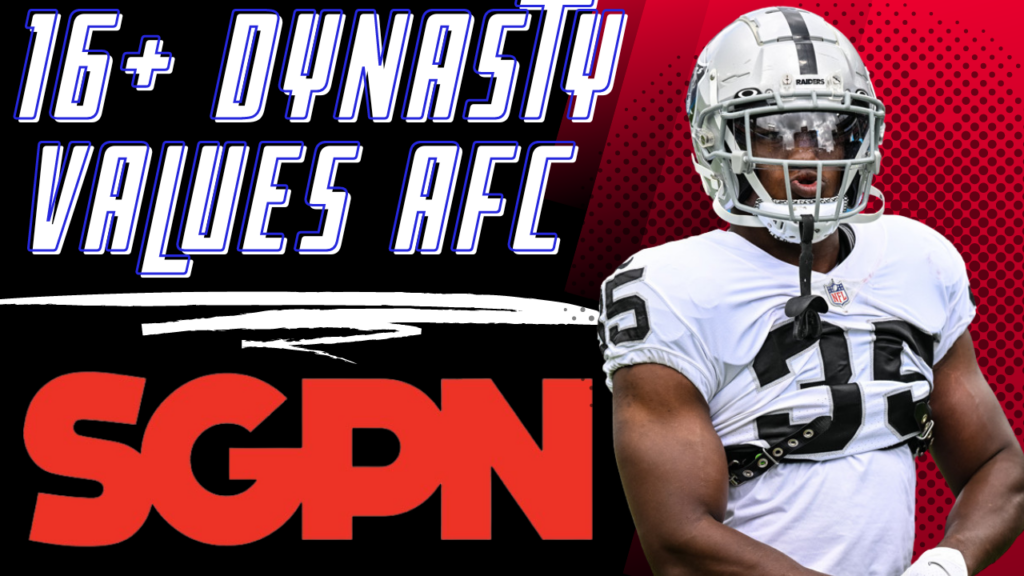 The NFL offseason is almost over, and we have a good idea of what rosters will look like. The Average Draft Position (ADP) has been liquid with the free agent moves and NFL Draft. We are finally starting to see it settle, and now we can see some true value. Dalvin Cook, DeAndre Hopkins, and a few other veteran free agents are lurking to shake things up. We will see some movement, but there are not many more moves to make.
I am looking at ADP per DLF for this article. This is a two-part series covering both the AFC and the NFC. I am looking at players outside of the top 100 ADP to look at some values. These are players you could grab late in your startups, trade late rookie picks for, or buy low in general.
Trade Tip: Picks do not get hurt, arrested, or suspended. Don't worry so much about acquiring every rookie in the draft. Acquire future picks and use them in the season to bolster your roster.
*ADP is from June DLF Superflex Dynasty Startups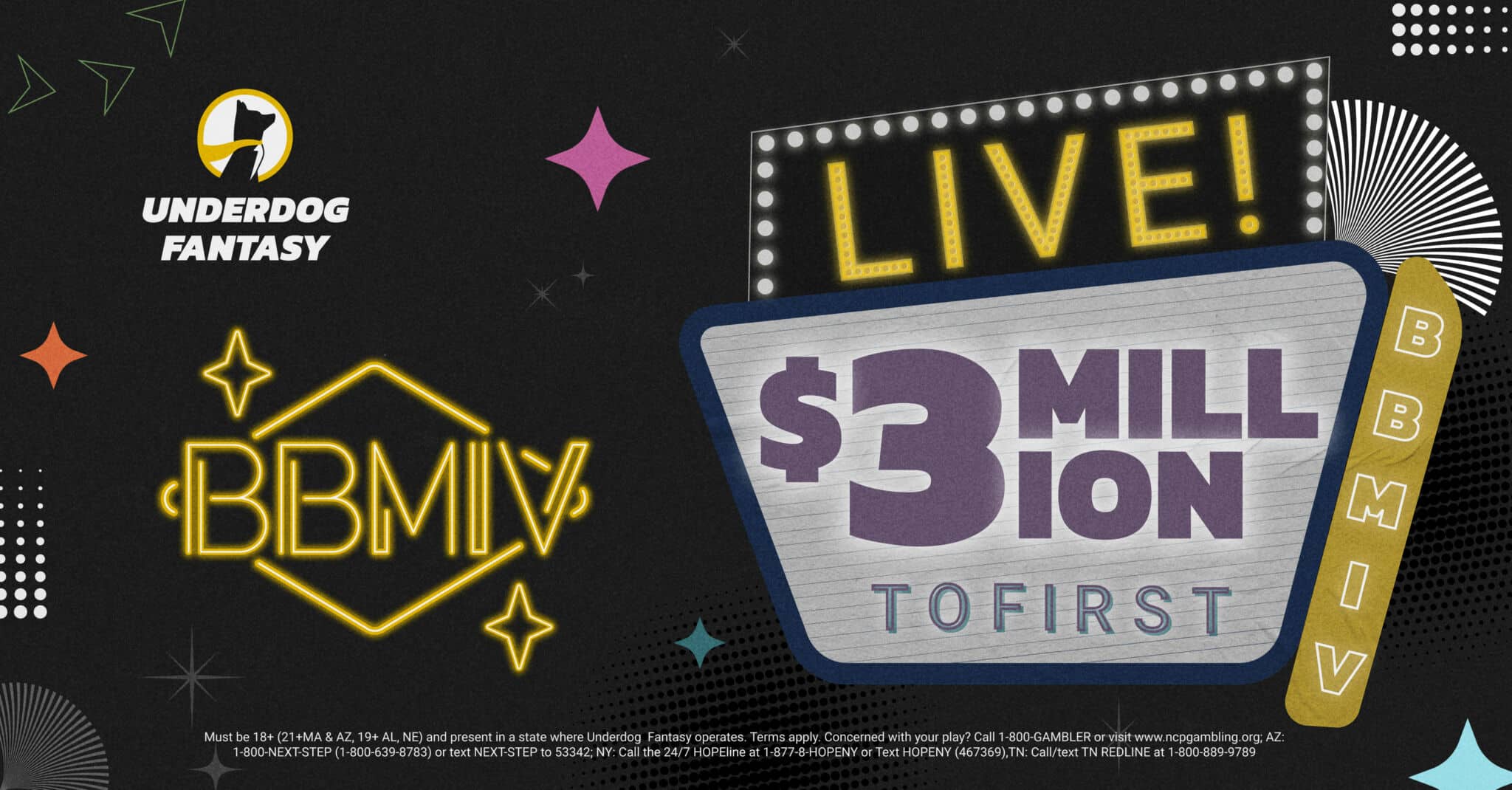 MORE SGPN FANTASY FOOTBALL CONTENT
Follow SGPN Fantasy Football on Youtube
---
A Dynasty Value to Acquire for Every Team in the AFC
Baltimore Ravens -WR, Odell Beckham Jr.: ADP 172 (WR65)
The Ravens paid a lot of money, $18 Million, to Odell Beckham Jr. I get the reasons why people are not investing in him. OBJ is 30, and there is a path where he is being drafted as WR6. Mike Clay has him projected to be second in targets behind Mark Andrews.
Beckham hasn't played since the Super Bowl and has had plenty of time to recover from his injury. This offense is expected to pass more and be a faster pace offense. If you are looking for some WR depth with upside, there are not many players with the upside that Beckham has.
Cincinnati Bengals – TE, Irv Smith Jr.: ADP 209 (TE27)
Irv Smith has the draft capital and the pedigree to be a breakout candidate. Every year he has been on the breakout candidate list. It has not happened yet, and I understand that people are giving up.
This is a position that has had late career breakouts for multiple players. Smith could be the next guy. Irv Smith joins the Bengals, who targeted Hayden Hurst 70 times in 14 games. The year before, they targeted C.J. Uzomah 63 times the year prior. This is a high pass-volume offense and a team that runs a lot of plays. They also spend a ton of time in the red zone.
Cleveland Browns – RB, Jerome Ford: ADP 169 (RB50)
David Njoku at TE14 was in strong consideration, but we are going a little deeper. As of now, the depth behind Nick Chubb is uncertain. Jerome Ford, who was the team's fifth-round selection in 2021, sits behind Chubb. The team allowed D'Ernest Johnson to leave via free agency, and Kareem Hunt has yet to resign with anyone.
Ford is a speedy running back that had 220 receiving yards on 21 receptions his last year at Cincinnati. The second RB in Cleveland has been valuable for fantasy football for many years. As of now, Demetric Felton and Jerome Ford sit behind Nick Chubb.
Pittsburgh Steelers – RB, Jaylen Warren: ADP 180 (RB55)
Injuries are never something to cheer for, but we do have to prepare for them. The Steelers have been one of the few teams to feature running backs. We have seen plenty of running backs become fantasy relevant during the Mike Tomlin era due to injury. If something happened to Najee, we would see a huge rise in the stock of Jaylen Warren.
Warren also has looked good, and we are very confident he would be the next man up. He also showed last year that he had some stand-alone value when Najee was limited with the foot injury.
Buffalo Bills – RB, James Cook: ADP 109 (RB29)
James Cook was explosive in the second half of the season last year, with a 48% breakaway percentage. He was 18th amongst running backs in breakaway yards last season. James Cook only had 89 rushing attempts last season, others in this category had at least 176 attempts, and most were over 215. Cook has second-round draft capital, plays on one of the best offenses in football, and is a great pass catcher.
He checks all of the boxes, and he is being faded because of the expected goal-line work going to Damien Harris. This team is in need of pass catchers behind Stefon Diggs, and Cook should be going higher. If Cook wasn't deep enough for you, Khalil Shakir deserves an honorable mention. He is expected to man the slot. His current ADP is 223 (WR85).
Miami Dolphins – RB, Dalvin Cook: ADP130 (RB38)
I know I am getting ahead of myself. If you are reading this, I appreciate you. Jeff Wilson could easily be here at his ADP. Mike Clay has him projected to be the top back in Miami currently. But the rumors of Dalvin Cook are very strong. If not Dalvin, Kareem Hunt has also been linked to Miami. But, Let's talk about Cook.
Cook is likely a one-year, two-year play at max. Let's not forget about winning now; if Cook is the starter in Miami, he will be well worth it. He is being drafted in the double-digit rounds and wholly disregarded. Cook played very well last year and played a full season as well.
New England Patriots – TE, Mike Gesicki: ADP 190 (TE25)
The Miami Dolphins let Mike Gesicki go, and they really just did not have room for him in their offense at his cost. The Patriots needed to get more explosive and needed an athlete at the position. This is a team that has had great success with tight ends and puts a strong value on them. Bill O'Brien's offenses have produced great tight-end production in the past.
Owen Daniels is a blast from the past who thrived under O'Brien. At a position that is so hard to find production, Gesicki is worth a late shot at pick 190.
New York Jets – WR, Allan Lazard: ADP 189 (WR70)
The Aaron Rodgers ransom list included Allan Lazard. The Jets actually signed Lazard well before acquiring Rodgers. They signed Lazard, shipped out Elijah Moore, and then used the Elijah Moore pick to help acquire Rodgers. Nathaniel Hackett also came over to the Jets, another familiar face for Aaron.
The last time Aaron Rodgers was with Nathaniel Hackett, he won back-to-back MVPs. Allan Lazard also did well with these two. Lazard had eight touchdowns in only 13 starts. He is an afterthought behind Garrett Wilson but should not be forgotten. Lazard was paid well, four years, $44 Million well. He offers the team a big red-zone target and is expected to play in the slot. At WR70, he is being drafted between Israel Abanikanda and Noah Fant.
Houston Texans – TE, Dalton Schultz: ADP 157 (ADP18)
In the last two seasons, Schultz has finished top 10 in both total points as well as points per game. Schultz was tight end 3 overall in 2021. He is on a new team with a new quarterback, but he has been tossed aside. Players that have accomplished very little are being taken ahead of him.
The Texans are lacking pass-catching options, and Mike Clay projects Schultz to lead them in targets. In a position that is really hard to find good options, Schultz is a great value. His low cost creates a very low risk and a high reward scenario.
Indianapolis Colts – WR, Josh Downs: ADP 140 (WR53)
Josh Downs fell further than we expected on draft day. I get it. He is going to an offense that will have a rookie quarterback and is expected to run the ball a lot. This is all baked into his cost, and at some point, you have to look at the talent. This is a talented player that was extremely productive in college and had a solid combine. Speaking of that, he gets to play on the fast Indianapolis turf.
Downs slides into the slot position and gets to develop with Anthony Richardson. A lot of scouts were high on Downs coming into the draft, don't give up on him before he even plays.
Jacksonville Jaguars – TE, Evan Engram: ADP 126 (TE10)
Evan Engram absolutely exploded last year for his best season yet. He did most of his damage during the second half of the season when he became a go-to option for this team. The Jaguars will have more mouths to feed with the addition of Calvin Ridley. That doesn't mean that Evan Engram can't be a good fantasy option.
Doug Pederson's offenses have historically favored tight-end production. We told you to look at Evan Engram as a breakout last year, and it happened. His upside is capped a little with Ridley, but he should still be a viable option in a tight-end wasteland. He is currently being drafted between Courtland Sutton and Juju Smith-Schuster.
Give me a shot at a starting tight end that I can play weekly vs. two inconsistent WRs. If that was not deep enough, a deep dive would be Brenton Strange. Strange received round two draft capital in the NFL Draft, and Evan Engram is currently on a one-year franchise tag. The team is preparing for a mega extension for Trevor Lawrence. If they move on from Engram, this tight-end-friendly offense could turn to Strange. His ADP was outside the top 285, so he is basically free.
Tennesee Titans – WR, DeAndre Hopkins: ADP 119 (WR44)
Again, joking with the Titans. Appreciate those who are reading this. The Titans would not be the ideal landing spot, but the Titans are reportedly very aggressively pursuing Hopkins. I put him on here because there are few options for Tennesee. This is a pretty bad roster, especially on offense. They did draft some young pieces recently.
Chig is not a buy-low right now, and the only real candidate was Tyjae Spears. Spears could get the backfield to himself as soon as next year, and he is currently being drafted behind Baker Mayfield in superflex startup ADP. Tyjae Spears is being drafted as RB39 at pick 139.
Back to Hopkins, he can still play. We have seen no decline from Hopkins, just some durability concerns. He didn't miss a game after coming back from his suspension last year. He is healthy and coming off an injury-free season. If he were to land on a contender or a good offense vs. the Titans, it would really boost his stock.
You could get a return on your investment easily. If he is on Tennesee, he likely is the top target, which hurts Chig and Burks. Hopkins Floor is a top 24 WR, and he is being drafted at 44, get him now before he signs somewhere.
Denver Broncos – WR, Tim Patrick: ADP 220 (WR84)
Everything that could go wrong last year went wrong for the Denver Broncos. It started with Tim Patrick tearing his ACL. Patrick has had plenty of time to fully recover, and the word out of camp is that he is playing really well. Patrick could potentially surpass Sutton on the depth chart, and he is currently being drafted in the 200s.
The last season we saw him play, Patrick had back-to-back 700-yard/five-touchdown seasons while the Broncos were one of the worst offenses in football. This was with Drew Lock and others. Patrick offers a downfield threat and a red zone target to match up with Jerry Jeudy. Patrick could offer you some depth and a bye-week filler at no cost to acquire.
Kansas City Chiefs – WR, Skyy Moore: ADP 161 (WR61)
This is arguably the best offense in football, and the pieces are actually extremely cheap to acquire. Patrick Mahomes and Travis Kelce are obviously costing top dollar. But the rest of the crew is extremely cheap to acquire. Part of that is because the team really spreads the production out amongst everyone after Kelce.
But a lot of their players ended up outside of the top 100. Picks 113-114 are Kadarius Toney and Isiah Pacheco. Rashee Rice is pick 151, and Jerick McKinnon, who was a league winner last year, is pick 162. There are a few options here. Toney costs a little more, and that raises the risk as well as lessens the return.
Skyy Moore really struggled last year, and there is no sugarcoating it. It was bad, really bad. On top of that, he was given lofty expectations with second-round draft capital and the landing spot following the Tyreek Hill trade. Moore could be had for a third-round pick now. You can see if he bounces back while everyone is down on him. If it doesn't pan out, you didn't pay as much as if you went after Toney or Rice.
Las Vegas Raiders – RB, Zamir White: ADP 246 (RB75)
Josh Jacobs' usage under Josh McDaniels was beautiful for those who drafted Jacobs in 2022. Jacobs is currently in a contract dispute and could threaten to hold out. If the team works out a long-term deal with Jacobs, that would not be good for White. If Jacobs signs his franchise tag, White could be looking at taking over in the near future. A Jacobs holdout, or if he were to be traded, would open things up for White. White has a three-down skillset and is a good runner.
He was a fourth-round pick and a highly recruited collegiate athlete. White also is a handcuff and is one play away from a major opportunity. I really do not understand why his cost is so low. He is being drafted after Marcus Mariota and James Robinson currently…
Los Angeles Chargers – TE, Gerald Everett: ADP 195 (TE26)
Gerald Everett was a nice surprise last season. He finished as the TE13 and had three finishes inside the top seven tight ends. He also had six other performances inside the top 20. We spoke about Dalton Schultz earlier, well Kellen Moore was the play caller. I do recognize that the Chargers have more options, but his offense has been productive. Tight Ends have been productive as well in his offense. Everett is still just 29 and is an athletic tight end that can create after the catch.