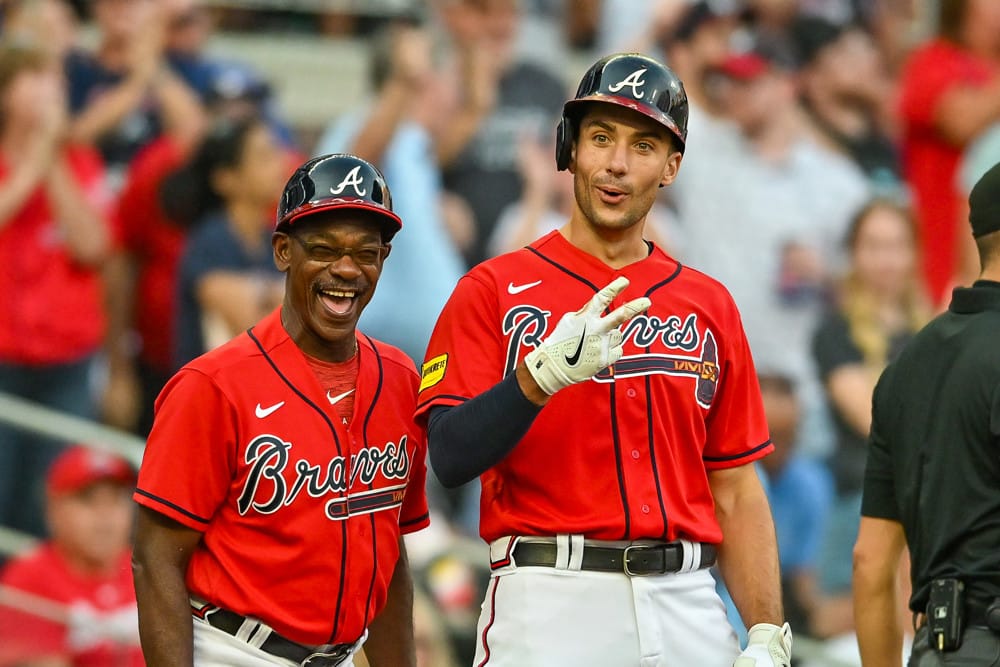 Just because the MLB is taking a break doesn't mean your daily fantasy games have to. We're here with an MLB All-Star Game daily fantasy lineup that helps you sort through the uncertainty of playing time and odd matchups. Come check it out and win!
Go here for daily free MLB picks!

MLB All-Star Game Daily Fantasy Lineup
CAPT – Freddie Freeman – LAD – $14,400
There isn't a hitter going into the All-Star break hotter than Freeman. Over his last three games, he is six for his last 13, with five of those hits going for extra bases. He's knocked in seven over that period and even managed to snag a base too. If you're going to trust a guy against All-Star starting pitching, it's probably Freeman.
It also doesn't hurt that he's a career 7-for-20 career against starter Gerrit Cole with a dinger.
UTIL –Matt Olson – ATL – $9,000
The National League will probably split the first base position three ways and mostly equally. After Freeman comes out, Pete Alonzo will likely get a few innings, and then Olson will get the end of the game. That means he'll probably face slightly easier pitching from the American League side. Like his predecessor, Olson is hot right now – going 6-for-16 over his last four games with a hit in each one.
UTIL – Marcus Semien – TEX – $8,600
Semien has been tabbed to lead off for the American League on Tuesday night. While he doesn't have the body of work against the opposing starter that Freeman does, he does have a small amount of success. He has three hits in five trips to the plate against Zac Gallen. With Ohtani hitting behind him, he's likely to get something to hit early on.
UTIL – Jose Ramirez – CLE – $8,400
Jose Ramirez has notoriously been good in the midsummer classic. Over his last 4 All-Star games, he's 4-for-7 – getting multiple hits in a game twice. With only one other third baseman on the American League roster, he's going to be someone who likely gets a couple of swings even coming off the bench. That makes me more comfortable sticking him in my All-Star game daily fantasy lineup.
UTIL – Justin Steele – CHC – $4,600
If you want to grab starters and big boppers in your All-Star game daily fantasy lineup, you'll likely have to find cheaper options. Although many people shy away from guys who aren't listed as starting pitchers, especially since they don't have to go in at all, Justin Steele seems like a lock to get a couple of innings. He's young, exciting, and will be on five full days rest on Tuesday. He has 19 Ks over his last three starts and should nab a few more here.
UTIL – Pablo Lopez – MIN – $4,600
Pablo Lopez is another starter who lined himself up perfectly to get some burn. He also will be on five full days rest and should be slated to throw a couple of innings. There are not many pitchers getting the strikeout numbers he has of late. Over his last five starts, he is averaging 9.2 strikeouts per game. That's while averaging under seven innings per start as well.
If you'd like even more information that could help your MLB All-Star Game daily fantasy lineup, be sure to check out the MLB Gambling Podcast. The guys are dropping daily episodes to make you the smartest guy at the bar.