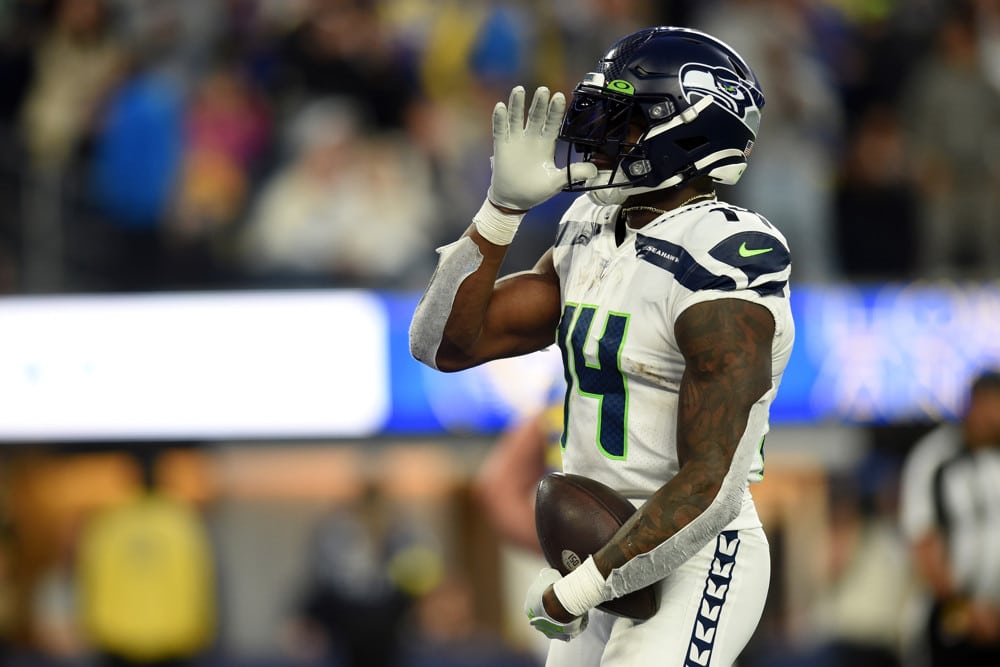 Welcome to SGPN's in-depth analysis of the top 12 dynasty fantasy football receivers. We will delve into the world of wide receivers and unveil the elite talents that dominate the fantasy landscape. From established veterans to emerging stars, these receivers possess the skills, opportunity, and long-term potential to elevate your dynasty teams to new heights. Join us as we explore their strengths, weaknesses, and the factors that make them valuable assets for seasons to come.


MORE SGPN FANTASY FOOTBALL CONTENT
Follow SGPN Fantasy Football on Youtube
Top 12 Dynasty Fantasy Football Wide Receivers
1. Ja'Marr Chase – Cincinnati Bengals
In a surprising twist, Ja'Marr Chase of the Cincinnati Bengals claims the top spot in these dynasty fantasy football rankings. While it's understandable to have Justin Jefferson as the frontrunner, Chase has a slight advantage. This is due to his exceptional athleticism and perfect fit with the Bengals.
He will likely play the majority of his career with Joe Burrow, who will be a premier quarterback for the next decade. On the other hand, Jefferson is paired with Kirk Cousins, who might be entering the later stages of his career. This gives Chase a small edge in terms of long-term potential, although it's extremely close.
2. Justin Jefferson – Minnesota Vikings
Justin Jefferson is widely regarded as the consensus top-ranked dynasty receiver by fantasy analysts, and it's hard to argue against it. His exceptional performances on the field justify his lofty ranking. However, when comparing him to Ja'Marr Chase, who is equally talented, one significant factor that sets them apart is the quarterback situation.
Quick question…

Will Justin Jefferson lead the league in receiving TDs next season (+1200)? 🤔

(via @NFL) pic.twitter.com/WTK34tpJME

— FanDuel Sportsbook (@FDSportsbook) June 27, 2023
While Kirk Cousins has been a reliable fantasy asset, it's worth noting that he is entering his mid-thirties, and the Vikings' lack of success in the playoffs could potentially lead to changes in the quarterback position sooner or later. Despite this uncertainty, Jefferson's skills and production make him an elite option in dynasty leagues, and his continued success will largely depend on the stability and productivity of the Vikings' quarterback situation in the coming seasons.
3. CeeDee Lamb – Dallas Cowboys
CeeDee Lamb showcased his immense potential in his first season without Amari Cooper in Dallas, stepping up as the go-to receiver. He excelled, ranking No. 6 in yards per route run, and finished as the WR5 in fantasy football leagues. Furthermore, Lamb recorded double-digit targets in an impressive nine games, further solidifying his role as a focal point in the passing attack.
That shouldn't change this season either, as Lamb is primed for continued success as the primary target in the Cowboys' offense. Fantasy managers can expect another outstanding year from Lamb as he continues to establish himself as one of the league's premier wide receivers.
4. A.J. Brown – Philadelphia Eagles
Despite concerns from fantasy managers heading into the 2022 season, A.J. Brown had his best fantasy finish to date. After battling injuries in previous seasons, there were doubts about his ability to stay healthy. Additionally, joining an offense with a dual-threat quarterback and a plethora of talented pass catchers raised questions about his target share.
However, Brown silenced the skeptics by amassing an impressive 146 targets and racking up 1,496 receiving yards. Not only did he stay healthy throughout the season, but he also demonstrated his exceptional talent and playmaking ability. Being tied to one of the best offenses in the NFL, too, bodes well for his fantasy prospects.
5. Garrett Wilson – New York Jets
Despite facing challenging circumstances with subpar quarterback play, Garrett Wilson had a remarkable rookie season. He commanded a 24.9% target share and ranked 11th in the NFL in terms of air yards. Although he had a slower start, Wilson finished strong by securing a top-30 fantasy finish in seven out of his last ten games.
The arrival of new quarterback Aaron Rodgers is promising for Wilson's prospects too. Rodgers has already praised his potential to be the best wide receiver in the NFL in the near future. Additionally, he has a history of relying heavily on his top wide receiver, exemplified by his previous connection with Davante Adams.
6. Jaylen Waddle – Miami Dolphins
Jaylen Waddle has swiftly established himself as one of the most prolific young receivers in NFL history, already amassing the 12th most receiving yards for a player in his first two seasons. With blazing speed, Waddle is a touchdown threat anytime he's on the field.
Happy Feet starring Jaylen Waddle 🐧 @D1__JW

(via therealdelfontediamond/IG) pic.twitter.com/uscfgS0R3t

— NFL (@NFL) June 26, 2023
Despite Tua Tagovailoa's absences due to concussions, Waddle managed to surpass 1300 receiving yards. However, it's worth noting that he fell outside the top 25 fantasy receivers on nine occasions. At just 24 years old, Waddle has a bright future, but his 2023 production will hinge on the health and availability of Tagovailoa.
7. DK Metcalf- Seattle Seahawks
DK Metcalf reached a career-high in targets in 2022 and established himself as a formidable force in the Seattle Seahawks offense. He began to assert himself with an increased target share, particularly in the second half of the season. Furthermore, Metcalf's dominance was showcased in a monster playoff performance against the San Francisco 49ers.
Playing in the context of a fantastic offense, he has the opportunity to shine despite the presence of other talented pass-catchers. Metcalf has the potential to emerge as the alpha receiver and return to double-digit touchdown production. With his physical prowess and knack for big plays, Metcalf is primed to make a major impact on fantasy football managers this upcoming season.
8. Amon-Ra St. Brown – Detroit Lions
Amon-Ra St. Brown emerged as a standout performer in his second season with the Detroit Lions. He finished as the WR7 in fantasy leagues and ranked sixth in fantasy points per route run. Known for his strong work ethic, too, St. Brown has established himself as one of the premier young wide receivers in the NFL.
His situation in Detroit is also promising, with an improving offense that sets him up for success. With the absence of Jameson Williams due to suspension, St. Brown is poised to command a massive target share as well.
9. Tyreek Hill – Miami Dolphins
Tyreek Hill showcased his brilliance in 2022, surpassing all expectations even after parting ways with the Kansas City Chiefs. Despite the challenges of a revolving door at the quarterback position with Tua Tagovailoa struggling with concussions, Hill still managed to amass over 1700 receiving yards.
Impressively, he demonstrated greater consistency with backup quarterbacks than Jaylen Waddle as well. Approaching his thirties, Hill hasn't shown any signs of decline either and remains a formidable force. With a healthy Tagovailoa, there is a strong possibility that Hill could reach the 2000-yard mark.
10. Chris Olave – New Orleans Saints
While much of the spotlight falls on Garrett Wilson, Chris Olave proved to be a formidable receiver in his own right. In 2022, Olave ranked 10th in yards per route run and 8th in air yards. Additionally, with the arrival of new quarterback Derek Carr, there is potential for an upgrade in the passing game.
It's only fitting to bring this back on Chris Olave's birthday. pic.twitter.com/CoAB88wBDf

— Chris Rosvoglou (@RosvoglouReport) June 27, 2023
Currently regarded as a top-12 dynasty receiver, Olave's outlook for 2023 may be impacted by the presence of a healthy Michael Thomas. When Thomas was on the field last season, he remained a significant part of the offense. Something to monitor in the short term but nothing that should hamper his long-term outlook.
11. Cooper Kupp – Los Angeles Rams
Despite being 30 years old, Cooper Kupp remains a force to be reckoned with in fantasy football. In 2022, he proved his worth by finishing as the top player in fantasy points per game. Kupp's exceptional route running and football IQ make him one of the most reliable and intelligent players in the NFL as well. However, there are valid concerns regarding the offense surrounding him.
The future productivity of quarterback Matthew Stafford and the performance of a struggling offensive line could potentially limit the number of plays the offense can generate and subsequently impact scoring opportunities. While these factors may have influenced his ranking, it's important not to underestimate Kupp's ceiling for the next couple of seasons.
12. DeVonta Smith – Philadelphia Eagles
Despite a slow start in Week 1 of the 2022 season, Devonta Smith managed to finish as a top-10 fantasy receiver. Surpassing all expectations in a run-first offense, Smith showcased his talent by securing 136 targets. Being tied to the Philadelphia Eagles too, who will boast one of the best offenses in the NFL for the next three seasons, only adds to his appeal.
Nonetheless, Smith may face challenges in consistently providing WR1 production due to the presence of other talented options. As a result, he may settle into a more consistent WR2 role, but his long-term value cannot be understated.