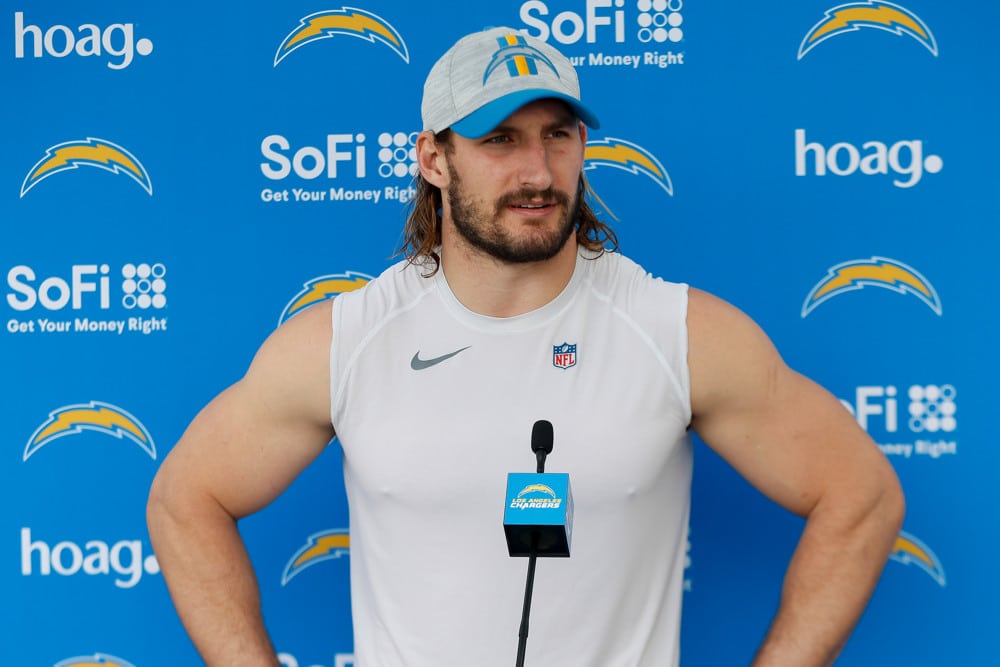 NFL Offensive And Defensive Player Of The Year
The guys (@GamblingPodcast) break down the 2023 NFL Offensive Player Of The Year odds and 2023 NFL Defensive Player Of The Year odds in their latest NFL Futures podcast. They cover takes on a ton of players including Christian McCaffrey, Justin Herbert, Joey Bosa, Aaron Donald and more.
(20:41) Drake London / George Pickens
Both London and Pickens receivers are longshots at 200-1, but have the skillsets and upside to consider for this future bet. Their chances will be limited by their respective QB's in Desmond Ritter and Kenny Pickett (who has shown promise, admittedly).
(21:53) Kirk Cousins / Jared Goff
At 170-1 Kirk an interesting option as a bonafide QB1 for a likely playoff team, but he'll compete with last year's OPOY winner in Justin Jefferson. Jared Goff is another great option at 170-1 given their offensive success last year and overall upward team trajectory.
(23:50) Brock Purdy
QBs historically need a successful team season (aka deep playoff run) to win this award, and both of these guys have the chance to do that next year. Purdy did finish 3rd last year in Rookie of the Year voting last year and showed a ton of moxy in the playoffs.
(31:45) AJ Brown / Travis Kelce
At 55-1, AJ Brown is a strong option. Last year he had 11 TDs and over 1400 yards. The Eagles defense will likely take a small step backwards which may give Brown more offensive opportunities. Although a TE has never won this award, Travis Kelce would be the one to win it at 50-1.
(35:15) Amon Ra St.Brown
St. Brown burst onto the scene last year and helped the lead the Detroit offense to new heights. At 40-1 there may not be enough value here (in comparison to someone like Olave at 70-1) but his trajectory is high. Note, he will compete with several other young offensive threats.
(37:00) Joe Burrow / Justin Herbert
At 35-1, both of these QBs are very good bets. They lead high powered offenses with expectations for team success next year. Unfortunately for QBs, to win this award they need to have a somewhat historical passing season. Note, if you like someone like Herbert you should consider his MVP odds at 9-1 as the MVP award generally puts much less pressure on statistical offensive output.
(41:30) Jalen Hurts
After finishing third last year in OPOY voting, Hurts clearly has the ability to win this award. He is 28-1 and will compete with the likes of Josh Allen in this tier. An interesting play here could be to parlay the OPOY and MVP since historically QB's with historic seasons end up winning both.
(44:35) Christian McCaffrey
McCaffery is an offensive superpower out in San Francisco and is listed at 20-1. He's arguably the most talented offensive player when healthy (and that's a big if) but he'll also be limited by QB play. You can also argue that bad QB play could end up leading to more touches for McCaffery.
NFL Offensive Player Of The Year Picks
Sean
Christian McCaffrey
Jalen Hurts
Joe Burrow
AJ Brown
Austin Eckler
Chris Olave
George Pickens
Deshaun Watson
Kramer
Christian McCaffrey
Justin Herbert
Austin Eckler
Chris Olave
Calvin Ridley
Deshaun Watson
(50:00) NFL Defensive Player Of The Year
There are far fewer candidates for the DPOY award. Historically, DPOY winners are defensive stat stuffers with alot of QB sacks. It's difficult for DBs and Safetys to win because the strongest players at these positions are lock-down style defenders and typically get less offensive attention (and thus less opportunities for sacks or interceptions). There are also more multiple-time DPOY winners, so the pool of potential winners is lower.
(53:45) George Karlaftis
It's difficult to pick a KC Chief to win DPOY but Karlaftis did have 6 sacks last year and the Chief's game script could lend itself to Karlaftis having an even bigger impact next year. It's also worth noting that Chris Jones did finish 3rd in DPOY voting last year
(56:23) Jalen Ramsey
At 100-1, Ramsey is a great option as he suits up in a new uniform for the Miami Dolphins. He can be a contentious player who some Offensive Coordinators may overlook as he's perceived as being past his prime. He's got the star power and overall appeal to get the necessary attention for this award.
(1:01:00) Kayvon Thibodeaux / Joey Bosa
Kramer makes another homer pick for Thibodeaux at 50-1, who does have the ability to rack up sacks and certainly has the star power to get enough media attention for this award. Joey Bosa is in this tier with slightly higher odds at 35-1 and has the talent to win, but historically has been limited by injuries.
(1:01:02) Aaron Donald
Donald is tough to ignore having won this award twice already. 20-1 are fair odds and despite being injured last year and hinting at retirement, is still in his physical prime. It's not out of the question for him to come back and turn in another career year.
DPOY Picks
Sean
Aaron Donald 20-1
Joey Bosa 35-1
Za'Darius Smith 100-1
Jalen Ramsey 100-1
George Karlaftis 150-1
Kramer
Joey Bosa 35-1
Kayvon Thibodeaux 50-1
Bradley Chubb 60-1
Jalen Ramsey 100-1
George Karlaftis 150-1
Azeez Ojulari 200-1
2023 NFL Offensive Player Of The Year Odds

| | |
| --- | --- |
| Player | Odds |
| Ja'Marr Chase | 1200 |
| Justin Jefferson | 1400 |
| Cooper Kupp | 2000 |
| Tyreek Hill | 2000 |
| Christian McCaffrey | 2000 |
| Jonathan Taylor | 2000 |
| Lamar Jackson | 2200 |
| Justin Fields | 2200 |
| Jalen Hurts | 2500 |
| Nick Chubb | 2500 |
| Patrick Mahomes | 2500 |
| Garrett Wilson | 2500 |
| Josh Allen | 2800 |
| Davante Adams | 2800 |
| Stefon Diggs | 3000 |
| Saquon Barkley | 3300 |
| Justin Herbert | 3500 |
| Derrick Henry | 3500 |
| Joe Burrow | 3500 |
| Amon-Ra St. Brown | 4000 |
| Breece Hall | 4000 |
| CeeDee Lamb | 4000 |
| Trevor Lawrence | 4000 |
| Deebo Samuel | 4000 |
| Bijan Robinson | 4500 |
| Tony Pollard | 4500 |
| Travis Kelce | 5000 |
| Aaron Rodgers | 5000 |
| Josh Jacobs | 5500 |
| A.J. Brown | 5500 |
| Travis Etienne Jr. | 5500 |
| Tua Tagovailoa | 6000 |
| Austin Ekeler | 6000 |
| DeAndre Hopkins | 7000 |
| Chris Olave | 7000 |
| Rhamondre Stevenson | 7000 |
| Aaron Jones | 8000 |
| Jaylen Waddle | 8000 |
| D.K. Metcalf | 8000 |
| Dak Prescott | 8000 |
| Kenneth Walker III | 8000 |
| Daniel Jones | 10000 |
| Tee Higgins | 10000 |
| Javonte Williams | 10000 |
| Matthew Stafford | 12000 |
| Russell Wilson | 12000 |
| Jahmyr Gibbs | 12000 |
| Calvin Ridley | 12000 |
| Christian Watson | 12000 |
| Terry McLaurin | 12000 |
| George Kittle | 12000 |
| D'Andre Swift | 12000 |
| DeVonta Smith | 12000 |
| Dameon Pierce | 12000 |
| Amari Cooper | 12000 |
| Isiah Pacheco | 13000 |
| Geno Smith | 13000 |
| Brock Purdy | 13000 |
| Dalvin Cook | 13000 |
| Kyler Murray | 15000 |
| Jerry Jeudy | 15000 |
| D.J. Moore | 15000 |
| Tyler Lockett | 15000 |
| Kyle Pitts | 15000 |
| Rachaad White | 15000 |
| Darren Waller | 15000 |
| Derek Carr | 15000 |
| Courtland Sutton | 15000 |
| Trey Lance | 15000 |
| Miles Sanders | 15000 |
| Kenny Pickett | 15000 |
| Jared Goff | 17000 |
| Alvin Kamara | 17000 |
| Mike Evans | 17000 |
| Joe Mixon | 17000 |
| David Montgomery | 17000 |
| Brian Robinson Jr. | 17000 |
| Kadarius Toney | 17000 |
| Kirk Cousins | 17000 |
| Christian Kirk | 20000 |
| T.J. Hockenson | 20000 |
| Diontae Johnson | 20000 |
| Pat Freiermuth | 20000 |
| Chris Godwin | 20000 |
| Khalil Herbert | 20000 |
| Michael Thomas | 20000 |
| Evan Engram | 20000 |
| Najee Harris | 20000 |
| Brandin Cooks | 20000 |
| Brandon Aiyuk | 20000 |
| Treylon Burks | 20000 |
| George Pickens | 20000 |
| Drake London | 20000 |
| Jordan Addison | 20000 |
| Mac Jones | 20000 |
| Jahan Dotson | 20000 |
| Gabriel Davis | 20000 |
| Dallas Goedert | 20000 |
| Rashod Bateman | 20000 |
| Raheem Mostert | 20000 |
| Keenan Allen | 20000 |
| JuJu Smith-Schuster | 20000 |
| Romeo Doubs | 20000 |
| David Njoku | 20000 |
| D'Onta Foreman | 20000 |
| Michael Pittman Jr. | 20000 |
| Allen Lazard | 20000 |
| Sam Howell | 20000 |
| Mark Andrews | 20000 |
| Jaxon Smith-Njigba | 20000 |
| Odell Beckham Jr | 20000 |
| JK Dobbins | 20000 |
| Darnell Mooney | 25000 |
| Jakobi Meyers | 25000 |
| Marquise Brown | 25000 |
| D.J. Chark | 25000 |
| Tyler Higbee | 25000 |
| Isaiah Hodgins | 25000 |
| A.J. Dillon | 25000 |
| Hunter Renfrow | 25000 |
| Hunter Henry | 25000 |
| James Cook | 25000 |
| DeVante Parker | 25000 |
| Dalton Schultz | 25000 |
| Deshaun Watson | 25000 |
| James Conner | 25000 |
| Bryce Young | 25000 |
| Quentin Johnson | 25000 |
| Alec Pierce | 25000 |
| Elijah Moore | 25000 |
| Ezekiel Elliott | 25000 |
| Ryan Tannehill | 25000 |
| Mike Williams | 25000 |
| Kareem Hunt | 25000 |
| Desmond Ridder | 25000 |
| Zay Flowers | 25000 |
| Tyler Boyd | 25000 |
| Cole Kmet | 25000 |
| Anthony Richardson | 25000 |
| Michael Gallup | 25000 |
| Nico Collins | 25000 |
| Elijah Mitchell | 25000 |
| Damien Harris | 25000 |
| Tyler Allgeier | 25000 |
| Cam Akers | 25000 |
| Cordarrelle Patterson | 25000 |
| Marquez Valdes-Scantling | 25000 |
| Robert Woods | 25000 |
2023 NFL Defensive Player Of The Year Odds
| | |
| --- | --- |
| Player | Odds |
| Micah Parsons | 700 |
| Myles Garrett | 700 |
| T.J. Watt | 800 |
| Nick Bosa | 1100 |
| Ahmad Gardner | 1300 |
| Maxx Crosby | 1300 |
| Aaron Donald | 2000 |
| Brian Burns | 2200 |
| Haason Reddick | 2500 |
| Quinnen Williams | 3000 |
| Aidan Hutchinson | 3000 |
| Chris Jones | 3000 |
| Joey Bosa | 3500 |
| Rashan Gary | 4000 |
| Roquan Smith | 4000 |
| Patrick Surtain II | 4000 |
| Kayvon Thibodeaux | 5000 |
| Chase Young | 5000 |
| Fred Warner | 5000 |
| Matthew Judon | 5000 |
| Jaelan Phillips | 5000 |
| Von Miller | 6000 |
| Bradley Chubb | 6000 |
| Travon Walker | 6000 |
| Trey Hendrickson | 7500 |
| Derwin James | 7500 |
| Jaycee Horn | 8500 |
| Shaquille Leonard | 8500 |
| Danielle Hunter | 10000 |
| Talanoa Hufanga | 10000 |
| Jeffrey Simmons | 10000 |
| Justin Simmons | 10000 |
| Randy Gregory | 10000 |
| Tariq Woolen | 10000 |
| Za'Darius Smith | 10000 |
| Bobby Wagner | 10000 |
| Nick Bolton | 10000 |
| Kyle Hamilton | 10000 |
| Sam Hubbard | 10000 |
| Jalen Ramsey | 10000 |
| Harold Landry | 10000 |
| Minkah Fitzpatrick | 10000 |
| Darius Slay Jr. | 10000 |
| Javon Hargrave | 10000 |
| Will Anderson Jr. | 10000 |
| Jack Jones | 15000 |
| Antoine Winfield Jr | 15000 |
| A.J Terrell | 15000 |
| Devin White | 15000 |
| George Karlaftis | 15000 |
| Trevon Diggs | 15000 |
| Jeremy Chinn | 15000 |
| Josh Uche | 15000 |
| Jaire Alexander | 15000 |
| Lavonte David | 15000 |
| Josh Allen (JAX) | 15000 |
| Jevon Holland | 15000 |
| Kevin Byard | 15000 |
| Jalen Pitre | 15000 |
| Shaquil Barrett | 15000 |
| Malcolm Rodriguez | 15000 |
| Tre'Davious White | 15000 |
| Stephon Gilmore | 15000 |
| Xavien Howard | 20000 |
| Tyrann Mathieu | 20000 |
| Derek Stingley | 20000 |
| Arik Armstead | 20000 |
| J.C. Jackson | 20000 |
| Jamal Adams | 20000 |
| Jordan Poyer | 20000 |
| Denico Autry | 20000 |
| Yannick Ngakoue | 20000 |
| C.J.Mosley | 20000 |
| Marshon Lattimore | 20000 |
| Vita Vea | 20000 |
| Demarcus Lawrence | 20000 |
| Khalil Mack | 20000 |
| Jordan Whitehead | 20000 |
| Odafe Oweh | 20000 |
| Marlon Humphrey | 20000 |
| Jessie Bates III | 20000 |
| Leonard Williams | 20000 |
| Budda Baker | 20000 |
| Grady Jarrett | 20000 |
| Jeremiah Owusu-Koromoah | 20000 |
| Deatrich Wise Jr. | 20000 |
| Jonathan Allen | 20000 |
| Cam Heyward | 20000 |
| Denzel Ward | 20000 |
| DeForest Buckner | 20000 |
| Azeez Ojulari | 20000 |
| Chandler Jones | 20000 |
| Myles Jack | 20000 |
| Gregory Rousseau | 20000 |
| Marcus Davenport | 20000 |
| Cameron Jordan | 20000 |
| Jalen Carter | 20000 |
| Alim McNeill | 20000 |
Podcast Transcription