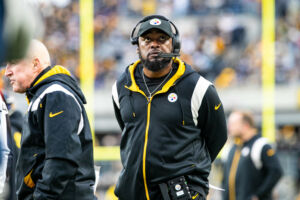 106 DAYS UNTIL KICKOFF! 106 DAYS UNTIL NFL REGULAR SEASON FOOTBALL IS BACK! Speaking of the NFL regular season, sportsbooks across the gambling universe have begun rolling out over/under regular season win totals for every NFL franchise. Let's look at five teams over/under regular season wins and how historical trends point towards playing the over or the under! (Odds as of 5/24/2023)
Make sure to shop and compare odds across all sportsbooks for the best sportsbook to place your bet/bets, and as always, please bet responsibly!
Go here for more NFL Content!
5 NFL Win Total Bets to Play and Historical Trends
The Dallas Cowboys:
Over 10 wins (-115), Under 10 wins (-105), BetMGM
Over 9.5 wins (-150), Under 9.5 wins (+120), FanDuel
We begin our dive into the five teams, starting with Nobody's favorite team, the Dallas Cowboys. Unfortunately, to no one's surprise, the Dallas Cowboys will not be able to deliver on what Jerry Jones and delusional Cowboys fans expect to be a double-digit win season.
The Cowboys had a very unimpressive draft (NFL.com ranked it 23 out of 32), and even with the Dalvin Cook rumors, an active offseason that has seen the signing of multiple vital additions, the Cowboys will do what they do best and underdeliver in yet another season. 
This isn't just an Eagles fan throwing shade at the Cowboys because there are also historical trends to support this. According to Action Network, besides the 2022 season, the Dallas Cowboys have hit the under in every season when projected to have a double-digit win season. So look for the Cowboys to deliver on the under once more.
The Play:
Dallas Cowboys Under 9.5 wins, +120 FanDuel and/or Under 10 wins -105 BetMGM
The Pittsburgh Steelers:
Over 8.5 wins (-135), Under 8.5 wins (+115), BetMGM
Over 8.5 wins (-150), Under 8.5 wins (+120), FanDuel
This one is as straightforward as it gets with historical trends. Head Coach Mike Tomlin has never had a losing season in his 16 seasons as the head coach of the Pittsburgh Steelers, and he's not going to have one in the 2023-2024 NFL season. The Steelers ended the season on a high note, winning seven of their last nine games.
They followed that by having one of the best 2023 draft weekends, landing several talented selections, and addressing immediate needs. One final historical trend, the Steelers haven't had a losing season since 2003, making it 18 straight seasons without a losing record. This is the third-longest streak in NFL history. The Steelers make it 17 straight for Tomliin and 19 straight for the franchise in the upcoming season.
The Play:
Pittsburgh Steelers Over 8.5 wins -135, BetMGM and/or Over 8/5 wins -150 FanDuel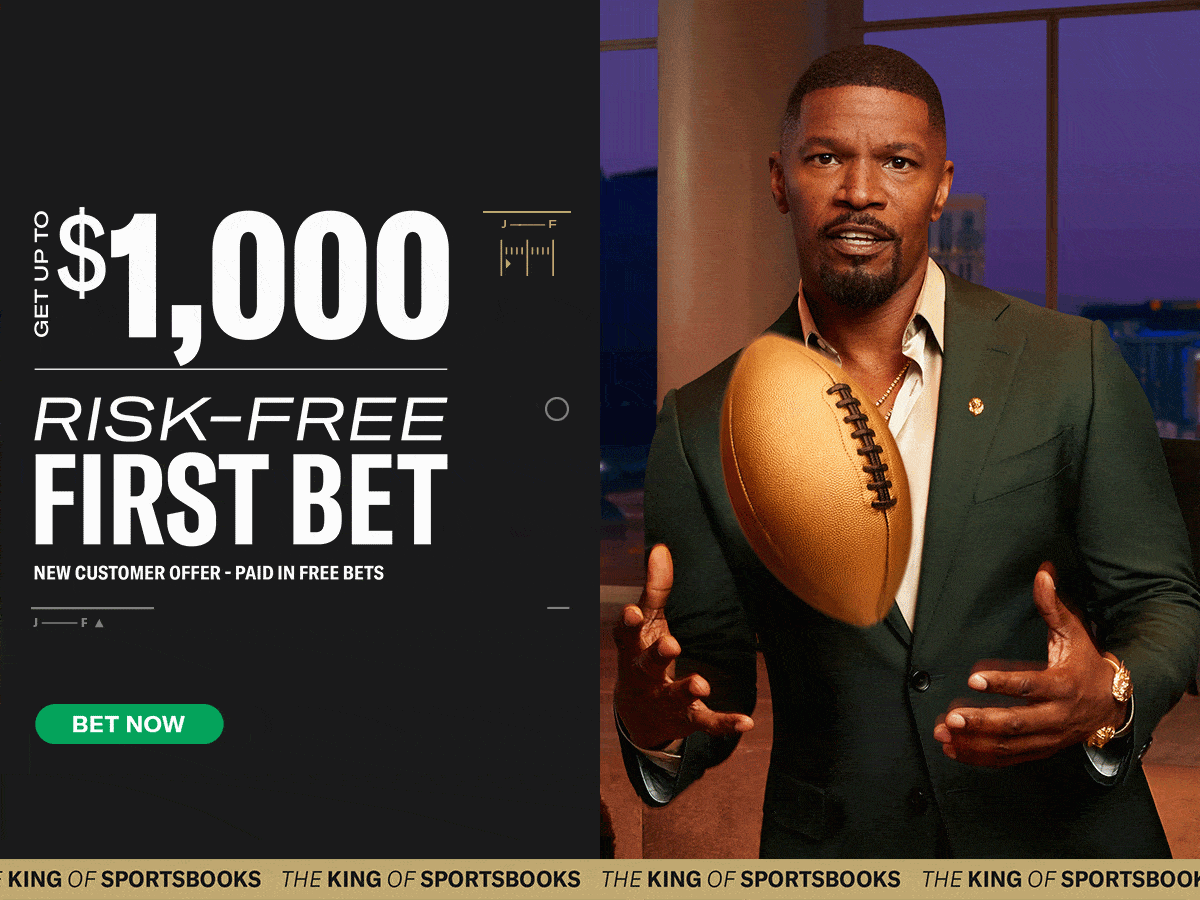 The Carolina Panthers:
Over 7.5 wins (-125), Under 7.5 wins (+105), BetMGM
Over 7.5 wins (-122), Under 7.5 Wins (+100), FanDuel
The Carolina Panthers won the Bryce Young sweepstakes, taking the young quarterback out of the University of Alabama with the first overall selection in the 2023 NFL Draft. Let's take a look at the past five number-one draft picks and their teams over/under win results in their rookie seasons. (Source: Sports Odds History)
The historical trends see a split between a team's over/under-cashing the season after selecting first overall, with the over only hitting once when the first overall selection was a quarterback. (Although obviously, each team and season's circumstances are different.) 
The Panthers have a decent supporting cast around Young for his first season, with the signings of Adam Thielen, Miles Sanders, D.J. Chark, and Hayden Hurst. Not to mention the selection of Jonathan Mingo in the second round. Still, the win total is simply too high. Rookie quarterbacks always have an adjustment period and learning curve when stepping into the NFL. So, expecting eight wins out of a still rebuilding/sort of rebuilding team with a rookie quarterback is too much. 
The Play:
Carolina Panthers Under 7.5 wins +105 BetMGM and/or Under 7.5 Wins +100, FanDuel
The Baltimore Ravens:
Over 10 wins (-120), Under 10 wins (+100), BetMGM
Over 10.5 Wins (+116), Under 10.5 Wins (-142), FanDuel
The Ravens find themselves in a similar situation as the Dallas Cowboys mentioned earlier, with both having double-digit regular wins as their over/under. While the Ravens managed to FINALLY re-sign Lamar Jackson and provide him with additional pass catchers by signing Odell Beckham Jr. and drafting Zay Flowers, this Ravens team still feels like it could be either a boom or bust team.
This Ravens team will be unable to live up to the expectations of double-digit wins this season, and the historical trend agrees with the Ravens hitting the under each of the past three seasons. (Source: Sports Odds History) 
The Play:
Baltimore Ravens Under 10 Wins +100 BetMGM and/or Under 10.5 Wins -142, FanDuel
The Kansas City Chiefs:
Over 11.5 wins (-125), Under 11.5 (+105), BetMGM
Over 11.5 Wins (-128), Under 11.5 Wins (+104), FanDuel
This one feels way too easy. Kansas City is clearly one of the two best teams in the NFL, along with the Philadelphia Eagles (Go Birds.) Patrick Mahomes is coming off his second MVP season. The Chiefs are coming off winning Super Bowl LVII (Boo.) and have managed to keep their core team relatively together, minus the departure of LT Orlando Brown Jr to the Cincinnati Bengals.
The Chiefs added a talented wide receiver during the 2023 draft in Rashee Rice. On top of all that, looking at historical trends, Kansas City has covered the over in regular season wins in nine of their past ten seasons and cashed the over the last three of four seasons when they had double-digit regular season wins as their over/under. (Source: Sports Odds History)
Look for the Chiefs to hit on the over here with relative ease.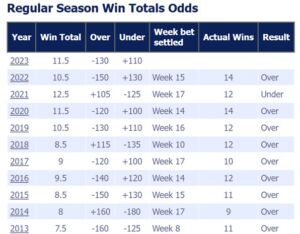 The Play:
Kansas City Chiefs Over 11.5 -125 BetMGM and/or Over 11.5 Wins-128, Fan Duel