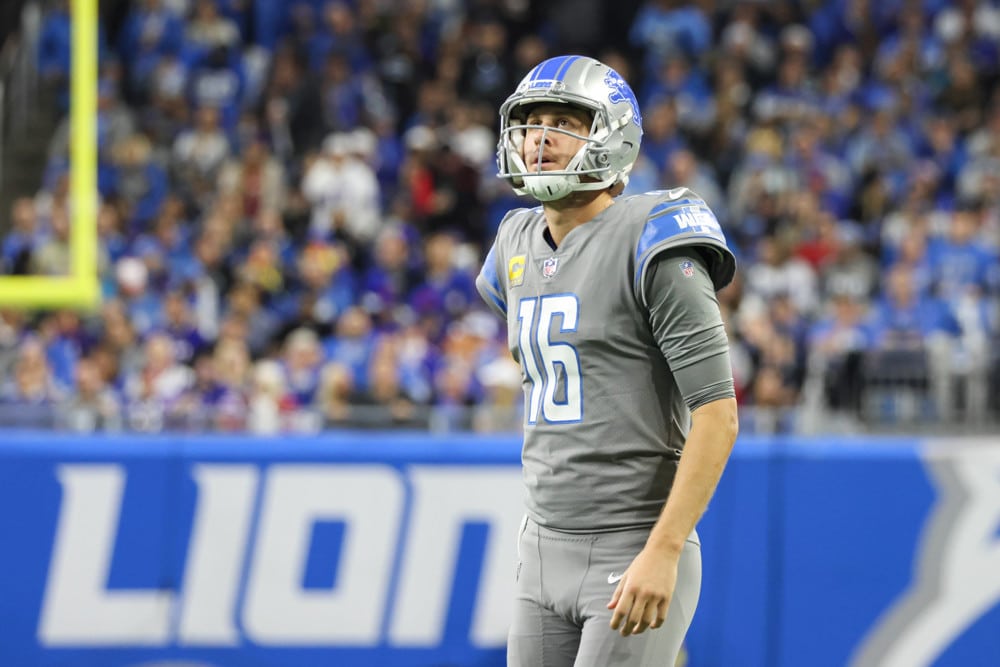 SGPN is here with their Way Too Early NFL Week 1 Picks. Follow along for key plays to leverage in Week 1 to get ahead of the betting market. We'll likely see many changes to betting lines throughout the summer, but there is never a bad time to get in on early odds. But, of course, you need the conviction to do so, and we hope to provide that with some of the listed plays available.
Not every contest offers the highest confidence in May, but there are certainly a few that do. So be sure to check out the Sports Gambling Podcast on Youtube, Spotify, and Apple Podcasts. Our hosts have all the edges you need to break off profits before the year even starts!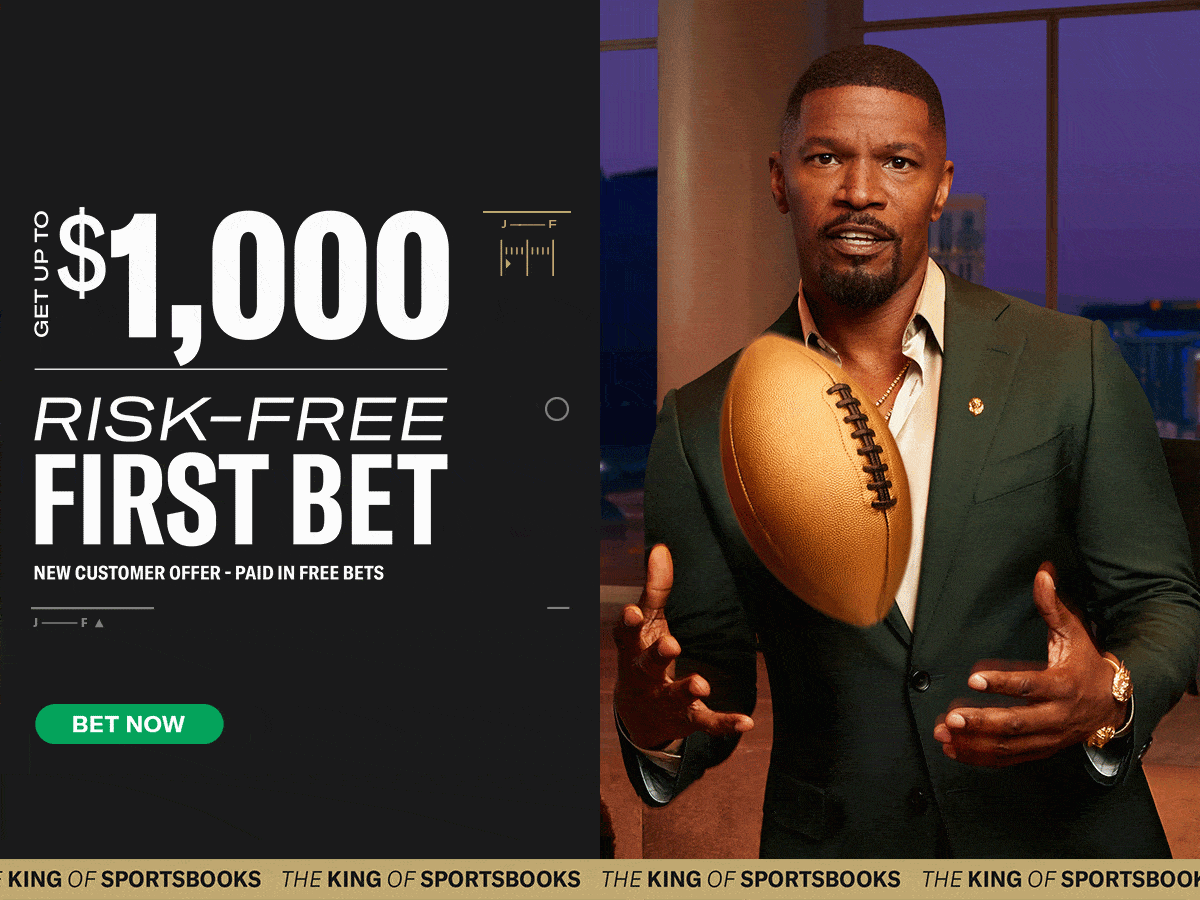 Way Too Early NFL Week 1 Picks
Detroit Lions (+220) @ Kansas City Chiefs (-260)
Game Total: 53.5
Game Spread: Kansas City -6.5
In Week 1, I'm keeping it simple and rolling with the reigning Super Bowl champs. This opening night game will be fueled with offense on both sides, but I trust the Kansas City Chiefs at home based on their cheat code Patrick Mahomes.
Mahomes has been the Chiefs' week-one starter since 2018. The Chiefs are 5-0 in opening games in that span. Mahomes' week one stats have been spectacular; he has 20 total touchdowns and zero interceptions through his past five Week 1 starts.
The Chiefs have also played their role in hitting the over through their last five season-opening matchups. The Chiefs scored 33+ points in their previous five Week 1 matchups. As a result, we'll likely get a lot of movement on the 6.5-point spread throughout the summer.
I favor picking the Chief's Money Line parlayed with the Over 53.5 points. The Chiefs have hit over 53.5 total points in Week 1 in five straight seasons; this is a no-brainer pick to make in May!
Chiefs ML (-260) + Ov 53.5 Total Points (-110) = +164 Odds
The Chiefs are 9-1 in Week 1 games since 2013.

The Chiefs are 5-0 in Week 1 games since 2018.

Patrick Mahomes numbers in Week 1 games:

73 comp%
308 pass ypg
19 total TDs
0 INTs
9.2 YPA
137 QB Rating pic.twitter.com/wSl7cbDl7b

— ??‼️ (@LanceTHESPOKEN) May 11, 2023
Houston Texans (+320) @ Baltimore Ravens (-390)
Game Total: 45.5
Game Spread: Baltimore -9
This matchup is another easy pick when throwing cash on Way Too Early Week 1 action. The Ravens are known to get off to great starts every year. Lamar Jackson and the Ravens are 3-1 in their previous four Week 1 contests. However, Lamar is always reliable to walk away with a win, as he's 45-16 as a starter.
The Houston Texans are in the early stages of another rebuild. You can be as high on C.J. Stroud as you like, but the team around him needs to be built up to take down a top team in Baltimore to start next season.
The Houston Texans' defense ranked 31st via PFF in 2022 and 32nd in the offense; they will be a long way from "Better" come September. Even with great strides forward, this roster won't be able to compete with the Ravens.
It would be best if you took the Ravens to cover -9 and bet the Under 45.5 points. Of course, the Ravens could run away with this one by halftime, but overall I trust them to score in plenty, potentially even on defense.
I would look to add an anytime Ravens' defensive TD once the game props release. But, for now, enjoy these juicy odds! The Ravens are 3-1, covering -9 in their last four Week 1 starts; the Houston Texans are another excellent spot for the trend to live on.
Ravens -9 (-110) + Un 45.5 (-110) = +264 Odds
Tampa Bay Buccaneers (+235) @ Minnesota Vikings (-280)
Game Total: 46.5 Points
Game Spread: Minnesota -7 
While I really like the Vikings to win this game. I don't have out-of-this-world confidence in the results of this game Mid-May. The reason is that both teams are likely to experience roster upgrades and downgrades.
Dalvin Cook is on his way out the door, and the Buccaneers will likely add a running back (…maybe Dalvin Cook) and perhaps even a Quarterback if the team realizes that their rostered QBs aren't the answer.
Although roster changes throw a wild card at this matchup, I still like Minnesota to win. Kirk Cousins is a far better quarterback than Baker Mayfield, Kyle Trask, and the remaining Free Agency field. Unfortunately, there likely is little that Tampa could do between now and Week 1, but never say never in the NFL.
We've seen some crazy things happen, even Tom Brady coming out of retirement; not saying it's going to happen again. We never know what these teams will do. So I'm sticking with Minne ML for now.
Minnesota ML (-280)
Highest-graded passer when under pressure in Week 1:

Kirk Cousins – 82.6 ? pic.twitter.com/o3xHtLBX8I

— PFF (@PFF) September 14, 2022
Cincinnati Bengals (-130) @ Cleveland Browns (+110)
Game Total: 47 Points
Game Spread: Cincinnati -2.5
Sportsbooks list this game as a close matchup. You're getting good value on either side of the money line, and I believe we also see a climb in the point total the closer we get to Week 1. I'm planting my flag on the Bengals in this matchup, they're a far more trustworthy team on offense, and I believe they'll set the pace in Week 1.
Joe Burrow has ascended in the NFL and brings back his three top receivers in Ja'Marr Chase, Tee Higgins, and Tyler Boyd. This will be this group's fourth year together. This group will be ready to run in Week 1.
Meanwhile, Deshaun Watson and the Browns will be navigating a new roster. This will be Watson's first opportunity to play a full season since his suspension. I don't expect the Browns to lay over Week 1, but it's hard to back the group with how they faded in the second half of last season.
While the Bengals did lose Week 1 last year to a lowly Mitch Trubisky-led Pittsburgh Steelers, I believe the Battle of Ohio will fuel Burrow to perform at a high level. The two teams will put on a show, and I'll be willing to smash any point total up to. 49.5.
Bengals ML (-130) + Over 47 Points = +237 Odds
Tennessee Titans (+150) @ New Orleans Saints (-175)
Game Total: 42 Points
Game Spread: New Orleans -3.5
I'm taking the Saints in this one. I believe the game could be close, so I wouldn't rule out taking Tennessee to cover the spread of +3.5. However, I trust the Saints more, specifically because of their defense.
The Saints added Tyrann Mathieu this offseason; he adds more upside to their secondary and backend run support. Mathieu will be heavily involved in stopping the Titans' rushing offense led by Derek Henry.
If you're backing the Titans, you're buying that Derek Henry will shine the brightest in Week 1. Unfortunately, I'm not a believer that he can win this one on his own. The Saints have upgrades on both sides of the ball and paid up for their franchise QB Derek Carr. So I'm expecting them to show out on offense.
The total feels slightly low at 42 points; I'm willing to take the Over here but not in a parlay. I like the Saints to walk away with a 24-21 victory, so again, I don't hate taking the Titans to cover a 3.5-point spread. I could see the spread narrowing if Tennessee were to make an addition on defense; we were a strong group last year,  just not a very deep group.
Saints ML (-175)
Titans +3.5 (-110)
Over 42 Points (-110)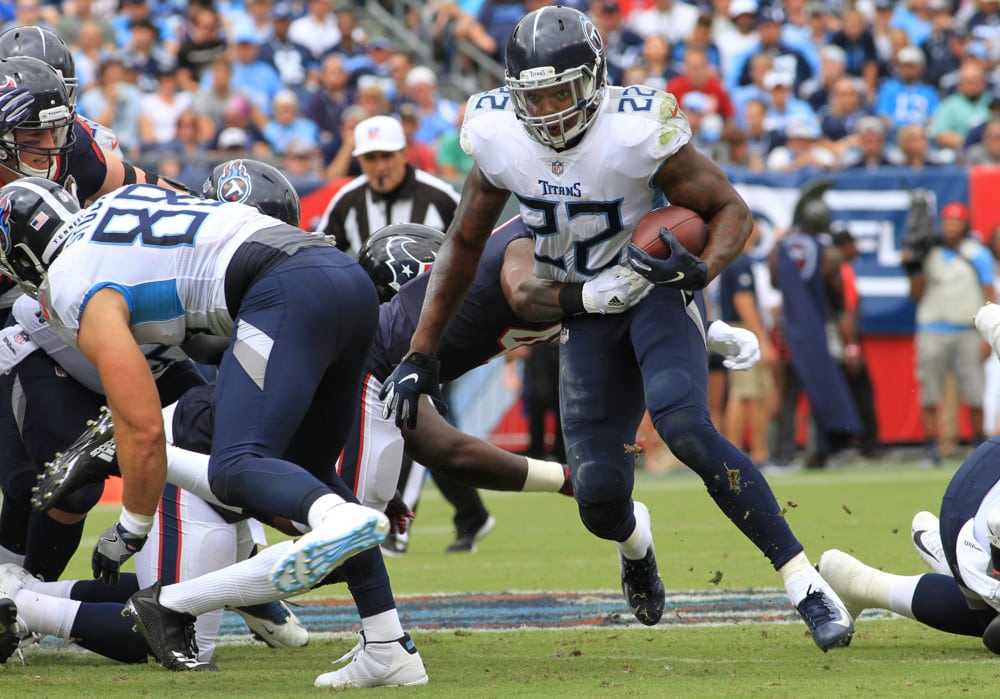 Arizona Cardinals (+185) @ Washington Commanders (-215)
Game Total: 40.5 Points
Game Spread: Washington -5.5
I like the Commanders in Week 1 against the Arizona Cardinals. The Cardinals have many questions that need to be answered. How long will Kyler Murray be sidelined?
Will DeAndre Hopkins still be on the roster? Who is the Week 1 starting QB? The Cardinals have a franchise QB, but they feel like a team that's rebuilding rather than contending.
The books have the Cardinals at a big disadvantage in Week 1. But don't put that all on the question marks around Arizona. The Commanders have made strides in improving their roster.
There is some that debate in favor of Jacoby Brissett being the Week 1 starter over Sam Howell, but I'm pulling for Howell and believe his rushing upside gets him on the field to start the season.
I have a hard time debating the game flow of this matchup because of so uncertain factors from both sides. Therefore, I will stay away from the total, but my gut tells me to take the Under 40.5 points.
The 5.5-point spread also feels questionable and inclined for movement in the coming months. Therefore, I'm staying away and keeping my pick exclusive to the Money Line.
Commanders ML (-215)
San Francisco 49ers (-145) @ Pittsburgh Steelers (+125)
Game Total: 42 Points
Game Spread: San Francisco -3
I'm riding with the Upset in this matchup! Please give me the Steelers at home in Week 1. We get to watch two great coaches in, Kyle Shanahan and Mike Tomlin, battle it out; expect two prepared teams in this contest. The Steelers shocked the world last year in Week 1, walking away with a victory over the Cincinnati Bengals in overtime. Pittsburgh won that game with Mitch Trubisky under center.
The Steelers struggled mightily after that victory and dropped six of their next seven games before the team's bye week. However, after their bye week, the Steelers improved, finished the year 7-2, and rallied their record to 9-8.
Kenny Pickett will be in year two, and I expect him to continue to grow as a quarterback. He's technically still on a heater, as the Steelers ended last year with four straight wins and no playoff appearance.
I'm less bullish on the 49ers in Week 1 simply because I'm not certain who their starting quarterback will be. It doesn't appear that Brock Purdy will be available early in the season, and I don't trust Trey Lance or Sam Darnold to win this game on the road. Toss in an anytime interception for either starting QB on the 49ers side.
I won't be playing the game total in this matchup. The number feels low with the firepower available in the skill positions on each team's offenses. However, I will wait to see where this number lands as we get closer to Week 1. If I haven't done enough to sell you on the Steelers ML, I would strongly suggest staring at the +3 spread.
Steelers ML (+125) or Steelers +3 (-115)
Carolina Panthers (+125) @ Atlanta Falcons (-145)
Game Total: 43.5 Points
Game Spread: Atlanta -2.5
We have a close division matchup in this contest to open Atlanta and Carolinas' season. I lean in favor of Atlanta here as I've grown fond of their new QB, Desmond Ridder. However, the real edge the Falcons hold this early in the year is their rookie star RB, Bijan Robinson.
Bijan has already fielded questions about where he'll lineup and get touches in the offense. The simple answer is everywhere! The public expects him to make an immediate impact.
The Falcons' offense has a plethora of weapons and feels like a deeper group, giving me the confidence to grab them with the moderate -145 odds. We could see the odds move even more in favor of Atlanta if we continue to get inclinations that Andy Dalton will start Week 1.
The Panthers added a plethora of weapons on offense, but many of these additions feel like piece-mealing talent and not necessarily a group I trust to be immediately cohesive. For example, the Panthers added Adam Thielen, Miles Sanders,  Andy Dalton, and D.J. Chark to short-term deals; all feel like positional bridge gaps.
These players will take away snaps from key rookies with similar, if not higher, upside early in the season. Nevertheless, the Panthers will blossom throughout the season; I'll have more confidence in them once I see positive signs that their first overall pick Bryce Young is ready to take the reigns.
There are too many wild cards to bet the game total this early in the year. I recommend waiting until we get a clearer idea of the starting QB for Carolina. Carolina keeps saying Andy Dalton; I'll hold them to it.
I've seen this before with my Chicago Bears. Justin Fields didn't start Week 1 of his rookie season, but he did score a touchdown…Andy Dalton was the Bears' starter.
Falcons ML (-145)
.@AtlantaFalcons HC Arthur Smith on expectations for Desmond Ridder this season. pic.twitter.com/Gd8yeZAMST

— Jim Rome (@jimrome) May 16, 2023
Jacksonville Jaguars (-175) @ Indianapolis Colts (+150)
Game Total: 43.5 Points
Game Spread: Jacksonville -3.5
Why does this game reek of an upset?! I should be super confident in Jacksonville in Week 1, even when opening on the road. However, something tells me the Colts will surprise us in Week 1, and because of that, I'm taking them on the spread. The Colts open as Home Dogs, and I believe they have enough weapons to duel the Jaguars in a tight game, win or lose.
Not sure if people forgot who Jonathan Taylor is, but he will be healthy and back in the lineup for the Colts. The Colts added receiver depth like Josh Downs via the draft and Isiah McKenzie via Free Agency. Then the elephant in the room; all signals point to Anthony Richardson starting Week 1 for the Colts. The sportsbooks know this no dissimilar to the rest of the market.
I would have assumed the Jags would be heavier favorites after winning their division and upgrading their offense with running depth and a top-tier receiver in Calvin Ridley. The Jaguars surged last year, and I'm quite high on them for this upcoming 2023 season, but this feels like a trap game.
The Colts open at home and have a huge wild card at QB; we have no idea if Richardson will absolutely boom or bust. He's being evaluated as QB10 in season-long best ball tournaments; the public couldn't be any higher on him. Perhaps I've caught the Illness of his Hype? Nevertheless, I'm fearful of backing the Jags Week 1.
I'm also staying away from the total here; I'm getting good odds on the spread, no need to get greedy. However, If you like the current number, take the Over; I only see it climbing the more confidence grows in Richardson as a starter.
Colts +3.5 (-110)
Philadelphia Eagles (-200) @ New England Patriots (+170)
Game Total: 46 Points
Game Spread: Philadelphia -4.5
This is another keep-it-simple game. One of these two teams played in the Super Bowl last year. The other operated a two-QB system to keep opposing defenses on edge; I'll let you work that out yourself. The Eagles! Yes, the Eagles are the easy pick in this game, especially on the spread.
People can hee-and-haw all they want about Bill Belichick and how he's a masterful coach, and there isn't a game the Patriots aren't in because they always have him to lean back on. False Narrative! Or, as Succession star Kieren Culkin would say, False Flag!
The Eagles bring back a deep offense and defense, while the Patriots have continued to layer themselves with sub-optimal talent. The Patriots were rumored to be in the market for a QB and move on from Mac Jones, but I've yet to see any signs that he won't be their starter in Week 1.
Honestly, I think the Patriots should be closer to eight or nine-point dogs. So I'm taking the Under in this game. I don't trust the Patriots to score more than 1.5 touchdowns, even at home. I like the Eagles 31-12.
Eagles -4.5 (-110)
Jalen Hurts has ice in his veins pic.twitter.com/r1lJz5U6dm

— tom stakes (@tomstakes) May 16, 2023
Green Bay Packers (+110) @ Chicago Bears (-130)
Game Total: 44 Points
Game Spread: Chicago -2.5
There is no way I'm backing Jordan Love and the Green Bay Packers in Week 1. Firstly, it's against my religion. Secondly, the Packers have no interest in winning this season. The Packers will bless betters with close lines similar to these odds early in the year; attack them! Finally, the Packers will be in the Caleb Williams sweepstakes as they'll look to turn the page from a post-Aaron Rodgers era.
Justin Fields and the Bears' offense came alive down the stretch last season. They also added receivers, Chase Claypool and DJ Moore. Chicago boosted their run game and offensive line in the NFL Draft. The Bears are on an upswing, and the Packers are falling from grace.
The Packers lack a strong group of position players on offense outside Aaron Jones and AJ Dillon. I like Christian Watson in theory, but I believe we see significant regression from his production with Love at QB. Expect the Packers to lean on the run game in this matchup. They can run…but they can't hide; Bears by 10!
I feel good about taking the over here as well. The Bears should be able to put up a fair amount of points with their upgrades on offense and let up a few touchdowns as they acclimate their defense with new additions like T.J. Edwards and Tremaine Edmunds. Bears win 30-17.
Bears -4.5 (-110) + Ov 44 (-110) = +264 Odds
Las Vegas Raiders (+150) @ Denver Broncos (-135)
Game Total: 45 Points
Game Spread: Denver -3.5
This is another tough call, but I'm riding the Raiders upset in Denver. It's hard for me to believe that Sean Payton will come in and completely turn this Broncos team around. Sure, I could buy that as a season-long narrative, but not enough to trust my bankroll in Week 1.
Jimmy Garoppolo reunites with Head Coach Josh McDaniels from their time together in New England. There's some familiarity there, and I trust he'll have a very well-scripted playbook for Jimmy to follow. The Raiders also have the advantage in the running game, with Josh Jacobs coming off a career year.
I don't love the Raiders this year, but this is a great spot to open the season; against another team that struggled last year and with a less-than-threatening QB opponent in Russell Wilson. Both teams will play at a slow pace and try to manage the clock and out possess the other. While this game may not be an exciting one to watch, I see the Raiders coming out on top and the Under cashing.
Raiders ML (+150) + Under 45 Points (-110) = +377 Odds
Miami Dolphins (+115) @ Los Angeles Chargers (-135)
Game Total: 49.5 Points
Game Spread: Los Angeles -2.5
In this game, I'm taking the road dog Miami Dolphins as they visit Los Angeles to open the 2023 season. The Dolphins had an explosive offense last year, while the Chargers constantly searched for answers on offense and defense.
The rosters for both teams feel quite similar to last year regarding schemes and skillsets. Both of these teams are going to throw the ball a lot in this game, hence the nearly 50-point game total.
I expect fireworks in this game and lots of scoring; the Chargers weren't a clutch team last season. I trust the Dolphins in a shoot-out a tad more than I do the Chargers. Their offense is about being fast and vertical; it's not an ideal Week 1 challenge for any defense.
The Charger's defense could make strides, but they were PFF's 27th-ranked defense last year, another spot where a good improvement won't be enough to sway the scales. As I said, I really like the Over 49.5 points; both teams have the talent to score. I trust the Dolphins and their talent more.
Dolphins +2.5 (-110) + Ov 49.5 Points (-110) = +264
Dallas Cowboys (-145) @ New York Giants (+125)
Game Total: 47 Points
Game Spread: Dallas -2.5
The Dallas Cowboys head to New York for the first Sunday Night Football game of the year. It should be very interesting as the Giants enter as Home Dogs. I'll be backing the home team in this one, as I'm getting great odds from sportsbooks. I received +100 odds for the Giants to cover +2.5 at Draft Kings; they're just +125 on the money line.
The Giants have the better coach in this matchup, while the coaches don't take snaps. It's hard for me to back Mike McCarthy on the road. The Cowboys lost OC Kellen Moore in the offseason, and I see the ripple effects of that loss being relevant in Week 1. The Cowboys need time to break into their new playbook under Brian Shottenheimer.
The Giants have a deep group of receivers, and Brian Daboll seems to have unlocked Daniel Jones. I look forward to seeing Jones in year two of Daboll's offense. Jones has speedy receivers, an elite RB in Saquon Barkley, and a huge upgrade at TE in Darren Waller; it will be hard for me not to back that group over Dallas in Week 1.
I prefer the Under in this game. I expect the Cowboys to put up points but fall short in a more grind-it-out matchup. The Giants win 24-21.
Giants +2.5 (+100) + Un 47 Points (-110) = +281
Buffalo Bills (-120) @ New York Jets (+100)
Game Total: 48 Points
Game Spread: Buffalo -1.5
This is not a great spot for Aaron Rodgers to start fresh in New York. It will be an uphill battle for the Jets and Rodgers as they host the mighty Buffalo Bills in Week 1. Don't let recency bias fool you. The Bills are still the better team in this matchup and will show it. Rodgers will have the wild card factor, but I don't trust him to be on the same page with his guys in Week 1.
We've seen Rodgers struggle with timing issues with players in the past, and it won't be surprising when the pundits lead with that excuse in the post-game analytics. I like the Jets receivers and LOVE Breece Hall, but I suspect there will be plenty of kinks to work out of the offense.
The Bills, meanwhile, will be wheels up and ready to roll with their usual cast of characters with a few additions to boost the offense. Josh Allen is 3-1 in his last four Week 1 starts, two wins that also came against the Jets. Another game to keep simple! Hammer the Bills!
I won't be touching the game total, but my inclination is to take the Under. I'm not bullish on New York scoring more than 20 in this game. The Bills win 27-17.
Buffalo Bills ML (-120)