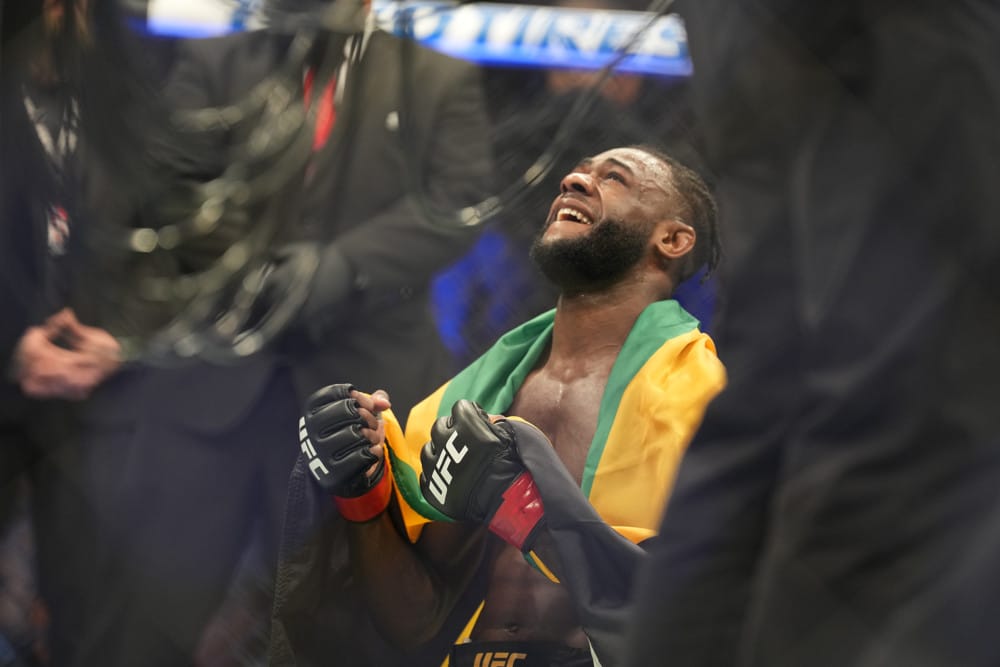 We've made our way to the next pay-per-view. UFC 288 is upon us, and with it are a lot of closely-lined fights. That can make putting together a DFS lineup for the event a nightmare or a breeze. We've done some of the early heavy lifting for you to make sure it's more of the latter than the former.
Go here for more free UFC picks!

UFC 288: Daily Fantasy Lineup
$9,400 – Movsar Evloev
Evloev was already a daily fantasy value when he was fighting Bryce Mitchell. He constantly racks up control time and would probably handle Mitchell easily on the feet. Now he gets a last-second replacement in Diego Lopes, who is a deserving signee, but one with flaws.
In his Contender Series bout with Joanderson Brito, he was taken down and controlled for eight of the ten minutes in the fight. Nevertheless, Evloev should have plenty of top control, and if he lets the ground and pound go, the big salary will be well worth it.
$9,100 – Ikram Aliskerov
I don't usually dig for a pair of fighters over 9k when I'm putting together lineups, but these seem just too good to pass up. Like Evloev, Aliskerov has great takedowns and excellent control. In addition, he's a quick finisher who gets right after it, which should help him score some extra points at UFC 288.
Ikram Aliskerov is the only man whose proven he can withstand the takedown pressure of Khamzat Chimaev. #DWCS

Here's a display of masterclass takedown defense during their bout in Brave CF: pic.twitter.com/EZiLvKgDLE

— Mumps Khabib (@DeepOceanEagle) September 14, 2022
$8,300 – Rafael Estevam
Load me up on wrestlers at UFC 288. Estevam is another guy who will relentlessly get after it for you with the takedowns. We saw him on Contender Series go right into the belly of the beast when he fought João Elias. Despite facing a talented grappler with four straight wins by submission, Estevam went right to his wrestling and ran circles around his opponent. Zhalgas Zhumagulov is a bit of a step up, but one who has faced wrestling issues in the past.
$8,100 – Aljamain Sterling
You may go back and forth on this main event, and the odds are razor close – but I really like the value of Sterling. With the exception of the Marlon Moraes knee, Sterling has never been finished. That means you're likely to get 25 minutes of work from him here, which should be a good chance for points at this salary. His output also gives me much hope, as he averages 4.70 strikes landed per minute.
Aljamain Sterling catching kicks pic.twitter.com/AgdtwFlNvX

— Miguel Class (@MigClass) May 2, 2023
$7,600 – Braxton Smith
Smith is my dart throw of the week. Sure, he's relatively inexperienced at just 5-1 in his short pro career, but you have to love the power coming in from this guy. He throws absolute bombs every time he gets the chance. Parker Porter returns less than three months after being knocked out by Justin Tafa. Smith might be less nuanced on the feet, but that also might not matter.
$7,500 – Roman Dolidze
I'm closing out my lineup this week is Kron Gracie, who has been out of the cage for three years. While that is alarming for some people, Gracie had a clear area that he needed to work on – his wrestling. It may be a large assumption to think that he will return with some much sharper wrestling, but he also might not need to be that much better.
Charles Jourdain was taken down multiple times by Shane Burgos, who also worked right to the Canadian's back. Any time on the mat here and the fight should be over, and that finishing ability makes him an even better target for UFC 288.
If you'd like even more information on UFC 288, be sure to check out the MMA Gambling Podcast. The guys are dropping episodes every week to make you the smartest guy at the bar.