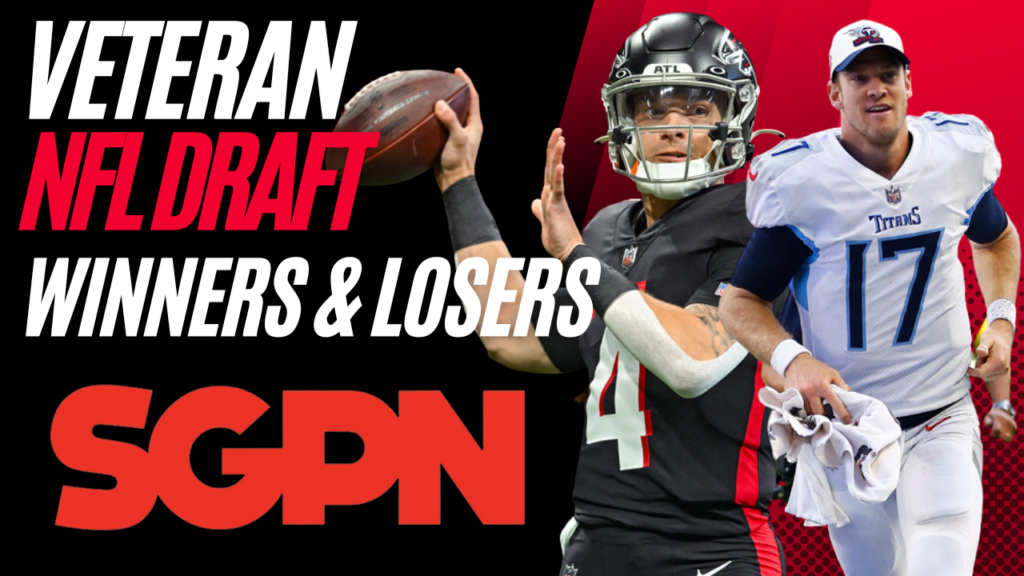 The NFL Draft is behind us and has changed the dynasty outlook for many players. Everyone is talking about the rookies. There are also a lot of veteran draft winners and draft losers. This happens every year, and sometimes it is easy to see coming. We also get surprised every year, and this year we had a lot of surprises. I will talk about veterans only who were either winners or losers following the 2023 NFL Draft.
Go here for more NFL content!

MORE SGPN FANTASY FOOTBALL CONTENT
Follow SGPN Fantasy Football on Youtube
NFL Draft Recap: Veteran Winners and Losers
Quarterbacks
Sam Howell, WAS – Winner
Sam Howell gained some dynasty value during this draft simply by the Commanders not drafting a quarterback. Howell was a 5th-round pick in 2022; anyone drafted on day 1 or 2 would have been direct competition. The Commanders added some offensive line help for Howell as well.
The team spent a first-rounder on Jahan Dotson last season and has a solid group of pass-catchers. Howell was going for a mid-late second before the draft. Now he is worth an early-mid second in Superflex.
Desmond Ridder, ATL – Winner
Desmond Ridder also dodged the rookie quarterbacks. I thought Atlanta would be a dark horse for Levis or Hooker. I also thought they could have been in on the Lamar Jackson sweepstakes. Neither happened, and Ridder is scheduled to be the starter. Ridder will benefit tremendously from the team's having to game plan for Bijan Robinson.
Robinson adds another receiving threat for Ridder as well. The team also added Mathew Bergeron, who can play Tackle or Guard, to help solidify that line. Ridder was going for around the same price as Howell pre-draft and about the same post-draft.
Lamar Jackson, BAL – Winner
Lamar Jackson was a huge winner on draft day. He signed a monster contract on Draft Day alone and a $260 Million contract. Then the Ravens drafted Zay Flowers in Round 1. Great day for team Lamar, as the team has helped build around him this offseason.
The addition of Odell Beckham Jr. and the return of Rashod Bateman give Jackson the best WR room he has ever had. Todd Monken is the new offensive coordinator who just won a national championship with Georgia. Monken does have NFL experience and was a part of the Jameis Winston top-five fantasy quarterback days.
Daniel Jones, NYG – Winner
Daniel Jones keeps winning this offseason. The team wanted to get faster, and they kept doing it. They traded for Darren Waller and signed Parris Campbell. Then the Giants added one of the fastest players in the draft, Jalin Hyatt. Their second-round pick might be just as impactful.
The Giants drafted John-Michael Schmitz out of Minnesota. They needed some help with the interior, and this was the consensus top Center. Stock up for Daniel Jones, who got a big extension this offseason after having a career year.
Geno Smith, SEA – Winner
Geno Smith was a big winner as the team had many picks and used them to build around him. They didn't draft his replacement, and they gave him weapons. The Seahawks added the consensus top wide receiver and one of the top running backs in the class. The team also added some interior offensive line help and attacked the defense.
Ryan Tannehill, TEN – Loser
Ryan Tannehill lost in many ways this offseason. The Titans traded up for a quarterback and drafted Will Levis. This is the second year in a row that the Titans drafted a quarterback. Levis could take over for Tannehill at some point this season.
The Titans also appear to be rebuilding and have moved on from several key players, including Taylor Lewan and Ben Jones. They lost veterans Robert Woods and Austin Hooper in free agency. The team did attempt to address the offensive line by adding Peter Skoronski and Jaelyn Duncan. But they didn't add a wide receiver until the seventh round (Colton Dolwell). Tannehill's stock was on the way down; this made matters worse.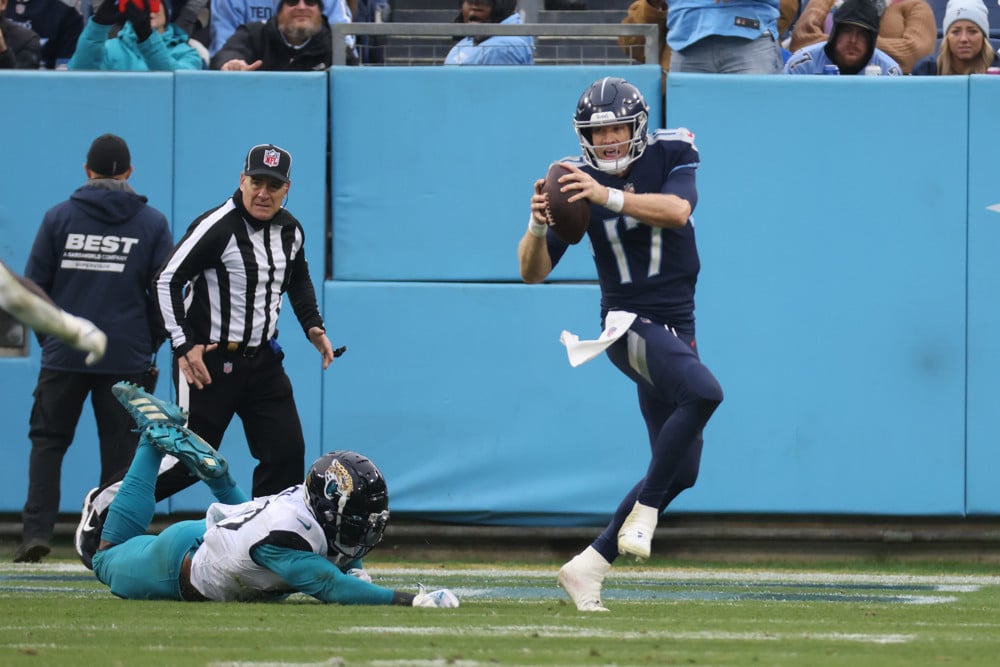 Dak Prescott, DAL – Loser
The Dallas Cowboys missed Dalton Kincaid and the top 4 tight ends. They did get Luke Schoonmaker, but they saw Buffalo trade ahead of them for Dalton Kincaid.
The team did not add a running back yet. They could add a veteran back via free agency or trade. The team used a pick to trade for Brandin Cooks, which offers short-term help. But they didn't add another WR until the 7th round. Dak would have benefited from the team using an early pick on the offensive line or an offensive skill position.
Mac Jones, NE – Loser
The Patriots passed on adding a wide receiver early in this draft, and the team focused on defense early in the draft. However, they did add some help later on at offensive line and wide receiver. Mac Jones could have benefited from some early offensive line help and more offensive weapons.
Davis Mills, HOU – Loser
The Houston Texans had people believing they would pass on the quarterback. You might have had a small window to sell Mills for something. At this point, you may have to pay someone to take him.
---
Running Backs
Tony Pollard/Malik Davis, DAL – Winners
Tony Pollard didn't get a big contract but could have a big opportunity. The team could have added a top running back like Zach Charbonnet, and they decided not to. They could still add a veteran like Fournette, Elliot, or Kareem Hunt. But, for now, the backfield pairing is Davis and Pollard. This could lead to a big opportunity for both players. Ronald Jones is on the team, but Davis is listed above him on the depth chart.
Rachaad White, TB – Winner
The Buccaneers were a dark horse for Bijan Robinson and didn't even draft a running back. They also let Leonard Fournette go this off-season. So as of now, it is Rachaad White.
Dameon Pierce/Devin Singletary, HOU – Winners
A lot of running backs met with Houston this offseason. They ended up not drafting a running back. This benefits both running backs, who would have taken a big shot if the team added Gibbs or Robinson. In addition, the team added several interior offensive linemen, which also helped the running backs.
Rhamondre Stevenson, NE – Winner
The Patriots are another team in the market for a rookie running back. The Patriots ended up not drafting a running back. The team did draft two running backs last season, and both are also winners. Kevin Harris and Pierre Strong Jr. will compete for that second spot in the depth chart.
Joe Mixon, CIN – Winner
The Bengals are a team that was being mocked for Bijan, Gibbs, or Charbonnet. They did draft a running back, but it wasn't until day three. They got Chase Brown, but Joe Mixon appears to be safe now. Currently, Joe Mixon is the starting RB for the Bengals in 2023.
Dalvin Cook, MIN – Winner
Dalvin Cook was another player that we thought could get some serious competition. The Vikings added Dewayne McBride, but not until the 7th round. Cook could still get traded, and let's be honest, that wouldn't be a bad thing. But, as of now, he is a winner.
D'Andre Swift, PHI – Winner
The Lions hated D'Andre Swift, and he was a loser on Day 1. But Swift being healthy to the Eagles was a big win for him. It is a crowded backfield for fantasy but a much better offense. Miles Sanders was the RB13 last season.
Cam Akers, LAR – Winner
The Rams did add Zach Evans, but they waited until Round 5. McVay has added a running back every year. The draft capital is a good sign for Akers. A day two back like Charbonnet would have been a big problem. Akers earned back the trust of the team and some dynasty managers last season. He finished the year strong and should be the lead guy this season.
Tyler Allgeier, ATL – Loser
I don't think there is a bigger loser than Tyler Allgeier. Bijan Robinson is a dual-threat back, and the team will not have him split the backfield with anyone. So this should not be a huge surprise that a 5th round running back was replaced. Draft capital is extremely important, and Allgeier's value took a big hit.
Ken Walker III, SEA – Loser
If you could have ranked all 32 teams, the Seahawks would have been bottom five to add Zach Charbonnet. Instead, they did and added one of the top pass-catching running backs in the class. All of a sudden, Ken Walker has a crowded room and reportedly is going to be competing with Zach Charbonnet. Charbonnet is a better pass-catcher and will earn his share of opportunities.
Khalil Herbert, CHI – Loser
The Bears let David Montgomery walk in free agency but continue to add to the running back room. The team added D'Onta Foreman, Travis Homer, and now Roschon Johnson. Herbert could still be the starter, but his confidence is getting shaky. The team did not draft him, and he could be moved on easily. Johnson in the fourth round is enough to make me nervous.
Rashaad Penny, PHI – Loser
The Eagles traded for D'Andre Swift. So Rashaad Penny will already split carriers with Jalen Hurts, Kenneth Gainwell, and Boston Scott: a great offense and a great opportunity, but a crowded backfield.
---
Wide Receivers
Jets' WR Room, NYJ – Winners
The Jets were rumored to be in the market for a top wideout. However, Corey Davis and Allen Lazard benefit from the Jets not adding a young weapon. They also benefit from the team trading away Elijah Moore in order this off-season. Finally, Garrett Wilson benefits from getting an upgrade at quarterback.
Mike White signed with Miami, and Joe Flacco is a free agent. Wilson was looking at Zach Wilson, Tim Boyle, and Chris Streveler at quarterback. Rodgers also has publicly committed to playing behind 2023, all good news for these pass catchers.
Van Jefferson, LAR – Winner
Van Jefferson is a sneaky winner this offseason with Allen Robinson out of town and the Rams not adding a high-profile rookie WR. Jefferson missed most of the 2022 season and constantly competed with free-agent wideouts. Jefferson is familiar with the offense and could be the second option behind Cooper Kupp.
Isaiah Hodgins, NYG – Winner
The jokes about the Giants and their slot receivers continue. They added Jalin Hyatt, who is a smaller slot WR. Isaiah Hodgins, at 6'3″, is the biggest option outside of Darren Waller on the Giants. Hodgins became the Giants' top target last season and remains their top outside option.
John Metchie III, HOU – Winner
John Metchie is back on the field, making him a winner. Metchie getting C.J. Stroud helps, and the team not adding Jaxon Smith-Njigba helps s well. The team did add some pass-catchers, but not until later in the draft. The team also traded away Brandin Cooks. Metchie will compete for targets with Robert Woods, Nico Collins, and Dalton Schultz.
Tyler Boyd, CIN – Winner
The Bengals were expected to add a tight end but did not. Instead, they added Charlie Jones on day 3, but Tyler Boyd's role in this offense will continue in 2023. Boyd was top 3 targets for the third consecutive year, and that trend will continue.
Josh Palmer, LAC – Loser
Quentin Johnston will take Palmer's role in the offense immediately. Palmer had a good stretch last season until Keenan Allen returned. So he has more competition on the offense and a healthy Keenan Allen.
Rashod Bateman, BAL – Loser
The Ravens used a first-round pick on Zay Flowers and recently signed Odell Beckham Jr. Rashod Bateman is going into year three and has not yet returned on investment for Baltimore. Bateman will benefit from the changes at offensive coordinator. But, he will not benefit from the extra mouths to feed.
Khalil Shakir, BUF – Loser
There was hopeful excitement for Shakir this season; Dalton Kincaid puts a damper on that. He is essentially a big-slot WR for the Bills. Kincaid will be used in the slot and lined up outside the formation. This will eat into Shakir's production and opportunities.
---
Tight Ends
Irv Smith Jr., CIN – Winner
The Bengals were being mocked for grabbing a tight end early. They didn't grab a tight end at all. Irv Smith still obviously sits behind a star-studded threesome of wide receivers. But Hayden Hurst consistently put up 8-10 fantasy points in 2022. If Smith stays healthy, he only has to beat out Drew Sample for targets.
Tyler Higbee, LAR – Winner
The Rams are looking toward the future but did not trade Tyler Higbee. They also didn't add a lot of competition to Higbee for targets. The Rams traded away Allen Robinson and did not use any early picks on pass catchers. They did add Davis Allen and Puka Nacua on day three, but nothing in the first three rounds. As a result, Higbee could end up third on the team in targets this upcoming season.
Juwan Johnson, NO – Winner
The Saints traded Adam Trautman and did not add any pass catchers early. They did add A.T. Perry late, but Johnson should be in line with more targets this season with new quarterback Derek Carr. He offered some solid production last season and could do it again in 2023.
Tyler Conklin, NYJ – Winner
Tyler Conklin benefits from the addition of Aaron Rodgers to the team. He also benefited from the team not taking a wide receiver early. They did take Zach Kuntz later in the draft, but a player like Jaxon Smith-Njigba would have crushed his target share.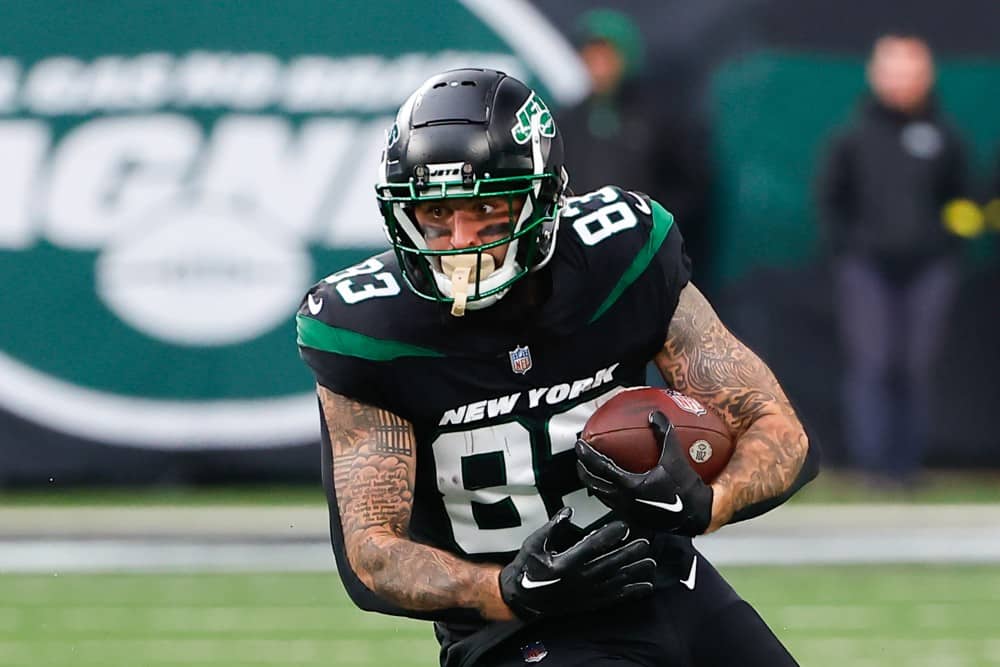 Dawson Knox, BUF – Loser
The Bills traded up for Dalton Kincaid and used a first-round pick on him. Kincaid's athletic profile and pass-catching ability will threaten Knox early. However, Knox was already not getting enough targets consistently to be a player you could count on weekly.
Austin Hooper, LV – Loser
Austin Hooper benefited from the trading of Darren Waller, but the team just added Michael Mayer. Mayer is seen as one of the top tight ends in the class and will earn playing time early. Hooper was not someone who had a lot of value, but any value he had is lower now.