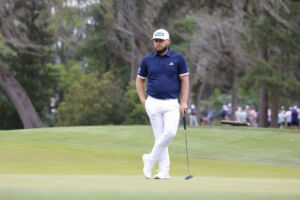 We are back with another elevated event which will look a little different than the rest as both of the top two players in the world are taking the week off here in Charlotte. Rory McIlroy headlines the field and returns to the course where he slotted his initial PGA Tour win and has had plenty of success in his career. A course where Rory has dominated must mean one thing, the driver is important. So let's take a look at a few golfers who have the skills to succeed at Quail Hollow this week.
Go here for more GOLF content!

2023 Wells Fargo Championship DFS: Best Plays in Each Price Range
2023 Wells Fargo Championship DFS – $9,000+
Patrick Cantlay $10,500
Not done with Cantlay yet. No chance. Simply "playing the guys who have been playing well" has been a great strategy of late, and Cantlay has been amazing. Heading to a driver-heavy golf course, Cantlay ranks 2nd in both strokes gained off the tee and total driving. All of the winners at Quail Hollow are elite drivers of the golf ball, and I am not willing to hop off a guy who has been doing us so well and is an excellent course fit this week.
Matt Fitzpatrick $9,300
Sticking to the "elite off the tee" narrative. Matt Fitzpatrick seemed to have found something at Augusta, and that clearly transitioned into something, winning at Harbour Town the following week. On paper, Quail Hollow makes plenty of sense for Matt Fitz, driver-driven and tougher conditions. However, Fitz is a grinder and will find his way to the top of the leaderboard come this weekend.
2023 Wells Fargo Championship DFS – Middle Tier
Justin Thomas $8,900
Justin Thomas is blocked from the betting card but is a staple DFS play for me on a weekly basis. He does not have much experience here as this is not a course JT regularly plays, but he has a T7 finish on his resume.
Justin Thomas swing speed 💪💪#justinthomas #swingspeed #golfswingpic.twitter.com/Xor78q8IHu

— GOAT Golf (@GoatGolfHoles) April 26, 2023
No course is a "bad" fit for JT, but I would put Quail Hollow at the top of the list. Off the tee and ball striking is at a premium this week, and he will not need to roll in 25 birdies, which he is quite frankly incapable of at this point in his career. Keep playing Justin Thomas as his price drops. It will pay off sooner than later.
Tyrell Hatton $8,500
Tyrell Hatton is a guy who will go under the radar this week and feels like he will quietly go about a top-10 finish. Just like I always say, play Keith Mitchell at Rory McIlroy golf courses. You can say the same thing about Hatton. He has only played this track one time and has modest T42 finish years back. I think this is a good thing because it will keep his ownership on the lower end.
2023 Wells Fargo Championship DFS – $6,000 Range
Will Gordon $6,900
Will Gordon ranks 13th on the entire tour in total driving, which is good for top 10 in this field. As stated above, this is the most important stat this week, and Gordon fits that build.
He is coming off a made-cut and a 24th-place finish at another driver-heavy golf course in Mexico. He was in the top five over the weekend but faded late, which has been his problem this season. In this 6K range, you would rather a guy fade late after making it through the cut than come out and play badly out the gates. So insert Willy G into your lineups at 6.9K.