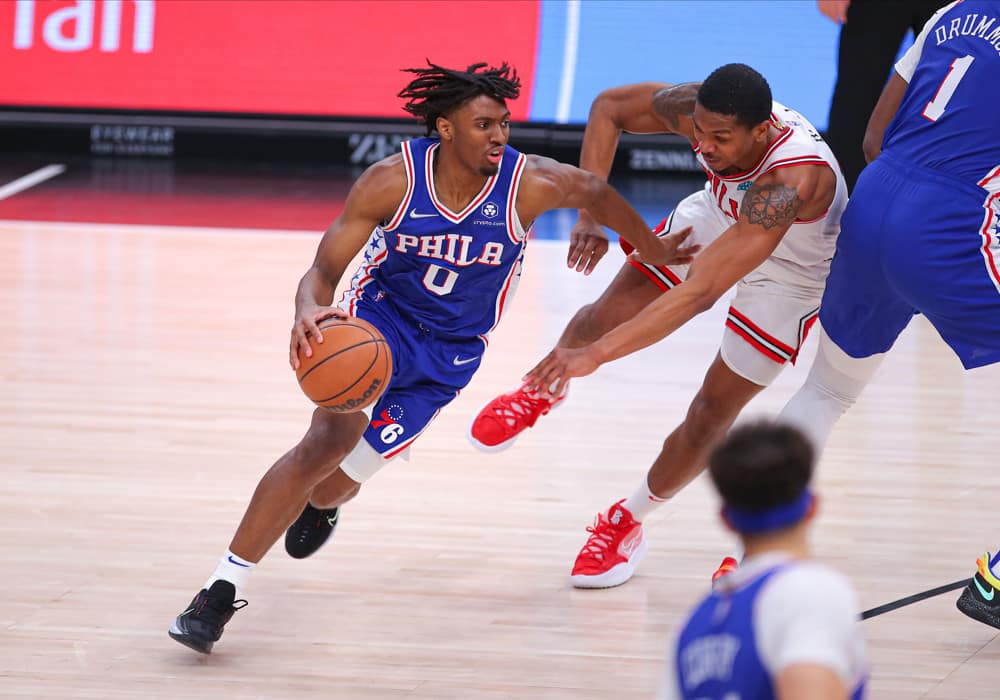 The first weekend of playoffs is in the books. The overreactions began, and we saw some incredible basketball. We are going to start our week with two same-game parlays. These odds are from Fanduel, so be sure to shop around and get the best odds. We have not had a lot of success with these, but today is the day!
Go here for daily free NBA picks!


NBA Playoffs: Game 2 – Same Game Parlays
Brooklyn Nets @ Philadelphia 76ers
Tyrese Maxey 20+ Points

 
Tyrese Maxey had 20 or more in nine of his last 12 games. However, he did not play particularly well in game one, specifically struggling to convert at the rim. As we saw in game one, the 76ers torched the Nets from deep off the Joel Embiid double team. Only eight shot attempts were odd to see from Maxey, especially with the James Harden Achilles injury being a factor. I'm looking for a more aggressive Maxey in this matchup! 
Spencer Dinwiddie 8+ Assists

 
For those of us who had Spencer Dinwiddie over 7.5 assists in game one, we watched him get six in the first half and only one in the second half. So like the true degenerates (or idiots), we are right back on it. He has had eight or more in 17 of his last 22, including 12 games with double-digit assists. Not going to overthink it here, and hope that Claxton can actually catch and convert some of the Spencer lobs. 
Spencer Dinwiddie on whether he's still gaining rhythm with Nic Claxton on lobs:

"I don't throw the baby out with the bathwater with one game. I think there are a couple lobs to Nic that I thought he should have converted, and there was one to Day'Ron that completely sold on me,… pic.twitter.com/IbUUycgynM

— Erik Slater (@erikslater_) April 16, 2023
Joel Embiid 4+ Assists

 
Aggressive double teams constantly forced Embiid to give the ball up to his teammates. Not all were his assists, but the 21 threes made were a product of Embiid's dominance. In Jacque Vaughn's presser, he seemed content with his game plan and will see if the 76ers shooters can continue to stay hot.
Embiid only had three assists in game one, but some teammates missed quite a few wide-open looks. With the same game plan essentially by the Nets, I believe Joel can get a handful of assists en route to another good offensive night by Philly. 
James Harden Under 20.5 Points

 
In game one, Harden was stuck on 20 for a while and hit a three as the shot clock expired to go over. Harden did not attempt a single free throw in game one. This was the first time since March 2019 that he failed to log a free throw attempt. The shot attempts (21) were more of a product of Embiid double teams rather than him creating.
He has been under this number in nine of the last 12, which includes him only getting to the line under three times per game. The burst just is not there, and he is reliant on making tough contested jumpers. If he beats us doing that, we shake his hand and move on.
Cameron Johnson Over 15.5 Points

 
We saw what Bridges was capable of in game one, and so did the 76ers. Are they okay with him scoring 30+ and shutting down everyone else, or can they just not stop him either way? That is the question I asked myself when placing this bet. My answer was a little bit of both, which is why we are all over Cameron Johnson in this game.
He is over this number in six of his last nine and recently put up 18 in game one. His ability to score at all three levels gives him prime upside in this game. 
Mikal Bridges X Cam Johnson = looks familiar. #Suns pic.twitter.com/nMVRrZ7av0

— Duane Rankin (@DuaneRankin) April 15, 2023
One would think that Bridges sees a few more double teams tonight. Cam is a 46% three-point shooter who is excellent off of catch-and-shoot action. He was the only other starter to have a productive game offensively for the Nets, sinking four of his six threes and also playing solid defense.
Vaughn should look for more action with Cam and Bridges on middle pick and rolls, which will cause the defense to make a choice. Either way, you slice it, I think Cam exceeds this number quite easily.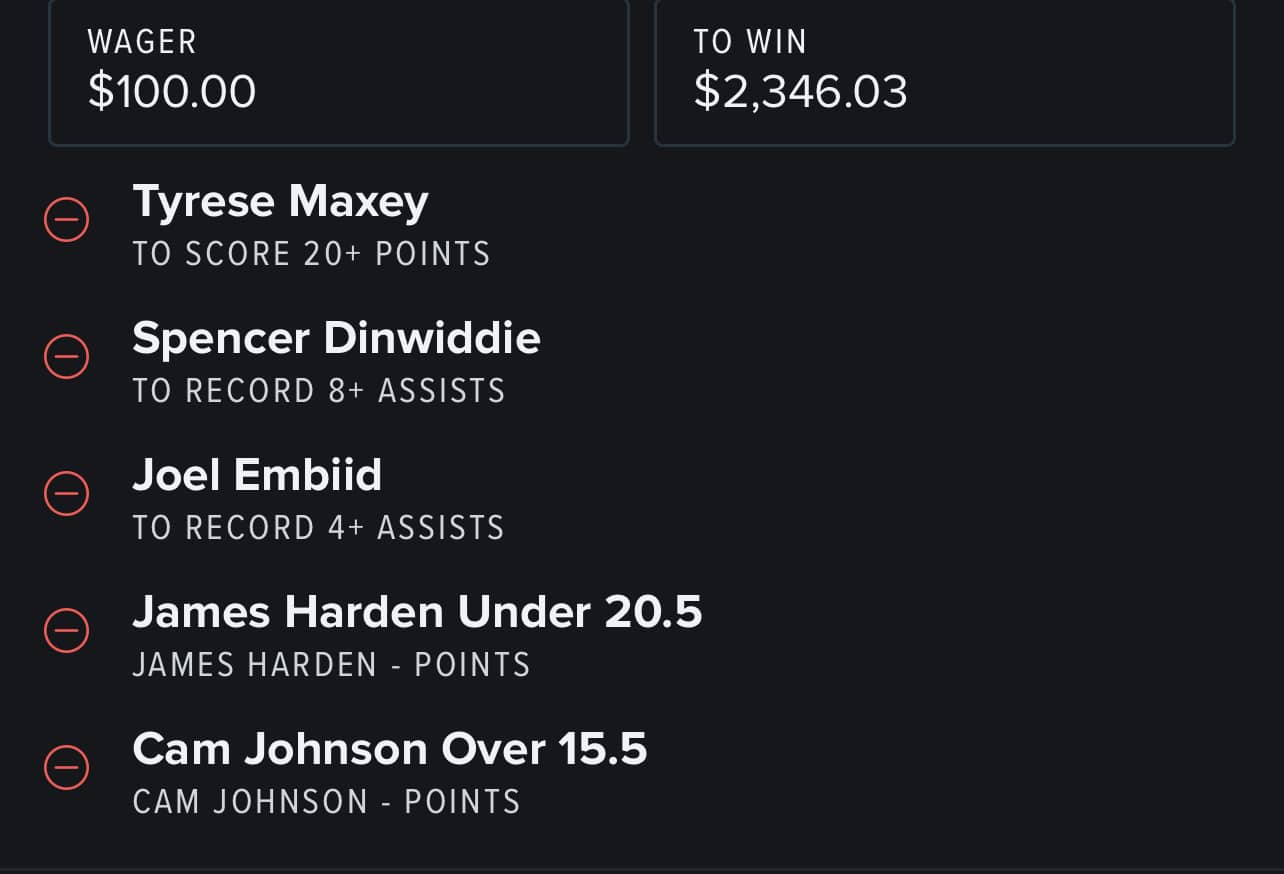 Golden State Warriors @ Sacramento Kings
Keegan Murray Under 9.5 Points
This is by far one of my favorite props of the night. If you watched that first quarter Sunday, you saw that the lights were too bright for Keegan Murray. Not a knock on him at all because he's a rookie going against the defending champs in his playoff debut. Styles make fights, and this fight is not one for Keegan. The shots he got weren't bad looks. The issue was him getting constantly beaten defensively.
The emergence of Monk, Lyles, and even Mitchell in game one showed me all I needed to see. Only 15 minutes played the entire game, and not even given a chance at redemption says a lot. I can't say I blame Mike Brown in such a big spot. I'd look for a 15-18 minute playing time window for Murray but don't expect much other than a made three or two. 
Klay Thompson 5+ Threes
Klay Thompson has made five or more threes in nine of his last ten games, including eight straight. Prior to Sunday, he had five in two of the four regular-season meetings. The Kings struggle defending the three (26th three-point percentage defense), and the way Klay moves off the ball causes him to get so many wide-open looks. Out of his 14 attempts, I would say over half of them; he was wide open. 
Klay Thompson after the Game 1 loss to the Kings:

"I still got 4 rings."

🔥🔥🔥 pic.twitter.com/nxedHzsnEE

— ًHoop CentraI (@TheHooopCentral) April 16, 2023
Now maybe Mike Brown adjusts and switches some matchups up to throw the Warriors off, but I still don't think that is enough. Also, something to monitor is Jordan Poole is listed as questionable on the injury report, and even if he's available, he will be less than 100%. This opens up even more opportunities for Klay to bomb away from deep. 
Kevin Huerter 15+ Points

 
Outside of De'Aaron Fox, Malik Monk (32 points) almost outscored the other four starters (33 points) combined. Kevin Heurter, a 40% three-point shooter, struggled against the Warriors' pressure and failed to make a three-pointer. He got good looks, but his shot was not falling. I think that stems from having to defend Klay on the other end, which he is not accustomed to. 
Monk and Fox are likely not to combine for 70 points, so some guys have to be stepping up. Heurter is a prime candidate to get it going along with Sabonis. I look for a more balanced attack from the Kings against a Warriors defense that is bottom five in defensive efficiency on the road. The first game nerves are behind him, and I think he settles in and has a 17-19 point game. 
Kevon Looney 10+ Rebounds
Kevon Looney's defensive ability and willingness to bang with Sabonis will keep him on the floor. I was worried about game flow and how Looney would hold up in the Sabonis-Fox pick and roll, but he did a tremendous job. He had ten or more rebounds in 11 of his last 16 games, including a 16-rebound game against the Kings a week ago. He finished with nine on Sunday, and that was with him being in and out of the lineup due to foul trouble. 
As long as the minutes are there, I think Looney crushes this. He held Sabonis to his worst night of the year from a percent perspective and was able to grab crucial offensive rebounds when needed. Effort and energy are never a question with Looney. I think he rises up with a big game on the glass in a crucial game. 
Domantas Sabonis 20+ Points
After scoring eight first-quarter points, Domantas Sabonis was held to four points in the remaining three quarters. The Warriors' defense is partially blamed for the missed wide-open shots at the rim. Sabonis ranks top 60 in rim percentage offense (71%) but was a horrific 38% at the rim on Sunday. He was still dominant on the boards, as he always is but could not convert them into points.

Centers with 1500+ PTS, 900+ REB, 500+ AST in a season:

MVP Wilt
MVP Jokic

And now, Domantas Sabonis. pic.twitter.com/8DKRBInur7

— StatMuse (@statmuse) April 9, 2023
He averaged a little over 20 points per game in the regular season. But, as he saw on Sunday, the physicality and style of play are different in the playoffs. I think Mike Brown will figure out a way to get Sabonis a little more involved offensively, especially in the pick-and-roll with Fox. The shots at the rim will fall, and his aggressive nature should get him more than free-throw attempts. He bounces back with a big effort tonight in pivotal game two.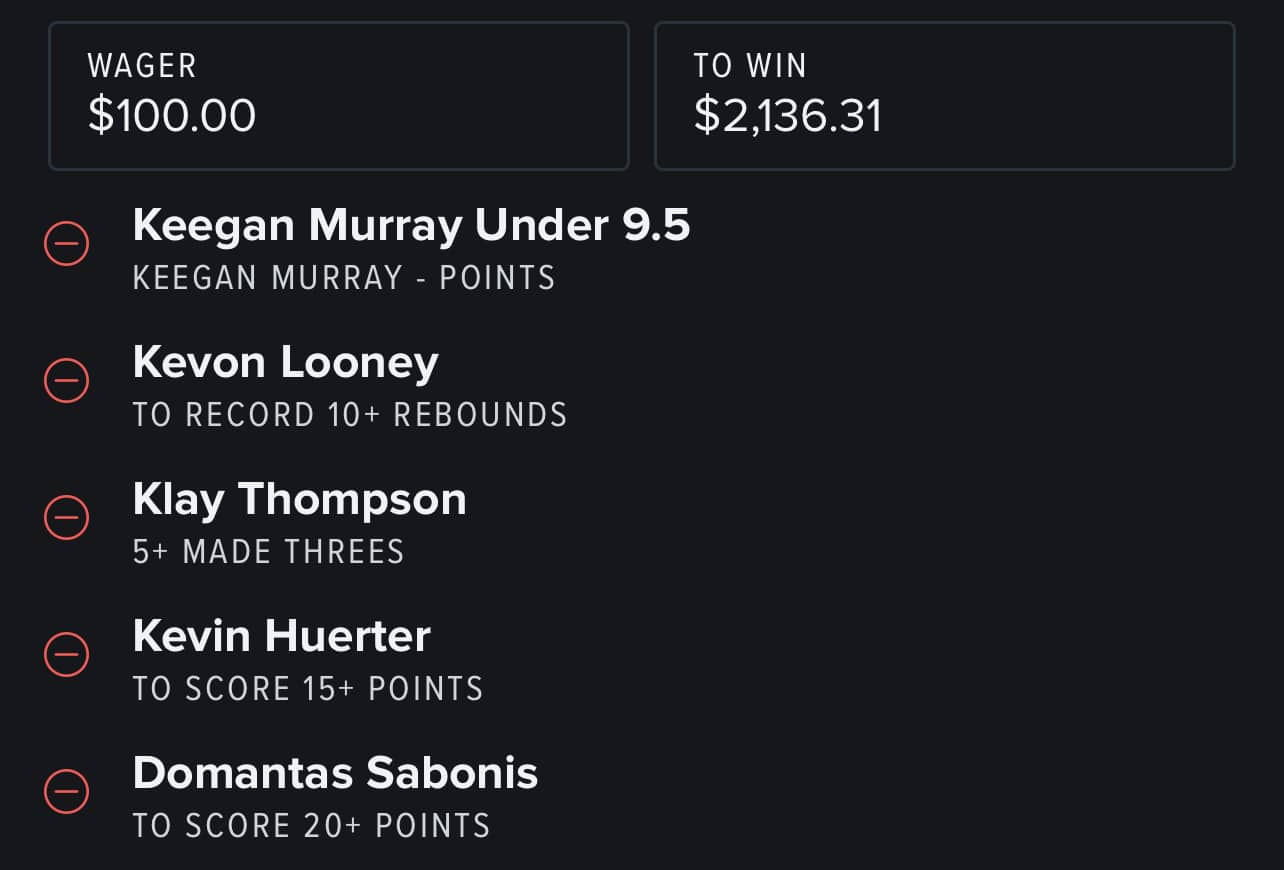 RELATED CONTENT