SGPN is here with the 2023 Underdog Fantasy Football ADP Villains. Underdog ADP Villains are considered to be busts or stay-a-ways at their Average Draft Position or overall position ranking. These types of players aren't always who you think they might be. It could be a player going pretty high in drafts, but you're drafting him at this ceiling, and is that really a value pick?
Check back for more content! Justin Bruni and Andrew Raub will have podcasts furthering the Best Ball Heroes and Villains conversation; you can listen to those podcasts on Apple and Spotify. In addition, SGPN will be here all offseason with critical fantasy updates for all fantasy football formats, especially Best Ball!
Our network also offers a signup bonus for the Underdog Fantasy App – sign up to start drafting today!

MORE SGPN FANTASY FOOTBALL CONTENT
Follow SGPN Fantasy Football on Youtube
2023 Underdog Fantasy Football ADP Villains
RB – Josh Jacobs – Las Vegas Raiders
Underdog Ranking – RB8
Raub Ranking – RB11
Beware the running backs that tally over 350 touches in a season; I'm sure this isn't the first time you heard this. Unfortunately, it's true; less than half of the running backs that had over 350 touches in a single season went on to have an RB 1(1-12) finish the following season.
Josh Jacobs had 393 touches last year, and 340 of those were carries. Could he receive the same type of workload next year? I really doubt it. Honestly, I think he ends up closer to 300 touches than 393 this season.
Another thing that went right for Jacobs is the offensive line. The Raider's offensive line is projected to be 29th before the 2022 season. However, they finished last season as the number 10 ranked offensive line. That is well over expectation, allowing Jacobs to shine behind an over-achieving offensive line. Can they keep this up for the 2023 season? Time will tell; let's see what they do in the draft.
Jacobs is currently being drafted as the RB8 on underdog fantasy. That feels like you are drafting him close to his ceiling. This isn't a value play and leans more toward a bust pick in the second round of drafts.
RB – Javonte Williams – Denver Broncos
Underdog Ranking – RB27
Raub Ranking – RB31
This may seem like the low-hanging fruit, and that's because it is. Javonte Williams had such a bad injury last year, tearing his ACL and LCL, that I would be very surprised if he plays in any of the first six games.
It was reported that Broncos GM George Paton said the third-year back is "on track to be ready for the regular season." Matthew Berry, however, said, "I was told he is currently a lot more hurt than the team is letting on publically, and there is actually a chance he misses all of next year.".
Do I genuinely believe he will miss all of next season? I'm not a doctor, nor will I pretend to be, but the injury timeline for an ACL varies and could be up to 12 months. On top of that, he tore his LCL, added that into the mix, and it just seemed like a recipe for disaster. So could he miss all of next year? Yes, but it's probably more likely than not that he will come back at some point in the season.
Will Williams be effective if or when he comes back?
This feels very similar to the JK Dobbins situation pre-season last year. First, we would get reports that he was not on track, then see something totally different reported and videos of him plowing over his trainer. So we didn't know what to expect from him, but we were drafting him as he would only miss a month or so.
The signs are pointing towards fading him at his current ADP.
WR – Mike Evans – Tampa Bay Buccaneers
Underdog Ranking – WR34
Raub Ranking – WR35
The simple answer for why Mike Evans is a fantasy villain for me is the QB issue. Baker Mayfield and Kyle Trask are not inspiring to say the least. There is a world where Baker has a good season, and Mike Evans could be relevant, but I'm banking on that not happening. Baker has only produced 2 1,000 yards receivers(Odell Beckham Jr and Jarvis Landry). This passing game seems likely to be less effective.
Evans has not been efficient in the red zone. Per 4for4.com red zone stats, Evans has a target percentage of 15.7% within 20 yards and a 16.7% within 10 yards. On top of that, he has a 50% catch percentage within 20 yards and 29% within 10 yards. He needs to improve his red zone efficiency for his value to repay at his ADP.
Evans's ADP of 95, round seven, is just a hair early for me. I prefer to take him late-round eight, but not often does that happen.
TE – George Kittle – San Francisco 49ers
Underdog Ranking – TE4
Raub Ranking – TE7
Let me start here by saying George Kittle is a great TE. So this is not me telling you to disregard Kittle. I think there is some more upside with a couple of the TEs behind him, and Kittles ADP is slightly higher than I think it should be.
Kittle, just like Evans, has an unknown QB situation. When will Purdy be ready, and will he take the job again? Is Trey Lance the real deal, and can he finally prove it? These are scenarios I don't want to get involved with.
If and when we get more clarity about the situation, I could be convinced to get more involved with Kittle and the 49ers in general. Many of Kittles's touchdowns came when Purdy was the QB, so having him lead the way would benefit Kittle.
If you'd don't remember, Christian McCaffrey was traded to the 49ers.
With an offseason to get McCaffrey more involved and implemented into the offense, it seems like some of those shorts area targets could go to McCaffrey and not Kittle. McCaffrey can definitely be dangerous in the red zone and eat into what Kittle could get.
Something else I found interesting about Kittle was that in half of the games he played last season, he had 30 or fewer receiving yards. So if he isn't finding the endzone, the points won't be there on a weekly basis.
His target volume increased when Deebo Samuel was out last season, which caused Kittle to have more production. Unfortunately, we can't count on that again this year. With Deebo, McCaffrey, and Brandon Aiyuk all still in San Francisco, Kittle will really need to dominate to pay back his current ADP.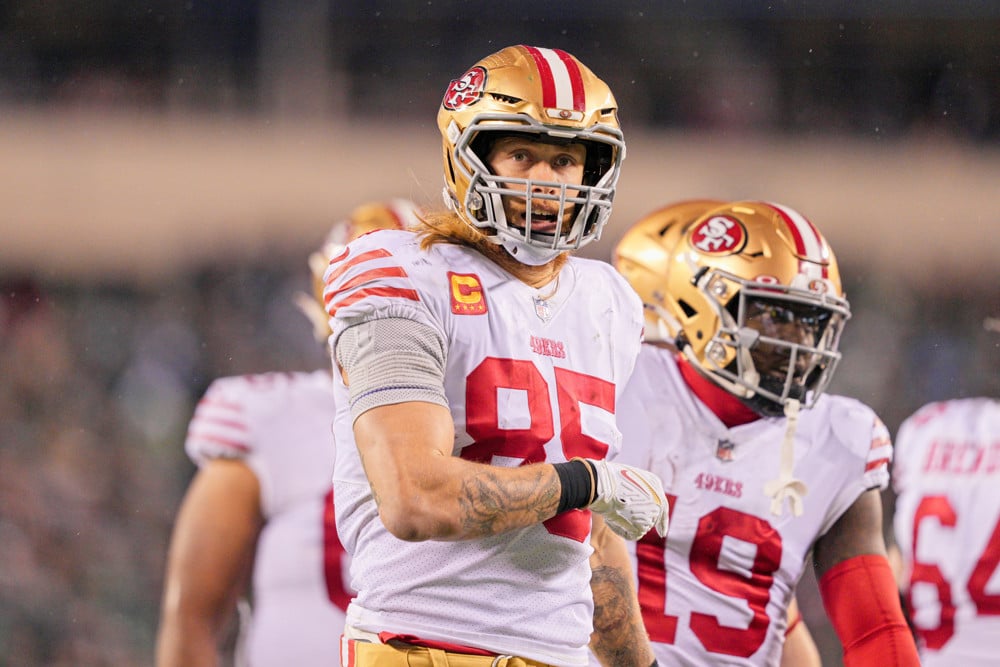 TE – Cole Kmet – Chicago Bears
Underdog Ranking – TE13
Raub Ranking – TE16
If you look at what Cole Kmet did with the Chicago Bears last season, you'd probably think that he is primed for a potential breakout season in 2023. His 2022 stat line was 69 targets, 50 catches, 544 receiving yards, and 7 Touchdowns. He finished the year as TE7 in Half point PPR fantasy scoring.
I'm saying not so fast. This man is on a team that only threw the ball 377 times. That was dead last in the NFL. If we give them a 20% bump in that category, we still only get 452 pass attempts. That would have ranked them 31st instead of 32nd. Not super inspiring to me. Not to mention Justin Fields was not very accurate last year and had a passer rating of 85.2, according to Statmuse.com.
Darnell Mooney suffered a season-ending ankle injury in week 12. This allowed Kmet to receive more of the passing game workload, though it didn't translate into as many fantasy points as you would think it should of. Either way, Mooney will be back and healthy this season. Side note, the Bears also traded for Chase Claypool last year, and he may get more integrated into the offense scheme this year.
To top this all off, the Bears acquired DJ Moore in a trade back in early March. So you know they will be getting him involved often early and often. As my co-host, Justin Bruni, likes to say, "You don't get a Ferrari to let it sit in the garage." DJ Moore should get somewhere in the ballpark of 30% of the teams' targets.
Cole Kmet going as a fringe TE 1 and with an ADP in round 11 seems a little too rich for my blood. I'd rather take the shot on Dalton Schultz, Dawson Knox, Chigoziem Okonkwo, Greg Dulcich, or Taysom Hill, who are all going in that same range.
RELATED CONTENT