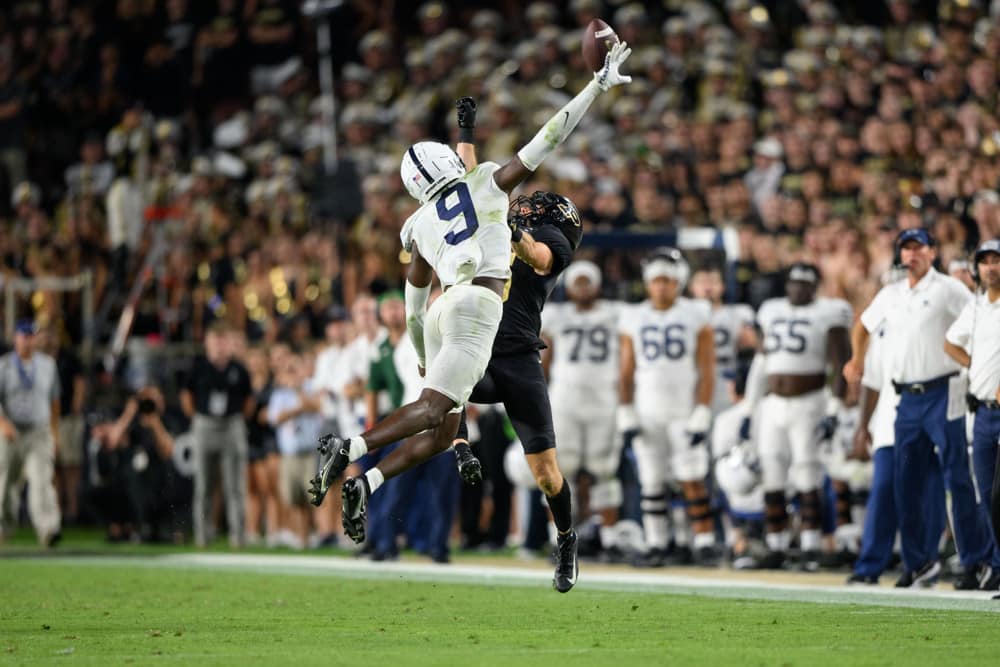 This class is filled with talent and will bring great value to your dynasty squad for the foreseeable future. Dave Heilman (@DynastyDorks) and I (@FFBourbonDude) brought you a ton of pre-combine draft profiles at each of the offensive skill positions. Now it's time to get into our defensive players. Be sure to check out our NFL Draft Playlist on YouTube for all our draft profiles.

MORE SGPN FANTASY FOOTBALL CONTENT
Follow SGPN Fantasy Football on Youtube
SGPN Fantasy Football Rankings
Joey Porter Jr – NFL Rookie Draft Profile
Background
Height – 6'2″
Weight – 193 pounds
A 4-star recruit and son of long-time Steeler, Joey Porter, Jr is a long and stingy cornerback when it comes to press man coverage. Where he is very strong there, he struggles in off-coverage and lacks the fluidity to recover. Over his three-year career, he shined with the following accolades:
2020
Earned All-Big Ten third team
2021
Named third-team All-Big Ten
2022
Named All-America second team by the AFCA, Associated Press, FWAA, Walter Camp Football Foundation, and CBS Sports
Named first-team All-Big Ten by the coaches and media
Tabbed first-team AP All-Big Ten
Named Pro Football Focus All-Big Ten second team
Porter Pros
Press Man
He is at his best when asked to play press man, as evidenced by his 33% and 47% reception rates in 2021 and 2022.
Tackling
He is not afraid to come off the ball and tackle someone. He must have gotten that gene from his old man.
Hands
Not from a taking the ball away perspective, but he knows how to use them while in coverage.
Porter Cons
Off Coverage
He struggles when asked to play off and react to routes. In addition, his zone coverage ratings are pretty bad, with a greater than 65% reception rate in each of his three seasons.
Quickness
Lacks the high-level quickness to respond to double moves.
Stiffness
His hips are pretty stiff, which is really what is limiting him from covering quicker receivers.
You can see the good and the bad in his game against Purdue.
BE SURE TO CHECK OUT OUR OFFENSIVE NFL DRAFT PROFILES ON YOUTUBE! You won't regret it. #DEGENS
RELATED CONTENT